Voice Search
Voice Search is becoming the new way of searching online!
Living in an age where web design technology is booming, nearly everything is possible. The thought of searching for things with our voice was just an idea but now it is a reality. Many big companies and applications have integrated the ability to voice search. Before we dig deeper into this topic, let's talk about how voice searches work.
Voice Search – SEO, as we know it, is changing
As consumers, we are turning to a digital world that frees our hands. In fact, most mobile devices that are being released to the market are equipped with the latest AI technology, enabling us to search with our voices and without having to enter text manually. However, voice search is different from text-based search. When we issue voice commands, we use natural language instead of specific keywords, just like when we talk to friends or family.
How Voice Search works through AI
Voice searches are made up of four approaches that a computer uses to turn a spoken word into a written word during a voice search.
Simple matching, where a word is recognized as is, and it is compared to similar sounds stored in the memory.
The pattern and feature analysis are used. Furthermore, each word is broken into bits that are recognized from key features, such as vowel.
Language modeling and statistical analysis where knowledge of grammar and likelihood of certain sounds or words to follow each other is used to improve accuracy and speed of voice recognition
Employs artificial neural networks; they are like brain-computer models that can recognize patterns of sounds and words after extensive training. Every voice search goes through each approach in a matter of seconds which is amazing.
Current voice search adoption and growth
Research states that 27% of people use voice search at least once a week, and about 22% of them use voice search every day. With the continuous improvement of artificial intelligence and new equipment entering the market every year, this number is only expected to grow. In fact, voice search is a simpler and faster way of searching, which allows people to search at home, on the road or when cooking. More importantly, voice search is no longer limited to smartphones.
Speech Search Affects SEO
The growth of voice search does not mean that text-based commands will disappear completely. It means that digital marketing needs to adapt to this new trend. So, SEO will change the number of search keywords. The number of search keywords based on voice is totally different from that based on text. In the case of text-based search, the search keywords are about 2 to 3 words, while the voice-based search may sometimes be as many as 10 words or more. With this in mind, natural language keywords may be the next big thing to consider. In addition to "search keywords" more, voice search is usually in the form of problems. 
Example of Text-based versus Voice Search
Text-based
 "Voice search and SEO"
Voice
 "How will voice search affect SEO?"
Problems you may encounter
Using natural language is more important than ever because the more your keywords match the content of the search proposed by the consumer, the more the likelihood of higher ranking. Since voice search is usually in the form of questions, it is important that you answer these questions accurately. That is to say, you have to find out which questions are more specific and complex, not just those that need to be answered "yes" or "no". Robots solve problems that can be solved in just one word, and they usually appear directly in search results. If you pay attention to these problems, you can't get better search results.
Voice Search is an opportunity
As Google becomes more and more intelligent, it can better understand and recognize voice queries. Hence, SEO Experts and webmasters will need to understand these concepts.  In addition, voice search can now interpret queries based on context, so it is more important than ever to draw larger graphs when creating content. Make sure you associate natural language and problem keywords with broader context keywords, which can also be ranked in search engines. Finally, location is the frontier of SEOs related to voice search. Voice search can now provide location-based search results, and your online business information needs to be updated and matched perfectly. The slightest difference between each list may lead to lower search engine rankings.
The Future of SEO Related to Voice Search
Voice search will continue to develop and grow in terms of usage. As machine learning techniques continue to expand and develop exponentially, voice search SEO strategies will need to adapt. The real question is, how do SEO experts do this even though you may have solid content? In fact, writing content in a conversational way to better answer visitors questions will be a solid approach.
Text Search is different from Voice Search
With text search, users are likely to be more willing to further explore. On the other hand, a voice search is where immediate answers are needed. Hence, the content needs to continue to attract both types of mediums.
Teenagers using Voice Search in the United States
Which groups prefer voice search?
Teenagers are the biggest users of voice search, thanks largely to the technological sense of voice search. In addition, the characteristics of teenagers themselves also promote the development of voice search. According to Google Blog statistics, more than 50% of teenagers in the United States (aged 13-18) use voice search every day. Thus resulting in more users jumping on board as these generations grow older.  On the other hand, for the elderly, it can be a challenge and time consuming when typing and reading, especially on smaller devices.  Hence, voice search can undoubtedly solve this problem very well.
Primary SEO Strategies for Voice Search
Structural Markers
Understanding structural tags will help you provide context for existing content. Search engines will be able to better understand what your website is so that your page rankings are higher. Currently, only 0.3% of websites use structural tags.
Long Tail Keywords
Pay more attention to long-tailed keywords, which appear in the form of conversational questions and queries. You need to find out what specific language your users use in your field. Also, focus on solving specific problems that customers may face. Generally, content should be based on answering questions.
Correct Data
The routes to your company's stores or offices, business hours, company names, and every little detail of your business must be up-to-date and matched on every single platform. This is the type of information that mobile and voice search users often look for. 
Integration of Voice Search
Now that we know how it works, let's talk about how it came about. Whether people own a smartphone, laptop, or tablet that option to speak your searches is there. Many Android devices have Google assistant as their bridge to speak a command. Apple products have their own virtual assistant that goes by the name Siri. Both have had major updates to improve user ability and success rates on speech conversion. The idea of Voice Searches has expanded beyond just basic navigation on the internet browser. These virtual assistants can actually navigate whatever device they are on. However, the concept of voice search has expanded even further into much larger devices.
Voice Search a New Innovation
Google takes a larger leap into voice recognition with the advancement of their assistant and now Google Duplex. The Google Assistant is a virtual assistant developed by Google that is primarily available on mobile and smart home devices. It's inferior, Google Now, the Google Assistant can engage in two-way conversations.
The Assistant upgrade came about in May of 2016 as a part of Google's messaging app Allo, and its voice-activated speaker Google Home. After testing exclusivity on the Pixel and Pixel XL smartphones, it began to be deployed on other Android devices in February 2017. This included third-party smartphones and Android Wear and was released as a standalone app on the iOS operating system in May. Alongside the announcement of a software development kit in April 2017, the Assistant has been and is being, further extended to support a large variety of devices. Including cars and smart home appliances. The functionality of the Assistant can also be enhanced by third-party developers.
Much like Google, Amazon has taken its own approach to the integration of voice search with Alexa. Alexa is a virtual assistant developed by Amazon. First used in the Amazon Echo and the Amazon Echo Dot smart speakers developed by Amazon Lab126. It is capable of voice interaction, music playback, making to-do lists, setting alarms, streaming podcasts. Also playing audiobooks, and providing weather, traffic, sports, and other real-time information, such as news.
Alexa can also control several smart devices using itself as a home system. Users can extend Alexa's capabilities by installing third-party applications to increase her features and accessibility. Most devices with Alexa allow users to activate the device using a wake-word (such as Alexa). Other devices (such as the Amazon mobile app on iOS or Android) require the user to push a button to activate Alexa's listening mode (Amazon 2018). As of now, interaction and communication with Alexa are only available in English, German and Japanese. In November 2017, Alexa became available in the Canadian market in English only.
How Alexa differs to Google's Home
Alexa supports a multitude of subscription-based and free streaming services on Amazon devices. These streaming services include Amazon Music Unlimited, TuneIn, iHeartRadio, Audible and Spotify Premium. Yet, some of these music services are not available on other Alexa-enabled products that are manufactured by companies external to its services. This unavailability also includes Amazon's own Fire TV devices or tablets (Amazon 2018).
Alexa can stream media and music directly. To do this, Alexa's device must be linked to the Amazon account. Which enables access to one's Amazon Music library, in addition to any audiobooks available in one's Audible library. Amazon Prime members have an additional ability to access stations, playlists, and over two million songs free of charge. Amazon Music Unlimited subscribers also have access to a list of millions of songs. Up to 250 songs can be uploaded free of charge. Once this is done, Alexa can play this music and control playback through voice command options.
Google Assistant and Amazon's Alexa are two major players who have mastered the use of voice search. And of course, others are going to push past the milestones that have currently reached as time goes on. Voice search will take on larger roles bigger than just simple command and questions.
Everyday searches, Google claims, 20% of mobile search submitted via its app are being carried out using voice. It is also estimated that 30% of searches will be done without a screen by 2020. While consumers are more used to seeing a long list of results and being able to pick which one seems best, voice results will in most cases only serve up one answer. This means we will need to consider whether voice-search results are returned via a screen (e.g., Siri, Microsoft's Cortana, Google Assistant) or via voice (e.g., Google Home, Amazon Echo). But hands-free searching is for more than personal searches.
CES 2018
At this year's CES 2018 event, both Hyundai and Mercedes-Benz showcased the progress they had made with in-car AI. Hyundai's Intelligent Personal Agent was co-developed by Silicon Valley-based SoundHound Inc, which specializes in voice-enabled AI. What makes Hyundai's voice command software special is that it's able to recognize multiple commands. For example, if you say, 'Tell me what the weather will be like tomorrow and text the kids to remind them about football practice' it would acknowledge two separate commands in the same sentence and complete each task accordingly. Hyundai plans to install the Intelligent Personal Agent in their new models as early as 2019. These are some of the few things that are coming about in 2018 that started with voice search technology.
Summary of Voice Search
Voice Search has and will continue to change the game of SEO and online searches. The choice of voice over texting will continue to be added to everyday things. We are able to command our homes to lock the doors to ensure safety. We are able to ask questions such as "what is the weather? or what is trending?" as if we are having a two-way conversation. The further the innovation gets the more hands-free we will be. But whether that is a good or bad thing, only time will tell. In fact technology, nowadays allows your yard watering system to be controlled by your voice. Before you know it, we will tell the sink to start running.
Voice Search technology will continue to impact SEO companies, especially how they adapt to machine learning and ensuring search results are ranked higher. The core thing to remember is to create content for the "listener".
References on Voice Search
Brady, Shirley. "CES 2018: Hyundai's Connected Driving Vision Includes Smart Glasses." Brandchannel: 5 Jan. 2018, www.brandchannel.com/2018/01/04/hyundai-ces-2018-preview/.
"Ways to Listen to Music & Media on Alexa." Amazon, Amazon, www.amazon.com/gp/help/customer/display.html?nodeId=201549700.
Vincent, James. "You Can Now Use Google's AI to Add Voice Commands to Your Raspberry Pi." The Verge, The Verge, 4 May 2017, www.theverge.com/circuitbreaker/2017/5/4/15541136/google-assistant-raspberry-pi-sdk-voice-hat.
"How Does Voice Search Work?." Surgeon's Advisor, 28 Sept. 2016, www.surgeonsadvisor.com/blog/voice-search-work.
Sterling, Greg. "Google Says 20 Percent of Mobile Queries Are Voice Searches." Search Engine Land, 24 May 2016, searchengineland.com/google-reveals-20-percent-queries-voice-queries-249917.
Crist, Ry. "Behind the Scenes at Alexa's Laboratory." CNET, CNET, 23 Apr. 2018, www.cnet.com/news/behind-the-scenes-at-amazon-alexa-laboratory-lab126/.
Benefits of SEO
SEO is an effective process that drives traffic and generates results on websites. But getting noticed on the web requires SEO expertise. At Visualwebz LLC we work with a range of clients and get websites to rank high on targeted keywords. The results are simple, we drive traffic that converts to sales and business owners that profit.
SEO, Web Page Consulting for Seattle businesses
Anyone running a successful business will know that making sure your website is visible right in front of potential eyes is crucial. Especially, when they are intentionally searching for services and products you are offering. We at Visualwebz LLC make sure that our SEO strategies always outsmart your internet competition. In fact, the process of search engine marketing is always evolving and thus requires adapting to the visitor base and potential customers. For example, our SEO processes allow website rankings to improve whilst maintaining engaging content. Over time your organic website search results (SERP) will appear higher on Google and displace nearby rivals. The result being that you outrank your Seattle competitors!
Summarizing; we improve search ranking results and target traffic through higher web page placements. After all, online success can be measured by your website or web page placement being at the top of Google in Seattle! Connect with our Seattle SEO consultants, and let us take your online business to the next level.
Complete SEO Focus
SEO is an unpaid strategy, different from PPC but still requires a clear goal that meets Google's guidelines, thus ranking websites higher. Hence, a holistic approach to SEO means you focus on all areas, such as :
Proper in-depth keyword research
A great user experience
Good technical SEO
Providing quality content to visitors
Social media strategy that works alongside on-page SEO
Speed of website
Mobile optimization
Our SEO services include both on-page as well as off-page optimization. For instance, we analyze, fine-tune, maximize, and polish all the mid and long-tail keywords, incoming links, web content, images, structured data, snippets, user experience, and meta-tags.
We don't fake or use black hat techniques to get your website at the top, but only to see you banned or drop in ranking further down the road. Hence, why we follow strict guidelines set by Google. Our sustainable SEO strategies ensure rankings are maintained and based on user experience as a first.
Small Business SEO Case Studies
Hiring a reputable web design and online marketing company can massively increase your business's online presence, especially if the agency has a strong footing in SEO. After all, working with an SEO expert that understands Search engines ever-changing and sophisticated algorithms will be advantageous. As specialists in on-page and off-page marketing, we know how search engines extract relevant information from websites to provide users with accurate and relevant search results. Hence one reason why our SEO agency will guide your website's presence to better rankings, thus allowing your business to gain new customers and generate revenue.
Some of our practices include inserting search engine specific metadata as well as keywords into your website. Also, we will build your website so that it is structured correctly for search engines. In fact, SEO is critical to web design. We use state of the art technology when it comes to increasing the flow of visitors to small business websites.
Just in case you are wondering what all these SEO terminologies are, we ask you to check out a quick infographic on SEO Terms.
We have worked on many websites and effectively ranked them via our SEO Digital Marketing services. From attorney SEO services through to ranking school websites. We can get your website to rank higher and generate traffic.
Summary of case studies to check:
On-Page Website Optimization
For the likes of search engines to index, crawl and rank your website effectively, it needs to have authority, correct meta-tags, image optimization, anchor tags, 404-page identification, correct alignment of unique content, social connections and more. Overall, correctly optimizing websites will allow higher ranking, an increase of page views, time-on-site, lower bounce rates, and conversions.
Content Writing
Our content writing provides the best, most compelling content for any website. In addition, our effective content marketing always:
Supports and improves websites.
Provide quality digital content for any website. Thus, create a purpose and trust.
Conveys YOUR message.
Attracts more customers with higher conversion rates.
Off-Page Optimization
Besides concentrating on on-page SEO optimization, off-site SEO services are also needed. This entails analyzing the linkage popularity, and seeing if there is room to increase relevant backlinks. Generally, this involves managing your social presence, your reputation, directory listings, and creating quality external backlinks. Email marketing strategies, Facebook and Twitter are also key platforms used in pushing quality content in establishing solid customer relationships. Other off-site SEO includes Google, Yelp reviews and others.
Tracking SEO Traffic
Setting up Google Analytics or any other analytical software helps identify inbound traffic sources as well as to measure how effective the SEO strategies are. For example, by analyzing the trends of your organic traffic we are able to establish subsequent SEO strategies and adapt accordingly.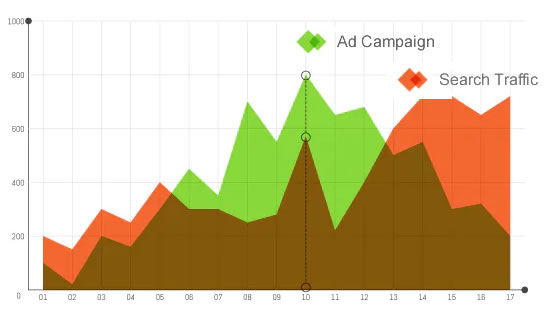 Search Engine Optimization Tools
Just like a plumber not being able to fix a leak with his/her tools, the same applies to an SEO expert. In fact, our SEO services include a mix of many tools and web development software to get your website prominently placed on search engines. For example. these include SEMRush, Ahrefs, Keyword.io, Google Trends, Moz, and Spyfu to name a few. We also use in house SEO tools such as the multiple page generator that allows content to be deployed more easily.
A big part of being an SEO expert is to know common SEO mistakes inexperienced "SEO specialists" make. With years of experience in web design and SEO, we can guarantee that your website will be in good hands.
Webmaster Tools for SEO
We correctly set up Google and Bing webmaster tools for your website and ensure that your content and web pages are indexed and error-free. The primary purpose of having this set up is to ensure that search engines pick and index the website and web pages, also that the search engine optimization is done correctly and monitored.
Whether its basic SEO or your business is looking to set itself up for improved voice searches? We can assist.
Delivering the best Web Design & SEO Services
Local Web Design Services
If you're looking for web design, website development, a new website or just need to revamp an existing small business website, then you've come to the right place. Notably, at Visualwebz LLC we understand business owners and the website benefits your business needs. In addition, we understand that being a website owner you will want to see immediate results. Furthermore, we can help your website reach an international, national or local customer base. Besides, we know how to get your customers to you. After all, small business websites and SEO have been our specialty since 2008!
We Deliver the Best Web Services
Our website developers specialize in delivering the best websites and nothing more. More significantly, our qualifications and experience allow us to deliver clear and concise solutions. Whether it's a simple website or one that's complex, or one that is built on PHP or ASP, we will always keep you in the loop during the whole web development process.
Immediately after the launch of your website, we will work with you in improving your online presence. For example, our SEO specialists will help drive traffic to your website. With this in mind. Visualwebz LLC is the ideal firm to hire for your next project. In fact, we will also take care of your web security - remember you will need to secure your website from hackers. Similarly, other website design services offered include website maintenance, support, and website testing.
Interested in chatting to us regarding SEO or web design? Or just have questions regarding our expertise or web design costs? Then Contact us today at 425.336.0069. You may also want to check our reviews, and learn why our customers like us! After all, our 5-star reviews clearly tell prospective customers why we stand out when it comes to service, punctuality, quality, and affordability.
Resources & Links
Our Blog covers a range of services, practices, and trends in the areas of web design and SEO.
Marketing & SEO
Web Design & Website Development