Animation & Video Effects
Animation and Video Effects.
What is website animation? The Google definition defines animation as "the technique of photographing successive drawings or positions of puppets or models to create an illusion of movement when the movie is shown as a sequence." The animation is a series of drawings that create movement. On websites, this 'technique' is used to create movement and transitions to make the website come to life. Animation can be used in various ways to enhance a website and provide users with a pleasurable and memorable experience.
Helping Online Content Standout Via Animation
We specialize in many marketing via animation services. Our team offers high-level solutions, website services, and proficiency in the most powerful graphical and animation software used in the industry. We can deliver numerous website design services and visual and written content that will hold up in any resolution beyond the standard definition.  Whatever the parameters of your project, from classic web-based animation to high-end video animation. At our agency, we can take your vision to the next level. Animating graphics is another asset we can proudly boast about and emphasize in, from a wide variety of printed materials, including logos, package design, brochures, advertisements, annual reports, catalogs, direct mail campaigns, and posters. Also, we can re-touch photos that require a new breath of life.
A summary of our website development and graphical services are, but is not limited to:
Small Business websites animation
Business presentations
3D Promo videos
Photo Touch Ups
Animating logos as part of any web design project.
Services and Products presented via animation
Assistance with web hosting is also provided.
Brochure design examples:
Bring life to your website through Animation! Be it an animating logo or something far more complex.
We can create animating logo's, 3D designs as well as video production.
Thinking of introducing some visual presence on your website ?
Should Websites have Animation?
One reason why someone might use Animation on their website is that website animation can add visual interest. When thinking about what makes a website appealing, numerous techniques can make the website attractive. Depending on the context, Animation can make the website fun and exciting, easier to use, or both. From loading screens to videos and ads on the website's sidebars, Animation can be used to create these features.
With Animation, loading screens can be made to be bearable. They can seem like they can take forever if the website doesn't provide anything to pass the time for loading screens. A simple form of interactivity, such as playing a game; or a colorful, mesmerizing loading screen, can make the wait time tolerable. This can also show off the creative aspects of a website.
Advertise through Website Animation
For the sides of the screen, websites can feature small videos and ads that include Animation. Suppose a company wanted to advertise its business on a popular website. In that case, it could create an animation that could be advertised on the side of the screen to capture the user's attention. Though, it's arguable that websites that feature videos and ads on the side can be distracting. I'm guilty of closing ads and muting videos when I'm trying to focus on a website's content. However, if the videos and ads advertised are fun, helpful, and small, they can be pleasurable.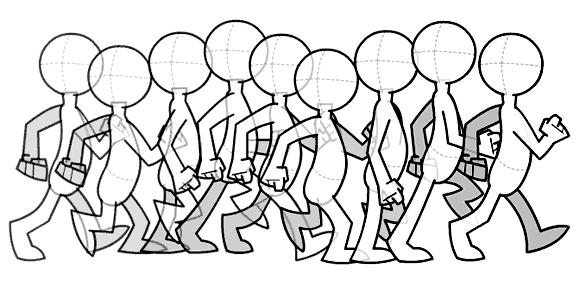 Responsive Animation
Another reason why someone might use Animation on their website is that website animation is responsive. If you're going to include Animation on your website, it should be responsive. For example, if a website contains buttons, the buttons should be functional.
Many websites provide buttons that will play videos, sounds, or even do something surprising. Buttons can also help navigate a website. For example, suppose the website is designed for articles. Controls that allow users to hover over it, click it. In that case, controls can go to the following article, previous articles, or skip through the articles, saving the user time and effort.
Demonstration via Website Animation
A third reason why someone might use website animation is that Animation can be used for demonstration. If your website revolves around a product or instructions on doing something, descriptions are more work than necessary. Suppose the new iPhone is coming out, or you want to know how to bake a cake. Reading about the iPhone or reading instructions on how to bake a cake can be tedious and time-consuming. A user might want to see what the new iPhone has to offer and see how this cake is made, rather than just reading pages and pages about it. This is where Animation comes in.
Animation can show off the new iPhone's features and how it works, or it can show you how to bake a cake. An animation can guide you through this process and be a great visual aid for users. For visual learners, animations that demonstrate products or instructions are an excellent way to understand the given situation fully. They are also entertaining to watch. However, it's essential to keep in mind that a set of written notes about the product or written instructions should also be provided; since some users like to read the information rather than watch a video.
Reasons why Website Animation should be a No, No
Though there are many advantages to using website animation, there are a few reasons not to have website animations. Generally, websites should not have Animation unless done right with plenty of time and effort put into the website's design. When website animation is done right, there can be many benefits, but it can ruin the entire website if it is done wrong. It can either show off the detailed designing skills put into the Animation or show the lack of designing skills.
Speed
One disadvantage of using Animation on a website is that Animation can slow it down. Flash is the ideal software for making animations for websites because it keeps files small. Small files will create a website faster in exchange for large files—the less that a website has to execute, the better. Animation can also complicate websites that are also used for mobile devices. Some animation features on a website will not transfer over correctly, which can pose a big problem. Animation needs to be universal for all electronic devices. For example, most web users have Flash downloaded on their computers, but Apple's mobile devices do not support Flash at all. Different software would be needed for animations to work on iPads, iPods, or iPhones.
The distraction of having Website Animation
Additionally, too much Animation on a website or webpage can also be distracting. If a website has a message it's trying to convey, side animations, especially advertisements, will distract from the main point. If the website is supposed to be for a business or look professional, animations might not be the best choice. Small animations such as buttons would be suitable for a professional website because it shows interactivity. The use of buttons can make the website easier because they indicate where a user can click to a different part of the website.
Cluttered
Another disadvantage of using Animation on a website is that animations can make a website look cluttered if too much of it. Cluttered animations make a website look unprofessional and can also be distracting from the website's primary purpose. If your website's main objective is to try and sell something, having too many animations about the product can be overwhelming for the user and make the website look disorganized. Instead, animations should be used sparingly and be harmonious with all of the animations used within a website.
Website Animation can be Costly.
Another downside to using website animations is that quality website animation can be costly to design and create. Since high-quality Animation that is executed well and blends in with the website is ideal, a professional animator should be hired to achieve this goal. Educated decisions are needed when creating a good website. It is also expensive to maintain and keep a website up to date. The industry moves so fast, and new software is developed constantly. Consistently updating the website to keep up with the rest of the sector is needed to have a successful website, and this requirement of keeping the animations up to date can prove to be too much to handle for some.
SEO & Website Animation
Animation limits how much a search engine can find the website. Search engines will not find the text content in Animation. It is a different medium than what search engines are meant for. This can limit the number of visits that a website gets. This downside to Animation is essential to any business that has a website and wants visitors. Companies want people to easily find their website and be able to use their website effortlessly.
Summary
There are many reasons why one might add Animation to their website. As previously mentioned, Animation can be an excellent way to add visual interest, responsiveness, and demonstrations. Though there are still many reasons why one might not want to add Animation to their website, such as slowness, the user might become distracted. It could reduce the sense of professionalism, look cluttered, be expensive, non-versatile, and have other limitations. It's essential to consider these factors when deciding if Animation should be used on a website.
Before making this decision, one should carefully evaluate their website to see if it even requires Animation and ask themselves why they feel the need to use it if they choose to do so. This will not only help them assess what message they are trying to get across, but it will also benefit their website.
We understand that there are many website choices available. To speed up the process, you can get a quick website design quote. If you're unsure how the whole process works from start to finish, we will guide you and help you understand this. We have posted some additional details on the website development process. You may also want to view our website portfolio by industry., check what our customers are saying on our testimonial page and prospective clients we deal with. Contact us. We're more than happy to assist.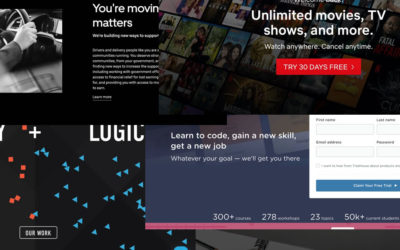 Call to Action Examples Call to action good examples and bad examples. The Call to Action marketing is a central component of promotion, sales, and any initiative focused on persuasion. Whether it's a large enterprise website or a small restaurant, a call to action...
Delivering Effective Web Design & Online Marketing Services
If you're looking for web design, website development, a new website, or need to revamp an existing small business website, then you've come to the right place. Notably, we understand business owners, and the website benefits your business needs. Besides, we know that being a website owner. You will want to see immediate results.
Furthermore, we can help your website reach an international, national, or local customer base. Besides, we know how to get your customers to you. After all, small business websites development and SEO know-how are our specialties!
Our customers continually praise our web design services.,check our reviews!
We Deliver Effective Web & SEO Services
Our website developers specialize in delivering the best websites and nothing more. More significantly, our qualifications and experience allow us to provide clear and concise solutions. Whether it's a simple website or complex or built on PHP or ASP, we will always keep you in the loop during the web development process.
Visualwebz LLC is the ideal firm to hire for your next project. Immediately after the launch of your website, we will work with you to improve your online presence. For example, our SEO specialists will help drive traffic to your website with this in mind. We will also take care of your web security - remember, you will need to secure your website from hackers. Similarly, other website design services offered include website maintenance, support, and website testing.
Are you interested in our services? Or have some questions about our SEO Company or web design process? Even questions regarding our expertise or web design costs? Then contact us today at (425)-336-0069. You may also want to check our reviews and learn why our customers like us! After all, our 5-star reviews tell prospective customers why we stand out regarding service, punctuality, quality, and affordability.
Resources & Links
Our Blog covers a range of web resources, services, practices, and trends in the areas of web design and SEO.
Marketing & SEO
Web Design & Website Development
Cities where we provide Web Design for small businesses:
Like any small business or customer, you may be asking yourself why you need a website? Of course, you do! No matter how small or big, every business needs a website and, more importantly, online marketing services after that. For example, SEO will help the site be more visible and available during search results. Thus generate more website traffic and increase sales and services! There are other factors and reasons why every business should have a website. We've summarized 12 reasons why a company should take web design seriously. Some of these include global and local presence, open 24/7, and outpace your competition.
We offer the best website design services, web maintenance, and web support to small businesses in Seattle, Washington, and the USA. Yes, our website builders and professional web designers are available to all companies at affordable website rates. After all, hiring competent and affordable Seattle web developers, website designers, WordPress designers, and web builders will get your business the results without breaking your bank account! Whether you're looking for a web agency in Seattle or a website developer elsewhere?
Every business deserves a professionally designed website.
Our freelance website development services will get your business the professional presence needed! Whether it's an e-commerce website or a simple CMS in WordPress. We always deliver what our customers expect! Trust our professional web designing and online marketing experience as proven, inexpensive, and practical for small businesses and professionals alike.
Our local web design services are available locally in Seattle, Washington, and all over the USA. An agency that offers various web services from custom web designs, SEO, and supporting Seattle businesses with our WordPress maintenance.
Local Areas we serve in Washington.
Local cities where we offer web design services include Auburn, WA, Seattle, WA, Covington, Kent, WA, Federal Way, Tacoma, Olympia,  Issaquah, New Castle,  Lakewood, Gig Harbor,  Everett, Monroe, Mill Creek,  Milton,  Northbend, Puyallup, Redmond, Renton, Tacoma, White Center, Vancouver, Bellingham, Seattle, Yakima, and  Woodinville.
If you need a new website or just looking for some website support, reach out to us, and let us help—a recognized web design as the best web designer in Seattle.
Custom Web Design Solutions
How can we not mention custom web design solutions? Many of our clients opt for custom websites to make the business stand out from its competition. A custom website built by a professional web designer will not only result in solid branding but allow customers to differentiate and quickly identify your services and products from your competition. Our custom web design services are available to a diverse range of businesses in many areas, such as Seattle, Bellevue, Tacoma, NY, California, and globally.
Hire the best Web Design Services in Seattle, Washington
With front-end and back-end experience, our customers back us up as the best web design services. In fact, how could you possibly go wrong? Our full-stack web development experience and online marketing will pave the path for your business to succeed. Contact us today at (425)-336-0069. Just a reminder that our services are available, but not limited to Seattle, Bellevue, WA, Tacoma, Olympia, WA, New York, L.A., and all over!
Web Developers - We're not just a Web Design Agency.
Yes, we are a full-blown agency with a one-stop service. Our specialties are not only in web design but also in web development and online marketing. Our web development services are not just limited to the Washington area but all over. From Bellevue, Tacoma, LA, California, NY, London, Birmingham, UK, and Glyn Ebwy, Wales.
Web Agency with perfect solutions & great reviews
Our small business solutions are the perfect choice for any small to medium size business looking for results. Especially if you're looking to see your small business website grow, we can help via effective web design and online marketing. A Seattle web design company that assists many businesses in and around the Puget Sound area. We do not finish there; we've also helped Seattle, Issaquah, Bellevue, Tacoma, New York, and California. Let our expertise help your business expand and reach new heights!
Top Web Design & Digital Marketing Agency - Web Development and Online Marketing Experience.
Online Marketing, SEO services available to small businesses in:
Our tried and tested Small Business SEO Services help outrank competitors' websites and drive more traffic. Whether it's SEO for a dentist or promoting an online event, we have proven through many SEO case studies that we get it done! Ignoring our leading Seattle SEO marketing services could result in you missing many online opportunities and allowing the freedom for your business to expand.
If you want to succeed online and help your business's current online standing, then internet marketing is necessary. Our SEO Agency is a top-rated marketing agency that can help your business reach new heights and reach its maximum potential. More importantly, we can help pave the right path in making your website successful.
An SEO agency with innovative ideas, strategies, and solutions allows businesses to lead their industries. From local Seattle SEO through to global presence, our custom tailor-fit solutions help companies effectively compete. We can help your Seattle business reach that desired ranking on search results.
We serve and help small businesses improve their online marketing presence via effective organic Seattle SEO and web solutions. Overall, our Seattle website SEO practices have helped many companies gain the online exposure needed to attract traffic and generate sales. Following is a small list of cities where our outstanding and best Seattle SEO services are available.
Our web-related services have delivered many solutions to small businesses in and around Seattle. Other local areas where our clients include: Algona | Auburn | Kent | Bellevue | New Castle | Bellingham | Factoria, Bellevue |  Federal Way | Fife | Kent | Renton | Kirkland | Issaquah | Lakewood |  Lynnwood | Mercer Island | Marysville | Mill Creek | Olympia | Redmond | Seattle | Tacoma | Kennewick | Gig Harbor | Vancouver.
Our SEO packages and marketing solutions are affordable and geared towards small businesses. In particular, companies in and around Seattle, Bellevue, Redmond,  Snohomish, Tacoma, Kent, and Factoria Bellevue, WA, continue to be our loyal customers. Our SEO company and web design firm do not just make a promise but instead carry it out to succeed whether you are close to home in Seattle or elsewhere.
Since the start of SEO, our SEO services and SEO marketers have focused on organic SEO for small businesses like restaurants, distributors, professionals, doctors, dentists, and attorneys. Call an SEO Expert for a free no-obligation estimate - (425)-336-0069.
Digital Marketing Services
Our digital marketing services are available in Washington and other states. Locally we assist small businesses in Puyallup,  Gig Harbor, Olympia, Bellevue, Issaquah, Kirkland, Seattle, Vancouver, Tacoma, and surrounding areas.
Internet Marketing Services
Our internet marketing services, coupled with web design and SEO, will get your small business website to the top of your search engine. We focus on local as well as larger markets. From Seattle, Olympia, Maple Valley, Kirkland, Bellevue, Tacoma, and states like Washington, California, and ones further out! We provide quality on-page SEO as well as off-page services. For example, we are helping to acquire customer reviews.
Organic SEO is the Perfect Solution
Yes, on-page SEO and off-page SEO services are the best way to get your website visible online. But, you need to hire an SEO agency or SEO expert that knows what they are doing. At Visualwebz, we work within guidelines set by search engines. Also, understand terms like LSIGraph and incorporate structured data into websites. Our digital marketing strategies coupled with web design get positive results for our customers. As an established SEO consultant, we are available locally and nationally as professionals; our reach is beyond Washington and the USA!
Online Marketing Services
Our online marketing services are limited to Seattle, Bellevue, Renton, Tacoma, or Bellingham. But we offer services to all businesses nationally and globally. Go ahead and contact one of the top digital marketing agencies near you. You'd only realize that the SEO services they offer will be highly costly and outside your budget.
There are many SEO Companies. But we ask you to check our reviews and decide why our customers chose us.
Visualwebz is a top Seattle web design agency recognized as a leading advertising and marketing firm in Washington.