Web Development Agency
Web Development Agency and Online Marketing since 2008. "Their expertise is phenomenal and they were very good at explaining things."
New Website
We create individualized custom website designs that allow businesses to expand. In fact, our carefully crafted websites are developed with a purpose and goal in mind, More Customers!
Website Maintenance
If your website is outdated and not meeting your customer needs. We will re-design and develop a functional and attractive website with a "wow" effect. It will also be optimized for more traffic!
Online Marketing / SEO
You have a website, but it's not getting the traffic or has limited online visibility. Our proven SEO strategies will enable your website to rank higher and generate sales.
Established Web Development Agency
Our Web development agency provides quality web design solutions for small businesses. Overall, we do everything from start to finish. For example front-end web development, complete website development, web marketing, and SEO. Nonetheless, our wealth of experience in fostering small to medium-sized businesses allows us to deliver quality products with positive outcomes. Besides being an established Web Development Agency our experience and qualifications are backed up by our customers:
Services :
Healthcare such as elderly care, dentists, chiropractors, and medical centers.
Non-Profit organizations and local charities. For example churches and religious places.
Small Business Startups such as manufacturing, construction, and car repair.
Retail and service sectors such as hair salons.
Notably, others include professionals such as CPA, Realtor, Investment firms, Tax services, and attorneys.
Schools such as pre-schools, day-cares and training providers.
Request a Quote Now: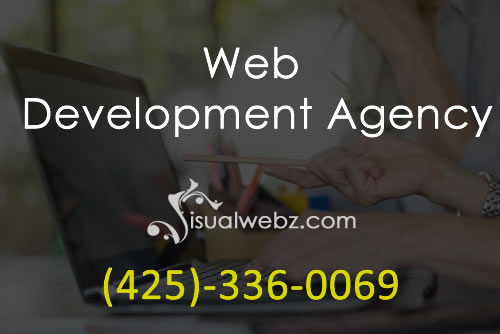 Web Design, Current Trends, and Online Marketing Blog Posts:
We have summarized a number of areas small businesses should be aware of when it comes to having an effective online presence.
An SEO expert will always have an understanding of complex ranking formula fundamentals, SEO practices, and be able to explain SEO tasks and terminology to its customers. In fact, as a professional SEO person, they should never leave the clients in the dark! All professional SEO teams, clearly know the type of marketing that best fits any business. For example, to name a few, organic SEO, PPC, local SEO, and Social Media strategies.
More Blog Posts on Web Design, Online Marketing, SEO, and related areas:
Google Panel | Google Adwords | Google Trends | Rich Snippets | | Internet Companies | HTTPS | | E-Commerce Website Developers | | 20 Years of Google | AI | Google Algorithms | Phishing & Compromising websites | Business Ranking in Seattle | Smart Homes | Ruby on Rails | Web Design History | Death of Google Plus | 5G | Micro-animations & Micro-interactions | Drop shipping | Check our multi-page generator that helps create multiple landing pages | Structured Query Language.
Yes, there are many cheaper options available, but you should know the pros and cons of cheaper website costs. Also, why cheap websites don't always deliver what you expect. Connect with one of our web design or online marketers today. Also, we ask you to read our Seattle web design company reviews and see why our customers are glad they gave us the opportunity to work for them. Call us at (425)-336-0069.
10 things every small business website needs :
A Web Development Agency's relies on 10 factors when it comes to quality websites…
1 .Clear Description
A clear description of who you are: When someone visits your site they should not have to guess what it is that you make or provide. YoYourompany name and products/services should be on the homepage. A mission statement also helps to inform the visitor of what it is that you are trying to accomplish.
2. Simplicity
A simple, sensible Web address: Your domain name should closely match the name of your business and should include the .com address. Ideally, when someone visits your page they already have an idea of what you provide by looking at the name of your business and the name of your web address.
3. Intuitive Navigation
An easily navigated site map: Drop down menus are the best when it comes to guiding the visitor on your web page. Visitors want to find the information they are looking for as quickly as possible.
4. Contact Information
Easy-to-find contact information: On the home page of the website the business should include multiple contact methods such as phone numbers, websites, and operation hours and location. Contact is the lifeline to conducting business if people can't reach you they also can't conduct business with you.
5. Customer Reviews
Customer testimonials: Reviews from actual customers are helpful to potential customers in regards to making a decision about buying your company's product or service. Be sure to be fair in accurately representing the reviews left by customers on your product or service. Visitors/Potential customers like to see in the reviews that the company has tried to resolve issues by contacting the dissatisfied customer. Most of the time there is just a simple misunderstanding that can be easily resolved.
6. CTA
An obvious call to action: Create a sense of urgency and a call to action within your visitor by offering expiring exclusive deals, mailing-list coupons, or free quote/sample product. Another useful call to action is putting timers counting down on certain products with an expiring offer.
7. Search Engine Optimization (SEO)
Know the basics of SEO: Search Engine Optimization is crucial in order to grow your online business. The average internet surfer most likely will only view the first page of results for a query. If your business does not appear on the first page you may miss out on a substantial amount of business. Another way to get you to name out in the cyberspace is by social networking. Posting pictures on Facebook or Instagram or by purchasing advertisement space on these platforms creates an online "buzz."
8. Quality Content
Fresh, quality content: When a visitor views your page, they like to see activity. Whether that be a moving panel of recent reviews or a feed from your company's blog or social media page. A visitor wants to find what they are looking for and you want them to return to your page.
9. Secure Hosting
A secure hosting platform: Having a secure Website is crucial to conducting business over the internet. Personally, If I see that a webpage is insecure, I will never input any personal or financial information. Your customer needs to feel safe when making purchases or providing information. Many visitor's browsers will warn them that the page they are about to visit is insecure; this can scare away many potential customers before they even see your web page.
10.Friendly Design
Design and style friendly to online readers: When a visitor enters your webpage the last thing they want to see is a novel plain text. As a business owner, you must understand that the average visitor scans the page looking for information pertaining to their query. To assist in this consider making small paragraphs pertaining to one topic, using bullet points, and emphasizing keywords.
What we Offer as a Web Development Agency
There are many ways a web development agency can help your business with a website that helps your business grow. For example, through the utilization of our tools and strategies. Also, using our search engine optimization strategies will helps people find what they need online. Thus, increasing awareness and online presence of your business. In fact, a nicely designed website by our web development agency will represent professionalism as well as credibility.
Our experience as a web development agency is to get your business gain the online presence. Hence, we will get your website to the next level. After all, our online strategies through our SEO expert and knowledge of creative web design will get your website there. Contact us your Web Development firm!
Don't delay...
Connect with our Web Development Agency
Most compelling reason to hire our web development agency is that we help small businesses drive traffic to websites. In fact, we pride ourselves in not sacrificing or cutting corners in delivering the final product. Our value-added services are one of the best. Consequently, be it a new website or an established one, we will provide a quality service. Contact us immediately your local website developers.
Our Web Development Agency is available to take on new website design and development projects. If you're about to start a website project or just a small business or professional that has questions? Then contact us at (425)-336-0069 or email us at info@visualwebz.com. Hiring a professional like Seattle website developer will be one of the best decisions you'd make. Remember, with over two decades of experience, qualified website developers and low web design costs how could you possibly go wrong?
Local Web Development Agency
Web Design | SEO | Online Marketing | Website Development & Maintenance
Our Story as a Seattle Web Design & Online Marketing Agency
We've been creatively web designing since the World Wide Web moved into the mainstream. Yes, we remember building them very first clunky yet functional websites back in the mid-'90s! As of right now, our website developers and designers build a state of the art dynamic websites. similarly, we handle website support, maintenance, website repair, and online marketing. After all, we know that we have come a long way since the mid-'90s and our experience and credentials speak for themselves. With this in mind, we can guarantee the results will be outstanding.
In case your wondering, our customers have been more than delighted with outcomes. Just check the internet with all the credible reviews we have. While our custom solutions allow professionals and businesses like yours to stand out from the crowd we also offer free consultancy and options available to get there.
Be it a simple 5-page website for a small business, startup, or a complex e-commerce subscription model, we have the expertise to create a functional and competitive online presence.
Website Development since 1996

100%

100%

Internet Marketing since 2008

100%

100%

Organic SEO

100%

100%

Customer Satisfaction

100%

100%

WordPress Website Design & Development

100%

100%

E-Commerce Platforms

100%

100%

Website Maintenance & Repair

100%

100%

Website Security & Backup

100%

100%
Hiring a professional website developer will be one of the best website choices you could possibly make. We understand that searching for the right web design firm can be a daunting task. We can make the process simpler... Of course, you're looking for a web design agency that's reputable and serves well. Hence, why we ask you to call us and start the conversation and have you decide why our services will be the best fit for you and your business. We ask you to check our reviews and see why our Seattle web design and online marketing services stand out.
Cities where we provide Web Design for small businesses:
Like any small business or customer, you may be asking yourself why you need a website? Of course, you do! Every business no matter how small or big needs a website and more importantly online marketing services thereafter. For example, SEO will help the site be more visible and available during search results. Thus generate more website traffic and increase sales and services! There are other factors and reasons why web design should be built. In fact, we've summarized 12 reasons why a business should take web design seriously. Some of these include, global and local presence, open 24/7, and outpace your competition.
We offer the best website design services, web maintenance, and web support to small businesses in Seattle, Washington, and all over the USA. Yes, our website builder services are available to all businesses at affordable website rates. After all, hiring competent and affordable Seattle web developers, website designers, WordPress Designers, and web builders will get your business the results without breaking your bank account! Whether you're looking for a web agency in Seattle or a website developer elsewhere? We can help. Call us at (425)-336-0069.
Every business deserves a professionally designed website
Our freelance website development services will get your business the professional presence needed! Whether it's an e-commerce website or a simple CMS in WordPress. We always deliver what our customers expect! Our professional web designing and online marketing experience have proven to be inexpensive and effective for small businesses and professionals alike.
In fact, our local web design services are not only available locally in Seattle, Washington, but all over the USA. From custom web designs, SEO, and supporting Seattle businesses with our WordPress maintenance allows our agency to offer a diverse group of web services.
Local Areas we serve in Washington
Local cities where we offer web design services include Auburn, WA | Seattle, WA | Covington | Kent | Kent, WA | Federal Way | Tacoma | Olympia | Issaquah | New Castle| Lakewood | Gig Harbor | Everett | Monroe | Mill Creek | Milton | Puyallup | Redmond | Renton | Tacoma | White Center | Vancouver | Bellingham | Seattle | Yakima | Woodinville.
If you need a new website or just looking for some website support, reach out to us, and let us help. Our agency has been recognized as the best web designer in Seattle.
Custom Web Design Solutions
How can we not mention custom web design solutions? Many of our clients opt for custom websites, due to the fact that the end result will make the business stand out from its competition. In fact, a custom website built by a professional web designer will not only result in solid branding but allow customers to differentiate and quickly identify your services and products from your competition. Our custom web design services are available to a diverse range of businesses in many areas, such as Seattle, Renton, Bellevue, Tacoma, NY, California, and globally.
Hire the best Web Design Services in Seattle, Washington
With front-end and back-end experience, our customers back us up as the best web design services. In fact, how could you possibly go wrong? In fact, our full-stack web development experience and online marketing will pave the path for your business to succeed. Contact us today at (425)-336-0069. Just a reminder, that our services are available, but not limited to Seattle, Bellevue, WA, Tacoma, Olympia, WA, New York, L.A., and all over!
Web Developers - We're not just a Web Design Agency
Our specialties are not only in web design but also in web development and online marketing. Yes, we are a full-blown agency with a one-stop service. Our web development services are not just limited to the Washington area but all over. From Bellevue, Tacoma, and all the way to LA, California, NY, London, Birmingham, UK, and Glyn Ebwy, Wales! Our UK web design services assist many businesses in Solihull, Birmingham, West Bromwich, and surrounding areas.
Web Agency with perfect solutions & great reviews
Our small business solutions are the perfect choice for any small to medium size business looking for results. Especially if you're looking to see your small business website grow via effective web design and online marketing. In fact, our Seattle, WA web design company has assisted many businesses in and around the Puget Sound area. But, we did not finish there, we've also helped businesses in Seattle, Issaquah, Bellevue, Tacoma, New York, and California. Let our expertise help your business expand and reach new heights!
A Top Web Design Agency with solid Web Development and Online Marketing credentials.
Website Design - Call (425).336.0069
Seattle Web Development Agency
Our web development skills are based on a high level of mastery in website design and online marketing. In fact, skills which are used to design websites and ensure that a website is appealing, functioning properly and working as efficiently as possible are our key priorities.
We all know that browsing the web has now become a necessity nowadays. Hence getting a website built by a competent web development agency is a must for any small business looking to see progress. Also, quality workmanship on any website by professionals will result in a clear cut lead from the competition. Think about it, our capabilities as a web development agency are backed by our knowledge in a diverse range of coding in languages such as HTML, PHP, and CSS. In fact, we are able to fully bring out the best possible potential for any website.
Seattle Web Development Agency for Small Businesses
If your looking for a web development agency or website developers near you, you've come to the right place! We provide web services to the following areas, but not limited to Auburn, Algona, Milton, Seattle, Bellingham, WA, Des Moines, Bellevue, Issaquah, Burien, Federal Way, Fife, WA, Maple Valley, Mill Creek, Covington, WA, Des Moines, and Seatac. Des Moines and Seatac. Whether its a simple website, responsive website conversion, or one that requires custom work via Python? Hire a local Seattle web design firm and support the local community.
Web Development Agency & Online Marketing
Web Development Agency & SEO services available nationally
Besides providing SEO and online marketing to local businesses we also provide such services to small businesses in other states. For example, local cities include Seattle, Tacoma, Federal Way, Issaquah, Kirkland, Lakewood, WA, Monroe, Olympia, Tacoma and Bellingham, WA.
Whether you're looking for a website for an attorney, small law firm, dentist, or marketing a law firm? Our web developers will deliver exactly what you want. Call Visualwebz today at (425)-336-0069.
Other states where Web Development Agency services are available:
Contact Visualwebz LLC and let us handle your web design and SEO projects as your Seattle Web Development Agency.
Online Marketing, SEO services available to small businesses in:
Our tried and tested Small Business SEO Services help outrank competitor's websites and drive more traffic. In fact, ignoring our leading Seattle SEO marketing services could result in you missing many online opportunities and allowing the freedom for your business to expand. Whether it's SEO for a dentist or promoting an online event we have proven through many SEO case studies that we get it done!
If you want to succeed online and help your business's current online standing then internet marketing is a necessity. More importantly, we can help pave the right path in making your website successful. Our SEO Agency is a top-rated marketing agency that can help your business reach new heights, and reach its maximum potential.
Also, our SEO agency's innovative ideas, strategies, and solutions allow businesses to take the lead in their industries. From local Seattle SEO through to global presence, our custom tailor-fit solutions help businesses effectively compete. We can help your Seattle business reach that desired ranking on search results.
Following is a small list of cities where our renowned and best Seattle SEO services are available. We serve and help small businesses improve their online marketing presence via effective organic Seattle SEO and web solutions. Overall, our Seattle website SEO practices have helped many businesses gain the online exposure needed for them to attract traffic and generate sales.
Our web related services have delivered many solutions to small businesses in and around Seattle. Other local areas where our clients include: Algona | Auburn | Kent | Bellevue | New Castle | Bellingham | Factoria, Bellevue | Federal Way | Fife | Kent | Renton | Kirkland | Issaquah | Lakewood | Lynnwood | Mercer Island | Marysville | Mill Creek | Olympia | Redmond | Seattle | Tacoma | Kennewick | Gig Harbor | Vancouver
Our SEO packages and marketing solutions are affordable and geared towards small businesses. In particular, businesses in and around Seattle, Bellevue, Redmond, Snohomish, Tacoma, Kent, and Factoria Bellevue, WA continue to be our loyal customers. Our SEO company and web design firm do not just make a promise but, rather carry it out to succeed. Whether you are close to home in Seattle, or elsewhere.
Since the start of SEO, our SEO services and SEO marketers focus on organic SEO for small businesses like restaurants, distributors, professionals, doctors, dentists, and attorneys/call us for a free SEO estimate at (425)-336-0069.
Digital Marketing Services
Our digital marketing services are available in Washington and other states. Locally we assist small businesses in Puyallup, Gig Harbor, Olympia, Bellevue, Issaquah, Kirkland, Seattle, Vancouver, Tacoma, and surrounding areas.
Internet Marketing Services
Our internet marketing services coupled with web design and SEO will get your small business website to the top of your search engine. We focus on local as well as larger markets. All the way from Seattle, Olympia, Maple Valley, Kirkland, Bellevue, Tacoma, and states like Washington, California, and ones further out! We provide quality on-page SEO as well as off-page services. For example, helping to acquire customer reviews.
Organic SEO is the Perfect Solution
Yes, on-page SEO and off-page SEO services are the best way to get your website visible online. But, you need to hire an SEO agency or SEO expert that knows what they are doing. We at Visualwebz work within guidelines set by search engines and understand terms like LSIGraph and how to incorporate structured data into websites! In fact, our digital marketing strategies coupled with web design get positive results for our customers. Also, our SEO consultant services are not only local in Renton, Kent, Seattle, Ballard, Bellevue, or other areas. In fact, our reach is beyond Washington and the USA!
Online Marketing Services
Our online marketing services are not just limited to Seattle, Bellevue, Renton, Tacoma, or Bellingham. But we offer services to all businesses nationally and globally. Go ahead and contact one of the top digital marketing agencies near you. You'd only realize that the SEO services that they offer will be extremely costly and outside your budget. In fact, there are many SEO Companies to choose from but we ask you to check our reviews and decide why our customers chose us.
Visualwebz is not just a top Seattle web design agency but also recognized as a top advertising and marketing firm in Washington state.