SEO Trends for 2021
SEO Trends and what you need to do to stay ahead.
Top 11 SEO trends to look out for :
1. Voice Search and Digital Assistants
According to search giant Google, 1 out of 5 searches already come from voice queries! The most apparent medium for inquiries is performed via the digital assistants on our smartphones such as Apple Siri, Microsoft Cortana, Google, and Amazon Alexa.
Voice Search is becoming the norm.
Googling the way we did years ago is not the only way to find and locate content. It's been reported that over half of U.S. teens and 41% of U.S. adults use voice search daily. One of the critical differences in how voice search will morph is the fact that up to now, search results have been based primarily on keywords. The next phase will be much more specific and cater to longer queries that are more attuned to voice search terms. Therefore, the more intelligent these digital assistants are, the more responsive they can be with the search results provided to their customers.
As a result, this will help companies acquire even more market share, which is precisely what you want! The image above from Google shows us when a voice search is most in use.
However, voice search won't exactly cut it with keywords alone as consumers will be looking for greater contextualization and personalization in their search results. This will include AI and machine learning capabilities, which we will discuss later in this blog.
2. Link Building is still an SEO & Website Trends
Link building is the practice of acquiring hyperlinks from other websites.  This is essentially all about gaining referral traffic to redirect to your site, resulting in increased search rankings. Although the practice has been around for some time, there is a renewed emphasis on utilizing this practice to generate even more local traffic.
Local links are based on the idea of "real-world" relationships within the local community. Therefore, the quality of the link doesn't matter as much and often can be entirely unrelated to your business's core goals. Because they are locally based, there are several ways to garner such relationships, including acquiring local sponsorships, getting involved within your local community, sharing helpful information, or engaging in a bit of ingenuity. And the hope of random mention.
SEO can be initially intimidating, so ts best to focus on the value of content for customers. In addition, building long-term, valuable relationships benefit businesses and the local community.
3. SEO Trends has shifted to User Experience
A key page one ranking formula today is good user experience and user interface web design. More importantly, this will typically create a stickier experience when it comes to acquiring new customers. Think about it. How many websites have you left just because it wasn't engaging, or perhaps it simply felt clunky? Amazon is an excellent example of how to develop an exciting customer experience.
More specifically, staying power is attributed to such factors as the "site's speed, its readability, and its navigation structure. This SEO trend will continue to be a significant factor moving forward! Therefore, the better the user experience, the longer people will spend on the site. Thus resulting in a higher conversion rate and return on investment.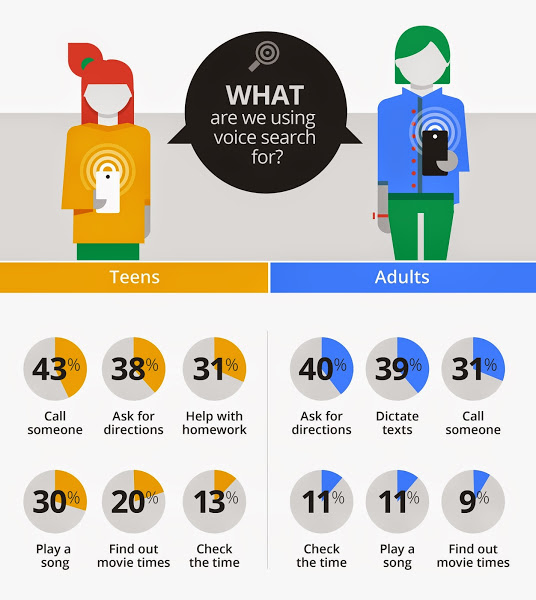 4. Featured Snippets and Quick Answers
Snippets and quick answers are key to ensuring that companies appear in the first position on the search engine results page (SERP).
Like voice search, snippets and quick answers provide context-specific responses to the user within the search results, rather than just being based on simple keywords. Moving forward, the focus will be on supporting longer keywords and natural language, such as a more conversational type of search query.
More than half of queries will be voice search; hence will require a new look and experience into how voice search applies to snippets.
This updated approach will be expected to result in a greater context and greater depth, followed up by related content and drilling down and lateral to the original search query.
5. Mobile-First Index
A recent study by BrightEdge found that "57% of web traffic comes from mobile and tablet devices". Hence, SEO experts pay close attention to the right keywords and index on multiple platforms like mobile devices. In fact that many companies are using the desktop as a frame of reference as their default, and doing so increasingly short-sighted given the widening gap between desktop and mobile rankings. Search results rankings are also very different between desktop and mobile.
While more new companies embrace a mobile-first strategy, results based on web page design and performance, analytics, and keyword tracking emphasize a missed opportunity. We recommend combatting such inefficiencies and improve your SEO strategy by combating all devices.
SEO Trends with a High Significance
Identify and differentiate mobile versus desktop demand.
Design and optimize websites for speed and mobile-friendliness.
Utilize responsive web designs.
Understand different online consumer intent signals across desktop and mobile devices.
Separate mobile and desktop content that resonates with multiple device types.
Focus on optimizing mobile content and mobile pages to improve conversions.
Compare and report mobile and desktop share of traffic.
Measure and optimize page load speed.
Analyze organic search rank for mobile and desktop separately.
6. Visual Search
SEO trends have further expanded into visual content. Visual search presents an intriguing approach based on innovation and user experience. Pinterest, with its over 200 million users, is a great example. In fact, this method is based on the capabilities of users to catalog their interests based on images when they don't know how to describe what they are looking for textually. Using "mood boards," users can collect ideas based on categories to drive their inspiration. Pinterest is far and away from the best tool representing visual search.
Microsoft's Visual Search
Microsoft's Bing as well had its own visual search product but retired in 2012. Microsoft now has a new visual search platform relegated to desktop only but soon supported on mobile devices. As the visual search continues to mature, load time becomes an enormous factor for user experience. This will require greater image optimization by compressing their file sizes and/or optimizing the delivery method using content-delivery networks or CDN for short like Cloudflare or Amazon CloudFront.
7. AI and Machine learning
Artificial intelligence and machine learning are about personalizing the user experience through the use of deep learning algorithms. AI works differently from just the typical keywords but instead relies on the culmination of user experience (content, links behavior), big data (trust, citations), and machine learning (patterns) to arrive at results that are more specific to the user's needs. The information gleaned from a given search feeds into the algorithm's learning capability, and it is that learning that will drive search in the future. In short, it is AI that will make traditional SEO methods obsolete because it leverages natural language processing.
BrainRank
Google started to introduce "RankBrain," a machine-learning system that helps create Google's search results by playing a key part in the company's ranking algorithm. The typical scenario is where a query is entered. Google returns a set of relevant organic search results based on predictable SEO ranking factors such as keywords. In fact, machine learning has become a "layer" on top, where it becomes the final "king" to decide on a ranking.
8. Unique & Exceptional Content
Now ask yourself, whenever you visit websites, you're looking for specific content? In fact, content written with the intent of keeping you engaged is always going to be invaluable. The headline and words should be enticing enough for you to continue reading. The content should be structured and keep you wanting to read. Also, the information should be structured with ease and presentable. Whether a small business manages your own digital content or not, you should know how to write engaging content for your website.
Research shows that a visitor has around 3 seconds to decide to continue or dump the website and move on to others. Hence the initial fold, as well as headlines, should create that initial connection. Without saying more, content should be delivered for the right audience and unique because it's new knowledge for the reader. For example, a product or service being offered should be supported by customer reviews. For example, positive and stellar reviews will allow visitors to verify and authenticate that it's something that they could further explore and possibly purchase.
Creating and maintaining unique content will always remain a key SEO trend. In fact, content marketing has exploded as Google has continued to ramp up natural searches and AI into their algorithms. Regardless of its text, visuals, or videos, unique and engaging content will always top the list.
9. Speed & 5-G
The time it takes for a website to load and immediately provide content to its visitors is a must. This, in particular, implies mobile devices. In fact, people are just too busy to be waiting around. They want immediate results. Hence, optimizing images and content is aspect web designers and SEO experts have on their list. But in saying this, the browsing experience on mobile devices will change, especially with 5-G coming on board. In fact, 5-G will remove the burden of having to wait for rich, heavy content websites to load. 5-G will provide up to a staggering 100 gigabits per second! That's 100 times faster than the 4-G we currently have.
10. Black Hat SEO
There are no quick tricks to get a web page or website ranked. Small business SEO services that offer such practices (Black Hat and Gray Hat SEO) will result in a temporary hike followed by a significant slump. Following search engine guidelines, understanding SEO terminology, and focusing on the user experience and content are great to increase online exposure. Other factors such as site structure, structured data, and social media also play a crucial role. At Visualwebz, we never exploit or utilize such practices. Our small business SEO approach is based on Google trends!
It pays to be strategic about what content is accessible on a mobile device and what is not. Like voice search, snippets and quick answers provide context-specific responses to the user rather than simple keywords. Moving forward, the focus will be on "supporting longer keywords and natural language. Such as a more conversational type of search query. As more and more queries become voice-based, it will require a new look into how voice search applies to content and websites.
AI Evolving even faster!
Whether it's Google, Bing, Yahoo, or any other search engine, if the content is optimized, easy to comprehend, applicable, and matches the user's intent, then there will be a success. AI is now evolving at a rate of 10 times a year over year in terms of "capabilities to read and understand natural language written for humans. Until we get to the point where AI is far more capable, the current game plan should rely on a user's intent when performing a search. Intent includes four types of queries include:
Navigational – where one is searching for specific content
Informational – focused primarily on a particular goal
Commercial  – with the intent to purchase
Transactional queries – paying a utility bill, etc.
Together, these queries work to anticipate what the user's next move may be, and subsequent results are catered to that input.
Dramatic Growth in SEO
It looks like a very exciting year for SEO as many of these features mature and newer ones come on board. As Artificial Intelligence develops, it is fair to expect dramatic growth as we witness a shift from static keywords to algorithmic learning structures and pattern utilization. AI stands to become the overwhelming standard for the future of SEO due to its capabilities to learn, identify trends in user behavior, and act autonomously. SEO Consultants and SEO companies will see a shift in practices and adopt new technologies and procedures as they scramble to attract customers for the websites they manage.
At Visualwebz LLC, we are aware of these shifting changes and continually stay abreast of SEO and digital marketing trends. Whether you're looking for SEO Attorney services, a dentist, or an established, we deliver. We have continually proven our services and ask you to check our SEO case studies. For example, Seattle SEO Mitsubishi and Seattle SEO case studies on local blind cleaners present positive results for higher ranking and traffic. Also, we help clients all over, from LA, Seattle to New York! Whether you have a dentist website that needs help or about to start a business, we can help you!
Call Visualwebz today, and let us work our magic in getting your website ranked higher. Call now at (425)-336-0069
More Details on Website Design & SEO
Web Design and SEO Trends to Know
Whether you're looking for Seattle website SEO, a new website, or WP maintenance for an existing small business website, you've come to the right place. Here at Visualwebz, we understand business owners and website benefits. In addition, we know that being a website owner. You will want to see immediate results. Further, we can help your website reach an international, national, or local customer base. Besides, we know how to get your customers to you. For example, we have assisted many small businesses like a local nonprofit Village Family Project in Seattle, which now has a professional website. Our custom web design solutions allow companies to convey a unique online brand and image.
Whether it's a SQL custom-built website or a local dentist seeking SEO? We get the job done!
In particular, our website developers specialize in delivering the best websites and nothing more. More significantly, our qualifications and experience allow us to provide clear and concise solutions. We will keep you in the loop during the whole web development process. Afterward, we will help you with improving your online presence. For example, our SEO specialists will help drive traffic to your business with this in mind. Visualwebz is the ideal firm to hire for your next project. We will also take care of your web security – remember, you will need to secure your website from hackers eventually. Similarly, the web design services we offer include website maintenance, support, and website testing.