Google Reviews
Google Reviews are becoming more prominent…
Google Reviews vs Yelp
Once web development for any small business has been completed, and the website has established itself, the next stage will be to earn a reputation. The best way for customers to gain trust is to check online reviews. Google reviews and Yelp reviews are the first places customers tend to go to in order to check businesses credibility. These two review websites are one of the leading review websites. So, what makes these two review websites so successful? In this article, I will explain what Google review and Yelp are. Pros and cons of both google review and yelp will be covered. In addition, a story covered on 60 minutes highlights how Google is becoming the key player in the review market. Finally, my opinion on Google review and Yelp.
What is Google Reviews?

What exactly is google reviews? Google is the world's leading search engine website and has grown rapidly since its arrival in 1998. Google takes up 80 percent of the internet's reviews and searches. The other review websites that follow are yelp and Facebook. However, none come close to Googles leverage on the review market for business. Google reviews serve as the middleman between businesses and consumers. In addition, Google reviews use a system where the businesses have a credit reporting structure based on a star rating. Google review also serves as a way for businesses to advertise.
What are the Yelp Reviews?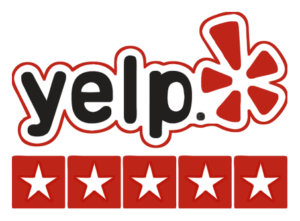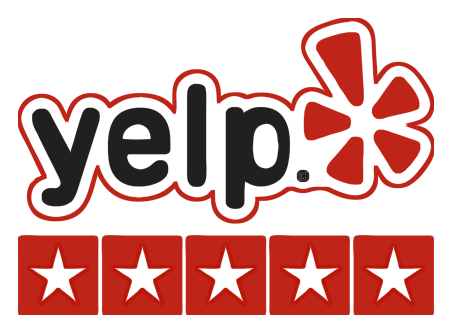 To start Yelp reviews was created in 2004. Yelp reviews are primarily the same as google review except it revolves around a community standard of Yelp reviewers, businesses, and consumers that read the reviews. In addition, the system is similar to Google reviews where it serves as the middleman between the companies and the consumer. It also serves as a significant place for businesses to advertise for themselves or for other companies to advertise on the various review pages. The yelp review process is run by a unique algorithm that primarily only allows specific reviews to be seen or published. Most of the ones that you do see are from prominent or frequent yelpers who use the site. This allows legitimate reviews to be placed and not just ad booster review from businesses.
What are the pros and cons of Google Review?
Google review can show all information related to business. For example, location, opening times, social media links, reviews, and blogs. In addition, Google reviews can help in terms of page ranking. It also allows you to integrate your YouTube and Gmail to your business listing. Finally, access to all of googles data on the world wide web is available.
The main disadvantage to Google is its lack of ability to search the business and navigate through the business content.
What are the pros and cons of Yelp Review?
Unlike Google reviews the ability to corner the market in reviews. Yelp has been able to maintain its dominance as second place in the review website standings. To start off with the advantages of using yelp, you will find it significantly more of a community feel than google reviews. Not only does it also give the consumer the ability to look up local business it allows you to be a part of the community of yelpers in reviewing of businesses. It also has a significant advantage in SEO searches of local businesses along with the number one source for local business reviews.
Now to get the cons of Yelp is its algorithm. It filters out the legitimate business review with its selective review posting. Thus, pressuring small businesses to purchase adds and leaving small players at the mercy of Yelp.
60 Minutes Story
CBS News aired a story on Google Reviews and its monopoly effect on reviews and search market. Steve Kroft investigated how Google has become a monopoly, and seemingly cornered the market? He goes on to interview a prominent antitrust lawyer named Gary Reback on how the United States government is not regulating antitrust laws with Google. This is one of the primary reason as to why Google is a big player in the searches and advertising arena. The program goes on to interview Jeremy Stoppleman co-founder of Yelp. Where he states that Google has no made it virtually impossible for small businesses to operate without Google.
Summary of Google reviews and Yelp reviews data
Google reviews are made for the consumer to get all of business content and information all in one easy to read place. With Yelp review we have found out how it differs from Google reviews. For example, its ability to give a community feel with yelper reviewers. Yelp seems to be pressuring of business to buy ads and policies that allow them to kick a company off its site thus creating a downfall of Yelp.
What's better than Google Reviews or Yelp Reviews?
So now the time for the moment of truth on who is better between Google reviews and Yelp reviews. After careful analysis, I find Google to be the way forward. In addition, the likes of other review sites over time will diminish. With that said the likes of Yelp will still need to rely on the Google Search Engine.
In saying this Google reviews still has its place higher up in the chain as its the key player in the Search Engine arena. There are other platforms that are creating an impact on search queries, like UpCity and Clutch. Overall Google trends and updates will continue to impact search queries as the algorithms become more "intelligent".
What is Yelp ?
What is Yelp
Yelp is an online business directory where you can get listed and found online. Customers can find them, contact them and rate them. Yelp in comparison to Google reviews has a larger following of people. So, for companies, it is really important to have a good reviewed business on there. Overall, customers can leave feedback on their experiences with that business which does two things. It informs future customers of what they might expect and it keeps standards high or forces an improvement of those standards to prevent negative feedback. All these things are really important for customers. Since businesses try their best to improve their rating. After all, we as customers get to experience better service.
How to use Yelp to find a business
Yelp is available on multiple platforms. Including Web, iOS, and Android platforms. However, I am going to cover the Web platform in this article. In order to access and be able to use Yelp do the following:
Navigate to Yelp.com in your web browser.
Select a city in where you want to find a business.
Now in the search bar type or select a business category or business name like 'Restaurants'.
Press search and you will be provided with businesses in your area.
Click on the title of the business from the results page.
Now you can have accessed the yelp page for the business that you were looking for.
On this detail page, you have the name, address, phone number, and website URL at the top of a small map showing you how to get there (Techjunkie). "Opening hours and other information are on the right side and reviews are lower on the page in the center. From here you can read all the reviews that the customers left for this business" (Techjunkie).
How to leave a feedback on Yelp
It does not matter if you loved or hated a business you can leave a feedback to let the others know. However, first, you will need to create an account on Yelp. To create an account on Yelp, do the following:
Go to www.Yelp.com in your browser.
Press the 'Sign Up' button on the top right-hand side.
Now you will have to sign up with Facebook, or Google, or sign up by entering the required information.
If you choose to manually sign up you will need to enter: first name, last name, email, password, and your zip code.
After you press sign up, press the log in button and enter the email and password that you've signed up with.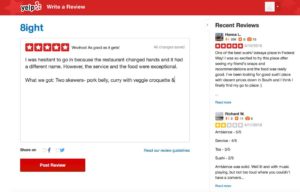 Now being signed, you will be able to leave any review to a business that is on Yelp.
How to use YP to find a business
How to use YP to find a business
Just like Google Reviews, Yelp YP is available on iOS, Android, and Web platforms. To use YP in your Web browser to find a business you need to do the following steps:
Go to yellowpages.com in your web browser.
Select a city where you want to find a business.
Now in the search bar type or select a business category or business name like 'Restaurants'. You can also look up any service that you need to get done.
Press search and you will be provided with businesses in your area.
Click on the title of the business from the results page.
Now you can have accessed the yelp page for the business that you were looking for.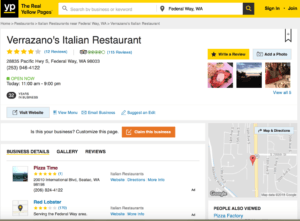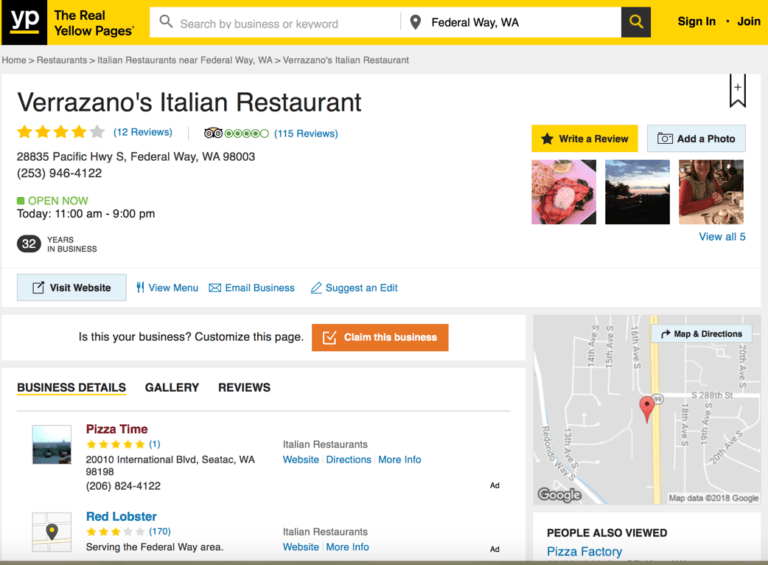 Screenshot from www.yellowpages.com
Navigating YP is really similar to Yelp. These two cites even have a similar design. Just like with yelp you can see things such as business description, photos, and customers feedback. However, it seems to let the owners of the page add more business details than Yelp.
How to use Angie's List to find a business
How to use Angie's List to find a business
Just like Google reviews, YP and Yelp, Angie's List are available on multiple platforms including iOS, Android, and Web. To start using Angie's List on the Web do the following steps: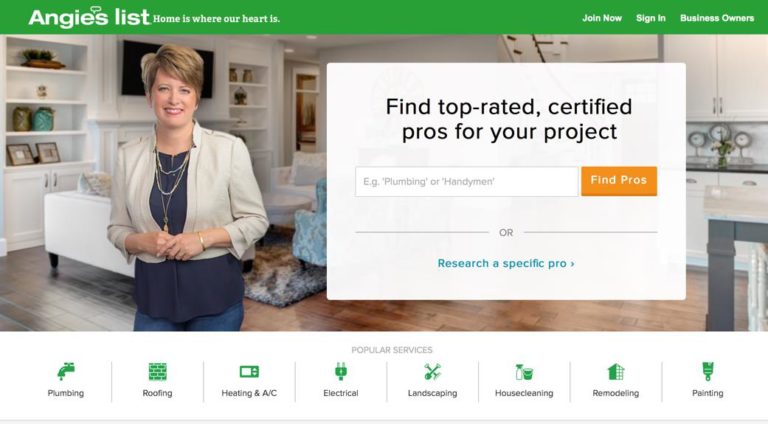 Go to www.angieslist.com in your web browser.
Type a service that you are in need of like plumbing, handyman, painting, etc. Also, you can just select from the list that is provided.
Go through the required questions and you will be provided with the list of providers who can do your service.
So, Angie's List is great for different services. However, if you are looking for restaurants then this is not a place to go to. However, since they provide you with a survey they are able to find the best possible company.
Yelp vs YP vs Angie's List, which is the best
Out of all options that we went through today, Yelp and Angie's List were the best options. Yelp has a very big following. So, business prioritizes it because they know that a lot of customers will be looking at their Yelp page. Yellow pages are really similar to Yelp but it has its downsides. For a business to post something on YP they have to pay for its features. Also, YP has much smaller following than Yelp. However, Angie's List is a little different from the other two. It asks user survey questions about the service that needs to be done. After that, it provides the customer with the best business that's going to do their service. So, in this comparison Yelp and Angie's List have their strong side. While Yellow Pages remains the worst option.
Delivering Effective Web Design & Online Marketing Services
Local Web Design Services
If you're looking for web design, website development, a new website, or just need to revamp an existing small business website, then you've come to the right place. Notably, at Visualwebz LLC we understand business owners and the website benefits your business needs. In addition, we understand that being a website owner you will want to see immediate results. Furthermore, we can help your website reach an international, national, or local customer base. Besides, we know how to get your customers to you. After all, small business websites and SEO have been our specialty since 2008!
Our customers continually praise about our web design services.,check our reviews!
We Deliver Effective Web & SEO Services
Our website developers specialize in delivering the best websites and nothing more. More significantly, our qualifications and experience allow us to deliver clear and concise solutions. Whether it's a simple website or one that's complex, or one that is built on PHP or ASP, we will always keep you in the loop during the whole web development process.
Immediately after the launch of your website, we will work with you in improving your online presence. For example, our SEO specialists will help drive traffic to your website. With this in mind. Visualwebz LLC is the ideal firm to hire for your next project. In fact, we will also take care of your web security - remember you will need to secure your website from hackers. Similarly, other website design services offered include website maintenance, support, and website testing.
Interested in chatting to us regarding SEO or web design? Or just have questions regarding our expertise or web design costs? Then Contact us today at 425.336.0069. You may also want to check our reviews, and learn why our customers like us! After all, our 5-star reviews clearly tell prospective customers why we stand out when it comes to service, punctuality, quality, and affordability.
Resources & Links
Our Blog covers a range of web resources, services, practices, and trends in the areas of web design and SEO.
Marketing & SEO
Web Design & Website Development