Seattle Web Design Company Jobs
Seattle Web Design Jobs – Visualwebz LLC currently seeks off-site (Virtual) sales individuals that have a strong understanding of sales and website development. In particular, you should be able to articulate and understand customer needs and relay them over to our website development team.
Our web development agency also seeks other web-related jobs with skills in the following areas :
Content Management Web design.
Graphic Design.
Web design and Maintenance.
Digital Marketing and SEO.
Strong web programming and SQL skills.
Candidates requesting more information should have relevant experience working independently, and be strong when it comes to handling small business website development projects. Experience in a range of web development for small businesses such as healthcare and startups is preferred.
We are also interested in partnering with other parties that can bring these skills to the table. Be it sales or development or web development. call us and let's chat.
Job Application
New Website
We create individualized custom website designs that allow businesses to expand. In fact, our carefully crafted websites are developed with a purpose and goal in mind, More Customers!
Website Maintenance
If your website is outdated and not meeting your customer needs. We will re-design and develop a functional and attractive website with a "wow" effect. It will also be optimized for more traffic!
Online Marketing / SEO
You have a website, but it's not getting the traffic or has limited online visibility. Our proven SEO strategies will enable your website to rank higher and generate sales.
Learn more about Jobs in Web Development
Website Company Jobs
Web development is very extensive-term, meaning it covers a large amount of specific website company job titles. There are many different web development careers but some popular examples include Web designer, SEO expert, Front End Developer, UI Designer, Content Strategist, and SEO Specialist. All of these careers are required to work together in a large business with the overall goal of creating, and maintaining a website that satisfies customers, and keeps them coming back for more. It is commonly known that most areas of web development require a key understanding of many somewhat complex resources including programming languages like HTML, JavaScript, CSS, Perl, Python, and PHP. Multiple positions also command understanding of the server-side of the package which encompasses web servers, database systems, and maintaining a strong connection between the server and client frameworks.
Depending on the size of the organization many of these skills will be assigned to separate positions to increase the rate at which a company's project may improve. People more interested in the designing of websites don't require as much skill in programming, as long as there is someone else stronger in that regard. Many web designers use Photoshop in order to create and experiment with website ideas, and while they do occasionally convert their ideas to reality through the use of programming, that is usually the job of the web developers. However, being apart of a web development team within a large business isn't the only way to experience the day to day tasks accomplished by people with careers in this subject.
Learn
n this day and age anyone who is motivated enough can learn what it takes to begin a profession in web development. All of the tools needed are available online and can be found with the click of a button. There are a broad amount of individuals who prefer to become freelance web developers over having to work under multiple managers, and bosses usually located within the walls of large-scale organizations. This form of web development can be very difficult for those who fail to take the proper steps and lay down a solid freelancing foundation. Freelancing requires the honing of many different programming skills, but also experience in networking. If done right it may even begin to pay more than a job requiring similar skills.
In large organizations, developers and designers will usually be working very closely with individuals whose jobs are more related to the user experience, and marketing choices. Examples of jobs that fit into this category include project manager, user experience designer, and database administrators. These professions require the use of customer data, and responses in order to help make a decision about the future steps a group should choose to make for a current project or to decide what needs to be improved. The size of these teams varies depending on the size of the company or corporation, the type of project, and the purpose of the project. All of these circumstances, with the addition of the employees whose personalities will range, and the many issues that may arise, create a very unpredictable but rewarding form of employment.
Every day is different
A vast amount of web developers say that almost every day is different from the next when it comes to their working environment, and the issues they run into. Of course for project teams, under the authority of someone with higher status, they require sometimes daily group meetings to discuss and re-analyze their long-term goals and ideas of their assignment, while also having each team member explain their tasks for the day. This helps project members stay on target, with the objective of achieving a product that the majority is comfortable with and agrees on. While this may all sound tight-nit and easy flowing, deadlines are a common stress-causer in this form of work. With the amount of sheer creativity allowed when it comes to project ideas, it is very often difficult to meet a deadline for a complete product. Jonathan Hochman says "Setting artificial deadlines on software projects tends to produce low quality work and drive away from the best developers." Because of this issue, some companies prefer to have a "no deadline" policy in place to ensure that employees are not overly stressed.
Variations in work
This short overview of Website Company Jobs is to ensure you've been informed about the different types of work involved in developing of a website, some of the many skills that employers or possible clients would be searching for in this field, and also a snippet of the work-life experienced by employees within the vocation. The possibilities and intricacies of each type of web development career add increasing incentives to strive for greatness. Next, we will explain some details and opportunities involved in these careers, and the amount of growth that is available.
Website Company Jobs are an ever-changing fast-paced line of work. With the internet being a relatively new technology the web designing field of work is subject to new ideas and revelations in the effort to make the work easier and more precise to move web development forward together as a trade. But being susceptible to change in this fast-moving career is only part of a new and exciting career.
Careers are widespread
The internet is present in most moments of our everyday lives whether it's keeping up with friends on social networks, playing games, doing work, or researching we are always using the internet. Due to the varied amount of work that needs to be done on the web this career brings several opportunities. Careers in web development range from freelance work all the way to designing and maintaining a huge website such as gooogle.com, amazon.com, or even Facebook. In explaining opportunities in the web development field I would like to start with the basic freelance web designer. Being a freelance web designed basically means that you get work contracted to you and you work with a specific company to bring a part or all of their website together. Working as a freelance has a huge upside, you can (for the most part) make your own daily schedule, taking on new and exciting work or do work you feel comfortable with, and this opportunity also has an endless possibility for compensation. As a freelance web designer, you can take on as little or as much work as you would like.
Opportunities
In recent years the economy has been hit hard such as when the market crashed in 2008, during this time and directly after the workforce shrunk with unemployment rising towards 10%. Working in web development helps protect your career against these sudden and scary drop-offs. "There are currently 141,400 web developer jobs nationwide with a projected 28,500 additional jobs to be added by the year 2022. This represents a growth rate of 20 percent, which drastically outpaces the general growth of the economy." (5) Job security is a huge concern for students coming out of college with student loans, getting a degree in web development will be beneficial as career opportunities in this field exceed the average career. So consider Website Company Jobs.
All in all web development has helped spring mankind into the 21st century and continues to be an essential part of our everyday lives. Choosing a career in web development and opting for website company jobs can prove to be a very rewarding, secure, and exciting path. We hope that we have been able to show you and help you understand the layout and general focuses of this career as well as why this career choice is so beneficial to someone looking for an ever-changing, growing career field. If you haven't given web development a serious amount of consideration we suggest you do.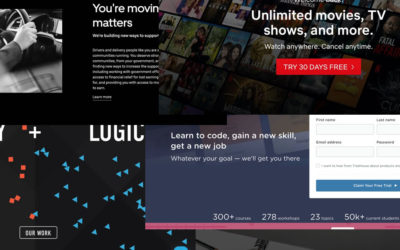 Call to Action Examples Call to action good examples and bad examples. The Call to Action marketing is a central component of promotion, sales, and any initiative focused on persuasion. Whether its a large enterprise website or a small restaurant, call to action can...
Delivering Effective Web Design & Online Marketing Services
Local Web Design Services
If you're looking for web design, website development, a new website, or just need to revamp an existing small business website, then you've come to the right place. Notably, at Visualwebz LLC we understand business owners and the website benefits your business needs. In addition, we understand that being a website owner you will want to see immediate results. Furthermore, we can help your website reach an international, national, or local customer base. Besides, we know how to get your customers to you. After all, small business websites and SEO have been our specialty since 2008!
Our customers continually praise about our web design services.,check our reviews!
We Deliver Effective Web & SEO Services
Our website developers specialize in delivering the best websites and nothing more. More significantly, our qualifications and experience allow us to deliver clear and concise solutions. Whether it's a simple website or one that's complex, or one that is built on PHP or ASP, we will always keep you in the loop during the whole web development process.
Immediately after the launch of your website, we will work with you in improving your online presence. For example, our SEO specialists will help drive traffic to your website. With this in mind. Visualwebz LLC is the ideal firm to hire for your next project. In fact, we will also take care of your web security - remember you will need to secure your website from hackers. Similarly, other website design services offered include website maintenance, support, and website testing.
Interested in chatting to us regarding SEO or web design? Or just have questions regarding our expertise or web design costs? Then Contact us today at 425.336.0069. You may also want to check our reviews, and learn why our customers like us! After all, our 5-star reviews clearly tell prospective customers why we stand out when it comes to service, punctuality, quality, and affordability.
Resources & Links
Our Blog covers a range of web resources, services, practices, and trends in the areas of web design and SEO.
Marketing & SEO
Web Design & Website Development