Freelance Web Development
Freelance Web Development and Online Marketing since 2008.
"Their expertise is phenomenal and they were very good at explaining things."
New Website
We create individualized custom website designs that allow businesses to expand. In fact, our carefully crafted websites are developed with a purpose and goal in mind, More Customers!
Website Maintenance
If your website is outdated and not meeting your customer needs. We will re-design and develop a functional and attractive website with a "wow" effect. It will also be optimized for more traffic!
Online Marketing / SEO
You have a website, but it's not getting the traffic or has limited online visibility. Our proven SEO strategies will enable your website to rank higher and generate sales.
Freelance Web Development
Web development & web design for small businesses has always been our niche. Overall, we do everything from start to finish (full-stack website development). For example front-end web development, complete website development, web marketing, and SEO. Nonetheless, our wealth of experience in fostering small to medium-sized businesses allows us to deliver. Above all, our experience and qualifications back this up.
Our services include:
Industries and businesses we assist:
Healthcare such as elderly care, dentists, chiropractors, and medical centers.
Non-Profit organizations and local charities. For example churches and religious places.
Small Business Startups such as manufacturing, construction, and car repair.
Retail and service sectors such as hair salons.
Notably, others include professionals such as CPA, Realtor, Investment firms, Tax services, and attorneys.
Schools such as pre-schools, day-cares, and training providers.
Request a Quote Now: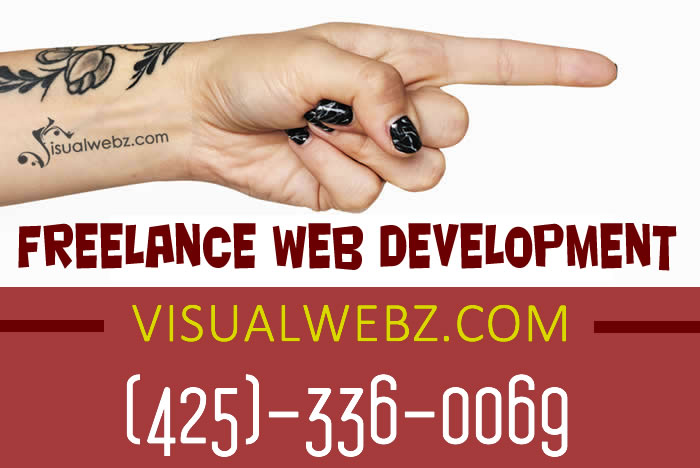 Read more on Web Development
Freelance Web Development
The technical world is changing every day and for businesses, it is important to stay up to date on new trends. In fact, there is much more to the web development process. A Freelance Web Development individual is someone you want as part of your team. When looking to create a website with an attractive design and unique features to represent your company does some research to find a good fit for creation and maintenance.
Getting Started with Freelance Web Development
Starting a website for your small business is a great way to open up to customers and let them know what you're all about. Every customer will be looking for a website once your business becomes successful. Consumers will be trying to look at your website rather than your paper flyers or billboards most of the time. In this day and age, people are only looking online for information, a website is the best way to display a company worth to a consumer. It allows consumers to know every bit of information your company has to offer. Many people now depend on a website to see what it is that a company does. You can display your original logo, all the information you want customers to know about, and you'll have an online presence! Better create a website soon, it'll be worth in the long run!
Key areas every website should have are:
The Importance of a Website
What I Can Offer
Contact Information
Importance of hiring a Freelance Web Development Firm
Having a website of your own for your business can grant many opportunities. Not only will you be informing customers about what you offer, but the website as a whole is one big advertisement. A website is one of the greatest forms of marketing and the best way for your business to gain attention. A professionally made website by a freelance website development agency will only give advantages to you and your business.
What we offer as a Freelance Web Development Agency
There are many ways a freelance web development agency can help create a website and help your business grow. Freelance website development agency offers a variety of tools to help your business. Using our search engine optimization strategies will helps people find what they need online. Thus, increasing awareness of your business. A nicely designed website shows professionalism and shows credibility. Having your colors, logo, and products displayed from your own website in the most pleasing way possible can make your website more attractive. Also, freelance web development agency is not done there, we will get your website completed by including functionality and online visibility through our SEO expert knowledge! Contact us a local Web Development firm!
Don't delay...
Most compelling reason to hire us is we help small businesses drive traffic to their websites. In fact, we pride ourselves in not sacrificing or cutting corners in delivering the final product. Our value-added services are one of the best. Consequently, be it a new website or an established one, we will provide a quality service. Contact us immediately your local website developers.
Seattle Website Developer is available to take on new website design and development projects. If you're about to start a website project or just a small business or professional that has questions? Then contact us at (425)-336-0069 or email us at info@visualwebz.com. Hiring a professional like Seattle website developer will be one of the best decisions you'd make. Remember, with over two decades of experience, qualified website developers and low web design costs how could you possibly go wrong?
Local Freelance Web Development
Web Design | SEO | Online Marketing | Website Development & Maintenance
Our Story as a Seattle Web Design & Online Marketing Agency
We've been creatively web designing since the World Wide Web moved into the mainstream. Yes, we remember building them very first clunky yet functional websites back in the mid-'90s! As of right now, our website developers and designers build a state of the art dynamic websites. similarly, we handle website support, maintenance, website repair, and online marketing. After all, we know that we have come a long way since the mid-'90s and our experience and credentials speak for themselves. With this in mind, we can guarantee the results will be outstanding.
In case your wondering, our customers have been more than delighted with outcomes. Just check the internet with all the credible reviews we have. While our custom solutions allow professionals and businesses like yours to stand out from the crowd we also offer free consultancy and options available to get there.
Be it a simple 5-page website for a small business, startup, or a complex e-commerce subscription model, we have the expertise to create a functional and competitive online presence.
Website Development since 1996

100%

100%

Internet Marketing since 2008

100%

100%

Organic SEO

100%

100%

Customer Satisfaction

100%

100%

WordPress Website Design & Development

100%

100%

E-Commerce Platforms

100%

100%

Website Maintenance & Repair

100%

100%

Website Security & Backup

100%

100%
Hiring a professional website developer will be one of the best website choices you could possibly make. We understand that searching for the right web design firm can be a daunting task. We can make the process simpler... Of course, you're looking for a web design agency that's reputable and serves well. Hence, why we ask you to call us and start the conversation and have you decide why our services will be the best fit for you and your business. We ask you to check our reviews and see why our Seattle web design and online marketing services stand out.