First Page Ranking
First Page Ranking through effective SEO and Online Marketing will attract customers.
Getting First-Page Ranking the Right Way
Google something. Bam! Lots of results pop up on exactly what you're looking for. You scroll through the first page and click on a few of these websites. Now you've found the information that you needed. Do you ever wonder how that happens? Or how that works? What makes pages appear on the first page? And why is this important?
In fact, it's vital for small businesses and SEO Experts, especially when it comes to generating traffic and website ranking. This, in turn, results in more sales and exposure.
Have you looked beyond the First Page of a Search?
When you google something, do you ever look past the 2nd page? In fact, 75% of people won't even scroll past the 1st page. Obviously, you would need to have a good website in order to get a first-page ranking. Also, there are many important factors that help web pages and websites to rank higher.
The first-page ranking or getting a website ranking higher is a must for any business wanting to compete online. Even though a business may be advertising via Google Adwords, SEO is still a necessity. Getting a first-page ranking can be an impossible and challenging task as Google's adopting machine learning and Artificial Intelligence. But, with the help of SEO experts its possible to get any website to be ranked higher.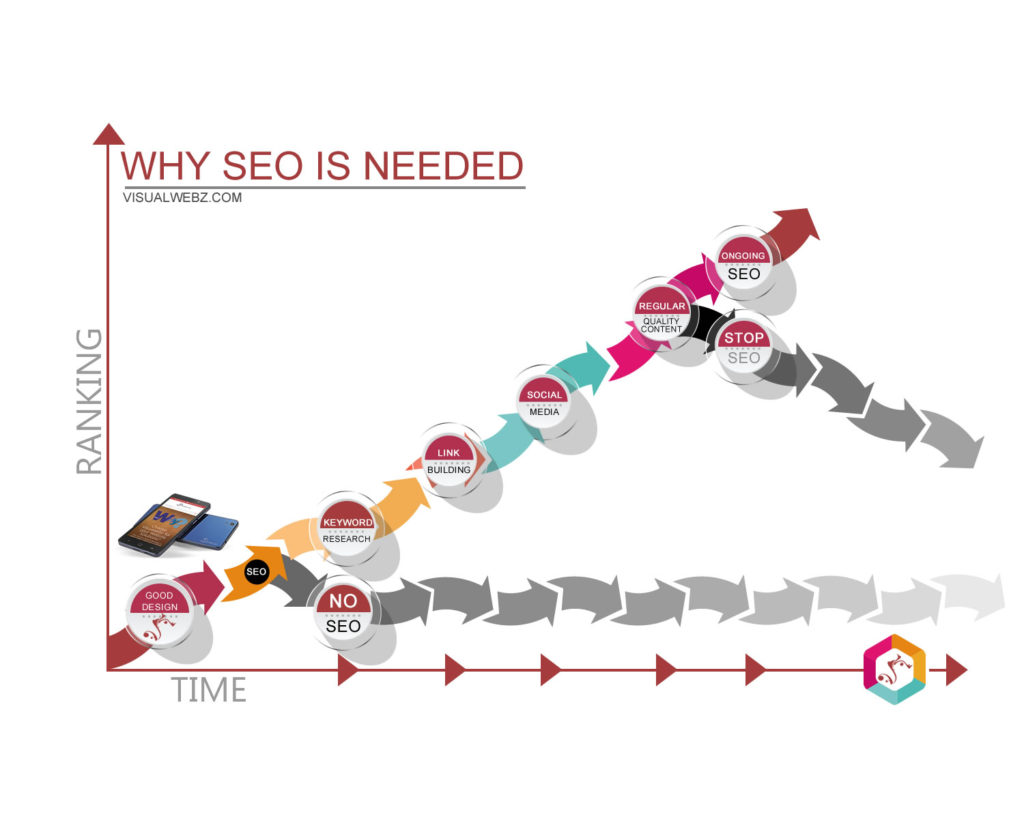 The process of SEO and Page Ranking
With so many websites already out there, it would statistically be a safer bet to try and win the lotto than try and create a popular website. A first-page ranking is the process of search engine optimization (SEO) and properly developing your website's metadata to increase the number of visitors received. In a way, this is parallel to a business in real life. Do you want prime real estate with good visibility to any potential customers? Be prepared to pay the price. Now that you know what first-page ranking is, there are certain things you must research and learn before jumping into the world of search engine optimization.
Is it worth it?
Is 'first-page ranking' is worth it or not. Like anything in life, it isn't as black and white as it would seem. Many of these 45 billion websites are defunct and rarely get updated or visited meaning they are pushed to the bottom of indexing services. Chances are if you are developing a fresh, relevant website you will already be ranked higher than most of these.
Content:
Content is pretty much the main element of having a good website and helps with the ranking process. You're going to need to do a lot of research. You're not going to have good content if you have no idea what you're writing about.  Whenever you're writing, it's best to be fully detailed. It's also best to write things that are original. Google algorithms notice when content is being plagiarized thus hurts rankings. Hence, careful planning and being detailed with the content will provide better outcomes. 
Keywords for better First Page Listing
What many people don't know is that their website contains metadata, or in layman terms, keywords. These keywords are what search indexes and web crawlers use to index and rank your webpage. Now, the main problem is these services don't see the web page as a human would. Instead, it is analyzing the website's code and determining to what degree it relates to the search term, how many keywords it ticks off, and the frequency of those keywords. That means if you have a website called my blog with only pictures of bikes tagged as things like pic-1 and pic-2, nobody looking up bikes on google would ever find your page!
Relevant keywords
Without any relevant keywords, your webpage is essentially invisible to the demographic you are trying to reach. This leads me to firmly believe search engine optimization is crucial and should be the base for which you create your webpage around. But, before anyone gets carried away and starts signing up for any and all first-page ranking services they can find, you must realize these are not the same thing. A first-page ranking is to search engine optimization what the Tour de France is to a casual cyclist. It is optimization taken to an extreme in the pursuit of being the best, or in search engine terms, being on the first page. Much like the Tour de France, pursuing the first page is something that just isn't viable for the average joe.
Are all keywords alike?
BE AWARE! Not all keywords are alike. Zack's zany zebras are bound to bring up your page at the top if your name is Zack and you post about your zany zebras. But, how many people are looking up those exact terms combined? A common trick used by first-page ranking services is to promise first page rankings, but If an SEO company ranks your business's website on the first page for five keywords that no-one is searching for then even if you rank in the top position for those keywords you won't get any visitors to your website.  Another good takeaway from that quote is the first-page ranking is too broad of a term and you should instead be focusing on the number of unique repeat visitors.
Long Tail Keywords
When choosing keywords, try to put yourself in your visitor's shoes. What kind of things would they type if they wanted to find something? Keywords are critical on how much website traffic you get on your website. There is also a term called "long-tailed keywords", which is an extra descriptive search. Say if someone wanted to buy shoes, a bunch of listings pop up. Then if you were to type in women's running shoes you'd get a specific search result. This is considered a long-tailed keyword. Hence focussing on long tail keywords on a website is paramount when targeting specific customers.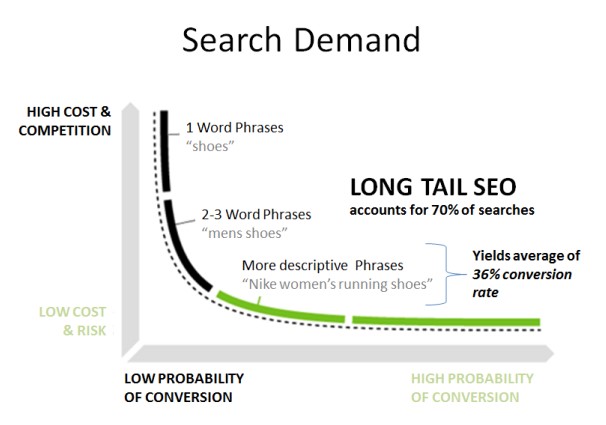 Ref: https://neilpatel.com/blog/long-tail-keywords-seo/
Complete Focus
SEO is an unpaid strategy, different from PPC but still requires a clear goal that meets Google's guidelines, thus ranking websites higher. Hence, a holistic approach to SEO means you focus on all areas, such as :
Proper in-depth keyword research
A great user experience
Good technical SEO
Providing quality content to visitors
Social media strategy that works alongside on-page SEO
Speed of website
Mobile optimization
We don't fake or use black hat techniques to get your website at the top, but only to see you banned or drop in ranking further down the road. Hence, why we follow strict guidelines set by Google. Our sustainable SEO strategies ensure rankings are maintained and based on user experience as a first.
Small Business SEO Case Studies
Hiring a reputable web design and online marketing company can massively increase your business's online presence, especially if the agency has a strong footing in SEO. After all, working with an SEO expert that understands Search engines ever-changing and sophisticated algorithms will be advantageous. As specialists in on-page and off-page marketing, we know how search engines extract relevant information from websites to provide users with accurate and relevant search results. Hence one reason why our SEO agency will guide your website's presence to better rankings, thus allowing your business to gain new customers and generate revenue.
Some of our practices include inserting search engine specific metadata as well as keywords into your website. Also, we will build your website so that it is structured correctly for search engines. In fact, SEO is critical to web design. We use state of the art technology when it comes to increasing the flow of visitors to small business websites.
Just in case you are wondering what all these SEO terminologies are, we ask you to check out a quick infographic on SEO Terms.
We have worked on many websites and effectively ranked them via our SEO Digital Marketing services. From attorney SEO services through to ranking school websites. We can get your website to rank higher and generate traffic.
Summary of case studies to check:
Search Engine Optimization Tools
Just like a plumber not being able to fix a leak with his/her tools, the same applies to an SEO expert. In fact, our SEO services include a mix of many tools and web development software to get your website prominently placed on search engines. For example. these include SEMRush, Ahrefs, Keyword.io, Google Trends, Moz, and Spyfu to name a few. We also use in house SEO tools such as the multiple page generator that allows content to be deployed more easily.
A big part of being an SEO expert is to know common SEO mistakes inexperienced "SEO specialists" make. With years of experience in web design and SEO, we can guarantee that your website will be in good hands.
On-Page Website Optimization
For the likes of search engines to index, crawl and rank your website effectively, it needs to have authority, correct meta-tags, image optimization, anchor tags, 404-page identification, correct alignment of unique content, social connections and more. Overall, correctly optimizing websites will allow higher ranking, an increase of page views, time-on-site, lower bounce rates, and conversions.
Content Writing
Our content writing provides the best, most compelling content for any website. In addition, our effective content marketing always:
Supports and improves websites.
Provide quality digital content for any website. Thus, create a purpose and trust.
Conveys YOUR message.
Attracts more customers with higher conversion rates.
Off-Site SEO Services
Besides concentrating on on-page SEO optimization, off-site SEO services are also needed. This entails analyzing the linkage popularity, and seeing if there is room to increase relevant backlinks. Generally, this involves managing your social presence, your reputation, directory listings, and creating quality external backlinks. Email marketing strategies, Facebook and Twitter are also key platforms used in pushing quality content in establishing solid customer relationships. Other off-site SEO includes Google, Yelp reviews and others.
Tracking SEO Traffic
Setting up Google Analytics or any other analytical software helps identify inbound traffic sources as well as to measure how effective the SEO strategies are. For example, by analyzing the trends of your organic traffic we are able to establish subsequent SEO strategies and adapt accordingly.
Webmaster Tools for SEO
We correctly set up Google and Bing webmaster tools for your website and ensure that your content and web pages are indexed and error-free. The primary purpose of having this set up is to ensure that search engines pick and index the website and web pages, also that the search engine optimization is done correctly and monitored.
Organic and sustainable
There are other organic ways to promote growth on your website that is more sustainable and free. On the other hand, if you are an online business that can offset the cost with the number of increased profits from a first page ranking on a search term like 'online bike store' it could be the right decision for your business.
Increase search engine ranking vs. 1st-page ranking
To complicate things even further your position on the first page also severely impacts what kind of effects you see from a first-page ranking. In a study done by AWR, it was determined that the first result on a page saw 27.51% of the traffic from a search on a desktop while the tenth result only saw 1.11%. This means that if one of your keywords received 100,000 searches the difference between first and tenth place would be getting 27,510 visitors in the first place or 1110. This is where the faults of being promised a coveted first-page ranking start to surface. Hence why less emphasis should be put on a first-page ranking and more on increasing search engine optimization and visitors. Doing so results in a specific increase you can calculate and see if you will see a return on your investment.
Business is business
To put it bluntly, if you aren't a company that already offers quality services and is seeing growth, the gains you will see from enlisting the first-page ranking will not be worth it to you. Most of the services offered you can do on your own and see similar results. At the end of the day, a business is a business and no matter how much your page is visited if you don't have the complete package your page/business will not see a sustainable increase. Even if you reach the top 10 rankings, if your webpage lacks the ease of use and professionalism that the other candidates do, your page will be skipped out or never to be returned to.
Domain Authority
DA or Domain authority is the definition of how strong your website is. It's a metric system created by Moz (Moz.com) measure websites by their rating. For example, if a website that rates 100, would be considered the strongest. As opposed to having a rating of 1, would mean the lowest. Also, domain authority can determine the strengths and weaknesses of a website in comparison to the competition. Although Google doesn't specifically use this metric system to determine the ranking, increasing your domain authority will increase the quality and strength of your website, which generally leads to better ranking. Like SEO, domain authority has different ranking signals, 40 to be exact. These include: linking root domains (backlinks), MozRank, MozTrust, quality of content, and user interaction that all again, tie back to each other.
Cross-Linking / Backlinks
The basic algorithm behind the ranking system is simple, the more your page is linked to, the more relevant the web crawler assumes it to be. This means the internet's version of word of mouth through review sites such as google maps and yelp are one of the best ways to ensure you are getting the amount and type of attention you want. Repeat customers that talk about you will push your relevance higher.
Having relevant backlinks is when another website has a link that leads to your website. It's kind of like when someone shares your story or post on Facebook or Twitter. It's like being accredited. For every relevant backlink generated Google will identify that the content is relevant and should be pushed higher on searches. Of course, this is one fact of many when it comes to page ranking.
Now, there are also such things as bad backlinks. Good backlinks are ones that are linked to trusted websites with high authority. For example, a government website, or Huffington post (a popular blogging website). On the other hand, bad backlinks are websites that are untrusted or have unrelated information to your website. Bad backlinks will hurt your SEO and make your website drop from its current ranking.
Blackhat vs. White Hat SEO
The problem with this system is that sometimes first-page ranking services delve too deep in the pursuit of reaching their desired position and stoop to unethical tactics. There are two forms of SEO. There are black hat methods and white hate methods. In the world of SEO black hat means unethical and against the rules and white hat are the allowed methods. Most black hat methods consist of spamming your website around the web to simulate relevance. Luckily search engines have caught on this and have implemented ways to catch the spammers. The unfortunate part is that sometimes-unknowing page owners contracting out to front page services sites get caught up in this. Companies have taken a zero-tolerance approach to this and it usually results in the website being permanently banned from the search engine.
Steer away from bad practices
Another problem with these SEO companies is that they will often try to sell you snake oil. Due to most individuals that come to them having no knowledge of how the internet functions, they overuse buzzwords to make it seem like they have a secret trick that will increase your visitor's triple fold in days. These are the companies you should be wary of. Companies that lay out exactly what they will do, what kind of gains they expect and are willing to explain it all to you are the companies you want to pick. Therefore, when using search engine optimization services, you must use them to your advantage instead of letting them take advantage of you. There are many ways to grow your site and a quality product mixed with exposure will ensure your growth.
Summary of first-page ranking
There are definite benefits to first page rankings. However, for most the drawbacks will overshadow those benefits. With a good understanding of your web page, how search engine algorithms work, and good business practices you can essentially negate the need for any of these services. With the plethora of information available on the internet, it is possible to stay relevant without the use of a great website. The only downside is that there is a learning curve that many will never get over. Finally, reaching that number one spot will take, time and effort. Hence why hiring a professional website developer or web design company with an SEO specialist will be the best option.
Be it a WordPress or PHP website or any other business website such as an attorney, online store, vet or dentist with a private practice. We are certified in SEO and Yoast. We can build fully functional responsive websites as well as take care of your online marketing. Call us at (425)-336-0069
More details on Web Design
Web Design Services
If you're looking for website design, website development, a new website or wanting to revamp to an existing small business website, then you've come to the right place. Notably, at Visualwebz LLC we totally understand business owners and the website benefits your business needs. In addition, we understand that being a website owner you will want to see immediate results. Furthermore, we can help your website reach an international, national or local customer base. Besides, we know how to get your customers to you. After all, small business websites and SEO have been our specialty since 2008!
Our website developers specialize in delivering the best websites and nothing more. More significantly, our qualifications and experience allow us to deliver clear and concise solutions. As a matter of fact, we will keep you in the loop during the whole web development process. Immediately after the launch of your website, we will work with you in improving your online presence. For example, our SEO specialists will help drive traffic to your website. With this in mind. Visualwebz LLC is the ideal firm to hire for your next project. In fact, we will also take care of your web security – remember you will need to secure your website from hackers. Similarly, other website design services offered include website maintenance, support, and website testing.
Interested in chatting to us regarding SEO or web design? Or just have questions regarding our expertise or web design costs? Then Contact us today at 425.336.0069. You may also want to check our reviews, and wonder why our customers like us! After all, our 5-star reviews clearly tell prospective customers why we stand out when it comes to service, punctuality, quality, and affordability.
At Visualwebz LLC we provide a range of WordPress, web design and web marketing services to a diverse group of small businesses. Be it WordPress website design or E-Commerce Websites for any business, we will deliver it. Hire a website developer from Visualwebz LLC today. We encourage you to also read our reviews and see why our customers are happy with our work and outcomes.