Dry Cleaning Web Design Project
Dry Cleaning Web Design Project for a new dry cleaning business. Dry Cleaning Web Design Project
We delivered an eCommerce website with scalability in mind. The website built was custom designed and developed to meet our client's workflow and services. The overall process entailed understanding the idea and implementing it so that it will function seamlessly with Click Dry Cleaning LLC's initial idea. During the project, we also incorporated other ideas so that the user experiences would be intuitive and efficient.
The final result of the web design was an intuitive design delivered with functionality in mind. The website has a number of functionalities that tie in with sqaure.com a payment system.
Great professional service. We had multiple changes and Visualwebz is super patient with our request. He is quick to update and respond to us. We love our website. Definitely happy and recommend his work. Thanks" > Read more reviews
Renton Dry Cleaning Web Design Project Gallery
Our Web Design & SEO services :
We help brainstorm branding, to assure we match your vision. After all, we want your business to succeed. For example, if your brand isn't already established we can help build it effectively and with passion. In fact, our pride and passion for web design and SEO marketing are what makes us stand out. Through careful planning and creating the right pathways to online success our customers always state our quality and delivery are at the top of the list. Also, we always go the extra mile to get the job done properly. Our web design agency provides careful consultations with clients to discuss and draw a thorough plan. Furthermore, we brainstorm sessions, so clients can create many ideas and use as a soundboard to further enhance the final product.
We have a number of case studies in SEO so that potential customers exploring an SEO company can understand that we have provided results to many customers. Check out Seattle SEO case study 1 and Seattle SEO case study on Mitsubishi Fuso.
Just like the Dry Cleaning Web Design Project. Let us help your ideas come true.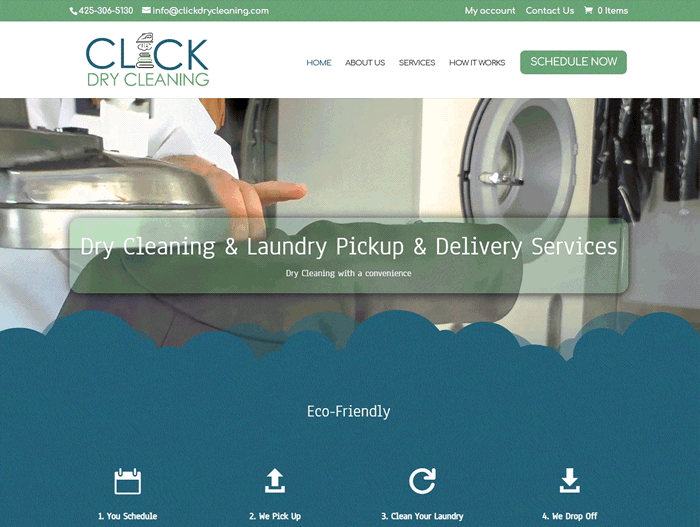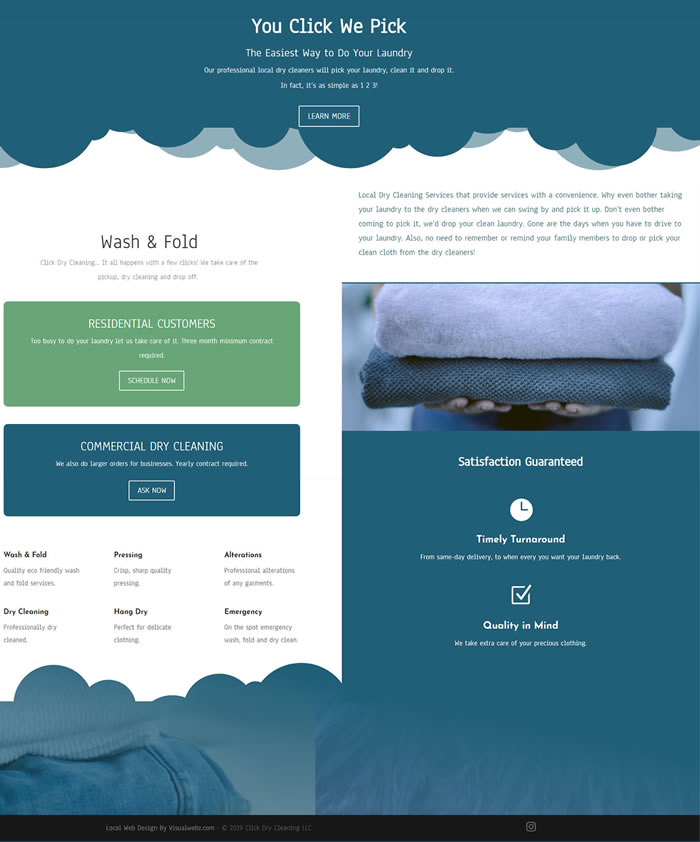 Dry Cleaning Web Design Project
E-Commerce Websites Delivered to all Businesses
We have a wealth of experience in all industries. Spanning from Dry Cleaning Web Design, health care, law firms to local restaurants. In fact, we use the latest web technologies and web development software available to deliver the best web design or SEO. Hence, why our services stand out based on experienced, quality and reputation. Visualwebz LLC always delivers your requirements.
We plan out carefully and strategize for each business. After all, the goal of our online marketing and search engine optimization services is to get you more business: Our key focus when it comes to web design and SEO strategies include:
Higher ranking compared to the competition.
Sustained online presence without losing your prominent position.
Higher Return on Investment.
Continued increased online presence.
Increased traffic and conversion rates.
Growth and traffic to your website.
Besides concentrating on websites, such as WordPress development we also clear out WordPress website problems. Thus get you online as quickly as possible and get your business back to normal. We totally understand that each second your website is down you're losing customers, reputation and revenue. Be it a new website design for a dental practice or online marketing for an attorney? We will get your online presence noticed by customers and competitors alike.
The Perfect Website Design Project Team
Our Website Design Project delivery is the ideal solution when it comes to affordability and quality for any small business looking for professional web design and SEO services. Be it a Dry Cleaning Web Design project or SEO, our agency delivers solutions. Other services include website services such as WordPress, e-commerce web development, SEO, online marketing and website repair. After all, our services have been available to businesses professionals since 2008.
Ultimately, we operate as a full stack development agency. In short, we do everything from start to finish, including web marketing and website maintenance. At the same time, we have a wealth of experience in fostering small to medium-sized businesses, startups, and professionals. As a result, we have developed and taken care of hundreds of websites and available to any small business anywhere.
Remember, when it comes to online marketing, it's not just a matter of a website developer building your website, but additional work needs to be done thereafter. Especially if you want to appear on the first page. In fact, SEO is paramount for any business to succeed online.
Contact Us for Dry Cleaning Web Design
We encourage you to contact us and allow us to work on your website or SEO. Try googling your services to determine if you need SEO? Other reasons to contact us would be a redesign or if you have seen a sudden drop in customer calls? After all, remember, our WordPress development and SEO services are the best for your small business. Call today at (425)-336-0069.
Learn more about our Website Design Project Delivery & Online Marketing services