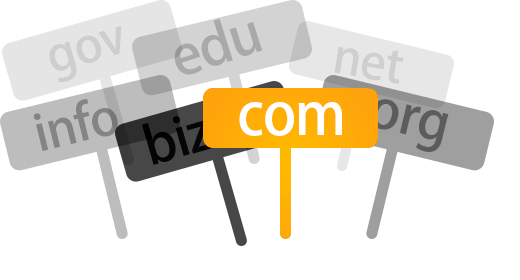 Perfect domain names are hard to come by, but that does not mean they are not available but will most likely be at a premium price. But don't be deterred by this fact, perfect domain names can still be purchased, and all it takes is good quality research. We have provided some tools on this page that will help with the process in you selecting perfect domain names.
Part of any web development process / website design process by any web developer will entail finding the ideal domain name.We can also help in the selection process, so don't feel shy, just ask us. Now that you have decided that having a website is imperative for your business be it a sports gear website or dog products. Prior to starting a website project you will need to secure a domain name. The domain name will need to reflect your business name, mission and products or services you will be providing. There are a number of rules that need to be followed when choosing a great domain name for your website.
Brainstorm some keywords your website will be about, be it key products and/or services. For example if your website will be a dog grooming service, your keywords would most likely be dogs, pets, grooming etc.
Easy to type domain name, try to pick a memorable and easy to type domain name.
Short is good – having a short domain name will do wonders when it comes to remembering them as well as adding additional characters to the URL's.
Securing a unique domain name will no doubt set you aside from the typical website names out there.
Avoid copyright infringements and make sure that you're not stepping into other well-known brands.
Consider demographic locations, especially if your website will be serving the local community?
Of course this list is partial and there are many other factors that will determine the type of domain name you will use for your business. You could visit hosting websites like Bluehost.com and subsequently spend hours on end trying to locate a domain name which may not be available. Spending countless hours online trying to decide on a domain name would not be productive as well as that effective. Contact us if you have additional website questions.
---
There are a number of tools available online, that will save you time and a huge headache:
Name Mesh

uses synonyms and antonyms paired with real-world intelligence to help you brainstorm unique domain names — using over 20 generators. You can see common short top-level domains, mix words. You can also places spaces!

Impossibility is a domain name generator that takes your keyword and combines it with a carefully selected list of nouns, verbs and adjectives, before searching for unregistered domain names and showing you the results.
If your just ready to get started? Following are the steps required to initiate a website project:
Interested In hiring this web design company for your next project?
Learn more about our website services such as WordPress,  Animation, HTML 5, CSS, PHP, Python, website hosting, web designing, website security and HTTPS setup at Seattle WordPress Website Design. There are other website solutions we provide and are experts in, such as social media society. May be your interested in learning more? If so refer below:
Contact us for a quick quote, you'd be glad you do and understand why we believe we have mastered the science of web design and provide one of the best websites offered in the market. Interested in reading more? Refer below: