Website Cost
As a small business your probably wondering what would be the ideal website cost?
Website Cost will vary…
It is pretty much impossible to give a good starting point for the costs of designing a website. This being because it varies drastically depending on the kind of website you want to create.
What must be considered in the cost of a website
When designing a website there are three main categories that decide a websites initial costs, they are; design, functionality/development, and storage. Then there are three main costs that come into play later; the cost of space, the domain name, web hosting. In the next paragraph, I will break down the estimated costs for a medium e-commerce business to run a website.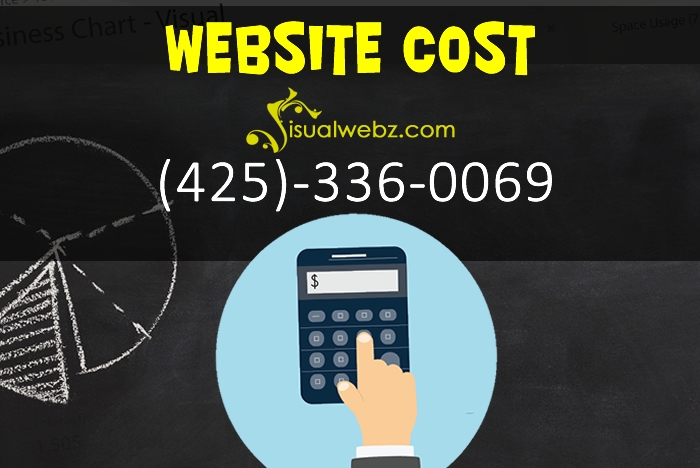 Website Cost in Seattle
Every business will need to have a budget for the initial costs is design. To ensure the functionality of the website the business may need a custom solution.  The average cost would range in the $1750, with a few stock images adding $150. The total cost of the website so far would bring it near $2000.
Content
If we assume that the business has a writer? With the average wage for writers around $48,474 per year, and divide that by the number of weekdays in a year and then divide that by the average workday, we get an hourly rate of $20 – $50 per hour. We can assume that it would take at least two days to get all of the basic writing done, meaning the cost to write the website's content would be $350 and upwards. The business might then decide to put the writing through quality checks, the starting price to do this through an agency is $100 per page. Writing should be rather light. Based on a 5-page website the total cost of the website is now $2500 plus., but with proper cuts, this can be reduced.
Functionality
The functionality of the website would vary depending on the type of business as well as the type of website needed. For example, an integrated e-commerce solution with existing systems could run into thousands of dollars. But, if a standard CMS (Content Management system is used with the basics and little customization, then the cost could be minimized. Of course there may be additional costs if a website has issues that need to be corrected. 
The non-initial Website Cost of Development
Website cost could get carried over later, especially once they go live, these may include:
Cost of space. If we assume that the business is using a dedicated server, where the basic 42U rack has a square footage of 28.92 feet. We can double that and assume that is the total space that it takes up. Since the average annual rent per square foot in Seattle is $43.40. We can then multiply the square footage taken up by the server, which is 57.84 square feet, by the rent cost. This makes the property cost to run a server for a year around $2509.9, higher than most other cities would cost, that is also the total for the non-initial costs. The average for the nation is $ 1343.6232, almost half the cost. Of course rather than not have your own server you could use hosting companies where the hosting ranges from around $100 plus per year.
Non-initial cost is the domain name. We can assume that the business would use a new domain name, making the yearly cost of around $12.50 per year. The total for the first year of running the website is now $2522.40.
The next non-initial cost is web hosting. If it has already been established that a dedicated server is being run, making yearly costs around $1200 if we go by the average cost of electricity in America, ¢12 per kilowatt-hour, $662.3 a year. But in Seattle electricity is around ¢0.6 cent less than the average, ¢11.4 per kilowatt hour. Making the yearly cost of running a server in Seattle $1166.8, and a non-initial total of $3722.4.
What is the total Website Cost?
We can now combine the non-initial and initial costs, making the total cost for the first year of a website running about $7198.79. A rather high price tag, but for a medium business, it isn't all that high. For small businesses this would be a huge investment and the best option will be to opt for a third party to do the work.
What about the possible cuts from earlier?
With a number of cuts, the total can be brought all the way down to around $250 for the first year. That is if you decide to design the website on your own, content writing, and renting a shared server instead of running a dedicated one.
Bringing down a Website Cost – Is the cost worth it?
Its only worth having a dedicated server if your business generates the revenue to support the expense. An alternative would obviously be to opt for third party vendors. So the final website costs to a small business will range from around $2000 plus.
Be it a dental practice, school, professional or any other business, we at Visualwebz LLC will work with you in terms of keeping website cost low. In fact, we can build a plan based on your budget. We have experience in WordPress development and have been building, maintaining and strategically carrying out online marketing since 2008. Call us today at (425)-336-0069 and we will provide you the exact website cost needed for your business to get online.
Delivering the Web Design & SEO Services
Local Web Design Services
If you're looking for web design, website development, a new website or just need to revamp an existing small business website, then you've come to the right place. Notably, at Visualwebz LLC we understand business owners and the website benefits your business needs. In addition, we understand that being a website owner you will want to see immediate results. Furthermore, we can help your website reach an international, national or local customer base. Besides, we know how to get your customers to you. After all, small business websites and SEO have been our specialty since 2008!
We Deliver the Best Web Services
Our website developers specialize in delivering the best websites and nothing more. More significantly, our qualifications and experience allow us to deliver clear and concise solutions. Whether it's a simple website or one that's complex, or one that is built on PHP or ASP, we will always keep you in the loop during the whole web development process.
Immediately after the launch of your website, we will work with you in improving your online presence. For example, our SEO specialists will help drive traffic to your website. With this in mind. Visualwebz LLC is the ideal firm to hire for your next project. In fact, we will also take care of your web security - remember you will need to secure your website from hackers. Similarly, other website design services offered include website maintenance, support, and website testing.
Interested in chatting to us regarding SEO or web design? Or just have questions regarding our expertise or web design costs? Then Contact us today at 425.336.0069. You may also want to check our reviews, and learn why our customers like us! After all, our 5-star reviews clearly tell prospective customers why we stand out when it comes to service, punctuality, quality, and affordability.
Resources & Links
Our Blog covers a range of services, practices, and trends in the areas of web design and SEO.
Marketing & SEO
Web Design & Website Development
Affordable website cost without jeopardizing quality