Seattle WordPress Website Design
Seattle WordPress Website Design – Visualwebz.com specializes in various CMS (Content Management Systems), custom designs and of course WordPress. Remember the most popular web design tool out right now is WordPress! It makes up nearly 25% of all sites on the web. It is widely used and loved because it is considered the most stable and best tool for creating websites. Seattle WordPress Website Design has a ton of support for WordPress Development. With millions of users using it daily and almost 30,000 plugins in its library. Whatever you want to create, you most likely can do it with WordPress. You can get started by yourself or have Seattle WordPress Website Design take care of any WordPress services.
To get started you will need to pick out a theme and essential plugins, securing your site, creating content, and maintaining your site. All of these steps are key to designing a WordPress Website. The first step in creating any website, is buying a domain name and hosting package. There are many websites that offer domains for you to buy. It is super simply and some may even package a hosting plan with it. If you are serious about branding, a top-level domain is crucial. Some of the cheap plans may make your website run slower so you get what you buy. Also, you want to look at hosting packages that are specific for WordPress websites, so you can get the best loading times. Now that you got your domain and host, time to set up WordPress on it. Usually, popular hosts today come with the option to set up WordPress right away. This is a nice feature and makes the whole process smooth and easy. If you have to do it manually, just install the free WordPress package unto your domains folder, create a database and enter the domain address in your browser. WordPress will come up with instructions on finishing the installation.
Now that WordPress is installed, your first step in designing is picking out a theme. WordPress has many themes you can search for to fit your needs. You need to keep in mind the theme should fit the style of your website. This process might take a while before you find a theme that fits your site and that loads fast. Loading times are a big factor in people staying on your site, so you want to make sure the code quality of a theme is good enough to use. After you choose a theme, you can start adding plugins. WordPress offers a variety of plugins for different uses, but here are some essential ones. Askimet filters your comments and allows them to be spam free. Any reliable SEO plugin that will optimize your site for search engines. A cache plugin so that your website can have faster loading times. Most of all, have a high rated and quality security plugin. Keeping your website secure with WordPress is simple, you just need to do it. As I've mentioned before, installing security plugins is vital for your website. Besides plugins, there are a couple of things you can do to keep out unwanted hackers. The first is to always update your theme and plugins. Updates come out regularly and its good practice to do so. The next step is to use strong password, and to change them once in a while. Putting content on your website is the fun part. Now you finally get to start adding and building anything you want. Here are some essential pages that any good website should have. A home page, this is the page your users will first see when they access your site. An about page, for users to get to know who you are or what your website is about. A contact page so people can reach you with comments, questions or concerns. There are many plugins available for you to use in creating content which make it easier on you.
WordPress is all about easy access and simplicity. Final step in WordPress design is maintain your website. After you are satisfied with your design and completed the website, all you have to do is maintain it. The most important thing is keeping WordPress itself up to date. This will immensely lower security risks and keep your website running smooth. As mentioned before, update plugins and themes, and change passwords from time to time. If you are running a blog, you should reply to peoples comments and update information. Backing up your website should be a regular thing, in case anything goes wrong. Checking analytics is also recommended because it gives you an idea on what is working with your site and what is not. WordPress provides an easy way to create the website you always wanted, however a good website design still requires time and work. There are things to be updated, bugs to be worked out and your website might go down for no reason. The more websites you build with WordPress the better you will get so experience is key.
Seattle WordPress Website Design has over a decade of experience, we can whole heartedly state you will be pleased with our services. Be it e-commerce, PHP , Best Web Hosting, any Digital Content or any custom web site development we will deliver. We thoroughly ensure website testing is carried out prior to deliver and your website design is to your satisfaction.  Contact this Seattle WordPress Website Design company and let us help you to take the lead on your online presence.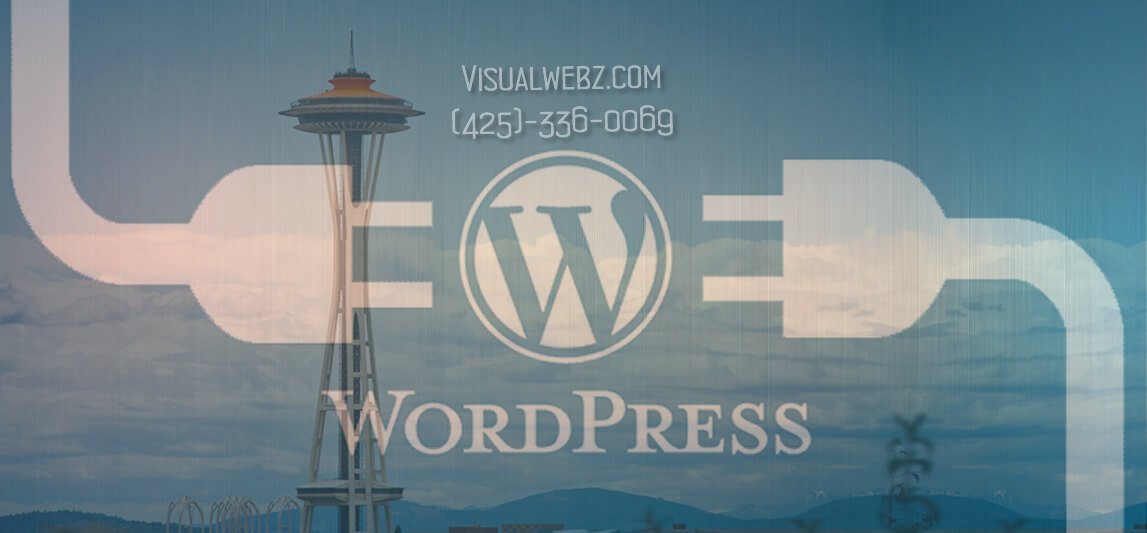 Info
USA – Washington:
Phone: 425-336-0069
email: sales@visualwebz.com
USA – Georgia – Atlanta
Phone: 404-259-4832
email: atlanta@visualwebz.com
United Kingdom
Phone: 07980652151
email: uk@visualwebz.com
Business Hours: 8am-4:30pm M-F, 9am-1pm Saturday