Ad Campaigns
Ad Campaigns and the graphics that accompany them have moved culture forward created movements that brought real change to the world. The campaigns have had the ability to change the world through the use of art and product placement. Thought the idea of ads have been around since the early 15th century the use of technology has greatly improved them. "In one form or another, print ads have been around since the 15th century."(DesignCrowd) Everything from the graphic to the distribution of the ad has changed drastically in the last 20 to 30 years. Companies have gone from selling a product to selling idea this is most apparent with Big Tobacco. Coca Cola's advertising graphics have changed the way we imagine Santa and many other things. We are overly influenced by campaign advertising and the graphics they use in the way we think and how we purchase.
Graphics in advertising campaigns are not a new thing, it has merely been improved with technology. The ability to use and manipulate pictures have added a much needed new dimension to ad's. You are able to see the transformation of Ad campaigns from the 19th and 20th century to today. Ads in the late 1800's and yearly 1900's did not rely on graphics much at all, they contained heavy text. The ad's would have an image of the product or a small scene of their product in use. While advertising campaigns were text heavy and more information based there were some images that to this today are iconic. "the decade did manage to produce some iconic images such as the 'I Want You' ad for the US Army."(DesignCrowd) This Ad campaign was so effective that the man pictured in the ad has become "Uncle Sam" the personification of America.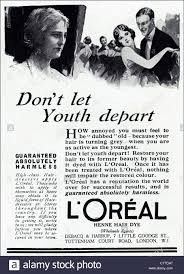 Advertising campaigns in the 1920's brought more reliance on pictures and graphics over text, but remained text heavy. There was no real significant change in the 30's with advertising Keeping the text-heavy ideas of the previous decades. The continued effort to advance Ad campaign came to a halt to the financial crisis of the 1930's.
This is a 1920's print Ad for a beauty company L'Oreal. The Ad follows the layout of the time with a picture and a load of text no real story-telling with the graphic alone. The Ad dependent on facts and figures less on a pretty picture that drew the consumer in. In the 1940's and 1950's companies started using larger Graphic as the main focus in Ad campaigns. Companies begin to start trying to tell a story through the use of pictures and graphics instead of heavy text.
"Advertisements such as Volkswagen's, "Think Small" ad were the first of what would later be called the 'Creative Revolution' of the 1960s and 1970s."(DesignCrowd). The 60's and 70's are considered a 'creative revolution' because companies start breaking the mode of the previous decades. In this era you see ad campaigns that have the product in a setting without much wording and unnecessary filler text. The Ads utilize more color and balance between the text and graphics; they start to resemble ad campaigns of today.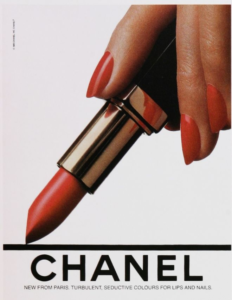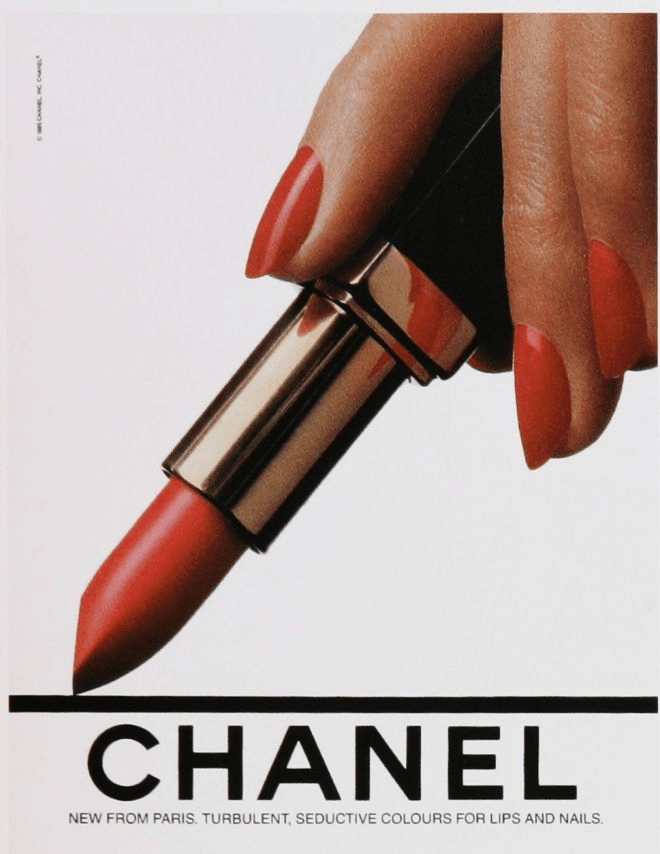 One of many of Chanel's ad campaigns in the 1980's included lipstick in the 1980's. The 80's brought an era of simplicity that had been slowing occurring since the late 60's. In the Ad is a product front and center with a hand that has red nail polish on them. They are selling both the lipstick in the mainframe and the nail polish. This is a smart technique to focus on the main product but the things around be things you sell as while.
"In the 21st century, simplicity and minimalism are key. Advertisements these days are often extremely image based with a reliance on digital manipulation. There is commonly an absence of, or very little, copy, and an employment of neat, simple ideas."(DesignCrowd) The idea of "less is more" becomes the wisdom of the 90's and 2000's Ad campaigns become focus on the product.
Ad campaigns from Chevy for the 1995 Camaro Z/28 below could be the perfect example of times is simplicity to the extreme. This format of Ad's having become a normal product in the mainframe, the slogan of the Ad campaign as the headline and the logo somewhere on the bottom.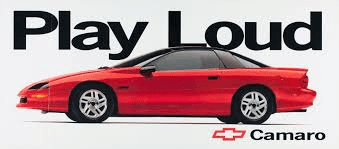 Advertising campaigns are broken down into five rules as seen by Carrie Cousins. The five rules are as follows, write a killer high line, establish a visual story, show the unexpected, create an immersive experience, leave users wanting more. As pertaining to the first point she make s about a killer high line she goes on to say. "Strong headlines will make or break a connection between your ad design and users. The best headlines are short, simple and lead users to complete some type of action."(Carrie Cousins) This idea for an Ad campaign is powerful on especially in the current age of click bait with online ads. Most Advertising is connected to the headline at the end and the more effective the headline, the more effective the ad.
The next part of the ad campaign that is important is the graphic used in the Ad. "The visual story should include a consistent color and typography palette throughout the ad campaign as well as visual treatment of images, video or illustrations. Think of an ad campaign as a design project with multiple parts that are all pieces of the same puzzle."(Carrie Cousins) The more the company is able to convey a complete message with the graphic the more engaged the possible consumer will be. When an Ad has an attractive graphics the more eyes are drawn to it and the more effective the advertising campaign is.
Keeping the viewer of the advertising campaign on their feet and not knowing what to expect is the next rule."The best ads do something that users don't expect to see. It can be in the form of an interesting or surprising visual, text or text treatment or combination of elements." (Carrie Cousins) Cousins makes a great point in this rule the more the Ad in an advertising campaign stands out, the more views the ad gets. When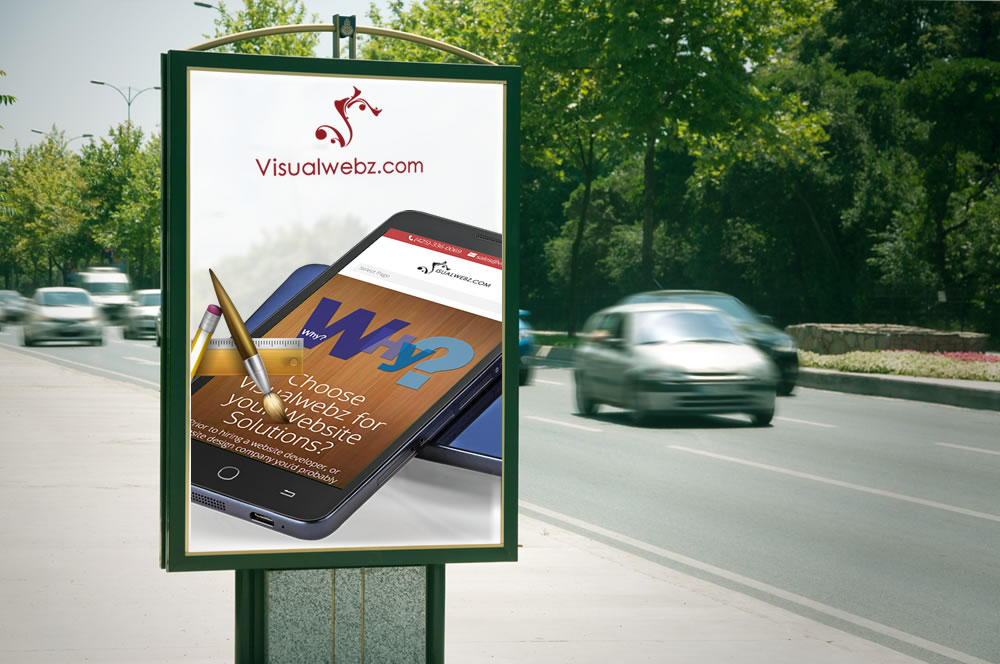 companies veer from the common use of graphics or ads consumers often react to that creating more buzz about the product.
Interactive advertising has become an opinion for more companies in the technological era we are in. This is a component Cousins sees as crucial to having an efficacious ad campaign "Give users something to do. Show them that lots of other people are doing it. Make your experience something that people feel like they must be a part of."(Carrie Cousins) This kind of advertising is usually used for travel advertising or outdoor activities. They normally have a GoPro camera and a person doing the activity that they are advertising. These ads tend to be effective especially when targeted toward the right group of people.
Cousins last point is one that seems to be common in marketing which makes the consumer want the product. "A good ad leaves users wanting to know more or feel the need to act. The action can be in the form of making a purchase or supporting a cause or even visiting your website."(Carrie Cousins) This last rule is the most important because once you have the consumer engage you should leave them needing your product.
One of Cousins main points is that you need a graphic to pull the consumer into the ad and get their attention. "How Graphic Design Is Evolving" by Natalie Norcross brings up the ideas of how graphic design is changing how Ad campaigns are applied. "Technology now plays a major role in the creation of digital work available in many fields. Portfolio design, presentations, signage, logos, websites, animations and even architectural production have all traveled far since the dawn of the digital revolution."(Natalie Norcross) Norcross brings up a great point of how everything in the advertising campaigns has been dramatically shifted from the original principles and ideas. Technology has given companies abundant opportunities to reach the consumer but also give them ways of producing ads.
"Ikea launched a virtual-reality kitchen experience that brings you a life-size virtual IKEA kitchen. The pilot program is aimed at gathering feedback and suggestions from users."(Natalie Norcross) The idea of having an ad campaign using virtual-reality was not even thought of five years ago. With the advance in virtual- reality, the idea of ads having to adjust to it is just a put of the job. This also gives the advertiser even more ability to reach the consumer.
"Along with the improvement of digital graphics technology, careers in this field have also evolved."(Natalie Norcross) Norcross has another great point of not only have the ad evolved but the people who make them. Graphic designers have lots of tools to work with when producing ad campaigns and providing a message.
"It goes without saying that technology and creativity never take on a steady form, so it is inevitable for graphic design to change as we move forward."(Natalie Norcross) This is a principle that is held true in many different areas of work. With so many improvements in technology, Graphic designers are always having to improve their approach.
Coca-cola has always been known for their advertising campaigns since their conception. Creating the idea the what most Americans see as Santa."From 1931 to 1964, Coca-Cola advertising showed Santa delivering toys (and playing with them!), pausing to read a letter and enjoy a Coke, visiting with the children who stayed up to greet him, and raiding the refrigerators at a number of homes."(Conversations Staff)
Some of the most effective advertising has been put forward by big tobacco they invested large amounts of money into their advertising. "Cigarette advertisements are often evocative and playoff these challenges in addition to being positioned to appeal to specific groups defined by social class and ethnic identity."(Lynch BS, Bonnie RJ) Big tobacco would be so specific with an ad campaign to have the most effect.
They would put forward ideas that many companies had tried and they perfected."Retail value-added promotions and specialty items. Dramatically on the rise are retail value-added promotions such as multiple packs (buy one, get one free), cents-off coupons, and a free keychain or lighter blister-packed to a cigarette pack. Value-added promotions and coupons constituted the largest marketing expenditure (40% of total marketing expenditures) by the tobacco industry in 1991."(Lynch BS, Bonnie RJ)
The way Big Tobacco targeted their clientele way so precise it was perfect. " In addition, advertisements are often combined with interactive promotional items that appeal to children and youths. For example, many magazine advertisements feature a giveaway, non-cigarette utility items (calendars, lighters, T-shirts, and "action products") associated with "cash coupon"catalog offers."(Lynch BS, Bonnie RJ)
"Advertising may influence consumer behavior in two broad ways—either cognitively or effectively. A cognitive influence convinces an individual that there are benefits to be derived from purchasing (or consuming) a particular product."(Lynch BS, Bonnie RJ)
"In his exhaustive 1976 review of the literature, Fishbein noted: "there can be little question that cigarette ads attempt to create a positive image of the 'smoker."' He concluded that "our review suggests that cigarette advertising does affect cigarette consumption."(Lynch BS, Bonnie RJ)
"The analysis revealed gender-specific relationships with the tobacco advertising campaigns that targeted women and were launched in 1967. Specifically, in girls under 18, smoking initiation increased abruptly around 1967 and peaked around 1973, at about the same time that sales of such brands as Virginia Slims peaked. The increase was especially marked among girls who never attended college (1.7-fold higher). The trend did not apply to women 18-20 years old, nor to men."(Lynch BS, Bonnie RJ)
No matter if it is big tobacco or Coca-cola the use of ad campaigns to have an effect on how we buy, what we see as okay and what we want to be associated with.
With the evolution of the modern world, we could only expect advertising campaigns to be more social media involved. The quality of graphics is growing exponentially and the best is yet to come. 4k is the best we have so far but there is already rumors of 8k graphics. Future ad campaigns will be customized based on what consumers like. Facebook already does this by categorizing people by age, location, page likes, app use, and the websites they browse.  This kind of advertising is very effective because they are advertising things that the consumer is already interested in. Companies like Epsilon, Datalogix, Acxiom, and BlueKai are data collection companies who save information about you. This saved information consists of things like store loyalty cards, mailing lists, and browser cookies. This information makes customizing ads easy.
Ad campaigns and graphics are essential to for advertising because they can be used to create memories and elicit an emotional response from an audience. Successful ads and graphics induce emotions like happiness and sadness which can lead to good business for companies. Some of the worst ad campaigns create anger and controversy which can lead to bad business, but not all controversy is bad. In many cases, controversy can be used to start a conversation and grow a brand. The future of advertising includes more aggressive campaigns and more intuitive graphics. Companies like Epsilon continue to change the way companies advertise by making the marketing process customizable and direct. Game campaigns and game graphics will also only improve as time goes on. Companies these days must not only compete to create a better product; they must also compete to generate the most attention from their desired audience.
References for Ad Campaigns
Gladman, J. (n.d.). The 100 Year Evolution of Print Ads. Retrieved November 27, 2017, from htps://blog.designcrowd.com/article/269/the-100-year-evolution-of-print-ads#
Cousins, C. (2017, March 27). 5 Rules for Designing an Effective Ad Campaign. Retrieved November 27, 2017, from https://designshack.net/articles/business-articles/5-rules-for-designing-an-effective-ad-campaign/
Norcross, N. (2017, October 09). How Graphic Design Is Evolving. Retrieved November 28, 2017, from https://www.forbes.com/sites/forbesagencycouncil/2017/10/09/how-graphic-design-is-evolving/#52ec3e4e1ff3
The True History of the Modern Day Santa Claus. (2012, January 01). Retrieved November 28, 2017, from http://www.coca-colacompany.com/stories/coke-lore-santa-claus
Institute of Medicine (US) Committee on Preventing Nicotine Addiction in Children and Youths. (1994, January 01). TOBACCO ADVERTISING AND PROMOTION. Retrieved November 28, 2017, from https://www.ncbi.nlm.nih.gov/books/NBK236761/
Landing Pages – Visualwebz | PPC Management Plans | Seattle Web Design
Website Designed for Visitors – Visualwebz
More details on Web Design
Resources
We've provided numerous website resources from beginners thru to savy website designers. Click here to check out more or may be you'd like to check our articles posted in our blog.