Seattle Ecommerce Developers
Seattle Ecommerce Developers and Online Marketing since 2008. Creating online stores for small businesses.
"A Web Design company with talent, responsiveness, professionalism, and CARING!"
Local Seattle Ecommerce Developers
Seattle Ecommerce Developers is the perfect choice for hiring a qualified and reputable e-commerce website development agency for any web development project for a small business. In fact, when it's time to launch a new venture or expand your business, it's crucial to have the right partners with the right knowledge when it comes to web design technologies. Visualwebz LLC is the perfect option when it comes to taking on your Seattle eCommerce Design project to the next level. Besides providing first-class web services, we are local to your Seattle business.
We will work with you to achieve higher traffic and conversion rates. In fact, we carefully select specific markets based on what you want to achieve. For example, it could be traffic and visits, interaction, call leads, or purchasing from your website? Be it local demographics or specific locations. We have the web design and SEO expertise to get your business where it needs to be. We have a wealth of experience in fostering small to medium-sized businesses and professionals.
If you're wondering, we have developed and taken care of hundreds of WordPress websites, understand SEO trends, and handle many projects. After all, we have been operating since 2008!  and cater to startups as well as established businesses. So if you're in the market looking for Seattle E-commerce Developers or SEO, consider Visualwebz as your online marketing agency.
We can guarantee you'd be satisfied with our Seattle eCommerce Design services! In fact, our value-added services are one of the best.
Types of eCommerce websites
What is an e-commerce website? E-commerce, short for electronic commerce, is the buying and selling goods or services using the internet. Now that we know what e-commerce means, we can dive a little deeper. Let's break this down into a few common questions, such as e-commerce websites or more successful.

In addition to doing a case study and looking at examples of the different kinds of websites, we will be looking at what it takes to start your own. This should all give you a great starting point to launch your next endeavor successfully. So, without further ado, let's get into it.
The different kinds of websites Seattle Ecommerce Developers Build
The difference for e-commerce websites comes from their roots, and the origins are based on the business model the owner decided upon. There are four key business models web developers refer to when it comes to building websites. Nevertheless, why does the business model matter in e-commerce, you may ask. Let us define a few terms to make sure we are on the same page.
First and foremost, what do we mean by business model? That would be a company's or individual's plan to make money with their idea. This is why a great business model or method is imperative to the success of the business. The second term key here is the target audience, which is simply those you are trying to reach with your sales.
Most Common e-Commerce Websites
The most common e-commerce website you will run into is B2C; in other words, business to customer. In this model, entirely only, you, the company, are selling finished products and goods to a consumer who wants the said product.
Next, we have the B2B or business-to-business market. Here the company, like the name suggests, sells directly to another business. This can range from enterprise-level orders to smaller small businesses to small business transactions. The main point here is that more back-end goods and services that the target audience would instead purchase than develop themselves.
Another critical business model is C2B, consumer to business. When looking at this model, in particular, it may seem a bit odd. For example, how can I, as an individual, sell to a business? This business model looks at freelancers in particular.
Furthermore, finally, we have the C2C business model. Consumer to consumer (C2C) would be the most simple with you, the owner, acting as a moderator. Another name for this would be "online marketplaces." These websites are abundant, and there is a good chance you sold or bought something from one.
How do these websites stack up against each other?
Every website is unique, which does mean that each it own set of strengths and weaknesses. Aside from the obvious things like design, these websites have fundamental differences due to the nature of what they are selling. For instance, a website of a B2C might focus on selling single items. A B2B website, on the other hand, might default to selling in bulk.
The number of items being sold in one transaction matters because of how prices are displayed. A consumer might only need a single computer, whereas the business will need a computer for a whole floor of employees. Thus, indicating the cost per item versus the total cost will play a significant role in each website.
This is a very case-specific subject. One point might work very well for one company and not work for you at all.
What makes these websites so successful
The key to being successful yourself is learning from other companies and not repeating their mistakes. The first point is that each successful existing company could identify its target audience and choosing a suitable business model. That is why it is so essential to make those decisions first before you start your website.
To paint a better picture, let's take a look at some "don'ts" when launching your website. After choosing a target audience, you have your merchandise, and you selected a business model, the worse thing you can do is not put enough time into developing the website. As an article states, "you only get one shot at launching your website, and you cannot mess this up" You do get only one chance at your big grand opening because first impressions matter!
The key to being successful yourself is learning from other companies and not repeating their mistakes. The first point is that every successful existing company could identify its target audience and choosing a suitable business model. That is why it is so essential to make those decisions first before you start your website. You will thank yourself later.
Every person is different and unique. Make sure your website is a reflection of you. Not only will this make everything feel more personable, but it will stand out.
Let's look at some examples of different types of websites.
There are a plethora of websites Seattle Ecommerce Developers can come with for each business model. We will focus on the popular one for the sake of this article. Upwork.com, for example, this website is for freelancers to market and provide their skills for hire. Companies and businesses of any size can visit the site and choose from a list of highly skilled professionals to help with a project.
The website's front page is clean and easy to navigate to the exact category that the company may want. Even though technically, the website is not selling any but rather just a platform for creativity to get noticed by businesses, making it a great example of C2B.
Another example is HermanMiller.com, which is a B2B, or in other words, a business that is selling to another company. B2B websites have successfully made catalogs obsolete. When a business wants to buy bulk, hundreds of websites want to provide their services to your company.
Of course, we cannot forget B2C, which is the most common and the first thing we think of when we hear "online store." For this business model, we will look at Amazon. By far, this is the biggest online e-commerce website that combines many aspects of having a successful business.
Moreover, finally, we have C2C. As I previously mentioned, the website is just the mediator or the middleman in this business model. Offerup.com, for example, does not sell a product, yet it is still very successful. The only role it plays is to be a mediator of sorts and provides structure.
Which are the most successful and why?
Let's begin with the most obvious, the biggest, and everyone's favorite e-commerce website, Amazon. Being the most significant B2C business, they really can show what is truly possible when you put in the work to make something so great. Amazon is wildly successful, but why is it so successful? It boils down to a few main elements.
Amazon, as a company, was never afraid of innovating and trying something new. It is easy to dismiss this and say it is because they are a multi-billion-dollar company; however, the fact remains. Innovation can look like a risk at times. People say, "the bigger the risk, the greater the reward," which is right in this case.
This is not the only thing that sets Amazon apart. Another area where they excel would be diversification. The Merriam-Webster dictionary defines this as the act of increasing the variety of a company's product. I do not need to tell you about Amazon because you can now buy virtually anything, including cars!
Another prevalent business model is C2C. Like was mentioned previously in this model relies on the consumer to sell directly to another consumer. An example of this would be websites like craigslist, eBay, or Offerup.
Here the websites provide some structure, but they do not sell anything. Websites like Offerup provide payment protection if you utilize their payment feature. This encourages people to go with them rather than someone else. The confidence your money is not going who knows where will always be imperative in any online store. That sense of security will always impact your sales numbers dramatically.
How difficult is it to start your own e-Commerce Website?
In this day and age, you do not need virtually any training. With the increase of demand for a reliable online presence, websites like Squarespace and Wix have become increasingly used. These websites are used to build websites. That definition sounds weird, agreed, but there is simply no better way to explain it.
Using Wix, for example, you do not need to know all the intricate inner workings of how to code a website. And trust me, coding a website is not a simple task. With the help of these websites, it becomes a matter of dragging and dropping.
As Seattle Ecommerce Developers, we know that a big part of a successful website is an inviting layout of all the information. Letting you, the business owner, focus on the actual content. This includes uploading your pictures and text. These websites make that process a walk in the park.
This is not a perfect solution because an independent programmer makes you a custom website far better than any template-based program. Without sitting down with a human and talking out your specific needs, you will never get a truly customized website.
No matter which route you choose, as long as you follow the tips and advice outlined, you should have a successful e-commerce website up in no time at all. This includes choosing a business model and sticking to it, selecting your target audience, and finally designing an easy-to-use and great-looking website.
Seattle e-Commerce Developers Expertise:
Seattle e-commerce Developers' in-depth experience and qualifications in delivering professional e-commerce websites is one reason you should contact us. We will help you understand the process of e-commerce and how we will build your website from start to finish. More importantly, your business will grow and move to the next level with our eCommerce web design services.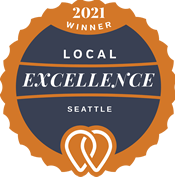 What Our Seattle Ecommerce Developers Offer :
Advanced Seattle E-Commerce Design Services
Several features separate our Seattle Ecommerce Developers from others:
We look at the top competitors in the area to better understand how to suit your company's needs.
We carefully analyze the needs of your company and how to convey those needs on your website best.
Our local SEO strategies are magnified and targeted for local rankings.

Customer Guided Web page Layout

We work directly with you to ensure the website is exactly how you'd expect it.
This is a multi-step process where we carefully look over design templates and styles that truly capture your company's personality or organization.
We know that this website is an extension of yourself and your principles. So we want to ensure we capture every detail that continues your business branding.

Ensuring that your website is easy to use and pleasing to the customer is the easiest way to generate new clients.
We incorporate many styles and user-friendly designs so the consumer will have an easy browsing experience.
Our websites are rigorously tested to ensure the top quality is given to each customer.

Social Media Influence

Social Media is one of the easiest ways to generate a following.
We work to incorporate your companies social media into the design and layout of your website.
Our web developers can integrate your Facebook, Instagram, Snap Chat, Twitter, or other social media platforms directly into your website.
Why Hire Our Seattle Ecommerce Developers?
As experienced Seattle Ecommerce Developers, we are confident with our high standards, coupled with experience and certifications. These are some key areas why you should speak to us first. In fact, we have been building and maintaining websites for over a decade. Many small businesses such as attorneys and doctors have had that great experience of great-looking and functional websites.  After all,  we better understand the local demographics. Thus able to build websites and carry out strategic online marketing for any small business.
Our pricing structure caters to a range of businesses, from startups such as dental website design to established businesses needing online marketing and SEO.  In addition, we don't tie you down to any yearly contracts!
For the best Seattle eCommerce Design services, call (425)-336-0069.
No yearly contracts.
Competitive SEO prices.
All clients, big or small, are treated with professionalism.
Available via email or phone.
Monthly reporting
Always in line with digital marketing, SEO, and web design trends.
Seattle Ecommerce Developers are Committed to Success
Our Seattle Ecommerce Developers are committed to increasing your online presence and online business. We follow forward-thinking Seattle eCommerce Design strategies that help businesses thrive in the online marketplace. When creating your dream website are; Local Business Needs Assessment, Customer Guided Webpage Layout, Responsive Web Design, and Social Media Influence. Our company has developed websites for many businesses, and we would love to add yours to our list! Please call or email us today.
In 2019, e-commerce sales were approximately $25 trillion globally! In the US alone, e-commerce accounts for over 10% of retail sales, which is expected to increase by nearly 15% annually. This explains the importance of why Seattle, WA small businesses should equip themselves with professionals who can deliver Seattle e-commerce websites. The table below shows how e-commerce statistics for Seattle e-commerce compare with other cites:
Delivering Effective Web Design & Online Marketing Services
If you're looking for web design, website development, a new website, or need to revamp an existing small business website, then you've come to the right place. Notably, we understand business owners and the website benefits your business needs. Besides, we know that being a website owner. You will want to see immediate results.
Furthermore, we can help your website reach an international, national, or local customer base. Besides, we know how to get your customers to you. After all, small business websites and SEO have been our specialty since 2008!
Our customers continually praise our web design services.,check our reviews!
We Deliver Effective Web & SEO Services
Our website developers specialize in delivering the best websites and nothing more. More significantly, our qualifications and experience allow us to provide clear and concise solutions. Whether it's a simple website or complex or built on PHP or ASP, we will always keep you in the loop during the whole web development process.
Immediately after the launch of your website, we will work with you to improve your online presence. For example, our SEO specialists will help drive traffic to your website with this in mind. Visualwebz LLC is the ideal firm to hire for your next project. We will also take care of your web security - remember, you will need to secure your website from hackers. Similarly, other website design services offered include website maintenance, support, and website testing.
Are you interested in our services? Or just have some questions on SEO or web design? Even questions regarding our expertise or web design costs? Then contact us today at (425)-336-0069. You may also want to check our reviews and learn why our customers like us! After all, our 5-star reviews clearly tell prospective customers why we stand out regarding service, punctuality, quality, and affordability.
Resources & Links
Our Blog covers a range of web resources, services, practices, and trends in the areas of web design and SEO.
Marketing & SEO
Web Design & Website Development
Seattle Seattle Ecommerce Developers
Our Seattle Ecommerce Developers allow businesses to sell online and gain the online exposure needed to expand.
Seattle eCommerce Design
Whether you have a brick-and-mortar store or not, an e-commerce platform is necessary for any business looking to connect with its customers. In fact, there is no single channel connection nowadays. Online exploration and online shopping are becoming more of the norm as newer generations become more acquainted with the technology. The increase of online shopping via e-commerce platforms will become de facto. Hence, an e-commerce website should be at the top of the list for any business looking to stay competitive.
Competitiveness by Seattle eCommerce Design Services
Seattle web design services can create an effective eCommerce website for any business. Whether it's a virtual store or connected to your physical shop front, in fact, we will work with you in terms of correctly optimizing it and providing the best possible alternatives for the website to be successful.