Clutch Names Visualwebz, LLC as a Top SEO Company in Washington
A Seattle Web Design & Online Marketing Agency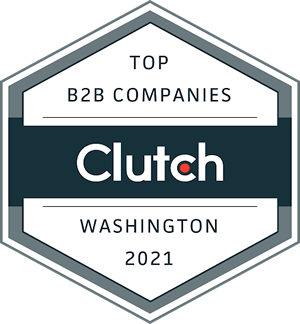 Despite SEO being prevalent in the current digital marketing landscape, not many companies have a firm grasp of its concept and processes. At Visualwebz, we make sure that our clients are well informed about SEO and how it works to craft strategies that can efficiently address their problems. Furthermore, our team also offers web design and other internet marketing services to ensure that our clients' needs are met.
Our services include online marketing, search engine optimization, content writing, website development, website repair, and maintenance. 
We have been consistently delivering these amazing services in the market ever since 2008! Today, we have been recognized by Clutch for our tremendous SEO service line. They named us one of the leading companies in Washington regarding SEO, as seen on the Clutch platform.
Our team is truly grateful for this amazing award. We couldn't thank Clutch and their team for this recognition, and of course, we are very grateful for everything they have done for all vendors in the B2B industry.
Just in case you haven't heard about Clutch, they are the leader in connecting global service providers with corporate buyers from around the world. The ratings and reviews platform publishes the most extensive and referenced client reviews in the B2B services market. 
To our clients, this award is for you! We honestly could've done it without your and your amazing support. Thank you for choosing us and our services throughout the years. We will continue to help drive traffic to small business websites with established and reputable digital and SEO marketing services. 
We are excited to work with you! Connect with one of our SEO Experts at Visualwebz today – Give our office a call and let's start collaborating for your next project.
Top Global SEO Company
Top Global SEO Company ranked by Clutch. Clutch has a list of outstanding agencies, and Visualwebz has made it into the top 1000 Global companies!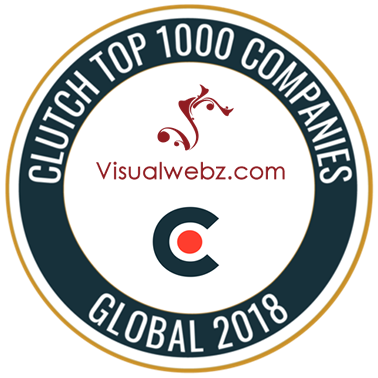 Awarded as a Top Global SEO Company
A Seattle SEO firm is awarded a Top Global SEO Company. In fact, we know how challenging Search engine optimization is. Knowing this complex science and competing with other Top Global SEO Companies is challenging but, most importantly, a buzz!  We know that it takes a good amount of time to learn even the basics of SEO and a lifetime to master this involved field. That means you can't get stuck with any amateur team—you need to know you've got the best. The best digital marketing agencies incorporate the best digital strategies with stunning, eye-catching designs to attract the customers any company needs to succeed.
Clutch, the B2B online ratings and reviews firm, amalgamate client testimonials, case studies, and in-depth quantitative data to analyze businesses across the globe, from digital marketing companies to PR firms.
Clutch named Visualwebz one of the leading digital marketing agencies in Seattle. Clutch's sister site, The Manifest, also ranked us as one of the best SEO agencies in the Seattle metro area. We could not have achieved such a feat without the support and help of our clients, who have taken the time to leave a review on our profile.
Washington-based Visualwebz LLC is the go-to source for any online marketing, local web design, and support. Whether you're a client, a partner, or a business leader, contact Visualwebz at (425)-336-0069.
The Leading Digital Marketing Agencies & Web Designers
What's more, Clutch's sister site, the Manifest, compiles lists of companies and honors Visualwebz as well. The website also named Visualwebz one of the leading digital marketing companies in Seattle! We want to thank our clients for their continued pursuit of greatness in our partnerships, as well as their candid and congratulatory commentary to Clutch.
Since 2008, as a web design and internet marketing company, our team has an astutely conjoined front end and back end design to be done all in one place. Our incredible record of producing hundreds of beautiful websites transcends the typical company: our clients know the difference. Thank you to everyone who has reviewed us on Clutch and helped us earn this prestigious award!
Washington-based Visualwebz LLC is the go-to source for any online marketing, SEO, web design, and support. Whether you're a client, a partner, or a business leader, contact Visualwebz at (425)-336-0069.  Also, we ask you to check our web work, reviews as well as SEO case studies.
Why Visualwebz has been recognized as the Top Global SEO Company
Read what our clients are saying…
Kristin Auerbach, the COO of Auerbach Investments, praised the Visualwebz standard of work ethic. She commented, "Their responsiveness is really important to us. They have other clients and projects but we always felt like we were their only client. Their expertise is phenomenal and they were very good at explaining things, especially when we had questions or wanted to add a new component."
Ken Whelan, owner of Kids Parties New York, explained a typical experience with Visualwebz. He told Clutch, "Rav redesigned the homepage of our website to make it easier to find on search engines. I simply told their team what we thought needed to be changed, and they improved the site, submitting ideas we never thought of."

Visualwebz recognized as the Top Global SEO Company
Since 2008, the Visualwebz team has been working with excellent partners. Technology is a constantly changing field, so we consistently refine our approach. That being said, we have web design down to a science. We use colors, organization, layout, among many other techniques, to make viewers feel specific ways, think certain things. We work in a wide range of industries and understand their precise online business needs.
Besides providing Web Design, SEO, website ranking, and digital marketing to small businesses, we also assist with fixing websites and website maintenance, such as WordPress. Contact us at info@visualwebz.com or call us at (425)-336-0069.
Delivering Effective Web Design & Online Marketing Services
If you're looking for web design, website development, a new website, or need to revamp an existing small business website, then you've come to the right place. Notably, we understand business owners, and the website benefits your business needs. Besides, we know that being a website owner. You will want to see immediate results.
Furthermore, we can help your website reach an international, national, or local customer base. Besides, we know how to get your customers to you. After all, small business websites development and SEO know-how are our specialties!
Our customers continually praise our web design services.,check our reviews!
We Deliver Effective Web & SEO Services
Our website developers specialize in delivering the best websites and nothing more. More significantly, our qualifications and experience allow us to provide clear and concise solutions. Whether it's a simple website or complex or built on PHP or ASP, we will always keep you in the loop during the web development process.
Visualwebz LLC is the ideal firm to hire for your next project. Immediately after the launch of your website, we will work with you to improve your online presence. For example, our SEO specialists will help drive traffic to your website with this in mind. We will also take care of your web security - remember, you will need to secure your website from hackers. Similarly, other website design services offered include website maintenance, support, and website testing.
Are you interested in our services? Or have some questions about our SEO Company or web design process? Even questions regarding our expertise or web design costs? Then contact us today at (425)-336-0069. You may also want to check our reviews and learn why our customers like us! After all, our 5-star reviews tell prospective customers why we stand out regarding service, punctuality, quality, and affordability.
Resources & Links
Our Blog covers a range of web resources, services, practices, and trends in the areas of web design and SEO.
Marketing & SEO
Web Design & Website Development
Top Global SEO Company
Established in 2008
Cities where we provide Web Design for small businesses:
Like any small business or customer, you may be asking yourself why you need a website? Of course, you do! No matter how small or big, every business needs a website and, more importantly, online marketing services after that. For example, SEO will help the site be more visible and available during search results. Thus generate more website traffic and increase sales and services! There are other factors and reasons why every business should have a website. We've summarized 12 reasons why a company should take web design seriously. Some of these include global and local presence, open 24/7, and outpace your competition.
We offer the best website design services, web maintenance, and web support to small businesses in Seattle, Washington, and the USA. Yes, our website builders and professional web designers are available to all companies at affordable website rates. After all, hiring competent and affordable Seattle web developers, website designers, WordPress designers, and web builders will get your business the results without breaking your bank account! Whether you're looking for a web agency in Seattle or a website developer elsewhere?
Every business deserves a professionally designed website.
Our freelance website development services will get your business the professional presence needed! Whether it's an e-commerce website or a simple CMS in WordPress. We always deliver what our customers expect! Trust our professional web designing and online marketing experience as proven, inexpensive, and practical for small businesses and professionals alike.
Our local web design services are available locally in Seattle, Washington, and all over the USA. An agency that offers various web services from custom web designs, SEO, and supporting Seattle businesses with our WordPress maintenance.
Local Areas we serve in Washington.
Local cities where we offer web design services include Auburn, WA, Seattle, WA, Covington, Kent, WA, Federal Way, Tacoma, Olympia,  Issaquah, New Castle,  Lakewood, Gig Harbor,  Everett, Monroe, Mill Creek,  Milton,  Northbend, Puyallup, Redmond, Renton, Tacoma, White Center, Vancouver, Bellingham, Seattle, Yakima, and  Woodinville.
If you need a new website or just looking for some website support, reach out to us, and let us help—a recognized web design as the best web designer in Seattle.
Custom Web Design Solutions
How can we not mention custom web design solutions? Many of our clients opt for custom websites to make the business stand out from its competition. A custom website built by a professional web designer will not only result in solid branding but allow customers to differentiate and quickly identify your services and products from your competition. Our custom web design services are available to a diverse range of businesses in many areas, such as Seattle, Bellevue, Tacoma, NY, California, and globally.
Hire the best Web Design Services in Seattle, Washington
With front-end and back-end experience, our customers back us up as the best web design services. In fact, how could you possibly go wrong? Our full-stack web development experience and online marketing will pave the path for your business to succeed. Contact us today at (425)-336-0069. Just a reminder that our services are available, but not limited to Seattle, Bellevue, WA, Tacoma, Olympia, WA, New York, L.A., and all over!
Web Developers - We're not just a Web Design Agency.
Yes, we are a full-blown agency with a one-stop service. Our specialties are not only in web design but also in web development and online marketing. Our web development services are not just limited to the Washington area but all over. From Bellevue, Tacoma, LA, California, NY, London, Birmingham, UK, and Glyn Ebwy, Wales.
Web Agency with perfect solutions & great reviews
Our small business solutions are the perfect choice for any small to medium size business looking for results. Especially if you're looking to see your small business website grow, we can help via effective web design and online marketing. A Seattle web design company that assists many businesses in and around the Puget Sound area. We do not finish there; we've also helped Seattle, Issaquah, Bellevue, Tacoma, New York, and California. Let our expertise help your business expand and reach new heights!
Top Web Design & Digital Marketing Agency - Web Development and Online Marketing Experience.
Online Marketing, SEO services available to small businesses in:
Our tried and tested Small Business SEO Services help outrank competitor's websites and drive more traffic. Ignoring our leading Seattle SEO marketing services could result in you missing many online opportunities and allowing the freedom for your business to expand. Whether it's SEO for a dentist or promoting an online event, we have proven through many SEO case studies that we get it done!
If you want to succeed online and help your business's current online standing, then internet marketing is necessary. Our SEO Agency is a top-rated marketing agency that can help your business reach new heights and reach its maximum potential. More importantly, we can help pave the right path in making your website successful.
An SEO agency with innovative ideas, strategies, and solutions allows businesses to lead their industries. From local Seattle SEO through to global presence, our custom tailor-fit solutions help companies effectively compete. We can help your Seattle business reach that desired ranking on search results.
We serve and help small businesses improve their online marketing presence via effective organic Seattle SEO and web solutions. Overall, our Seattle website SEO practices have helped many companies gain the online exposure needed to attract traffic and generate sales. Following is a small list of cities where our outstanding and best Seattle SEO services are available.
Our web-related services have delivered many solutions to small businesses in and around Seattle. Other local areas where our clients include: Algona | Auburn | Kent | Bellevue | New Castle | Bellingham | Factoria, Bellevue |  Federal Way | Fife | Kent | Renton | Kirkland | Issaquah | Lakewood |  Lynnwood | Mercer Island | Marysville | Mill Creek | Olympia | Redmond | Seattle | Tacoma | Kennewick | Gig Harbor | Vancouver.
Our SEO packages and marketing solutions are affordable and geared towards small businesses. In particular, companies in and around Seattle, Bellevue, Redmond,  Snohomish, Tacoma, Kent, and Factoria Bellevue, WA, continue to be our loyal customers. Our SEO company and web design firm do not just make a promise but instead carry it out to succeed whether you are close to home in Seattle or elsewhere.
Since the start of SEO, our SEO services and SEO marketers focus on organic SEO for small businesses like restaurants, distributors, professionals, doctors, dentists, and attorneys. Call an SEO Expert for a free no-obligation estimate - (425)-336-0069.
Digital Marketing Services
Our digital marketing services are available in Washington and other states. Locally we assist small businesses in Puyallup,  Gig Harbor, Olympia, Bellevue, Issaquah, Kirkland, Seattle, Vancouver, Tacoma, and surrounding areas.
Internet Marketing Services
Our internet marketing services, coupled with web design and SEO, will get your small business website to the top of your search engine. We focus on local as well as larger markets. From Seattle, Olympia, Maple Valley, Kirkland, Bellevue, Tacoma, and states like Washington, California, and ones further out! We provide quality on-page SEO as well as off-page services. For example, we are helping to acquire customer reviews.
Organic SEO is the Perfect Solution
Yes, on-page SEO and off-page SEO services are the best way to get your website visible online. But, you need to hire an SEO agency or SEO expert that knows what they are doing. At Visualwebz, we work within guidelines set by search engines. Also, understand terms like LSIGraph and incorporate structured data into websites. Our digital marketing strategies coupled with web design get positive results for our customers. As an established SEO consultant, we are available locally and nationally as professionals; our reach is beyond Washington and the USA!
Online Marketing Services
Our online marketing services are limited to Seattle, Bellevue, Renton, Tacoma, or Bellingham. But we offer services to all businesses nationally and globally. Go ahead and contact one of the top digital marketing agencies near you. You'd only realize that the SEO services they offer will be highly costly and outside your budget.
There are many SEO Companies. But we ask you to check our reviews and decide why our customers chose us.
Visualwebz is a top Seattle web design agency recognized as a leading advertising and marketing firm in Washington.
Web Design, Current Trends, and Online Marketing Blog Posts:
We have summarized some areas small businesses should be aware of when having an effective online presence.
An SEO expert will always understand complex ranking formula fundamentals, SEO practices and explain SEO tasks and terminology to its customers. In fact, as professional SEO experts, they should never leave the clients in the dark! All professional SEO teams know the type of marketing that best fits any business. For example, to name a few, organic SEO, PPC, local SEO, and Social Media strategies.
Web developers are digital professionals that may work as a team or may work independently. Some areas that they may focus on includes:
More Blog Posts on Web Design, Online Marketing, SEO, and related areas:
Google Panel | Google Adwords | Google Trends | Rich Snippets |  | Internet Companies | HTTPS | | E-Commerce Website Developers | | 20 Years of Google | AI | Google Algorithms | Phishing & Compromising websites | Business Ranking in Seattle |  Smart Homes | Web Design History | Micro-animations & Micro-interactions | Drop shipping | Check our multi-page generator that helps create multiple landing pages | Structured Query  Language.
Yes, many cheaper options are available, but you should know the pros and cons of more reasonable website costs. Also, why do affordable websites not consistently deliver what you expect? Connect with one of our web design or online marketers today. Also, we ask you to read our Seattle web design company reviews and see why our customers are glad they allowed us to work for them. Call us at (425)-336-0069.