Web Words entice and attract customers
Web words should be identified and used to entice and attract online visitors. Through engaging words, enticing visuals and personalized content your website or web page will prove to be more effective.
Enticing words/ persuasive language:
Whether you're looking at the benefits of blogging, developing a website, off-page SEO content, or online marketing? One of the most crucial aspects is the language and how it is conveyed. Even if your looking at starting a social media campaign, the way you use web words and the way the message will be delivered will have a huge impact. In fact, top websites always place the effort in content!
Hence, the reason why web words are so crucial because such words that can entice or lure away visitors. The success of any website will need to be enforced with engaging content, and words are part of this. We call these words enticing as they catch the readers and keep them engaged as well as "glued" onto the web page. The way these words are found to be enticing is how they get associated with certain emotions. Marketers have been using such command of language to their benefit for as long as print has been around.
So how do you write content for your website, and what web words work best? The following are a range of enticing web words you should be using in your content.

Why are enticing web words important?
The difficulty of using a website to obtain your target audience and to keep them engaged is due to the wide range of competitors. There are many competitors that more or less trying to sell a similar service or product. Hence, the one key reason why enticing words and persuasive language is used to stand out and stay ahead of competitors.
Using the right web words can help your web page go viral as well as help increase the website traffic. For example, associating your services or products with positive emotions or fear tactics are some methods used by online marketers. Also, by using words that spark emotions can create a solid foundation of visitors or views to continue to engage and convert into customers.
Persuasive language for a target audience
In order to use enticing language effectively, you must first know your target audience. Once the audience has been identified, you will then know what they desire. For example, words such as a specific discount would catch your customers faster as they will feel that they're getting more bang for their buck. On the flip side, a discount to visitors that understand quality may not continue due to the idea, that the product could be cheap for a reason? Alternatively, using words such as 100% leather or anything associated with luxurious products would be as effective.
Persuasive language for websites
Persuasive language involves using a format with clear texts, nothing overbearing or overwhelming as well as a way for these words to stand out. This can be done by making these words bold and more prominent. For example, the only words visible on the website, or catchy.
Need Content Writing Services?
Let us
unleash

the power of your website and get you Real Results!
Justifying Persuasive Language
Although logical explanations of your project may not be as effective as enticing words, the use of evidence to back up your product is still very persuasive. Using impressive stats as a way to introduce your product is a very effective way to entice your target audience into choosing your product. For example, presenting solid data with credibility and testimonials will generate a conversion.
Personal language:
Another way that persuasive language is used for the benefit of sales is personal language. When the language feels personal to the viewer, their skepticism is shown to go down fairly rapidly. This is due to the viewer believing that the products being portrayed are needed and necessary for them at that given time. The approach is very effective when done correctly, for example using your first name directly.
When it comes to the web, a lot of data is collected based on search history, and products are suggested and portrayed as being relevant.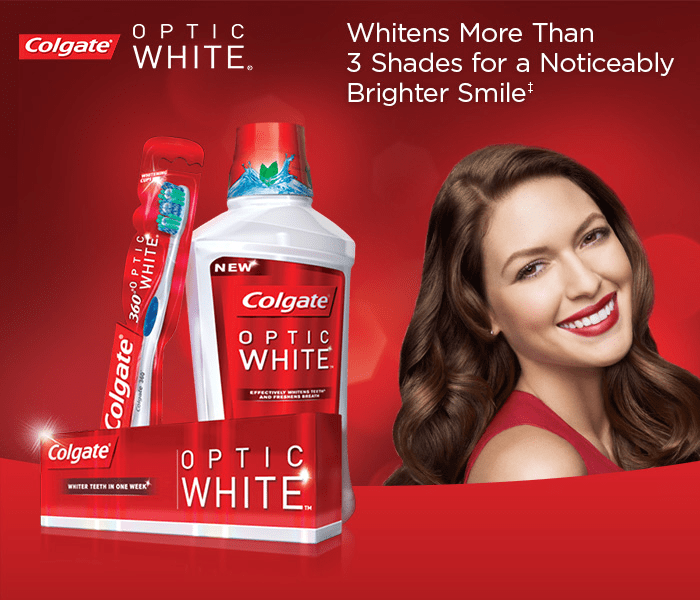 Case study 1: Colgate
Colgate takes advantage of the fact that they are aware that they are the number one tooth care brand. For example, to justify a lot of their advertisements, all models and individuals in Colgate advertisements have exceptionally white teeth. Although they do not directly state that their products will get you to that shade of white teeth, they use persuasive language in the sense that their products have the ability to get you exceptionally white teeth so that they aren't necessarily held accountable when there is no improvement in the shade of teeth.
In the example below, Colgate states that their toothpaste can get your teeth whiter. Thus, making the audience feel that if they consistently use their product the end goal will be similar to the model in the advertisement. Images conveying results can prove to be effective, and coupled with enticing words can drive results.
Case study 2: Amazon – Persuasive Language
Amazon is the single largest online store in the world. The way it was able to obtain this ranking is partially due to the enticing language that it uses on the website. For example, Amazon is very effective in making the viewer feel special and valued. One example is how they greet you by stating hi, followed by your first name.
The website is structured in such a way that content is tailored to display on what you would most likely purchase. One tactic that we can learn from the language used by Amazon is the power of gaining trust. Amazon has taught us that if we can persuade our target audience and we want what's best for them, they will be more prone to taking your suggestions when suggesting the purchase made of products. Thus, allowing you to market your audience more effectively, and increasing overall sales and success.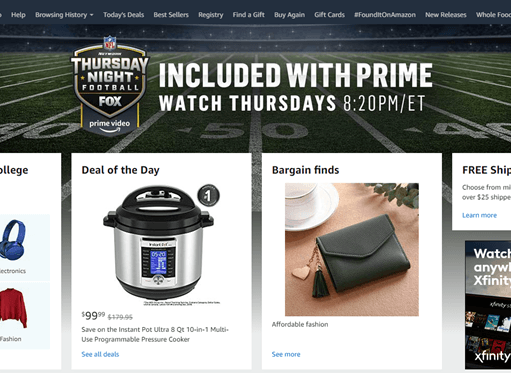 Enticing fonts and formats:
Another form of Advertising is via the visual appeal of words and making them stand out. This can be done by using the right colors and fonts. The result of using the right format of the text that's visually appealing will result in higher engagement. This is ideal when your product may not have much to differentiate itself from its competition. This is seen most commonly in products such as toys or other cheap products that do not need too much research or investment.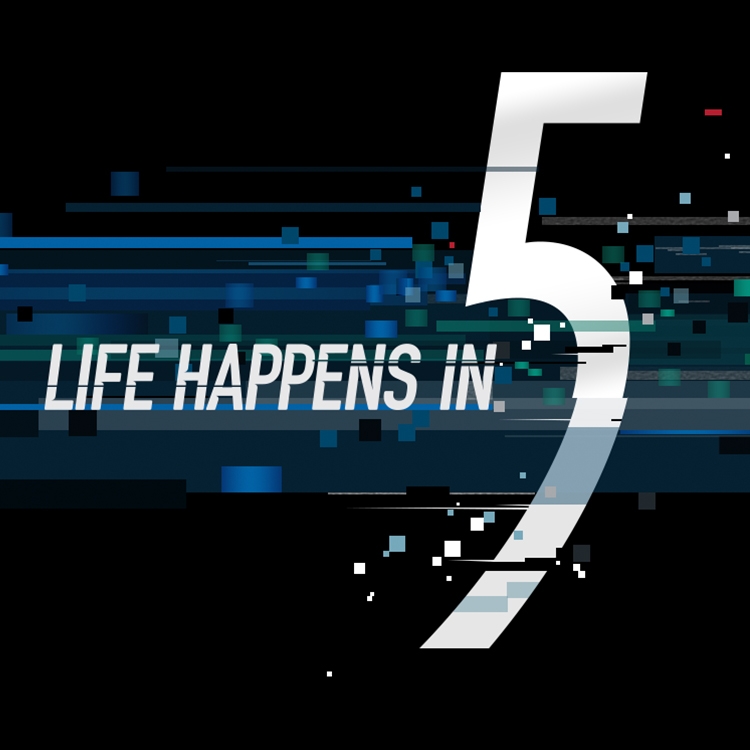 Case study 3: Five Gum
Five gum is a bubblegum brand that uses this tactic quite notoriously. There advert such as the one on the left gives almost no information about their products and is not informative at all. So to compensate for that, the words that they use to advertise their product that is shown in a very thrilling font. The eye-catchy 5 and background show a sense of thrilling experience even though there is no logical reasoning why anyone would buy it.
Five gum is an example of a brand of gum that is successful despite not being cheap compared to its competitors as well as not being as health-conscious.
Using engaging graphics, colors and the right font can create an everlasting impression of the viewer's interest.
Engaging Words
Of course, there are specific words that will prove to be beneficial to any online campaign or website. For example: "Act now and purchase your website at a discounted price". In this example, act now and discounted price are words that would be inclining for visitors to take action. Other examples of words include:
New
Proven
Effective
Powerful
Discover
Real Results
Instant
Bargain
10% money-back guarantee
No obligation
Trigger Words
Yes, words can trigger a sales action and inspire someone to act. With that said many engaging words can also create an urgency for visitors to act immediately, for example, words such as:
Hurry
Limited
Running Out
Fast
Deadline
Last Chance
Never again
Expires
Final Sale
Closing Down
Forever gone
Ends Today
The 20 most influential words
Suddenly
Now
Announcing
Introducing
Improvement
Wanted
Challenge
Compare
Bargain
Hurry
Amazing
Sensational
Remarkable
Revolutionary
Startling
Miracle
Magic
Offer
Quick
Easy
Take away on attracting and keeping readers engaged through Web Words
There are a number of proven methods that can entice and engage people online. For example, enticing words, engaging visuals, and persuasive language is a way for your target audience to emotionally connect. When designing an online promotion or website, one should pay close attention to their target audience and priorities they have. Such practices and methods are an effective way to build a bond with your audience and gain their trust, and eventually, convert into customers.
There are many SEO tools for businesses that can help them analyze keywords being used by competitors, and web words that are being searched by potential customers. Of course, these are all SEO questions and require SEO experts to help with page ranking. Whether your going to go alone or outsource to a marketing agency, using the right web words on your website will help your business.
Delivering Effective Web Design & Online Marketing Services
Local Web Design Services
If you're looking for web design, website development, a new website, or just need to revamp an existing small business website, then you've come to the right place. Notably, at Visualwebz LLC we understand business owners and the website benefits your business needs. In addition, we understand that being a website owner you will want to see immediate results. Furthermore, we can help your website reach an international, national, or local customer base. Besides, we know how to get your customers to you. After all, small business websites and SEO have been our specialty since 2008!
Our customers continually praise about our web design services.,check our reviews!
We Deliver Effective Web & SEO Services
Our website developers specialize in delivering the best websites and nothing more. More significantly, our qualifications and experience allow us to deliver clear and concise solutions. Whether it's a simple website or one that's complex, or one that is built on PHP or ASP, we will always keep you in the loop during the whole web development process.
Immediately after the launch of your website, we will work with you in improving your online presence. For example, our SEO specialists will help drive traffic to your website. With this in mind. Visualwebz LLC is the ideal firm to hire for your next project. In fact, we will also take care of your web security - remember you will need to secure your website from hackers. Similarly, other website design services offered include website maintenance, support, and website testing.
Interested in chatting to us regarding SEO or web design? Or just have questions regarding our expertise or web design costs? Then Contact us today at 425.336.0069. You may also want to check our reviews, and learn why our customers like us! After all, our 5-star reviews clearly tell prospective customers why we stand out when it comes to service, punctuality, quality, and affordability.
Resources & Links
Our Blog covers a range of web resources, services, practices, and trends in the areas of web design and SEO.
Marketing & SEO
Web Design & Website Development