Bellevue Healthcare Web Design Project
Bellevue Healthcare Web Design and Online Marketing since 2008.
Bellevue Healthcare Web Design – Before & After
Bellevue WA Healthcare Website Design a local project.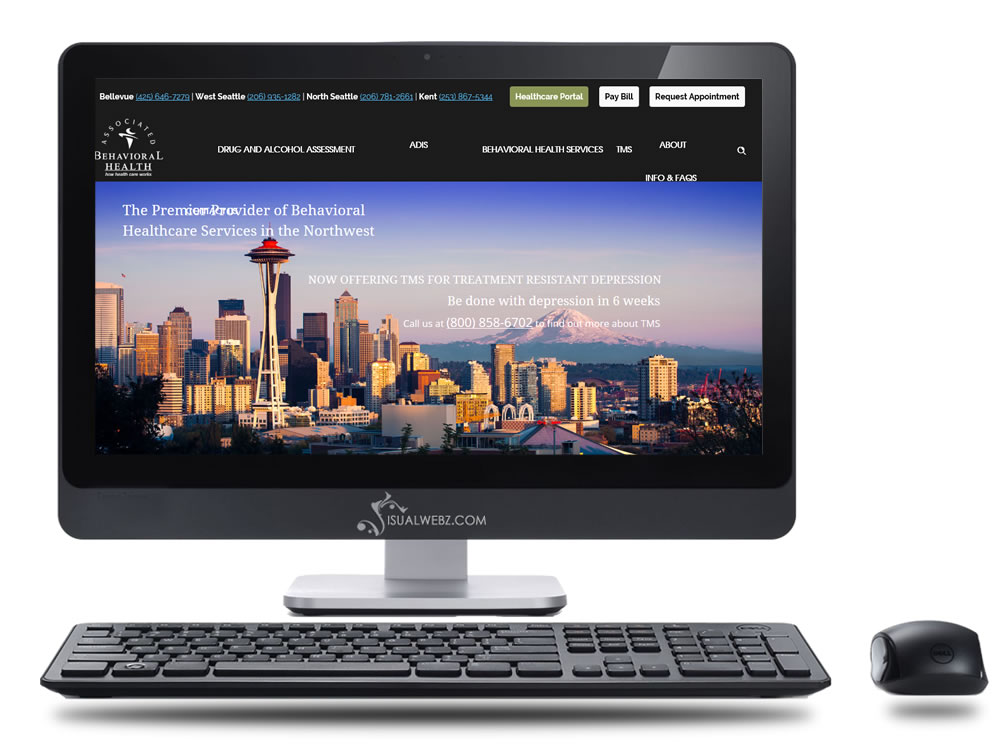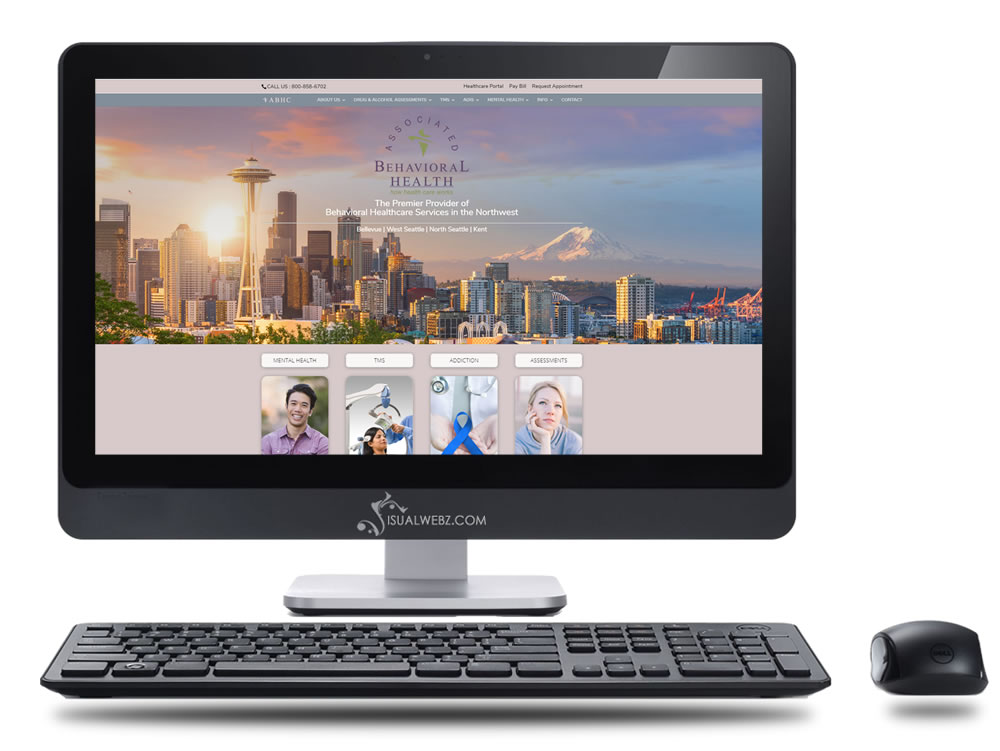 ABHC.com – Bellevue Healthcare Web Design
Bellevue Healthcare Web Design project was for a local Bellevue, WA health services provider. ABHC.com is a small business and premier provider of Behavioral Healthcare services and has multiple offices. Offices based in West Seattle, North Seattle, Kent, and Bellevue, WA.
ABHC.com were in need of a website redesign. With some prior SEO already in place, the current site structure and content were to be not affected. The process entailed a redesign of their old website. In addition, the new website provided this small business a complete professional facelift for its online exposure.
Visualwebz worked alongside Chris Hagenbach (Kent, WA), Dr Dandala, and Alex Bard (Bellevue).
Website: ABHC.com with offices in Bellevue, Kent, West Seattle, and North Seattle, WA.
Project Description: Website Update and redesign without affecting current SEO
Industry: Healthcare/Medical
Business Location: Small business based with offices in Bellevue, Kent, West Seattle, and North Seattle, WA.
Summarized features: WordPress, Graphics, Responsive Website, New content addition, and Basic SEO cleanup.
Technologies: PHP & MySQL.
Other projects in the area include GS Solutions
Bellevue Healthcare Web Design Overview
This website design was an achievable project with the aim of providing an outstanding online brand. Visualwebz delivered this Bellevue WA healthcare website design project within ABHC.com's set budget and timeline.
Visualwebz LLC has been providing web related services since 2008. For example website services such as WordPress, SEO, online marketing and website repair. In addition, we have been offering local businesses on the east side, such as Bellevue, Issaquah, New Castle, Kirkland, and Redmond, WA.
Why wouldn't you want to hire a professional web design and SEO services?. In fact, were qualified for the whole process from start to finish. We operate as a full stack development agency. In short, we do everything from start to finish, including web marketing. At the same time, we have a wealth of experience in fostering small to medium-sized businesses, startups, and professionals. As a result, we have developed and taken care of hundreds of websites. We can meet you locally in Bellevue or set a meeting to your liking. Bellevue WA web design a local presence with a local commitment here in Bellevue and Seattle, Washington.
Bellevue Healthcare Web Design and keeping its current SEO standing
When it comes to online marketing, it's not just a matter of a website developer building or redesigning your website. In the case of ABHC.com the site structure had to be kept exactly the same so that its current ranking will not be affected.
In addition improving web site ranking requires a lot of continuous work.  Especially if you want to appear on the first page. The choice of hiring a certified SEO specialist outweighs some amateur broadcasting that they can get you to page one. Certificates of SEO Yoast are available for you to view. With our experience and certified SEO, Our WordPress development services are the best for any small business. Hire a local Bellevue WA Healthcare Website Design firm.
Hands-down Best Web Service!
Rav is top-notch and the go-to person for all things web-related! He went above and beyond to make a new website for the company I work with. If you're serious about getting professional help and results – then look no further!"
Similar website projects to Bellevue WA Healthcare Website Design include:
Some Facts about ABHC's field
Drugs, alcohol and other substances are harmful to the human body. These substances also cost a lot to the economy. There are a variety of sources of information National Institute of Drug Abuse IDA uses to monitor the prevalence and trends regarding drug abuse in the United States. The resources below cover a variety of drug related issues, including information on drug usage, emergency room data, prevention and treatment programs, and other research findings.
Abuse of tobacco, alcohol, and illicit drugs is costly to our Nation, exacting more than $740 billion annually in costs related to crime, lost work productivity and health care.
No.
Substance
Healthcare
Overall
Year Estimate
Based On
1
Substan
$168 billion
$300 billion
2010
2
Alcohol
$27 billion
$249 billion
2010
3
Illicit Drugs
$11 billion
$193 billion
2007
4
Prescription Opioids
$26 billion
$78.5 billion
2013
Web Design, Current Trends, and Online Marketing Blog Posts:
We have summarized a number of areas small businesses should be aware of when it comes to having an effective online presence.
An SEO expert will always have an understanding of ranking formula and practices. Also, clearly know the type of marketing that best fits any business. For example, to name a few, organic SEO, PPC, and Social Media strategies. Other areas, online marketing include are:
More Blog Posts on Web Design, Online Marketing, SEO and related areas:
Google Panel | Google Adwords | Google Trends | Rich Snippets |  | Internet Companies | HTTPS | | E-Commerce Website Developers | | 20 Years of Google | AI | Google Algorithms | Phishing & Compromising websites | Business Ranking in Seattle |  Smart Homes | Ruby on Rails | Web Design History | Death of Google Plus | 5G | Micro-animations & Micro-interactions | Drop shipping | Check our multi page generator that helps create multiple landing pages.
Yes there are many cheaper options available, but you should know the pros and cons of cheaper website costs. Also, why cheap websites don't always deliver what you expect.
Website Design - Call (425).336.0069
Bellevue Healthcare Web Design on a local basis
If your looking for website developers near you, you've come to the right place! We provide web services to the following areas, but not limited to Vancouver, Bellingham, WA, Des Moines, Bellevue, Burien, Federal Way, Fife, WA, Covington, WA, Des Moines, and Seatac. Des Moines and Seatac are generally neighboring cities to Kent. Our local SEO services in Bellevue and surrounding areas are second to none. Areas such as Lynwood, WA, and Tacoma, WA are a few cities we can name in Washington.
Professional Website Development by a local Website Designer
Website Designer also offers SEO services nationally
Besides providing SEO and online marketing to local businesses we also provide such services to small businesses in other states. For example, local cities include Federal Way,  Issaquah, Redmond, Kirkland, Lakewood, WA, Monroe, Olympia, Tacoma and Bellingham, WA.
Other states
Bellevue Healthcare Web Design was one project for a health care provider in the areas of Seattle, Kent and Bellevue WA. In fact, Visualwebz offers services to all small businesses. Services such as Web Design, SEO, content marketing, and online marketing.