Greatest Web Developers
Of course, greatest web developers are not easy to come by and identify, but I think we have them! William Beachy, Ethan Marcotte, and equally Dave Shea can be recognized as one of the greatest web developers.
Explore any genre of art and you'll be presented with forerunners who are responsible for influencing those who came after them. This can be found to be true, whether you're looking at Jackson Pollock in the modern, abstract art world, or Bob Ross in amateur painting. Of course, the genre of web design is no different. Everyone has their own idols and leaders, but it's surprisingly hard to pick just a few names that stand out above the rest. Upon closer inspection, however, we can see that some developers do rise above the rest. These people are the influencers in their field. Their work has affected countless others and will continue to help and inspire many for years to come.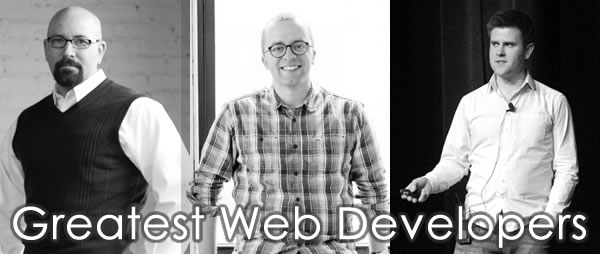 William Beachy = Greatest Web Developers
In the first place, William, "Bill," Beachy the President of Go Media Inc. a Cleveland based creative agency that specializes in, among other things, web design. Beachy offers design services, products and knowledge for those who seek unusual and compelling visual communications created by someone who brings fresh creative perspectives to the table. Through his company, Beachy has influenced countless people. His unusual approach to creative tasks has inspired many people who have seen his work to adopt a similar style.
Beachy invests heavily in the continued development of his people to ensure that all staff is exposed to emerging techniques, tools and processes. This assurance of freshness is one direct way that Beachy is influencing the design world, but there are other ways he reaches people too. In one of his many publications, "Drawn to Business," Beachy teaches his audience how to design a highly successful creative firm. He emphasizes to his audience that it is important to work doing something you love while doing it well. The uncommon acknowledgment of the necessity of maintaining this love-work relationship really shows how much Beachy cares about his work. Similarly, he is an inspired creator who, with his many connections, shares his knowledge with other people. For his uniqueness of style and creativity, William Beachy is one of the most influential developers of his time.
Ethan Marcotte = Greatest Web Developers
Not to mention, Ethan Marcotte who on May 25th, 2010 coined the term "responsive web design." In an article, he argued, "[work of web designers] is defined by its transience, often refined or replaced within a year or two." He recognized that there was a staleness – an expiration date for websites. Plagued by inconsistent window widths, screen resolutions, and user preferences, web designers were forced to adapt. Marcotte's writings highlighted the struggles of a web developer and pointed out the ordeals that were required to overcome those struggles.
Marcotte has the time since writing that article, writing books about the topic of responsive web design. His books, both interesting and informative, have introduced a new layer of thinking to many people who are new to web design. Marcotte is an independent web designer who cares deeply about beautiful design, elegant code, and the intersection of the two. Over the years, his clientele has included New York Magazine, the Sundance Film Festival, The Boston Globe, and People Magazine. Due to his great influence and experience, it is no wonder why he was named "One of the Most Creative People in Business" by Fast Company.
Dave Shea = Greatest Web Developers
Equally important is Dave Shea. In 2003 nobody was using CSS beyond controlling basic fonts and colors. Those who understood its capabilities were rarely designers, and designers largely hadn't embraced it yet. And so, the perception spread that CSS was only capable of boxy and boring design. Those who understood what it was truly capable of were unable to convince their clients and their teams to take the necessary risks required to use it. It was around this time that Jeffrey Zeldman brought a classic writing principle of 'show, don't tell' over to the web and encouraged those who wanted the situation to change to stop talking about what CSS could do, and start doing it already.
Inspired by this idea, subsequently, Shea created a site with the goal of being a collaborative gallery that would show what CSS could accomplish. The simple requirement: a designer was unable to modify the HTML in any way, the entire design had to be accomplished through CSS and images alone.
Shea designed the CSS Zen Garden as a community site from the beginning. CSS Zen Garden was a landmark site in the field of web standards. The creation of this website served as a challenge to those who did not understand the usefulness of CSS. Shea's undeniable influence over the web design world makes him one of the greatest web developers of all time.
Bibliography:
Beachy, William. "William Beachy." LinkedIn, https://www.linkedin.com/in/williambeachy.
"William Beachy President, Designer." GoMedia, https://gomedia.com/staff/william-beachy/.
Marcotte, Ethan. "Ethan Marcotte." Ethan Marcotte, https://ethanmarcotte.com/.
Marcotte, Ethan. "Responsive Web Design." A List Apart The Full, A List Apart, 23 Jan. 2013, https://alistapart.com/article/responsive-web-design.
Shea, Dave. "Mezzoblue." Postsonly Atom, https://www.mezzoblue.com/about/dave/.
Shea, Dave. "CSS Zen Garden." CSS Zen Garden: The Beauty of CSS Design, https://www.csszengarden.com/.
Mark Zuckerberg | Future of Web Development | UI Web Design |
More details on Web Design
In the event that you're looking for a new website or revamp to an existing small business website, you've then come to the right place. Notably at Visualwebz we totally understand business owners and the website benefits you'd be looking for. In addition, we understand that being website owner you will want to see immediate results. Further more, we can help your website reach an international, national or local customer base. Besides, we know how to get your customers to you. Of course, small business websites have been our specialty since 2008!
In particular, our website developers specialize in delivering the best websites and nothing more. More significantly, our qualifications and experience allow us to deliver clear and concise solutions. As a matter of fact, we will keep you in the loop during the whole web development process. Immediately after the launch or your website  we will work with you in improving your online presence. For example, our SEO specialists will help drive traffic to your website. With this in mind. Visualwebz is the ideal firm to hire for your next project. In fact, we will also take care of your web security - remember you will need to secure your website from hackers. Similarly other web design services we offer include website maintenance, support, and website testing.
Additional resources that may be of interest include: Web Trends 2017 | Computer Science | Get in touch call us at 425.336.0069 - Contact us today.
Wesbite Design - Call (425).336.0069