Social Media Society
Social Media Society on the up?
To Support a cause or issue they feel strongly about
Share to pass valuable information. 49% of these respondents influence action about products by sharing
Use Social Sharing to build image and demonstrate who they are and what they stand for.
To interact, grow, get a sense of fulfillment, nurture relationships and stay in touch with others.
To participate and feel invloved in things happening around the world
Where is our Social Media Society Going?
Social Media Society has been growing from the start of online chat. Imagine a world without Facebook, YouTube, Twitter, Snapchat or Instagram. Quite difficult, isn't it? These online services have such a huge influence in our culture and are hard to picture how our lives would be without them. In fact,  social media has impacted society tremendously over the years and has shaped and expanded the way we go through living our daily lives. Now in our modern era, there is almost nowhere you can go in the U.S. that does not promote the use of these online services. It plays a huge role in how we interact, communicate, learn, and receive and send information. Think about it, it is almost like social media now controls us.
Social Part
The first idea that you think about when it comes to social media is the major "social" part. You think of how you use it to communicate with friends, family, and even some strangers. Social media allows us to stay in contact with these people and stay in the loop with what's happening with each other without physically being there to experience it. We share our personal lives, share our identity, our thoughts, opinions, our past, and our future, our likes and dislikes. Scary, isn't it? To some people, it's not. We've become careless on what we share on the internet we never stop to think about how it might affect us in the long run.
Online Identy
Any ones online identity is easily available online unless you pay attention to what you're sharing on the internet. An online identity is a person's presence on a social media platform. For example, this relates to social media profiles, which is the set of information provided to friends, contacts, and the public. This is one key downside of being "social" on social media. Since we are so used to the daily routine of sharing our lives, not a lot of people think about where this information is going and who has access to it. In fact, not all sites are 100% secure and not all information is deleted even if you think it is. This is worrisome and causes the possibility of extremely negative effects. For example, being hacked, being stalked, having your identity stolen in general. We put all this information online and expect everything to be secure, but it's not the case.
Online Reputation
So why do people put all this information online for all to see? Well, a major part of this is to keep one's "online reputation" maintained. As active members of society, online reputations seem to be the most significant concern when it comes to an individual on social media. An online reputation is an impression that is generated by an online persona. A person's online reputation frequently affects real life. Good reputations can lead to great job opportunities and collaborations with important people thus changing one's life. A bad reputation can limit your possibilities and have negative consequences. Therefore, people care so much about their online presence. They want to make a good impression to people online and offline because it affects their personal life greatly.
Alongside a person's online reputation, businesses also have to worry about their reputation online. Social media is an extremely fast way for businesses to grow and reach customers. Sites like Facebook and Twitter are used to promote and easily inform customers on services and products. Having customers "Like" and "Follow" their social media pages is heavily important because it allows the brands to have more loyal followers. Whether it updates on new inventions or just to interact with customers and see how they are responding to their products, staying in touch with customers is very important for any business. In fact, such interactions and feedback from customers allow businesses to better understand how they're doing and adjust their products and strategies if needed.
Take Advantage of Social Media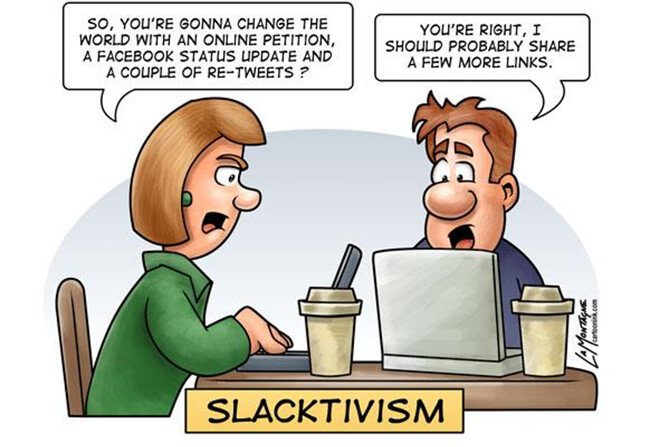 Gaitho, Maryanne. "What Is the Real Impact of Social Media ?" Simplilearn.com.
Fake News
The last critical idea that people must understand about social media is how news information is now shared throughout online media services. Currently, a lot of people now use social media sites to learn about current events. People turn to these company's online news pages rather than news on cable TV nowadays. The problem with this is that since social media is fast and growing, a lot of false information can be spread to people who view these articles. Big time news corporations like Fox News are more worried about gathering information quickly and being the first to cover a story rather than getting reliable facts about the situation.
Even if a situation is proven false, these companies do not bother to remove the misleading information that they have provided to their viewers and play a core role in their content marketing and web page rankings.. News organizations, whether big or small these days. They care more about getting clicks to their site rather than actually portraying factual information. Actions like these can lead to big controversies in society. Some people may have obtained the real information and some people may have obtained the false. When news organizations fail to update audiences and extremely big stories, there is often debates and disagreements amongst the people who turn to social media for news.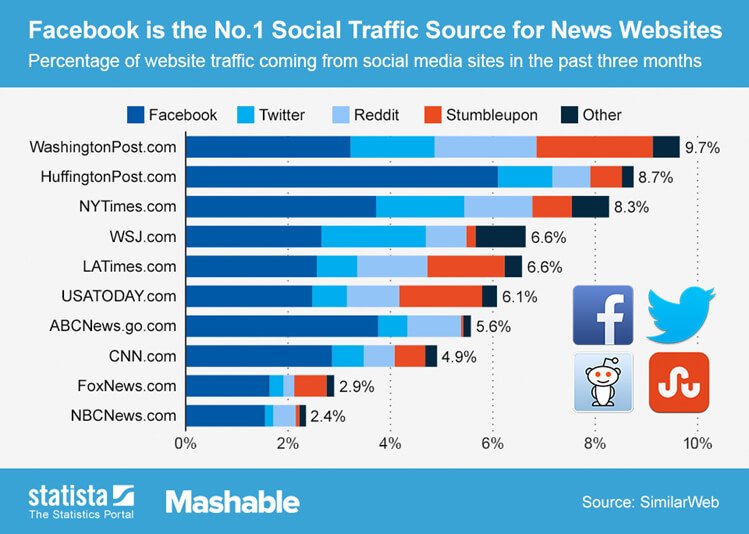 Richter, Felix. "Infographic: Facebook Is the No.1 Social Traffic Source for News Websites."Statista Infographics.
The influence of fake news relies completely on where you are getting your information from. A lot of people now even use Facebook as their main source of news. It is because it's easy and more convenient for users. The main problem with that is when random organizations use "clickbait" titles to capture a reader's attention and draw them in. Facebook is a good example of how people are taking advantage of this. The headlines of these usually consist of titles that start with "You will NEVER believe…" to get the reader to click the page to see what the rest of the title consists of. The more clicks they get, the higher up they will be shown in your news feed (Lu, Jiaxi). Clickbaiting is a major problem because it provides even more false or skewed information to viewers just to be on top and gain revenue. They are just there to lure a reader in even when the information shown after clicking is slim to none and full of more ads.
Take Away on Social Media Society
All things considered, social media holds a great significance in our world today. It has both negative and positive effects on us that we can no longer prevent because of the advancements of business and technology. Fortunately, social media helps us keep in touch with friends and family – a positive. On the other hand, social media can have a critical effect on us and our lives. We have to be careful what we share, post and receive. We must take into consideration all sides of the stories that may or may not be true. Preventing things like this may be difficult, but just taking into consideration how information is shared and how you share things about yourself can make a big difference. Social media now dominates our society and it is a major element on what makes our world how it is today.
Delivering the Web Design & SEO Services
Local Web Design Services
If you're looking for web design, website development, a new website or just need to revamp an existing small business website, then you've come to the right place. Notably, at Visualwebz LLC we understand business owners and the website benefits your business needs. In addition, we understand that being a website owner you will want to see immediate results. Furthermore, we can help your website reach an international, national or local customer base. Besides, we know how to get your customers to you. After all, small business websites and SEO have been our specialty since 2008!
We Deliver the Best Web Services
Our website developers specialize in delivering the best websites and nothing more. More significantly, our qualifications and experience allow us to deliver clear and concise solutions. Whether it's a simple website or one that's complex, or one that is built on PHP or ASP, we will always keep you in the loop during the whole web development process.
Immediately after the launch of your website, we will work with you in improving your online presence. For example, our SEO specialists will help drive traffic to your website. With this in mind. Visualwebz LLC is the ideal firm to hire for your next project. In fact, we will also take care of your web security - remember you will need to secure your website from hackers. Similarly, other website design services offered include website maintenance, support, and website testing.
Interested in chatting to us regarding SEO or web design? Or just have questions regarding our expertise or web design costs? Then Contact us today at 425.336.0069. You may also want to check our reviews, and learn why our customers like us! After all, our 5-star reviews clearly tell prospective customers why we stand out when it comes to service, punctuality, quality, and affordability.
Resources & Links
Our Blog covers a range of services, practices, and trends in the areas of web design and SEO.
Marketing & SEO
Web Design & Website Development
Take Advantage of Social Media
Online Marketing, SEO services available to small businesses in:
Following is a list of cities we serve and help small businesses improve their online marketing presence via effective organic Seattle SEO and web solutions. Overall, our Seattle website SEO practices have helped many businesses gain the online exposure needed for them to attract traffic and generate sales.
Our web related services have delivered many solutions to small businesses in and around Seattle. Other local areas where our clients are include: Algona | Auburn | Kent | Bellevue | New Castle | Bellingham | Factoria, Bellevue |  Federal Way | Fife | Kent | Renton | Kirkland | Issaquah | Lakewood |  Lynnwood | Mercer Island | Marysville | Mill Creek | Olympia | Redmond | Seattle | Tacoma | Kennewick | Gig Harbor | Vancouver
Our SEO packages and marketing solutions are affordable and geared towards small businesses. In particular, businesses in and around Seattle, Bellevue, Redmond,  Snohomish, Tacoma, Kent, and Factoria Bellevue, WA continue to be our loyal customers. Our SEO company and web design firm do not just make a promise but, rather carry it out to succeed. Whether you are close to home in Seattle, or elsewhere.
Since the start of SEO, our SEO services and SEO marketers focus on organic SEO for small businesses like restaurants, distributors, professionals, doctors, dentists, and attorneys/call us for a free SEO estimate at (425)-336-0069.
Digital Marketing Services
Our digital marketing services are available in Washington and other states. Locally we assist small businesses in Puyallup,  Gig Harbor, Olympia, Bellevue, Issaquah, Kirkland, Seattle, Vancouver, Tacoma, and surrounding areas.
Internet Marketing Services
Our internet marketing services coupled with web design and SEO will get your small business website to the top of your search engine. We focus on local as well as larger markets. All the way from Seattle, Olympia, Maple Valley, Kirkland, Bellevue, Tacoma and states like Washington, California, and ones further out! We provide quality on-page SEO as well as off-page services. For example, helping to acquire customer reviews.
Organic SEO is the Perfect Solution
Yes, SEO is the best way to get your website visible online. But, you need to hire an agency that knows what they are doing. We at Visualwebz work within guidelines set by search engines. Thus, getting positive results for our customers. Also, our SEO consultant services are not only local in Renton, Kent, Seattle, Ballard, Bellevue or other areas. In fact, our reach is beyond Washington and the USA!
Online Marketing Services
Our online marketing services are not just limited to Seattle, Bellevue, Renton, Tacoma or Bellingham. But we offer services to all businesses nationally and globally. Go ahead and contact one of the top digital marketing agencies near you. You'd only realize that the SEO services that they offer will be extremely costly and outside your budget. In fact, there are many SEO Companies to choose from but we ask you to check our reviews and decide why our customers chose us.
Visualwebz is not just a top Seattle web design agency but also recognized as a top advertising and marketing firm in Washington state.
Cities where we provide Web Design for small businesses:
We offer the best website design services, web maintenance and web support to small businesses in Seattle, Washington, and all over USA. Yes, our website builder services are available to all businesses at affordable website rates. After all, hiring competent and affordable Seattle web developers, website designers, WordPress Designers, and web builders will get your business the results without breaking your bank account! Whether you're looking for a web agency in Seattle or a website developer elsewhere? We can help. Call us at (425)-336-0069.
Every business deserves a professionally designed website
Our freelance website development services will get your business the professional presence needed! Whether it's an e-commerce website or a simple CMS in WordPress. We always deliver what our customers expect! Our professional web designing and online marketing experience have proven to be inexpensive and effective for small businesses and professionals alike.
In fact, our local web design services are not only available locally in Seattle, Washington, but all over the USA. From custom web designs, SEO and supporting Seattle businesses with our WordPress maintenance allows our agency to offer a diverse group of web services.
Local Areas we serve in Washington
Local cities where we offer web design services include Auburn, WA | Seattle, WA | Covington | Kent | Kent, WA | Federal Way | Tacoma | Olympia |  Issaquah | New Castle| Lakewood | Gig Harbor | Everett | Monroe | Mill Creek | Milton | Puyallup | Redmond | Renton | Tacoma | White Center | Vancouver | Bellingham | Seattle.
If you need a new website or just looking for some website support, reach out to us, and let us help.
Custom Web Design Solutions
How can we not mention custom web design solutions? Many of our clients opt for custom websites, due to the fact that the end result will make the business stand out from its competition. In fact, a custom website built by a professional web designer will not only result in a solid branding but allow customers to differentiate and quickly identify your services and products from your competition. Our custom web design services are available to a diverse range of businesses in many areas, such as Seattle, Renton, Bellevue, Tacoma, NY, California and globally.
Hire the best Web Design Services in Seattle, Washington
With front-end and back-end experience, our customers back us up as the best web design services. In fact, how could you possibly go wrong? In fact, our full-stack web development experience and online marketing will pave the path for your business to succeed. Contact us today at (425)-336-0069. Just a reminder, that our services are available, but not limited to Seattle, Bellevue, WA, Tacoma, Olympia, WA, New York, L.A. and all over!
Web Developers - We're not just a Web Design Agency
Our specialties are not only in web design but also in web development and online marketing. Yes, we are the full-blown agency with a one-stop service. Our web development services are not just limited to the Washington area but all over. From Bellevue, Tacoma and all the way to LA, California, NY, London, Birmingham, UK and Glyn Ebwy, Wales! Our UK web design services assist many businesses in Solihull, Birmingham, West Bromwich, and surrounding areas.
Web Agency with perfect solutions & great reviews
Our small business solutions are the perfect choice for any small to medium size business looking for results. Especially if you're looking to see your small business website grow via effective web design and online marketing. In fact, our Seattle, WA web design company has assisted many businesses in and around the Puget Sound area. But, we did not finish there, we've also helped businesses in Seattle, Issaquah, Bellevue, Tacoma, New York, and California. Let our expertise help your business expand and reach new heights!
A Top Web Design Agency with solid Web Development and Online Marketing credentials.