Social Media Marketing
Social Media Marketing, SEO and Web Design since 2008.
As of 2019, there are over an estimated over 12 billion people actively using one or several forms of social media. Hence why as a business it is in your best interest to use social media as a way to reach out to your target audience. If you're looking to attract customers, connect with us.
What are social media marketing services?
Social media marketing services allow businesses to build awareness of their brand, product, service or people. A social media marketing service provider like our agency will take into consideration what your business is, who your target audience is and what the product and then do the magic. For example, we will use this information to locate potentials customers and present them with what you or your business offers. In fact, it's a challenging task to prioritize and attract customers but we can do this. Our social media strategies take a leading role in gaining more traffic to the website and ensuring the likelihood of exploration and closing the sale are high. Overall, we also ensure that the reputation of the business is not compromised, hence careful plan all social marketing campaigns.
Why businesses need social media marketing services
There are several reasons why this isn't a popular decision for a lot of businesses, especially once a small business website design has been completed and gone live:
Social media marketing can be a mundane and long-winded task but a social media marketing agency will be very familiar and efficient in getting the job done.
A small business trying to learn through trial and error will be costly. For example, we know that advertising on social media is tricky and your time spent on your business will be more effective. After all, we are professionals in social media marketing!
Skills of social media marketing require .years of experience and fully understanding what's happening in the field. Also, what upcoming trends are occurring to fully optimize this form of marketing.
Lack of understanding in landing pages and social media channels.
Request a Social Media Marketing Quote:
Request a Quote:

How much can a business expect to pay for social media marketing services?
The price ranges for social media marketing services greatly. For example, the product or service that is being marketed may have hundreds of factors such as hard to locate the target audience, hence a great deal of effort is required in locating potential customers. The product or service type itself also plays a big role hence could be difficult to sell. Another factor is if your product is more expensive than your competitors there needs to be a strong justifiable reason. These are some of the factors that can determine cost differences from one social media marketing campaign to another.
The cost can run from a few hundred to thousands of dollars. Our social media marketing services are competitively priced. Connect with us so that we can better understand your needs. Call (425)-336-0069
Importance of Social Media Marketing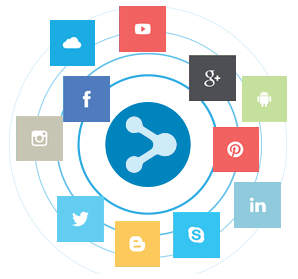 Social Media Importance has been a focal point for much of online marketing. In fact, a key web design tip is that to be successful online business has to have on page and off page optimization. Hence, why social media has become a major part of reaching out to potential and existing customers. Almost everyone has some kind of social media app on their phones, be it Facebook, Vine, WhatsApp, Twitter, Snapchat, etc. People believe it's a great way to connect with the outer world. Social media has turned out to be a news updater for people. Be it news of a baby being born, to a friend finally getting married, to a business launching a new product, to a country under siege, social media has become the norm to distribute information. In fact, its a great way to stay updated with the lives of events and people around the world.
Social media marketing generally is an influence on purchasing items, voting, even knowing if you should be eating specific foods or not!
Key Points for Effective Social Media Marketing
Understand Target Audience
Planning Promotional Strategies
Overall, the use of social media and the marketing aspect is vital in determining the company's future. If companies can successfully utilize key marketing points when releasing products, it goes a long way for helping the business thrive in the long run. At the same time, it provides a cost-effective way to reach target audiences. Social media platforms have integrated helpful analytical tools for businesses to see how their advertisements are doing in terms of generated traffic, effectiveness, and promotions. It allows businesses to see what they need to work on to make a truly effective ad.
Entertainment and Social Media Marketing
Social Media Marketing has started to play a crucial role in the entertainment part of the world nowadays, be it to promote a movie or to promote a song, social media like Twitter and Instagram has become very famous when it comes out to promote a show or a movie. Fans also connect themselves to their favorite film or TV actors. Fans "follow" their favorites to stay updated with the lives of them.  Entertainment industry tends to be growing and getting more popular through social media it seems. For example, "Ellen DeGeneres caused an explosion on social media with her Oscar selfie, the most retweeted post on the social network in 2014." Movie name DUFF which had a new cast turned out to be a great hit in the theaters.
Changing the Entertainment Industry
An article named "Is Social Media Changing the Entertainment Industry?" posted that the low budget movie turned up to be a great hit as "By sending a majority of promotions to internet hubs and using a digital promotion where fans could enter for a chance to be in the film's final poster" targeting an audience of teens, worked out really well as at the end as the movie "doubled its budget, and 70% of its audience was under 24."
Social Media influences what we watch at the movies
So, as we can see there are a lot of positive outcomes of mixing Entertainment industry with social media, but have we thought about why all this happens? Do people get influenced? "Do people actually care enough about what influence their own movie or television choices? YES. One in three social networkers has decided to see a movie in a theater because of something they read on a social networking site". According to an article named "'By the Numbers: Social Media Impact on the Entertainment Industry" on ibm.com people get influenced by others on social media, resulting in people having less and less control in their own opinion because they get influenced by social media, and not having social media can definitely lessen that, but would it be gone as a whole?
We know propaganda has been influencing the USA for a very long time now. It was mostly during World War I and World War II, and we know the public internet did not come until the late 1900s. So can we really blame social media for influencing people's mind? So we can say here that without social Entertainment would for sure see a downfall, making it hard for debut movies and actors to make a name in the glamorous world.
Business World and Social Media Importance
Similarly, social media has also become a very crucial part of the businesses world. For example, small businesses like a restaurant or an online shopping business really need social media sites like Twitter and Facebook in order to connect with their customers and to be able to get new customers.  If some buys something and put a review for it online be it through a blog or on a dating website, thousands of people can see the review, and if the product looks good they'll buy it and most probably recommend to a friend, and the trend goes on. Social media has become a very big platform for businesses to expand themselves.
There are still some CEOs who don't know what social media can do for their companies but according to an article written by Ryan Holmes, CEO of Hootsuite says a lot of businesses are "already seeing concrete results: 90% of businesses see increased exposure and more than half report improved sales from social media." This means businesses are progressing.  Even if we don't look at it from the business point of view, users as well like checking out the businesses and their websites and then decide if it's worth buying the product. Reviews give them an overview of the product and the websites show them how fancy-full the company is.
Trust via a Modern Website
The better presented a website is the more trust it gets from the users, just like an article on seonick.com states "Studies show that just updating the design to make it look more modern can increase conversion rates by upwards of 33%." Even though it's an influential thing it is part of a social media site. People want to see fancy sites and decide if they want to go ahead and try out the products. Without social media, it'll even become hard for the consumers to decide what opinions they want to have for the numerous kinds of businesses out there. Overall as per business talks, taking out social media would mean economy downfall with the business profit downfall.
The downfall in Relationships via Social Media
Likewise, there would be a downfall in relationships. Nowadays it has become so common to stay updated with what's going on one's family and friends that it doesn't even feel that people live overseas from each other. Sites like Snapchat, Skype and WhatsApp have become so popular owing to their 100+million, 500+million, and 1+ billion each respectfully, downloads on various user-friendly devices. Nowadays, even long distance relationships have high potential to stand through, given the video chats and texting through social media apps.
Friendships end on Social Media
On the contrary of upper arguments, according to Pew Internet report, "15% of adult social network users had an experience on a social networking site that caused a friendship to end, 12% of adult users had an experience online that resulted in a face-to-face argument, and 3% of adults reported a physical confrontation as the result of an experience on a social networking site."  Also as said by socialnetworking.procon.org "Social networking sites lack privacy and expose users to government and corporate intrusions." and "Social media enables the spread of unreliable and false information." Which leads us to think is social media just façade that gives wrong information and almost "hacks" everyone else's information? Saying that there are some believers out there who believe that social media tends to spread news faster than any other media, which can be very helpful during emergencies.
Delivering the best Web Design & SEO Services
Local Web Design Services
If you're looking for web design, website development, a new website or wanting to revamp to an existing small business website, then you've come to the right place. Notably, at Visualwebz LLC we understand business owners and the website benefits your business needs. In addition, we understand that being a website owner you will want to see immediate results. Furthermore, we can help your website reach an international, national or local customer base. Besides, we know how to get your customers to you. After all, small business websites and SEO have been our specialty since 2008!
We Deliver the Best Web Services
Our website developers specialize in delivering the best websites and nothing more. More significantly, our qualifications and experience allow us to deliver clear and concise solutions. As a matter of fact, we will keep you in the loop during the whole web development process. Immediately after the launch of your website, we will work with you in improving your online presence. For example, our SEO specialists will help drive traffic to your website. With this in mind. Visualwebz LLC is the ideal firm to hire for your next project. In fact, we will also take care of your web security - remember you will need to secure your website from hackers. Similarly, other website design services offered include website maintenance, support, and website testing.
Interested in chatting to us regarding SEO or web design? Or just have questions regarding our expertise or web design costs? Then Contact us today at 425.336.0069. You may also want to check our reviews, and learn why our customers like us! After all, our 5-star reviews clearly tell prospective customers why we stand out when it comes to service, punctuality, quality, and affordability.
Resources & Links
Our Blog covers a range of services, practices, and trends in the areas of web design and SEO.
Marketing & SEO
Web Design & Website Development
Social Media Importance & the Pro's & Con's of it
Whether social media should be there in our lives or not has many arguments.  Even with the end of Google Plus, social media has made life easier for society as well as triggered issues. People are able to help each other virtually as well as distribute hate and carry out tragic events. For example, sites like kiva.com make people help poor people throughout the world by loaning them some money through this website. On the contrary live streaming of events like the New Zealand attack has made governments pull down content.
Overall social media has become the biggest medium to connect with people, companies, entertainment industries, and just knowledge itself. Therefore, the impact of not having social media in our lives can swing both ways and each social media user has their own views. Finally, social media is a must for any web development for a small business. 
Take Advantage of Social Media
Exploit the system of social media, and use it for your business gains. There are no greater means of communication than social media. In fact, this goes for a wide range of people and is used by big names as well as small. By penetrating the online community of your target audience, you can establish yourself in your industry and potential customer base. The key advantage of using social media services will create recognition for your small business and allow others to acknowledge your services or product. For example, through a loyal group of people, you will begin to see the leverage it creates for your online presence. 
Nowadays, its a necessity as to how far businesses expand and profit, and heavily dependent on how effective social media marketing is implemented. It's not just about having a website designed, but also knowing your online community through social media platforms. 
Cities where we provide Web Design for small businesses:
We offer the best website design services and web support available to small businesses in Washington and other states. Yes, our website builder services are available to all businesses at affordable and cheap prices. After all, hiring competent web developers, website designers, WordPress Designers, and web builders will get you the results your business needs to be successful. Whether you're looking for a web agency in Seattle or a website developer? We can help. Call us at (425)-336-0069.
Every business deserves a professionally designed website
Our freelance website development services will get your business the professional presence needed! Whether it's an e-commerce website in WordPress or any other type of website, we will deliver and do exactly what you expect! Our professional web designing and online marketing experience prove to be inexpensive, effective for small businesses and professionals alike.
Our local web design services are not only available locally in Seattle, Washington,but nationally. For example local cities where we offer services in Washington include Auburn, WA | Seattle, WA | Covington | Kent | Kent, WA | Federal Way | Tacoma | Olympia |  Issaquah | New Castle| Lakewood | Gig Harbor | Everett | Monroe | Mill Creek | Milton | Puyallup | Redmond | Renton | Tacoma | White Center | Vancouver | Bellingham | Seattle.
If you need a new website or just looking for some website support, reach out to us, and let us help.
Hire the best Web Design Services from Washington
With front-end and back-end experience, our customers back us up as the best web design services. In fact, how could you possibly go wrong? After all, our full stack development experience and online marketing will pave the path for your business success. Contact us today at (425)-336-0069. Just a reminder, that our services are available, but not limited to Seattle, Bellevue, WA, Tacoma, Olympia, WA, New York, L.A. and all over!
Web Developers - We're not just a Web Design Agency
Our specialties are not only in web design, but also web development and online marketing. Yes, we are the full blown agency with a one stop service. Our web development services are not just limited to the Washington area but all over. From Bellevue, Tacoma and all the way to LA, California and NY!
Web Agency with perfect solutions & great reviews
Our small business solutions are the perfect choice for any small to medium size business looking for results. Especially if you're looking to see your small business website grow via effective web design and online marketing. In fact, our Seattle web design company has assisted many businesses in and around the Puget Sound area. But, we did not finish there, we've also helped businesses in Seattle, Issaquah, Bellevue, Tacoma, New York, and California. Let our expertise help your business expand and reach new heights!
A Top Web Design Agency with solid Web Development and Online Marketing credentials.
Website Design & Social Media Marketing - Call (425).336.0069
If your looking for social media marketing or website developers near you, you've come to the right place! We provide web services to the following areas, but not limited to Auburn, Algona, Milton, Seattle,  Bellingham, WA, Des Moines, Bellevue, Issaquah, Burien, Federal Way, Olympia, Fife, WA, Maple Valley, Mill Creek,  Covington, WA, Des Moines, and Seatac. Des Moines and Seatac are generally neighboring cities to Kent.
Seattle Web development includes numerous online services including SEO and online marketing. As a result, some local areas we serve include:Washington State | Auburn | Bellevue | Eastside – Bellevue |  Bellevue Website Design – Local Website Firm | Bothell |  Des Moines | Federal Way | Fife | Issaquah | Kent | Kirkland, WA | Lacey | Lakewood |  Lynwood | Maple Valley |  Mercer Island | Marysville | Mill Creek | Seatac WA | Tacoma | Tukwila | Vancouver | Everett | Spokane | Seatac | Seattle Website Design | Renton | Seatac Airport is the main port of entry into and out of Seattle by air.
Notably, Visualwebz.com serves numerous businesses around Seattle. For example, Ballard – Small business in the Ballard area will no doubt benefit from our website's services. For example, the first-page ranking will allow your website to rank well in Google. In addition, other areas in Seattle include: Belltown |  Fremont | Madison Park | Capitol Hill | West Seattle | Queen Anne | Magnolia | Downtown Seattle | Seattle Website Design Services | Seattle | Northgate | Web Design Seattle Washington | Seattle Web Page Design | Small Biz Web Design
Besides providing SEO and online marketing to local businesses we also provide such services to small businesses in other states. For example, local cities include Seattle, Federal Way,  Issaquah, Kirkland, Lakewood, WA, Monroe, Olympia, Tacoma and Bellingham, WA. Hiring a social media consultant Seattle will provide you with quality results. Also, our small business marketing consultant fees are very competitive! Our social media marketing services are not just available in the Seattle area but also available in:
Whether you're looking for a website for an attorney, small law firm, dentist, or marketing a law firm? Our web developers will deliver exactly what you want. Call Visualwebz today at (425)-336-0069.
Other cities and states where Social Media Marketing Services are available :
Social Media Marketing Services
Visualwebz LLC has been providing individualized Social Media Marketing services and small business web designs since 2008.  We should also emphasize that our history of web solutions is as old as the web design history itself! Whether its social media marketing, email marketing, web maintenance, SEO for an attorney, or just simple website we can deliver. We also ask you to check our work and case studies on SEO. For example, we have been very effective in gaining page one ranking for a local blind leaner. Check the SEO case study. We know that reviews matter, hence ask you to check Visualwebz reviews, we can only say that we have continued to maintain positive reviews, please read them and decide why we are a solid trusting web design agency.
Whether you're in the market looking for a website builder or just need some ideas in terms of SEO or a web design redesign, website color update? We can assist. Furthermore, we know that the future of social media is ever changing and continue to adapt and change our strategies to serve our customer base.
Online Marketing , SEO services available to small businesses in:
Following is a list of cities where we are available to help small businesses improve their online marketing presence via effective organic SEO and web solutions. 
Algona | Auburn | Kent | Bellevue | New Castle | Bellingham | Factoria, Bellevue |  Federal Way | Fife | Kent | Kirkland | Issaquah | Lakewood |  Lynnwood | Mercer Island | Marysville | Mill Creek | Olympia | Redmond | Seattle | Tacoma | Kennewick | Gig Harbor | Vancouver
Our SEO packages and Online Marketing solutions are affordable and geared towards small businesses. In particular, businesses in and around Seattle, Bellevue, Redmond,  Snohomish, Tacoma, Kent, and Factoria Bellevue, WA continue to be our loyal customers. Our SEO company and web design firm do not just make a promise but, rather carries it out to succeed. Whether you are close to home in Seattle, or elsewhere.
Our SEO services and SEO marketers focus on organic SEO for small businesses like restaurants, distributors, professionals, doctors, dentists, and attorneys/call us for a free SEO estimate at (425)-336-0069. 
Digital Marketing Services
Our digital marketing services are available in Washington and other states. Locally we assist small businesses in Puyallup,  Gig Harbor, Olympia, Bellevue, Issaquah, Kirkland, Seattle, Vancouver, Tacoma, and surrounding areas. 
Internet Marketing Services
Our internet marketing services coupled with web design and SEO will get your small business website to the top of your search engine. We focus on local as well as larger markets. All the way from Seattle, Olympia, Maple Valley, Kirkland, Bellevue, Tacoma and states like Washington, California, and ones further out!
Organic SEO is the Perfect Solution
Yes, SEO is the right way to get your website and visible online. But, you need to hire an agency that knows what they are doing. We at Visualwebz work on guidelines set by search engines. Thus, getting positive results for our customers.  Also, our SEO consultant services are not only local in Renton, Kent, Seattle, Bellevue or other areas. But reach further beyond into other states!
Online Marketing Services
Our online marketing services are not just limited to Seattle, Bellevue, Renton, Tacoma or Bellingham. But we offer services to all businesses nationally. Go ahead and contact one of the top digital marketing agencies near you. Though there are many SEO Companies to choose from we ask you to check our reviews and decide why our customers prefer and chose us. 
Visualwebz is not just a top web design agency, but also recognized as a top advertising and marketing firm in Washington state.