Future of Social Media
Future of Social Media – Visualwebz has been providing Online Marketing since 2008.
"Their expertise is phenomenal and they were very good at explaining things."
Future of Social Media is open-ended, and the sky is the limit! In fact, since the turn of the century, the influence of social media has grown exponentially. It is important to understand the future of such an influential source and to do that, we must first answer two main questions: what is considered to be social media, and what are the different types?
Social media is the convergence of communication, publication and the Web. It is a platform where regular people, celebrities, politicians, and companies communicate. In the early stages of the Web, social media was a foreign concept to many. Now, it is a fact of life and we can say that social media marketing has importance, in businesses, professionals, and people.  What was once used by a few hundred people, is now used by billions. People use it to communicate with friends across the globe, companies use it to attract customers, and public figures use it to reach out to their fan bases. Social media is becoming an integral part of our lives, and soon it will be considered a necessity in the modern world.
What Are the Different Types of Social Media?
Due to its popularity, different types of social media are constantly being created. Figure 1 on the right shows the myriad of different social media platforms that exist today. It was created by Brian Solis to categorize social sites and services into various types of social media.
Three main categories of Social Media :
Each category serves a different purpose and as the landscape of social interaction changes so do these social media platforms. Thus, merging and overlapping into other social media services.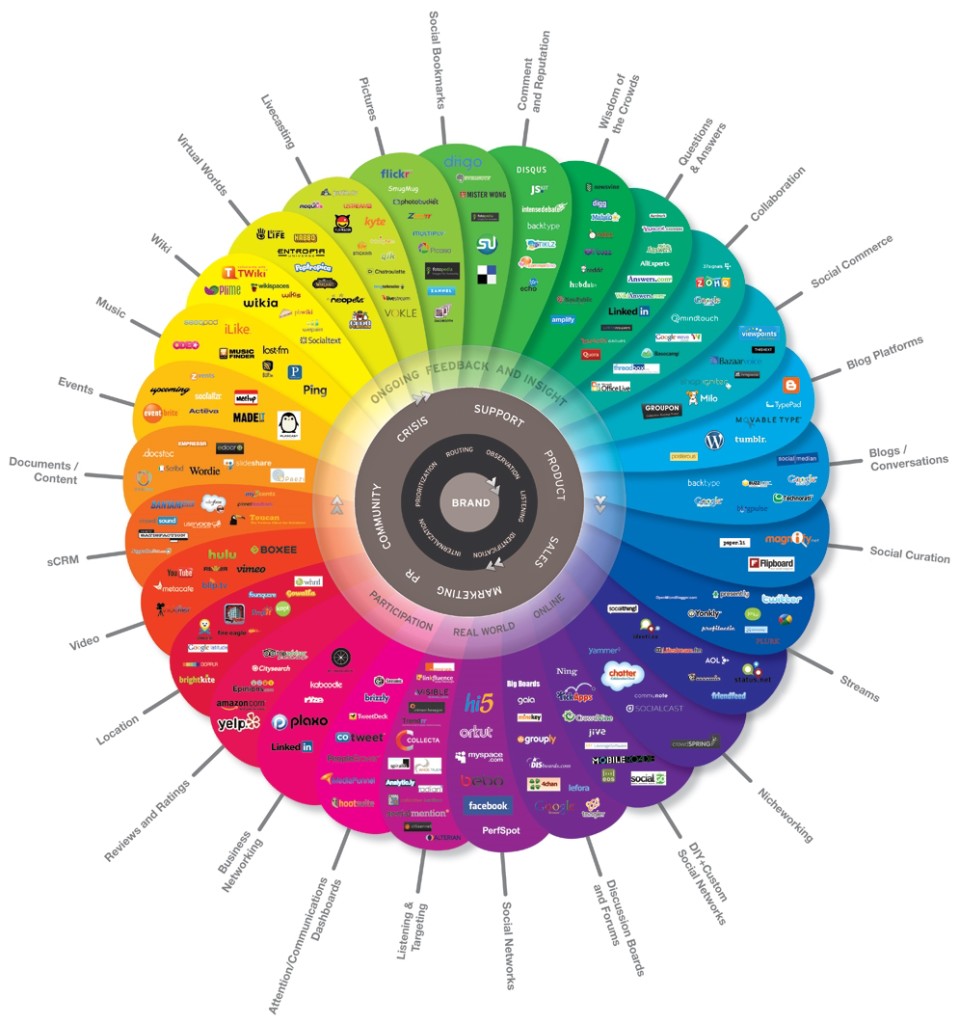 Reference: https://commons.wikimedia.org
Personal social networks are groups of individuals linked together in a web-like structure.  These individuals are linked by their various relationships to one another such as being friends, family, or colleagues.  In the early days of social networking, websites like Myspace were used to keep up to date with those in your network.  Today social networking has grown far beyond that.
Facebook
When one hears the words "social network", Facebook quickly comes to mind.  This is due to its massive popularity as the largest social network on the planet.  As of March 2019, Facebook boasts a massive 2.3 billion monthly active users. Facebook is a social networking website that allows users to connect with one another and share daily whereabouts, photos, and videos.  It has become such a way of life for many users that roughly two-thirds of U.S. adults use the site, and half of those users get their news from it.
With so many users worldwide, it's no surprise that Facebook has grown from a simple social networking site to a business tool for companies and celebrities.  Many companies use Facebook as a form of advertisement and are able to reach millions of users for free.  This is changing the way advertising is done as small business owners can now advertise without the use of expensive T.V. or radio ads.
Facebook has become such a cultural phenomenon that it's changed the way we communicate with one another as well.  Individuals no longer have short phone conversations but instead, communicate through Facebook.  With important life events such as engagements or childbirth, it's much easier to post on Facebook and reach your whole social network rather than contacting everyone individually.
Active Users (2. 48 Billion)

Average Daily Loginss ( 1.6 Billion)

Average Time Spent (20 minutes)

COntent Shared Daily (4.7 Billion )
Twitter
For even shorter and more frequent updates, many individuals use Twitter.  Twitter is a social networking service that allows users to post short messages consisting of 140 characters or less.  These messages are known as "tweets", can be posted on the website or mobile app.  Since you can receive Twitter updates via SMS and the mobile app, Twitter feels more real-time than other social media outlets and is good for creating and spreading word of mouth.  For this reason, marketing groups such as those in the film industry, constantly turn to Twitter to generate buzz and excitement for special events.
71% of Twitter users are reading news there
Entertainment Social Networks
Future of social media revolves around entertainment. In fact, social networks have shown their significance in personal and business related matters, but can be used for entertainment as well. As broadband speeds continue to increase, many individuals have turned to stream online that allows them to search for and access entertainment on demand.  Perhaps the largest and most popular of these services would be YouTube.
YouTube as a leader in the future of Social Media
YouTube is a video-sharing website that allows users to upload, view, rate, and comment on videos.  Because the service is free, like many other social networking sites, it draws a large audience.  YouTube has over a billion users, almost one-third of all people on the internet everyday users watch hundreds of millions of hours on YouTube as well as generate billions of views.
YouTube holds many advantages over watching traditional television. It allows users to access an almost unlimited amount of content instantly and in many cases, ad-free.  Navigation is as simple as a mouse-click, videos can be replayed to the heart's content, and organized with playlists.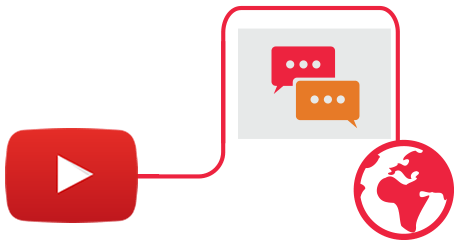 Because the use of YouTube is free and so simple, anyone can become a unique content creator.  Every-day individuals can now post video content for millions of others to see.  Some users have audiences and salaries that rival or exceed that of their television counterparts.  Felix Kjellberg, also known as PewDiePie, has an audience of over 40 million subscribers and has an annual salary of over $12 million per year.  This trend in viewership has forced television networks to rethink their marketing strategies and how many television stars have YouTube channels of their own to compete for viewers.
The ability to search for videos on YouTube has made YouTube the Google of video content.  Of the millions of videos on YouTube, many of them can be educational.  With a click of the mouse, users can find informational videos and tutorials on virtually any subject.  YouTube has revolutionized the way we search for and absorb information and it's no surprise why Google purchased YouTube for $1.65 billion in 2006.
Professional Social Networks
As the future of social media evolves, the lines separating the different social networks are fading away. Many of the previously mentioned personal and entertainment networks are increasingly being used for business and marketing. However, the king of professional social networks remains to be LinkedIn.
LinkedIn
LinkedIn is a professional network of more than 300 million users, all with one purpose in mind: networking (Rouse 1). According to LinkedIn, the platform allows users to: "establish your professional profile and control one of the top search results for your name; build and maintain your professional network; find and reconnect with colleagues and classmates; learn about other companies, and get industry insights; find other professionals in the same industry using groups; share your thoughts and insights through LinkedIn's long-form publishing platform; tap into the knowledge of your network and discover new career opportunities by searching for jobs." (LinkedIn FAQ).
Many claim LinkedIn to be their secret weapon when hunting for jobs (Lee 1). As almost any professional would tell you, networking is crucial to advancing your career. Before LinkedIn, networking was done by attending professional dinners, conferences, and seminars. Now, LinkedIn has quickly become the most convenient and accessible way to network. You can find your next employer without ever leaving your couch. Many people contact potential employers through LinkedIn, hoping to leave a lasting impression. Unlike face-to-face interactions, reaching out to people through LinkedIn requires much less courage. The worst thing that could happen is that the employee might not get a response back.
Mentorship
Another concept that is relatively new to LinkedIn is mentorship. Nowadays, it is becoming increasingly common to reach out to people you admire professionally and ask them to mentor you (Lee 1). Mentors are essentially people working in positions you would like to end up in. Mentors can provide an immense boost to your career by recognizing and utilizing your best talents. It is now common for college students to reach out to a stranger and ask for their help, all because of LinkedIn.
As evident from its current increase in popularity, LinkedIn is bound to grow. Its comprehensive tools are greatly beneficial to professionals of all kinds. Perhaps, one day, LinkedIn might be the only platform used by employers and employees.
Summary of the future of Social Media
Social media society and its future are expected to only continue to grow from small networks of hundreds of people into a global network of billions of users worldwide.  It has revolutionized the way we interact with one another as well as the way we search for and absorb new information.  Whether the tech users of the world like it or not, social media is here to stay.
There are few that can predict what the exact future of social media or web design will be.  From the Pokemon Go through to SnapChat, it's virtually impossible to know which will be the leaders. Already it seems impossible to see any kind of big business that doesn't have some kind of social media outlet. In fact, social media has become such an integral part of our lives that we use it every day for personal use, entertainment, and even business.  It's important that we recognize the massive growth of social media if we wish to be successful and adapt to the world of tomorrow. With 5G being the next technological advance, we can only wait how this could affect the future of social media.
Website Design - Call (425).336.0069
Website Designer helping its local communities
If your looking for website developers near you, you've come to the right place! We provide web services to the following areas, but not limited to Seattle,  Bellingham, WA, Des Moines, Bellevue, Issaquah, Burien, Federal Way, Fife, WA, Maple Valley, Mill Creek,  Covington, WA, Des Moines, and Seatac. Des Moines and Seatac are generally neighboring cities to Kent.
Professional Website Development by a local Website Designer
Website Designer also offers SEO services nationally
Besides providing SEO, page one ranking and online marketing to local businesses. We also provide such services to small businesses in other states. For example, local cities include Federal Way,  Issaquah, Kirkland, Lakewood, WA, Monroe, Olympia, Tacoma and Bellingham, WA.
Other states where we offer Social Media Services
Whether its social media, marketing via animation or SEO in digital marketing, check our reviews, you'd be pleasantly surprised at how we have maintained a steady growth whilst ensuring our customer care is not jeopardized.
Cities where we provide Web Design for small businesses:
Like any small business or customer, you may be asking yourself why you need a website? Of course, you do! Every business no matter how small or big needs a website and more importantly online marketing services thereafter. For example, SEO will help the site be more visible and available during search results. Thus generate more website traffic and increase in sales and services! There are other factors and reasons why a web design should be built. In fact, we've summarized 12 reasons why a business should take web design seriously. Some of these include,  global and local presence, open 24/7 and out pace your competition.
We offer the best website design services, web maintenance and web support to small businesses in Seattle, Washington, and all over USA. Yes, our website builder services are available to all businesses at affordable website rates. After all, hiring competent and affordable Seattle web developers, website designers, WordPress Designers, and web builders will get your business the results without breaking your bank account! Whether you're looking for a web agency in Seattle or a website developer elsewhere? We can help. Call us at (425)-336-0069.
Every business deserves a professionally designed website
Our freelance website development services will get your business the professional presence needed! Whether it's an e-commerce website or a simple CMS in WordPress. We always deliver what our customers expect! Our professional web designing and online marketing experience have proven to be inexpensive and effective for small businesses and professionals alike.
In fact, our local web design services are not only available locally in Seattle, Washington, but all over the USA. From custom web designs, SEO and supporting Seattle businesses with our WordPress maintenance allows our agency to offer a diverse group of web services.
Local Areas we serve in Washington
Local cities where we offer web design services include Auburn, WA | Seattle, WA | Covington | Kent | Kent, WA | Federal Way | Tacoma | Olympia |  Issaquah | New Castle| Lakewood | Gig Harbor | Everett | Monroe | Mill Creek | Milton | Puyallup | Redmond | Renton | Tacoma | White Center | Vancouver | Bellingham | Seattle | Yakima | Woodinville.
If you need a new website or just looking for some website support, reach out to us, and let us help. Our agency has been recognized as the best web designers in Seattle.
Custom Web Design Solutions
How can we not mention custom web design solutions? Many of our clients opt for custom websites, due to the fact that the end result will make the business stand out from its competition. In fact, a custom website built by a professional web designer will not only result in a solid branding but allow customers to differentiate and quickly identify your services and products from your competition. Our custom web design services are available to a diverse range of businesses in many areas, such as Seattle, Renton, Bellevue, Tacoma, NY, California and globally.
Hire the best Web Design Services in Seattle, Washington
With front-end and back-end experience, our customers back us up as the best web design services. In fact, how could you possibly go wrong? In fact, our full-stack web development experience and online marketing will pave the path for your business to succeed. Contact us today at (425)-336-0069. Just a reminder, that our services are available, but not limited to Seattle, Bellevue, WA, Tacoma, Olympia, WA, New York, L.A. and all over!
Web Developers - We're not just a Web Design Agency
Our specialties are not only in web design but also in web development and online marketing. Yes, we are the full-blown agency with a one-stop service. Our web development services are not just limited to the Washington area but all over. From Bellevue, Tacoma and all the way to LA, California, NY, London, Birmingham, UK and Glyn Ebwy, Wales! Our UK web design services assist many businesses in Solihull, Birmingham, West Bromwich, and surrounding areas.
Web Agency with perfect solutions & great reviews
Our small business solutions are the perfect choice for any small to medium size business looking for results. Especially if you're looking to see your small business website grow via effective web design and online marketing. In fact, our Seattle, WA web design company has assisted many businesses in and around the Puget Sound area. But, we did not finish there, we've also helped businesses in Seattle, Issaquah, Bellevue, Tacoma, New York, and California. Let our expertise help your business expand and reach new heights!
A Top Web Design Agency with solid Web Development and Online Marketing credentials.
Online Marketing, SEO services available to small businesses in:
Our tried and tested Small Business SEO Services help outrank competitor's websites and drive traffic. In fact, ignoring our leading Seattle SEO marketing services could result in you missing online opportunities and allowing the freedom for your business to expand.
If you want to succeed online and help your business's current online standing then internet marketing is a necessity.  More importantly, we can help pave the right path in making your website successful. Our SEO Agency is a top-rated marketing agency that can help your business reach new heights, and reach its maximum potential.
Also, our SEO agency's innovative ideas, strategies, and solutions allow businesses to take the lead in their industries. From local Seattle SEO through to global presence, our custom tailor-fit solutions help businesses effectively compete. We can help your Seattle business reach that desired ranking on search results.
Following is a small list of cities where our renowned and best Seattle SEO services are available. We serve and help small businesses improve their online marketing presence via effective organic Seattle SEO and web solutions. Overall, our Seattle website SEO practices have helped many businesses gain the online exposure needed for them to attract traffic and generate sales.
Our web related services have delivered many solutions to small businesses in and around Seattle. Other local areas where our clients are include: Algona | Auburn | Kent | Bellevue | New Castle | Bellingham | Factoria, Bellevue |  Federal Way | Fife | Kent | Renton | Kirkland | Issaquah | Lakewood |  Lynnwood | Mercer Island | Marysville | Mill Creek | Olympia | Redmond | Seattle | Tacoma | Kennewick | Gig Harbor | Vancouver
Our SEO packages and marketing solutions are affordable and geared towards small businesses. In particular, businesses in and around Seattle, Bellevue, Redmond,  Snohomish, Tacoma, Kent, and Factoria Bellevue, WA continue to be our loyal customers. Our SEO company and web design firm do not just make a promise but, rather carry it out to succeed. Whether you are close to home in Seattle, or elsewhere.
Since the start of SEO, our SEO services and SEO marketers focus on organic SEO for small businesses like restaurants, distributors, professionals, doctors, dentists, and attorneys/call us for a free SEO estimate at (425)-336-0069.
Digital Marketing Services
Our digital marketing services are available in Washington and other states. Locally we assist small businesses in Puyallup,  Gig Harbor, Olympia, Bellevue, Issaquah, Kirkland, Seattle, Vancouver, Tacoma, and surrounding areas.
Internet Marketing Services
Our internet marketing services coupled with web design and SEO will get your small business website to the top of your search engine. We focus on local as well as larger markets. All the way from Seattle, Olympia, Maple Valley, Kirkland, Bellevue, Tacoma and states like Washington, California, and ones further out! We provide quality on-page SEO as well as off-page services. For example, helping to acquire customer reviews.
Organic SEO is the Perfect Solution
Yes, SEO is the best way to get your website visible online. But, you need to hire an SEO agency or SEO expert that knows what they are doing. We at Visualwebz work within guidelines set by search engines and understand terms like LSIGraph! In fact, our digital marketing strategies coupled with web design get positive results for our customers. Also, our SEO consultant services are not only local in Renton, Kent, Seattle, Ballard, Bellevue or other areas. In fact, our reach is beyond Washington and the USA!
Online Marketing Services
Our online marketing services are not just limited to Seattle, Bellevue, Renton, Tacoma or Bellingham. But we offer services to all businesses nationally and globally. Go ahead and contact one of the top digital marketing agencies near you. You'd only realize that the SEO services that they offer will be extremely costly and outside your budget. In fact, there are many SEO Companies to choose from but we ask you to check our reviews and decide why our customers chose us.
Visualwebz is not just a top Seattle web design agency but also recognized as a top advertising and marketing firm in Washington state.