Ways To Inject Personality Into Your Website
A little personality on your website can really help you get more customers, grow your brand, and increase conversions. Learn how to add personality to your website in this blog post.
Website Personality
What sets the best websites apart from their competitors? Well, there are plenty of factors to consider. Speed is absolutely a priority: the faster a site loads, the better. Overall development quality is a must-have, too: an unreliable website is likely to drive people away. In addition to including the essential web pages sooner or later, you need to get past the technical elements and start thinking about the content.
We can break this down further, but we needn't do so completely — the part we're going to be looking at here is personality. After all, leading websites aren't exciting in fundamental ways: what makes them captivating is what they contain. The top websites in hotly-contested niches are often those that feel different, leading users to return.
If it were easy to create a captivating website, though, there would be much less value in doing so. It takes effort and creativity to make a website that shows personality, and many fail at it. But what about you? Can you manage it? Think to yourself: how do I add personality to my website? It largely depends on your attitude. If you're willing to make a real commitment, you can achieve it. To help you out, we're going to set out five ways in which you can subtly convey personality through your site. Let's get to them.
Pick a unique set of stylistic features to add personality to your website.
First impressions are hugely important when it comes to adding personality to your website. What a visitor to your website sees immediately upon arrival will influence how they view it in general. Take color, for instance: the color scheme you choose for your site will shape how it comes across. Color theory is wishy-washy in many ways, but the associations it touches upon are entirely legitimate. People inevitably link green to growth and nature and red to passion and power.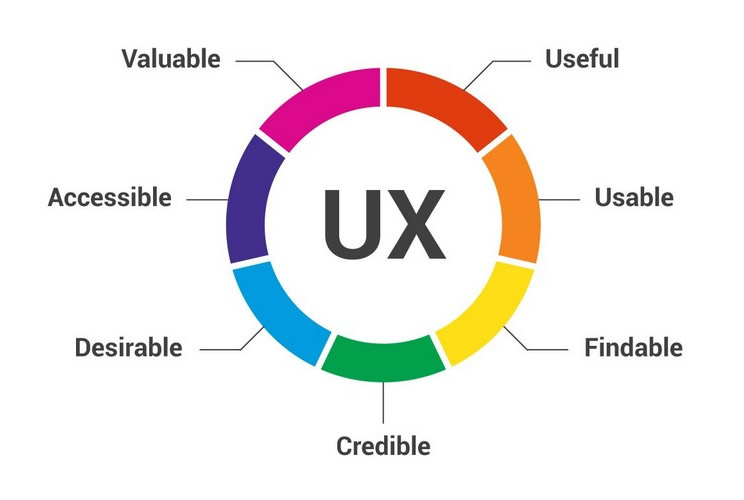 If you want your website to feel calm, then you can lean on some pastel colors. You can also opt for rounded shapes instead of using harsh angles. Take a look at top websites geared towards young children, and you'll see many bubble shapes because they feel gentler. Find ways to convey your chosen characteristics and add personality to your website in the colors, shapes, and structures you choose.
Remember to be consistent with the stylistic approach you choose when adding personality to your website. In ideal circumstances, people from your target audience will be visiting your site semi-frequently for years to come, and during that time, their perception of you will develop. Using your branding elements in some instances but not others will confuse and make you seem incompetent or indifferent.
Due to this, you should create a set of brand guidelines that you can follow whenever you update your website or produce branded content. After all, you may need to outsource certain tasks, so relying on the consistency of your in-house team isn't the best idea — plus, having a convenient document ready to go will make future employee onboarding easier.
Add personality to your website by creating and updating a brand blog.
Companies of all shapes and sizes have blogs these days, yet running a blog is notably time-consuming. Why is it worthwhile? Though blogging is good for SEO (HubSpot has a good piece on SEO), it's also good for showing personality by talking about non-corporate things. If you want to blog about the latest news or simply a topic that interests you, you can do so at your leisure.
This can allow you to let your hair down (so to speak) and allow your enthusiasm and knowledge to shine through without worrying quite so much about being optimally professional. Each time you release a new post, you can engage with the prospective audience via social media, explaining what motivated you to write it and what you hope to achieve with it.
Now, since you're aiming to add personality to your website, it bears noting that your blog must be established on your website — i.e., not as a third-party site to which you link. If your site was built on a blogging-centric platform like WordPress, this should be easy. If it wasn't, you might need to look for a suitable plugin or even have a developer add a blog section.
Stick to a tone in everything you write when adding personality to your website
Some brands are very tonally inconsistent. They seem upbeat at some times and almost dejected at others. The personality you're trying to show needs to be consistent to be memorable. Otherwise, you'll seem erratic. Due to this, the more you can write with the same tone, the more effective it will become, really adding personality to your website.
That means you shouldn't stop at blogging. You should produce other forms of content for your website. Write some FAQs for new visitors. Create a knowledge base to help people achieve their goals (a platform like Crisp Chat will make this easier if you're unsure how to approach it). Take to social media, then embed the best-performing posts on your website's homepage so everyone will see them when they visit. It all adds up.
Remember that those who stick with you over time become more valuable to your cause, whatever it may be. If you focus on advocacy, your followers will slowly become more dedicated to helping you achieve your goals — and if you run an eCommerce operation, your long-term customers will be more susceptible to your marketing efforts and less reluctant to spend. It's this, above all else, that makes tonal consistently so important.
Include some tasteful self-deprecation
Companies often take themselves much too seriously. This doesn't make them seem any more impressive. On the contrary, it makes them seem self-important and even delusional depending on the claims they issue. In truth, the companies show they can joke about themselves, adding personality to their website and earning our support. You can take advantage of that through some well-timed self-deprecation (your About Us section should be great for this).
Note the use of the word "tasteful" here because that's a mission-critical concern in terms of adding personality to your website. When self-deprecation goes too far, it becomes hugely irritating and comes across as trying too hard to be relatable. So instead of waxing lyrical about how cringe-worthy and incompetent you are, cleave fairly closely to standard professionalism but throw in the semi-frequent remark at your expense to remind the reader that you're not a robot.
Display some interesting employee photos
If you want to add personality to your website, visuals always hit harder than text, which is why it's so disappointing when companies opt for the most uninspired employee headshots you can imagine. They seem to be so worried about coming across as unprofessional that they're wholly unwilling to break from the norm. You mustn't make that mistake when adding personality to your website.
Instead, please take the opportunity to let your employees decide what profile photos they want to use. The more fun they have with it, the better: if they look to be enjoying themselves, it'll reflect really well on the company overall. People want to support companies that treat their workers well, after all — not those who require them to be bland.
You can even try making cinemagraphs (videos with static elements or images with moving elements, depending on how you look at them). The added motion can really get across some interesting personality quirks and make your team photos captivating, adding some real personality to your website. Remember that body language is immensely important to human communication: even the slightest motion can convey a significant amount of information about the person moving.
Online Marketing, SEO services available to small businesses in:
Our tried and tested Small Business SEO Services help outrank competitor's websites and drive more traffic. Ignoring our leading Seattle SEO marketing services could result in you missing many online opportunities and allowing the freedom for your business to expand. Whether it's SEO for a dentist or promoting an online event, we have proven through many SEO case studies that we get it done!
If you want to succeed online and help your business's current online standing, then internet marketing is necessary. Our SEO Agency is a top-rated marketing agency that can help your business reach new heights and reach its maximum potential. More importantly, we can help pave the right path in making your website successful.
An SEO agency with innovative ideas, strategies, and solutions allows businesses to lead their industries. From local Seattle SEO through to global presence, our custom tailor-fit solutions help companies effectively compete. We can help your Seattle business reach that desired ranking on search results.
We serve and help small businesses improve their online marketing presence via effective organic Seattle SEO and web solutions. Overall, our Seattle website SEO practices have helped many companies gain the online exposure needed to attract traffic and generate sales. Following is a small list of cities where our outstanding and best Seattle SEO services are available.
Our web-related services have delivered many solutions to small businesses in and around Seattle. Other local areas where our clients include: Algona | Auburn | Kent | Bellevue | New Castle | Bellingham | Factoria, Bellevue |  Federal Way | Fife | Kent | Renton | Kirkland | Issaquah | Lakewood |  Lynnwood | Mercer Island | Marysville | Mill Creek | Olympia | Redmond | Seattle | Tacoma | Kennewick | Gig Harbor | Vancouver.
Our SEO packages and marketing solutions are affordable and geared towards small businesses. In particular, companies in and around Seattle, Bellevue, Redmond,  Snohomish, Tacoma, Kent, and Factoria Bellevue, WA, continue to be our loyal customers. Our SEO company and web design firm do not just make a promise but instead carry it out to succeed whether you are close to home in Seattle or elsewhere.
Since the start of SEO, our SEO services and SEO marketers focus on organic SEO for small businesses like restaurants, distributors, professionals, doctors, dentists, and attorneys. Call an SEO Expert for a free no-obligation estimate - (425)-336-0069.
Digital Marketing Services
Our digital marketing services are available in Washington and other states. Locally we assist small businesses in Puyallup,  Gig Harbor, Olympia, Bellevue, Issaquah, Kirkland, Seattle, Vancouver, Tacoma, and surrounding areas.
Internet Marketing Services
Our internet marketing services, coupled with web design and SEO, will get your small business website to the top of your search engine. We focus on local as well as larger markets. From Seattle, Olympia, Maple Valley, Kirkland, Bellevue, Tacoma, and states like Washington, California, and ones further out! We provide quality on-page SEO as well as off-page services. For example, we are helping to acquire customer reviews.
Organic SEO is the Perfect Solution
Yes, on-page SEO and off-page SEO services are the best way to get your website visible online. But, you need to hire an SEO agency or SEO expert that knows what they are doing. At Visualwebz, we work within guidelines set by search engines. Also, understand terms like LSIGraph and incorporate structured data into websites. Our digital marketing strategies coupled with web design get positive results for our customers. As an established SEO consultant, we are available locally and nationally as professionals; our reach is beyond Washington and the USA!
Online Marketing Services
Our online marketing services are limited to Seattle, Bellevue, Renton, Tacoma, or Bellingham. But we offer services to all businesses nationally and globally. Go ahead and contact one of the top digital marketing agencies near you. You'd only realize that the SEO services they offer will be highly costly and outside your budget.
There are many SEO Companies. But we ask you to check our reviews and decide why our customers chose us.
Visualwebz is a top Seattle web design agency recognized as a leading advertising and marketing firm in Washington.
Cities where we provide Web Design for small businesses:
Like any small business or customer, you may be asking yourself why you need a website? Of course, you do! No matter how small or big, every business needs a website and, more importantly, online marketing services after that. For example, SEO will help the site be more visible and available during search results. Thus generate more website traffic and increase sales and services! There are other factors and reasons why every business should have a website. We've summarized 12 reasons why a company should take web design seriously. Some of these include global and local presence, open 24/7, and outpace your competition.
We offer the best website design services, web maintenance, and web support to small businesses in Seattle, Washington, and the USA. Yes, our website builders and professional web designers are available to all companies at affordable website rates. After all, hiring competent and affordable Seattle web developers, website designers, WordPress designers, and web builders will get your business the results without breaking your bank account! Whether you're looking for a web agency in Seattle or a website developer elsewhere?
Every business deserves a professionally designed website.
Our freelance website development services will get your business the professional presence needed! Whether it's an e-commerce website or a simple CMS in WordPress. We always deliver what our customers expect! Trust our professional web designing and online marketing experience as proven, inexpensive, and practical for small businesses and professionals alike.
Our local web design services are available locally in Seattle, Washington, and all over the USA. An agency that offers various web services from custom web designs, SEO, and supporting Seattle businesses with our WordPress maintenance.
Local Areas we serve in Washington.
Local cities where we offer web design services include Auburn, WA, Seattle, WA, Covington, Kent, WA, Federal Way, Tacoma, Olympia,  Issaquah, New Castle,  Lakewood, Gig Harbor,  Everett, Monroe, Mill Creek,  Milton,  Northbend, Puyallup, Redmond, Renton, Tacoma, White Center, Vancouver, Bellingham, Seattle, Yakima, and  Woodinville.
If you need a new website or just looking for some website support, reach out to us, and let us help—a recognized web design as the best web designer in Seattle.
Custom Web Design Solutions
How can we not mention custom web design solutions? Many of our clients opt for custom websites to make the business stand out from its competition. A custom website built by a professional web designer will not only result in solid branding but allow customers to differentiate and quickly identify your services and products from your competition. Our custom web design services are available to a diverse range of businesses in many areas, such as Seattle, Bellevue, Tacoma, NY, California, and globally.
Hire the best Web Design Services in Seattle, Washington
With front-end and back-end experience, our customers back us up as the best web design services. In fact, how could you possibly go wrong? Our full-stack web development experience and online marketing will pave the path for your business to succeed. Contact us today at (425)-336-0069. Just a reminder that our services are available, but not limited to Seattle, Bellevue, WA, Tacoma, Olympia, WA, New York, L.A., and all over!
Web Developers - We're not just a Web Design Agency.
Yes, we are a full-blown agency with a one-stop service. Our specialties are not only in web design but also in web development and online marketing. Our web development services are not just limited to the Washington area but all over. From Bellevue, Tacoma, LA, California, NY, London, Birmingham, UK, and Glyn Ebwy, Wales.
Web Agency with perfect solutions & great reviews
Our small business solutions are the perfect choice for any small to medium size business looking for results. Especially if you're looking to see your small business website grow, we can help via effective web design and online marketing. A Seattle web design company that assists many businesses in and around the Puget Sound area. We do not finish there; we've also helped Seattle, Issaquah, Bellevue, Tacoma, New York, and California. Let our expertise help your business expand and reach new heights!
Top Web Design & Digital Marketing Agency - Web Development and Online Marketing Experience.
Web Design, Current Trends, and Online Marketing Blog Posts:
We have summarized some areas small businesses should be aware of when having an effective online presence.
An SEO expert will always understand complex ranking formula fundamentals, SEO practices and explain SEO tasks and terminology to its customers. In fact, as professional SEO experts, they should never leave the clients in the dark! All professional SEO teams know the type of marketing that best fits any business. For example, to name a few, organic SEO, PPC, local SEO, and Social Media strategies.
Web developers are digital professionals that may work as a team or may work independently. Some areas that they may focus on includes:
More Blog Posts on Web Design, Online Marketing, SEO, and related areas:
Google Panel | Google Adwords | Google Trends | Rich Snippets |  | Internet Companies | HTTPS | | E-Commerce Website Developers | | 20 Years of Google | AI | Google Algorithms | Phishing & Compromising websites | Business Ranking in Seattle |  Smart Homes | Web Design History | Micro-animations & Micro-interactions | Drop shipping | Check our multi-page generator that helps create multiple landing pages | Structured Query  Language.
Yes, many cheaper options are available, but you should know the pros and cons of more reasonable website costs. Also, why do affordable websites not consistently deliver what you expect? Connect with one of our web design or online marketers today. Also, we ask you to read our Seattle web design company reviews and see why our customers are glad they allowed us to work for them. Call us at (425)-336-0069.