Micro-animations
Micro-animations and micro-interactions keep visitors engaged on websites.
Definition of Micro-animations
To define it in simple terms, micro-animations are "tools" embedded within a website which help users navigate through it comfortably. They can make complicated websites easy to navigate and easy to understand. Micro-animations can be used in many different forms.
Before getting into that, however, everyone needs to fully understand what micro animations are and what they do. Many times, businesses do not give enough attention to micro-animations, which can lead to poor website design and a loss of potential customers. A lot of companies also do not understand what micro-animations are or what they can do to benefit a company. This is a large problem because occurs everywhere and it means that companies are not using their websites to their full advantage. By not getting the full use out of a website, companies with complicated websites will lose out on some customers who do not have a lot of time to spend fiddling with an unorganized website.
Defining the beginning (website)
Before we learn about what micro-animations are and how they help, we must first learn about how a website can benefit a business. In fact, having a website is very important for any company wanting online exposure.Having a website makes it easy for users to learn about a business, services and products being offered. It is clear that online shopping has been rapidly growing and is outpacing in-store shopping.
Research also shows that online shopping is growing faster than the standard retail buildings are being built. In fact retail is expected to grow faster at 13.6% p/a from 2018 -2022, and at the expense of store-based retails at 1.5% p/a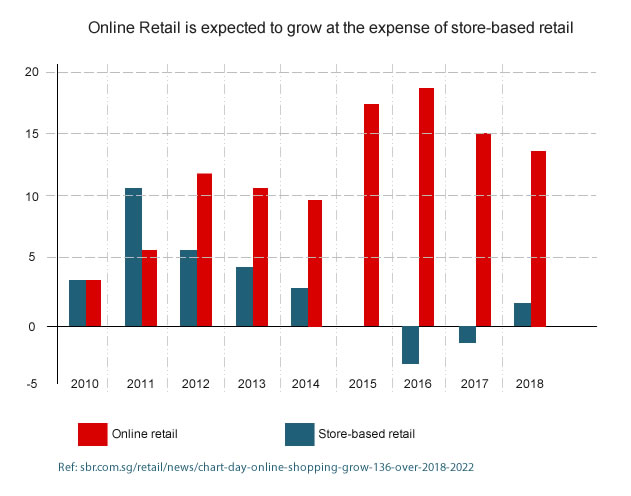 Importance of quality control in a website
Now that we know the importance of having a website for any business, it is time to mention the importance of having a website that is well built. With the creation of a website, users can visit and gain a seamless experience. However, if your website is not built well and not appealing, the likely hood of a visitor leaving increases. There are many ways in which a company can improve their websites and attract more customers. Fore example through micro-animations visitor retention increases.
Are micro-animations are noticeable
Even though many people do not notice them, they are in almost every website and are seen by everyone on a day-to-day basis. A large purpose of micro-animations is to direct users and inform them of an action they are taking. For example, looking at a Google-owned website like, https://yourplanyourplanet.sustainability.google/ , it is clear how micro animations are placed. For example, the user can try selecting an option, and the web page will trigger small animations that show the user what will happen if they proceed with that choice. In other words, websites can have little animations that foreshadow what will happen when a user will click on a certain area. These subtle additions generate a better user experience.
An Example of Micro-animations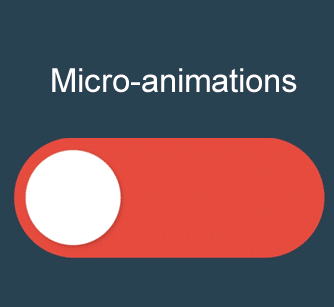 There are numerous types of micro-animations that can all be incorporated within a website. Looking through a few popular sites, it is clear how every site has its own type of micro-animations that make it special.
For example, https://www.awwwards.com/awwwards/collections/animation/ , it shows many of the different scenarios and popular types of micro-animations. This site shows exactly how they can be used and examples of them in use. One popular type of micro-animations is the hover animations. These are situations where a user will hover over an object on a webpage, and the page will then perform some kind of animation within that webpage. This is probably the most simple animation because it is the easiest to implement to any given situation. This animation is great because it can provide the user with a pleasant experience and can make any webpage look clean. Also, it paints an intuitive picture for visitors, and allows them to further explore.
More micro-animation examples include:
Scrolling
These are important because they can grab the user's attention at the last moment and can influence them to read that section. Often times, the scrolling micro-animations are what catches people's attention. These scrolling animations can also be very unique. Many companies can manipulate them and tune them so that they look the best with their website.
Slider
These are by far one of the most commonly encountered micro-animations. Both developers and consumers encounter sliders every day in many forms, whether it is adjusting brightness on your phones, or turning on features in a website, sliders are everywhere. These sliders can be beneficial because they are an improved form of a "yes or no" scenario. A slider either has two options like a yes or no question, or a large number of options like a volume slider.
Pop-up windows
These micro-animations are appealing and allow users to interact. Many websites use pop-up windows because space can be used effectively. If your website has too much information, a pop-up window can hide some of the information and bring it up whenever the user wants it. Examples include, accordions, toggles, drop downs, as well as a window popping up as a call to action. Other examples include live chats that are prominent.
Micro-animations Summary
It is crazy to think that so many websites do not include micro-animations. Especially, when they could be monetizing from the addition of intuitive and attention grabbing micro-animations.After all, first impressions are the most important when it comes to online stores and without micro-animations, websites can be plain, dull and boring thus turn away customers.Overall businesses need to learn how to incorporate micro-animations so that the users entertained and connected. By creating an environment where users will return, companies can gain a reputation and build up their status and ranking.
Using micro-animations allow content to be organized and very informative. Websites that cram a lot of details together tend to be confusing and often times overwhelming for users. Hence micro-animations incorporated correctly will provide solid benefits to any business.
Web Design & Online Marketing Experts since 2008
Optimizing Websites
For the likes of search engines to index, crawl and rank your website effectively, they need to have authority, correct meta-tags, image optimization, anchor tags, 404-page identification, unique and well-written content, social connections, speed and more. This is achieved via on-page SEO strategies, and very effective in getting websites to rank high.
Besides taking care of the user interface and the presentation of a website, we correctly optimizing websites so that they rank high. For example, an increase in page views, time-on-site, lower bounce rates, and conversions are some benefits we deliver. We also implement structured data for business websites so that they stand out. Whether its local SEO or global, we are able to increase website traffic. If you're unfamiliar with SEO terms, as SEO specialists we know how to explain our strategies. Also, our SEO services always get our client's results.
Off-Site SEO Services
Besides concentrating on on-page SEO optimization, off-site SEO services are also needed. Generally, off-page SEO involves managing your social presence, your reputation, directory listings, and creating quality external backlinks. Establishing accounts, monitoring, and pushing quality content on the likes of Google Reviews, Facebook, Twitter, Yelp, etc are core to the balance of SEO. In fact, social media campaigns are a great practice in driving traffic to websites.
Tracking SEO Traffic
Setting up Google Analytics or any other analytical software helps identify inbound traffic sources as well as to measure SEO efforts. For example, by analyzing the trends of your organic traffic we are able to establish subsequent SEO strategies.
Webmaster Tools for SEO
We will correctly set up Google and Bing webmaster tools and ensure that your website is indexed and error-free. The primary purpose of having this set up is to ensure that search optimization is done correctly and monitored.
Search Engine Optimization tools used by professionals
Just like a plumber not being able to fix a leak with his/her tools, the same applies to an SEO expert unable to effectively deliver results without the right knowledge, techniques, and tools. Our Seattle SEO services include a mix of many SEO tools we use to analyze, understand, and monitor small business websites. Also, our experience in a range of software development allows us to design, develop, and market websites so that they prominently placed on search engines. For example. these include SEMRush, Ahrefs, Keyword.io, Google Trends, Moz, and Spyfu to name a few.
Our SEO Services Case Studies
Having worked on many websites and effectively ranked them higher, we promise that our SEO services are here to get any website ranked and effectively promoted online. For example, from attorney SEO through to ranking school websites, we've consistently delivered solid results. We know how to create and write content for the web, thus drive traffic and deliver more online exposure. Following are some case studies for your reference:
If you have any SEO questions, contact us, and our SEO specialists will provide you in-depth answers and how we apply various online marketing strategies.