What's WordPress?
What's WordPress? If you've used the internet frequently, chances are that you've already seen a website that has been created through WordPress. It's estimated that 74,652,825 sites are currently using the program and of that amount, 26.4% of the top businesses in the world depend on it. But for all of the attention that it gets…what exactly is WordPress? Who created it? When was it created? Why should you use it? Today, we'll find out more about what WordPress is and we'll look at the advantages and disadvantages of using it for your website.
What's WordPress?
WordPress is a free content management system for people to create websites.  For those unaware, a content management system, or a CMS for short, is a program that allows for its users to generate, manage and store content.  With WordPress, you aren't required to know HTML beforehand so you can create these complex designs with your site that would've taken months to set up otherwise if you lacked experience with web creation.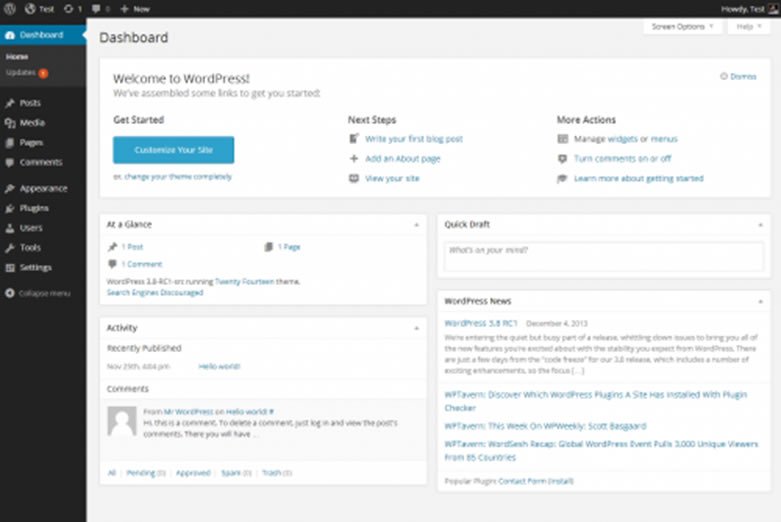 Take a look at the image I have included below, all the information you need to design a website is featured in an easy to understand, easily accessible format.  You can create posts, you can look at comments and you can decide the appearance of your website.  Without a program like this, all of these things can be very complicated to set up or at least extremely tedious if you're planning on creating a site alone.
In advance you can pick the theme that you want the website to be.  You can choose the theme based on what the focus of your site will be, whether that's education, business, health or a variety of other things.  There are three tiers of payment for WordPress that you can choose.  If you choose the free plan, you get the 150 megabytes of space for the site.  If you choose the premium plan at $8.25 a month, you get 13 gigabytes (or 13,000 megabytes) of space as well as your own site address, custom design and Video press, a fast, easy to use video player that allows you to put videos on your site.  Finally, there's the business plan for $24.92 a month, this plan allows for all of the things in the premium plan, as well as unlimited space, premium only web themes and Google analytics that can track and report the traffic to your site.
There is also an additional fee if you want your website to have its own domain.  For example, for you to have ryancritic.wordpress.com, it's absolutely free.  But, if you want ryancritic.com or ryancritic.net, it can cost $18.00 a year.  If you already have a domain that you've purchased that you want to link to your WordPress site, it costs $13 a year.
Now, this may seem fine and good to you if you want WordPress to be simple, but what if you don't want a theme and you want to use WordPress to create something that is totally unique?  Luckily, you still have that option.  With WordPress (different from WordPress which I've been describing), users have much more of an uphill climb, but ultimately a lot more freedom.  With this program, you have to install the site on to your computer, update the design on a regular basis, be responsible for keeping your website safe from spam and you have to constantly fix every problem by yourself when it arises.  This may seem challenging, but it rewards deeply if you're looking for an independent website.  On WordPress.org, you can put whatever ads you want, you can put on whatever theme you want, there is an unlimited amount of storage space and the site can't be turned off if someone thinks your content goes against the terms of service.  Depending on whatever site you want, you have some options.
Who Created WordPress?   
Though WordPress technically came to fruition on May 27th, 2003, the program was around prior to this.  In early 2001, Michel Valdrighi created a blogging platform called B2/Cafelog; it was a more primitive program that was mildly successful for its time.  When Valdrighi had to step down from the project for personal matters, Matt Mullenweg and Mike Little stepped in to lead the team.  In May 2003, they presented the first version of WordPress (WordPress 0.71) to the world.  There improvements to B2/Cafelog included the ability to disable comments and the ability to mark the status of a post (whether or not the post was ready to put onto the site). You could state that the blogging aspects of WordPress launched the social media society.
As they updated the program, the developments would become more and more complex.  In 2004, WordPress 1.0 allowed for people to use permalinks that would make the sites easier to look for on search engines, WordPress 2.0 contained better editing as well as faster image uploading, WordPress 3.0 allowed for more themes, better accessibility on mobile devices and Twitter integration among other things.  As of right now, we're on WordPress 4.5 which was released on April 12th 2016.  This update of WordPress has more formatting shortcuts and inline linking, which allows for you to link objects from other web sites.  As a fun side note, every update to WordPress has been named after a famous jazz musician, WordPress 1.0 was called Davis after Miles Davis and WordPress 4.5 was called Coleman after Ornette Coleman.
The other fascinating, important element of WordPress is that it is an open source community; it isn't owned or controlled by a single organization.  WordPress is the work of tens of thousands of people from around the world collaborating to bring improvements to this program.  If you get involved with WordPress, it can be very easy to be work with the community.  So while WordPress may have started as this small thing that was only serving a limited number of people, it has advanced into a huge program with lots of workers serving endless users.
To finish off this article, I thought it might be helpful to go over some of the things WordPress has WordPress has received negative attention for in recent years.
Another complaints by novice designers on WordPress is surrounded the challenge of creating a unique theme for your website.  If you want a web site design that is different from the themes you can choose from, you are out of luck of if you aren't working with a website designer / website developer.
Security can also be an issue. While WordPress does somewhat have a security system, it wasn't the strongest in 2014, where a malware campaign affected the website of over 100,000 users. In stating this there are many website choices available with regards to locking down and securing WordPress platforms. The best approach in securing a WordPress site would be to hire a web developer or some one that has a strong foundation in website security and the website development process (like Visualwebz! If you need assistance in this area call us at 425-336-0069).
WordPress has also received complaints for its plugins.  It's been said that the plugins connected to WordPress are weak so you have to go the other parts of the web to find better ones.  In this case, it can be a problem because you might find a plugin that turns out to be a scam.  A writer for Jeffbullas.com said that the best thing that you can do is to mix and match different plugins and hope for the best.
But beyond these understandable complaints, WordPress is one of the most widely praised programs on the web. Many of the people who criticize WordPress are quick to mention that they still love it despite the criticisms they have of it.  It's a big amongst website developer because it has the flexibility for both the users as well as the developers.
If you want a website to present your recipes but you don't know anything about web design, WordPress has themes that make it easy for you to build a site.  If you're an expert web designer who wants to build a more detailed style for their site or you're the head of a larger business and you need a more elaborate website, there are options for you to create a more independent, experimental site.  You can choose to create a free website or you can pay more and make a larger website.  And if you truly want to, you can even become a part of the WordPress community and you can collaborate to make the program stronger.
WordPress is extremely diverse and it's built to satisfy a wide group of people as well as business that range in preference and experience. From the small business websites to the larger corporations such as BBC.com. They constantly update in order to reach the demands of all of these people.  It's been there vast goals and consistent reinvention that have allowed them to remain relevant for close to thirteen years.  To put that into perspective, the rise and fall of Myspace took place in six to eight years.
Contact us if your considering a website, or have any website questions or specifically questions regarding WordPress.
References for What's WordPress    
What's WordPress  – Balkhi, Syed. "Why Is WordPress Free? What Are the Costs? What Is the Catch?" WPBeginner. N.p., 16 May 2015. Web. 15 May 2016.
What's WordPress  – Balkhi, Syed. "Self Hosted WordPress.org vs. Free WordPress.com [Infograph]." WPBeginner. N.p., 17 Feb. 2010. Web. 16 May 2016.
What's WordPress  – Bolinger, Scott. "10 Things I Hate About WordPress (And How to Fix Them)." Press Coders. N.p., 4 Dec. 2013. Web. 16 May 2016.
What's WordPress  – Dsouza, Keith. "Evolution of WordPress: B2/Cafelog to WordPress 1.0." Weblog Tools Collection RSS. N.p., 14 July 2008. Web. 16 May 2016.
Dunn, Bob. "A Guide For Beginners: What Is WordPress?" BobWP Your Trusted WordPress Source. N.p., 14 May 2016. Web. 16 May 2016.
Ewer, Tom. "14 Surprising Statistics About WordPress Usage – ManageWP." ManageWP. N.p., 07 Feb. 2014. Web. 16 May 2016.
Gavalda, Mark. "The History of WordPress, Its Ecosystem and Community." Kinsta Managed WordPress Web Hosting. Kinsta, 16 Dec. 2015. Web. 16 May 2016.
"The Top 10 Most Infuriating Things about WordPress and How to Fix Them." Jeffbullass Blog The Top 10 Most Infuriating Things about WordPress and How to Fix Them Comments. N.p., 02 May 2013. Web. 16 May 2016.
"9 Problems With WordPress You Didn't Know About (And How to Fix Them) | ThemeTrust." ThemeTrust RSS. N.p., 30 Nov. 2015. Web. 16 May 2016.
"WordPress." Wikipedia. Wikimedia Foundation, 27 Feb. 2005. Web. 16 May 2016.
What's WordPress  –  Popular Social media
What's WordPress  –  Future of Social Media – 2016
Interested In hiring this web design company for your next project?
Learn more about our website services such as WordPress,  Animation, HTML 5, CSS, PHP, Python, website hosting, web designing, website security and HTTPS setup at Seattle WordPress Website Design. There are other website solutions we provide and are experts in, such as social media society. May be your interested in learning more? If so refer below:
Contact us for a quick quote, you'd be glad you do and understand why we believe we have mastered the science of web design and provide one of the best websites offered in the market. Interested in reading more? Refer below: