Front End Web Development
Front End Web Development – What other aliases can you give a htmler?
Front-end web development and back-end web development are both required in today's websites. You'd be surprised if any of the top websites did not have developers working on the front end as well as back end development. Nowadays, websites need to be functional and offer the visitor a rich experience.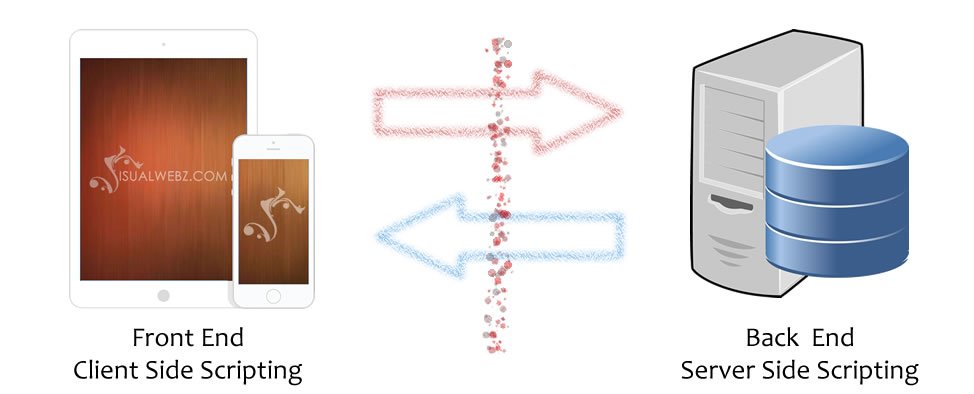 Web Development
Front End Web Development is the part of the website that you can see and interact with. It usually consists of two parts: web design and front end web development. The web design part is usually done with Photoshop or similar graphics tool. Whereas the development part is the coding using HTML, CSS, JavaScript or jQuery. Overall the web design and front end developments purpose is to make a website intuitive and able to attract customers.
Front End Interface
The front end web development of an application or website is more about how a user will interpret the interface into an experience. This experience can be the difference between a successful company and one that will find it challenging to succeed online. For example, MySpace in 2004 provided some functionality but lacked the user experience. That is until  Facebook came along. This is because Facebook took a simplistic approach (KISS web design) and allowed the user to be able to socialize with the front-end being intuitive and avoiding flashing banner ads etc. In fact, Facebook and MySpace had a lot of differences with the front-end as well as under the hood (backend),.
Developers
Front end web developers work closely with designers or user experience analysts to bring mockups, or wireframes, from development to delivery. In addition, to be productive many front end developers use web development software. Everything you see on a website is made possible by a front-end developer. A designer crafted the logo and graphics, a photographer took the pictures, and a copywriter wrote the text. In fact, a front end developer assembles all of those pieces, translates them into web speak, and build the user experience.
Aliases for Front End Web Development
Front end web development or client-side development has a number of aliases. For example, htmler, web designer, coder, website builder, and frontend developer. Their functions generally remain the same. Also, people might perceive it as "making things pretty". While it is a valid comment since they make things look good, there are many other technologies that fall within this field that might be usually overlooked. Here are a few examples:
Technologies Front End Web Developers may use
Markup – (X)HTML, the structure of the page is the foundation of websites, essential for search optimization, vital to place the document with the right hooks for the Classes and the IDs that will provide the style and the interaction that the reader will ultimately use.
Style – Using CSS, they are able to give a page it's unique visual flair and a clear, user-friendly view to allow readers, who never linger on pages, some help to read or skim the contents quickly.
Cross Browser, Cross-Platform, Cross-Device Functionality – They have to make sure that the pages are compatible with all browsers. This is to make their pages accessible to everyone and that it's not limited to a certain amount of people. They want to make it accessible to everybody regardless of their platform, browser, or device.
Accessibility – This is to provide your content and your pages with as many points of access as possible. Especially for people with disabilities. For example, you might build your site to be used without a mouse or a standard keyboard for people with motor-related disabilities, but the same can be said about those who access a site with their phone.
Programming – Mostly JavaScript, but this could be applied to Action Script, PHP or any other popular web languages developed for the front end.
Performance – To build even faster sites, your markup, styles, and JavaScript should be both scalable and nimble. This way it will load faster. Having a slower site can result in people being impatient and not wanting to come back. You want to make your site as fast as possible to avoid the possible loss of a visitor.
Research – This is very important, if not the most important part. Technology is always evolving so staying up to date with everything is a very good idea.
Back-End Web Development
The back end, or the "server-side", is basically how the site works, updates and changes. This refers to everything the user can't see in the browser, like databases and servers. Usually, people who work on the back end are called programmers or developers. Back-end developers generally work on things like security, structure and content management. They usually know front-end web development and can use languages like HTML and CSS, but that's definitely not their focus.
Back-end developers, or at least back-end development, are required to create a dynamic site. A dynamic site is a site that's constantly changing and updated in real-time. Most sites are dynamic sites, as opposed to static sites. For example, Facebook and Google Maps are considered dynamic sites. Also, Blogs are dynamic sites since their content is constantly changing and updating.
A dynamic site requires a database to work properly. All information, like user profiles or images they've uploaded, or blog posts, are stored in the database. Web developers work with programming languages like PHP or Net that allow them to interact with a database. Overall, the code they write communicates with the server and pulls content from the database.
Applications Require Front End Design
The back end of an application is responsible for things like calculations, business logic, database interaction, and performance. Most of the code that is required to make an application work will be done on the back end. The back-end code is run on the server, as opposed to the client (PC, desktop or mobile device). This means that back-end developers not only need to understand programming languages and databases, but they must have an understanding of server architecture as well. They will even need to know front end design aspects.
If an application is slow, crashes often, or constantly throws errors at users, it's likely because of back-end problems. Much like front-end development, back-end development has a human aspect to it as well. Since most of the code for an application is written on the back end, it should be easy to understand and work with. Most backend languages like Ruby and Python have standardized styles and idioms that make reading and writing code more efficient and enjoyable. The technical skills required to be a back-end web developer commonly include:
A programming language created to be fun and efficient. Ruby syntax is easy to read, even for people who don't know Ruby. Overall, Ruby was thrust into the mainstream thanks to Rails, which is a framework (built with Ruby) for building web applications. Also, Ruby on Rails is considered as one of the most popular web development tools for small businesses and startups. Companies like Twitter, Hulu, and Github all started and/or still use Ruby on Rails in some capacity. Ruby can be used to code business logic, calculate data and distribute servers for better performance.
Python
Much like Ruby, Python is known in part for its readability. A popular web development framework named Django also makes Python a popular choice for building web applications. Dropbox was built with and still uses Python to run much of its server-side code. Python can be used for everything Ruby can. To use Python or Ruby depends on your skill set, the communities you're exposed to, and your development team.
SQL
It's a universal database query language. SQL is used to interact with databases, which are a part of every backend web application. No matter what language or framework you choose to build your web application, you will likely use SQL, or some abstraction of it, to interact with the database.
Final Thoughts on Front End Web Development…
Pretty much, the front end and back end is literally that. The front end takes care of the front, which is what everybody sees and interacts with. Meanwhile, the back end takes care of the back which is the part of the site that people don't see. Full stack development refers to both these areas.
Delivering Effective Web Design & Online Marketing Services
Local Web Design Services
If you're looking for web design, website development, a new website, or just need to revamp an existing small business website, then you've come to the right place. Notably, at Visualwebz LLC we understand business owners and the website benefits your business needs. In addition, we understand that being a website owner you will want to see immediate results. Furthermore, we can help your website reach an international, national, or local customer base. Besides, we know how to get your customers to you. After all, small business websites and SEO have been our specialty since 2008!
Our customers continually praise about our web design services.,check our reviews!
We Deliver Effective Web & SEO Services
Our website developers specialize in delivering the best websites and nothing more. More significantly, our qualifications and experience allow us to deliver clear and concise solutions. Whether it's a simple website or one that's complex, or one that is built on PHP or ASP, we will always keep you in the loop during the whole web development process.
Immediately after the launch of your website, we will work with you in improving your online presence. For example, our SEO specialists will help drive traffic to your website. With this in mind. Visualwebz LLC is the ideal firm to hire for your next project. In fact, we will also take care of your web security - remember you will need to secure your website from hackers. Similarly, other website design services offered include website maintenance, support, and website testing.
Interested in chatting to us regarding SEO or web design? Or just have questions regarding our expertise or web design costs? Then Contact us today at 425.336.0069. You may also want to check our reviews, and learn why our customers like us! After all, our 5-star reviews clearly tell prospective customers why we stand out when it comes to service, punctuality, quality, and affordability.
Resources & Links
Our Blog covers a range of web resources, services, practices, and trends in the areas of web design and SEO.
Marketing & SEO
Web Design & Website Development
Contact Visualwebz for any Front End Web Design
Website Design - Call (425).336.0069
If your looking for website developers near you, you've come to the right place! Our web design reviews are back by our customers. We provide web services to the following areas, but not limited to Auburn, Algona, Milton, Seattle,  Bellingham, WA, Des Moines, Bellevue, Issaquah, Burien, Federal Way, Fife, WA, Maple Valley, Mill Creek,  Covington, WA, Des Moines, and Seatac. Des Moines and Seatac are generally neighboring cities to Kent.
Front End Web Development & Online Marketing
Front End Web Development & Digital Marketing services nationally
Besides providing Front End web development we also provide SEO and digital marketing to local businesses. Small businesses benefit in a range of our services all over. For example, local cities include Seattle, Federal Way,  Issaquah, Kirkland, Lakewood, WA, Monroe, Olympia, Tacoma and Bellingham, WA.
Whether you're looking for a website for an attorney, small law firm, dentist, or marketing a law firm? Our web developers will deliver exactly what you want. Call Visualwebz today at (425)-336-0069.
Other states where Front End Web Development is available:
Contact Our Front End Web Design Agency
We know that reviews matter, hence ask you to check our reviews and decide why our customers are happy with our web services. Besides being a Front End Web Developer, we also offer web design tips to our customers. From unique content creation, through to what functionalities for any small business looking to compete. Whether you're a Seattle carpet cleaning business or an attorney in NY? We can help.
Online Marketing, SEO services available to small businesses in:
Our tried and tested Small Business SEO Services help outrank competitor's websites and drive more traffic. In fact, ignoring our leading Seattle SEO marketing services could result in you missing many online opportunities and allowing the freedom for your business to expand. Whether it's SEO for a dentist or promoting an online event we have proven through many SEO case studies that we get it done!
If you want to succeed online and help your business's current online standing then internet marketing is a necessity.  More importantly, we can help pave the right path in making your website successful. Our SEO Agency is a top-rated marketing agency that can help your business reach new heights, and reach its maximum potential.
Also, our SEO agency's innovative ideas, strategies, and solutions allow businesses to take the lead in their industries. From local Seattle SEO through to global presence, our custom tailor-fit solutions help businesses effectively compete. We can help your Seattle business reach that desired ranking on search results.
Following is a small list of cities where our renowned and best Seattle SEO services are available. We serve and help small businesses improve their online marketing presence via effective organic Seattle SEO and web solutions. Overall, our Seattle website SEO practices have helped many businesses gain the online exposure needed for them to attract traffic and generate sales.
Our web related services have delivered many solutions to small businesses in and around Seattle. Other local areas where our clients include: Algona | Auburn | Kent | Bellevue | New Castle | Bellingham | Factoria, Bellevue |  Federal Way | Fife | Kent | Renton | Kirkland | Issaquah | Lakewood |  Lynnwood | Mercer Island | Marysville | Mill Creek | Olympia | Redmond | Seattle | Tacoma | Kennewick | Gig Harbor | Vancouver
Our SEO packages and marketing solutions are affordable and geared towards small businesses. In particular, businesses in and around Seattle, Bellevue, Redmond,  Snohomish, Tacoma, Kent, and Factoria Bellevue, WA continue to be our loyal customers. Our SEO company and web design firm do not just make a promise but, rather carry it out to succeed. Whether you are close to home in Seattle, or elsewhere.
Since the start of SEO, our SEO services and SEO marketers focus on organic SEO for small businesses like restaurants, distributors, professionals, doctors, dentists, and attorneys/call us for a free SEO estimate at (425)-336-0069.
Digital Marketing Services
Our digital marketing services are available in Washington and other states. Locally we assist small businesses in Puyallup,  Gig Harbor, Olympia, Bellevue, Issaquah, Kirkland, Seattle, Vancouver, Tacoma, and surrounding areas.
Internet Marketing Services
Our internet marketing services coupled with web design and SEO will get your small business website to the top of your search engine. We focus on local as well as larger markets. All the way from Seattle, Olympia, Maple Valley, Kirkland, Bellevue, Tacoma, and states like Washington, California, and ones further out! We provide quality on-page SEO as well as off-page services. For example, helping to acquire customer reviews.
Organic SEO is the Perfect Solution
Yes, on-page SEO and off-page SEO services are the best way to get your website visible online. But, you need to hire an SEO agency or SEO expert that knows what they are doing. We at Visualwebz work within guidelines set by search engines and understand terms like LSIGraph and how to incorporate structured data into websites! In fact, our digital marketing strategies coupled with web design get positive results for our customers. Also, our SEO consultant services are not only local in Renton, Kent, Seattle, Ballard, Bellevue, or other areas. In fact, our reach is beyond Washington and the USA!
Online Marketing Services
Our online marketing services are not just limited to Seattle, Bellevue, Renton, Tacoma, or Bellingham. But we offer services to all businesses nationally and globally. Go ahead and contact one of the top digital marketing agencies near you. You'd only realize that the SEO services that they offer will be extremely costly and outside your budget. In fact, there are many SEO Companies to choose from but we ask you to check our reviews and decide why our customers chose us.
Visualwebz is a top Seattle web design agency and recognized as a top advertising and marketing firm in Washington state.
Cities where we provide Web Design for small businesses:
Like any small business or customer, you may be asking yourself why you need a website? Of course, you do! Every business no matter how small or big needs a website and more importantly online marketing services thereafter. For example, SEO will help the site be more visible and available during search results. Thus generate more website traffic and increase sales and services! There are other factors and reasons why web design should be built. In fact, we've summarized 12 reasons why a business should take web design seriously. Some of these include,  global and local presence, open 24/7, and outpace your competition.
We offer the best website design services, web maintenance, and web support to small businesses in Seattle, Washington, and all over the USA. Yes, our website builders and professional web designers are available to all businesses at affordable website rates. After all, hiring competent and affordable Seattle web developers, website designers, WordPress Designers, and web builders will get your business the results without breaking your bank account! Whether you're looking for a web agency in Seattle or a website developer elsewhere? We can help. Call us at (425)-336-0069.
Every business deserves a professionally designed website
Our freelance website development services will get your business the professional presence needed! Whether it's an e-commerce website or a simple CMS in WordPress. We always deliver what our customers expect! Our professional web designing and online marketing experience have proven to be inexpensive and effective for small businesses and professionals alike.
In fact, our local web design services are not only available locally in Seattle, Washington, but all over the USA. From custom web designs, SEO, and supporting Seattle businesses with our WordPress maintenance allows our agency to offer a diverse group of web services.
Local Areas we serve in Washington
Local cities where we offer web design services include Auburn, WA | Seattle, WA | Covington | Kent | Kent, WA | Federal Way | Tacoma | Olympia |  Issaquah | New Castle| Lakewood | Gig Harbor | Everett | Monroe | Mill Creek | Milton | Northbend | Puyallup | Redmond | Renton | Tacoma | White Center | Vancouver | Bellingham | Seattle | Yakima | Woodinville.
If you need a new website or just looking for some website support, reach out to us, and let us help. Our agency has been recognized as the best web designer in Seattle.
Custom Web Design Solutions
How can we not mention custom web design solutions? Many of our clients opt for custom websites, due to the fact that the end result will make the business stand out from its competition. In fact, a custom website built by a professional web designer will not only result in solid branding but allow customers to differentiate and quickly identify your services and products from your competition. Our custom web design services are available to a diverse range of businesses in many areas, such as Seattle, Renton, Bellevue, Tacoma, NY, California, and globally.
Hire the best Web Design Services in Seattle, Washington
With front-end and back-end experience, our customers back us up as the best web design services. In fact, how could you possibly go wrong? In fact, our full-stack web development experience and online marketing will pave the path for your business to succeed. Contact us today at (425)-336-0069. Just a reminder, that our services are available, but not limited to Seattle, Bellevue, WA, Tacoma, Olympia, WA, New York, L.A., and all over!
Web Developers - We're not just a Web Design Agency
Our specialties are not only in web design but also in web development and online marketing. Yes, we are a full-blown agency with a one-stop service. Our web development services are not just limited to the Washington area but all over. From Bellevue, Tacoma, and all the way to LA, California, NY, London, Birmingham, UK, and Glyn Ebwy, Wales! Our UK web design services assist many businesses in Solihull, Birmingham, West Bromwich, and surrounding areas.
Web Agency with perfect solutions & great reviews
Our small business solutions are the perfect choice for any small to medium size business looking for results. Especially if you're looking to see your small business website grow via effective web design and online marketing. In fact, our Seattle, WA web design company has assisted many businesses in and around the Puget Sound area. But, we did not finish there, we've also helped businesses in Seattle, Issaquah, Bellevue, Tacoma, New York, and California. Let our expertise help your business expand and reach new heights!
A Top Web Design Agency with solid Web Development and Online Marketing credentials.