Front End vs Back End Developers
Front End vs Back End Developers and how they differ.
"Their expertise is phenomenal and they were very good at explaining things."
All About Front End bs Back End Developers
We will look at Front End bs Back End Developers but will not weigh on one being better than the other. If you say you want to be a web developer, you might want to ask yourself: What kind? There are many differences between front­end developers and back­end developers. They deal with different languages. The web development skills and tools they use are different. The education they need is different. They focus on different parts of the website. They have different responsibilities. They have different mindsets. Their salary is different.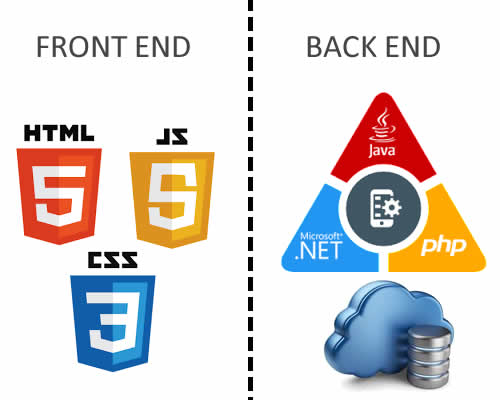 Different technologies and skills that are used in both the front­end and back­end website design development. But they work together to shape websites and their applications to meet the desired purpose for the customer and its clients.
From their names, front side developers work with the browser, basically what the user sees. They deal with the user or client side. Back­end developers are named because their work is done on the server, what we don't see. That is why these developers are referred to as working with server-side programming languages. This code will determine how the website functions. They create a link between the server and the user to create a site that fulfills the customer's needs. If the front­end of the website was a beautiful flower, the back­end would be the roots.
Server Side Code
The back­end developer builds an application (using server side code like PHP, Ruby, Python, .Net etc.) which connects with a database (using MySQL, SQL, Access etc.) to look up, save or change data and return it back to the user in form of front­end code (HTML, CSS, JavaScript). Back­end developer helps us search for items in a shop, and interact on social media. Think about Google, Amazon, Facebook; without the back­side developer you couldn't search Google for where to find a local plumber. In order to find this information, the engine needs to search a database, or several, then use programs and algorithms to put them in the most logical order. Another example, you couldn't pay your cell phone bill. The front­end developer added the picture and content for you to see your bill, but if you could only pay half your bill today the application would have to calculate what half your bill was and select if the company would allow you to pay it and with what method of payment and which other servers it needs to communicate with to do this.
Think about how Facebook can make sure you receive only local ads on the side of your page. That's a program running on the server. How you can send a selfie to your friends? Then has it tweeted at the same time and be added to your photos? Without the web developer the ability to comment on a photo or record the number of likes would happen. Facebook is able to use your data and with the help of a program that uses an algorithm, they can suggest to people that you might know. Now the front­end developer might design the layout or creatively figure out how to make the site "pop" but without the back­end developer, you wouldn't have all those functional features.
Front End Developers and Languages
Back­end developers have more flexibility and front­end developers are more standardized. It's fairly standard that there are three main languages front­end developers use:
HTML for markup, CSS for presentation, and JavaScript for scripting. The back end can run pretty much anything they want to on the server since it doesn't rely on the user's browser to understand what's going on. However, if they deploy on the cloud it may be restricted to those languages which the cloud provider has installed on its platform. The same goes for renting space on a server.
Money, Money and More Money
Back­end developers have a higher salary, but they earn it because there are a lot of responsibilities, such as: server side programming languages ( PHP, ASP.NET, Ruby, SQL, Python and Java) which could be different based off the project or platform you are working. They deal with database creation and management, integrating the database. They might need to develop, deploy, or maintain a content management system (CMS). They might need to add security settings, reporting (analytics/statistics), backup and restore data for both website data and database.
Front end developers are the builders of website visuals and interactivity. Similar to designers, they haveto keep up with the latest trends in code and design. From the look of a website to its interactive aspects are the work of a front­end developer. An artistic mind accompanied by a good set of skills in web development languages and tools make a great front end developer who can deliver a well designed and functional website clients require from them.
Learning and Staying up to Date
Front­end developers are learning all the time. The web is continually evolving, as well as coding languages which are vital skills for the technical aspect of front end development. Front­end developers do not do their work alone either. They have to learn how to collaborate with others, such as their co­workers. Alongside them, they have back­end developers to complete the other part of their work such as the security of a website. In order to meet the expectations of their clients, good communication skills are a must. To understand what is required in the front end of a website, developers periodically discuss with designers and their employers, to ensure that the website's content and presentation is acceptable before it becomes final. Collaboration goes hand in hand with combining the work of others. Front­end developers team up with other designers and back­end developers who aid the development of different parts and functionalities of the website. The ability to test their website is important during the development process. It allows the front end developer to assess their website's appearance before coming up with possible fixes or optimizations.
Front­end developers need to be knowledgeable in HTML, CSS and JavaScript languages. HTML is the standard mark­up language needed to code any website. CSS enhances the content created in HTML; front end developers use this mark­up language to visually appeal to their target audience. JavaScript is a necessary programming language that furthers the functionality and interactivity of their website. These languages operate in the browser so there's no extra installations required. As for tools, front­end developers reply on debugging programs such as Chrome Developer Tools. These set of programs can test their code instantaneously.
Rather than figuring out a tedious code on their own, front­end developers resort to simplified libraries of JavaScript, such as jQuery. It's highly functional and capable of adding in plug­ins and animation.
However, back­end languages do require you to install them on a server or a computer for them to run. The back end is more focused on making sure all the right data gets sent out to the browser. They might need to create and integrate an API (application programming interface), to interact with the database to pull info, save or change data. There is a lot of database integration, and that will probably require SQL experience. They need to understand web server technologies and cloud computing integration. While you have options for languages the popular choice that back­end developers use are PHP, ASP.NET, Ruby, Python and Java. The following programming languages and frameworks are used, mostly individually, to create a robust back end:
HTML, Ruby, SQL, and Django, What are all these?
Ruby on Rails is a web development framework, designed to ease the effort involved in coding through simpler syntax grammar. This Model­View­Controller (MVC) framework employs Ruby as the programming language. It can be implemented on most web servers and is compatible with popular databases. Python is a programming language which is widely used for its readability and syntax. It provides ease of use for programming, particularly when employed in tandem with the web development framework Django. It is a portable language, which means that it can utilized for requirements across platforms. PHP, a hypertext preprocessor is a popular server side script language and interpreter. It can be embedded into HTML when the code is run on the server, HTML is generated which is sent to the user. PHP offers a number of utilitarian features, such as scalability, ease of deployment and simplified coding.SQL, otherwise known as Structured Query Language, is the standard language for relational database management systems. It is used to interact with the database that is a part of the back­end.
Statements written in SQL are employed to accomplish tasks related to the updating or retrieval of data. Java Enterprise Edition is considered to still hold its ground for large web applications that require reliability, scalability, and stability. Knowledge of Java is required for websites that are high security (such as for those used in banking and insurance) or generate high traffic.
Active Server Pages.NET, or ASP.NET, is a programming language used to design web pages and is developed by Microsoft. A part of the .NET framework, ASP.NET facilitates the building of dynamic websites and applications by leveraging compiled languages such as VB and C#.
Some Final Pointers
Front end operates in the browser with front­end developers focusing on the aesthetics, the look and feel of the website. They create a visual environment that will draw visitors to the site. Back­end developers build the guts of the website that provides functionality, facilitate the server and work on the functions website visitors cannot see. These developers are in charge of integrating elements that aid interaction between the user and the website. When users interact with websites, they expose themselves to risk. Back­end developers also make sure the server security is in top notch and capable of preventing hacks that can expose users 'sensitive information.
Front­end developers are more right-brained: intuitive, imaginative, creative. Back­end developers tend to be more left brained: logical, technical, they use linear thinking. Generally, back­end developers get paid more, even though more front­end developers are learning and doing more programming and back­end development. Back­end developers average over $85,000­$100,000 while front­end get around over $50,000 per year. When it comes down to education, a front­end developer's portfolio can be worth more than a degree, but a back­end developer's college degree and hands-on coding experience are required. When choosing either one of the two to pursue, it could depend on your personality, what kind of salary you want or how much freedom and creativity you want. Overall any website development career will be rewarding and in demand.
Delivering Effective Web Design & Online Marketing Services
Local Web Design Services
If you're looking for web design, website development, a new website, or just need to revamp an existing small business website, then you've come to the right place. Notably, at Visualwebz LLC we understand business owners and the website benefits your business needs. In addition, we understand that being a website owner you will want to see immediate results. Furthermore, we can help your website reach an international, national, or local customer base. Besides, we know how to get your customers to you. After all, small business websites and SEO have been our specialty since 2008!
Our customers continually praise about our web design services.,check our reviews!
We Deliver Effective Web & SEO Services
Our website developers specialize in delivering the best websites and nothing more. More significantly, our qualifications and experience allow us to deliver clear and concise solutions. Whether it's a simple website or one that's complex, or one that is built on PHP or ASP, we will always keep you in the loop during the whole web development process.
Immediately after the launch of your website, we will work with you in improving your online presence. For example, our SEO specialists will help drive traffic to your website. With this in mind. Visualwebz LLC is the ideal firm to hire for your next project. In fact, we will also take care of your web security - remember you will need to secure your website from hackers. Similarly, other website design services offered include website maintenance, support, and website testing.
Interested in chatting to us regarding SEO or web design? Or just have questions regarding our expertise or web design costs? Then Contact us today at 425.336.0069. You may also want to check our reviews, and learn why our customers like us! After all, our 5-star reviews clearly tell prospective customers why we stand out when it comes to service, punctuality, quality, and affordability.
Resources & Links
Our Blog covers a range of services, practices, and trends in the areas of web design and SEO.
Marketing & SEO
Web Design & Website Development
Cities where we provide Web Design for small businesses:
Like any small business or customer, you may be asking yourself why you need a website? Of course, you do! Every business no matter how small or big needs a website and more importantly online marketing services thereafter. For example, SEO will help the site be more visible and available during search results. Thus generate more website traffic and increase sales and services! There are other factors and reasons why web design should be built. In fact, we've summarized 12 reasons why a business should take web design seriously. Some of these include, global and local presence, open 24/7, and outpace your competition.
We offer the best website design services, web maintenance, and web support to small businesses in Seattle, Washington, and all over the USA. Yes, our website builder services are available to all businesses at affordable website rates. After all, hiring competent and affordable Seattle web developers, website designers, WordPress Designers, and web builders will get your business the results without breaking your bank account! Whether you're looking for a web agency in Seattle or a website developer elsewhere? We can help. Call us at (425)-336-0069.
Every business deserves a professionally designed website
Our freelance website development services will get your business the professional presence needed! Whether it's an e-commerce website or a simple CMS in WordPress. We always deliver what our customers expect! Our professional web designing and online marketing experience have proven to be inexpensive and effective for small businesses and professionals alike.
In fact, our local web design services are not only available locally in Seattle, Washington, but all over the USA. From custom web designs, SEO, and supporting Seattle businesses with our WordPress maintenance allows our agency to offer a diverse group of web services.
Local Areas we serve in Washington
Local cities where we offer web design services include Auburn, WA | Seattle, WA | Covington | Kent | Kent, WA | Federal Way | Tacoma | Olympia | Issaquah | New Castle| Lakewood | Gig Harbor | Everett | Monroe | Mill Creek | Milton | Puyallup | Redmond | Renton | Tacoma | White Center | Vancouver | Bellingham | Seattle | Yakima | Woodinville.
If you need a new website or just looking for some website support, reach out to us, and let us help. Our agency has been recognized as the best web designer in Seattle.
Custom Web Design Solutions
How can we not mention custom web design solutions? Many of our clients opt for custom websites, due to the fact that the end result will make the business stand out from its competition. In fact, a custom website built by a professional web designer will not only result in a solid branding but allow customers to differentiate and quickly identify your services and products from your competition. Our custom web design services are available to a diverse range of businesses in many areas, such as Seattle, Renton, Bellevue, Tacoma, NY, California, and globally.
Hire the best Web Design Services in Seattle, Washington
With front-end and back-end experience, our customers back us up as the best web design services. In fact, how could you possibly go wrong? In fact, our full-stack web development experience and online marketing will pave the path for your business to succeed. Contact us today at (425)-336-0069. Just a reminder, that our services are available, but not limited to Seattle, Bellevue, WA, Tacoma, Olympia, WA, New York, L.A. and all over!
Web Developers - We're not just a Web Design Agency
Our specialties are not only in web design but also in web development and online marketing. Yes, we are the full-blown agency with a one-stop service. Our web development services are not just limited to the Washington area but all over. From Bellevue, Tacoma, and all the way to LA, California, NY, London, Birmingham, UK, and Glyn Ebwy, Wales! Our UK web design services assist many businesses in Solihull, Birmingham, West Bromwich, and surrounding areas.
Web Agency with perfect solutions & great reviews
Our small business solutions are the perfect choice for any small to medium size business looking for results. Especially if you're looking to see your small business website grow via effective web design and online marketing. In fact, our Seattle, WA web design company has assisted many businesses in and around the Puget Sound area. But, we did not finish there, we've also helped businesses in Seattle, Issaquah, Bellevue, Tacoma, New York, and California. Let our expertise help your business expand and reach new heights!
A Top Web Design Agency with solid Web Development and Online Marketing credentials.
Online Marketing, SEO services available to small businesses in:
Our tried and tested Small Business SEO Services help outrank competitor's websites and drive more traffic. In fact, ignoring our leading Seattle SEO marketing services could result in you missing many online opportunities and allowing the freedom for your business to expand. Whether its SEO for a dentist or promoting an online event we have proven through many SEO case studies that we get it done!
If you want to succeed online and help your business's current online standing then internet marketing is a necessity. More importantly, we can help pave the right path in making your website successful. Our SEO Agency is a top-rated marketing agency that can help your business reach new heights, and reach its maximum potential.
Also, our SEO agency's innovative ideas, strategies, and solutions allow businesses to take the lead in their industries. From local Seattle SEO through to global presence, our custom tailor-fit solutions help businesses effectively compete. We can help your Seattle business reach that desired ranking on search results.
Following is a small list of cities where our renowned and best Seattle SEO services are available. We serve and help small businesses improve their online marketing presence via effective organic Seattle SEO and web solutions. Overall, our Seattle website SEO practices have helped many businesses gain the online exposure needed for them to attract traffic and generate sales.
Our web related services have delivered many solutions to small businesses in and around Seattle. Other local areas where our clients include: Algona | Auburn | Kent | Bellevue | New Castle | Bellingham | Factoria, Bellevue | Federal Way | Fife | Kent | Renton | Kirkland | Issaquah | Lakewood | Lynnwood | Mercer Island | Marysville | Mill Creek | Olympia | Redmond | Seattle | Tacoma | Kennewick | Gig Harbor | Vancouver
Our SEO packages and marketing solutions are affordable and geared towards small businesses. In particular, businesses in and around Seattle, Bellevue, Redmond, Snohomish, Tacoma, Kent, and Factoria Bellevue, WA continue to be our loyal customers. Our SEO company and web design firm do not just make a promise but, rather carry it out to succeed. Whether you are close to home in Seattle, or elsewhere.
Since the start of SEO, our SEO services and SEO marketers focus on organic SEO for small businesses like restaurants, distributors, professionals, doctors, dentists, and attorneys/call us for a free SEO estimate at (425)-336-0069.
Digital Marketing Services
Our digital marketing services are available in Washington and other states. Locally we assist small businesses in Puyallup, Gig Harbor, Olympia, Bellevue, Issaquah, Kirkland, Seattle, Vancouver, Tacoma, and surrounding areas.
Internet Marketing Services
Our internet marketing services coupled with web design and SEO will get your small business website to the top of your search engine. We focus on local as well as larger markets. All the way from Seattle, Olympia, Maple Valley, Kirkland, Bellevue, Tacoma, and states like Washington, California, and ones further out! We provide quality on-page SEO as well as off-page services. For example, helping to acquire customer reviews.
Organic SEO is the Perfect Solution
Yes, on-page SEO and off-page SEO services are the best way to get your website visible online. But, you need to hire an SEO agency or SEO expert that knows what they are doing. We at Visualwebz work within guidelines set by search engines and understand terms like LSIGraph and how to incorporate structured data into websites! In fact, our digital marketing strategies coupled with web design get positive results for our customers. Also, our SEO consultant services are not only local in Renton, Kent, Seattle, Ballard, Bellevue, or other areas. In fact, our reach is beyond Washington and the USA!
Online Marketing Services
Our online marketing services are not just limited to Seattle, Bellevue, Renton, Tacoma, or Bellingham. But we offer services to all businesses nationally and globally. Go ahead and contact one of the top digital marketing agencies near you. You'd only realize that the SEO services that they offer will be extremely costly and outside your budget. In fact, there are many SEO Companies to choose from but we ask you to check our reviews and decide why our customers chose us.
Visualwebz is not just a top Seattle web design agency but also recognized as a top advertising and marketing firm in Washington state.
Website Design - Call (425).336.0069
Front End vs Back End Developers for Small Businesses
If your looking for website developers near you, you've come to the right place! We provide web services to the following areas, but not limited to Auburn, Algona, Milton, Seattle, Bellingham, WA, Des Moines, Bellevue, Issaquah, Burien, Federal Way, Olympia, Fife, WA, Maple Valley, Mill Creek, Covington, WA, Des Moines, and Seatac. Des Moines and Seatac are generally neighboring cities to Kent.
Professional Website Development with Front End vs Back End Developers
Seattle Web development includes numerous online services including SEO and online marketing. As a result, some local areas we serve include:Washington State | Auburn | Bellevue | Eastside – Bellevue | Bellevue Website Design – Local Website Firm | Bothell | Des Moines | Federal Way | Fife | Issaquah | Kent | Kirkland, WA | Lacey | Lakewood | Lynwood | Maple Valley | Mercer Island | Marysville | Mill Creek | Seatac WA | Tacoma | Tukwila | Vancouver | Everett | Spokane | Seatac | Seattle Website Design | Renton | Seatac Airport is the main port of entry into and out of Seattle by air.
Notably, Visualwebz.com serves numerous businesses around Seattle. For example, Ballard – Small business in the Ballard area will no doubt benefit from our website's services. For example, the first-page ranking will allow your website to rank well in Google. In addition, other areas in Seattle include: Belltown | Fremont | Madison Park | Capitol Hill | West Seattle | Queen Anne | Magnolia | Downtown Seattle | Seattle Website Design Services | Seattle | Northgate | Web Design Seattle Washington | Seattle Web Page Design | Small Biz Web Design
Online Marketing & SEO services nationally
Besides providing SEO and online marketing to local businesses we also provide such services to small businesses in other states. For example, local cities include Seattle, Federal Way, Issaquah, Kirkland, Lakewood, WA, Monroe, Olympia, Tacoma and Bellingham, WA.
Whether you're looking for a website for an attorney, small law firm, dentist, or marketing a law firm? Our web developers will deliver exactly what you want. Call Visualwebz today at (425)-336-0069.
Other cities and states where Web Design Services are available :
Visualwebz has been providing individualized web design and online marketing services since 2008. Interested in learning more on web design 101?