Seattle Online Marketing
Seattle Online Marketing and Web Design since 2008.
If your looking for Seattle Online Marketing services we surely can help drive traffic and create an online presence for your businesses. Through our key SEO, online marketing strategies, and social media practices, we are able to get your business the exposure it needs to get to the next level. Remember, you want to be able a specific niche of customers that will more likely convert rather than everyone. We work on selecting the right demographics and target qualified visitors! In fact, we at Visualwebz can establish a great online marketing plan for your business and see your clientele expand.
Online Presence
While print or physical advertising were widespread, they have fallen in popularity. Phone books and paper maps are inconvenient and time consuming to use. Internet use has increased rapidly, and marketing has changed as a result. Most families have at least one computer in their home. Given the current technological landscape, online marketing is a must. Adding to that, mobile internet usage has become more prevalent over the last decade. By establishing an online presence, your company can be found at any time. Our Seattle Online Marketing plan will combine several strategies to get you the best results. This ranges from SEO and social media marketing thru to design, copywriting and unique content creation. Reaching potential clients has never been so easy through our Seattle online marketing services!
Hidden Businesses
The worst thing a company can be is invisible. Not to be taken literally, but without putting your company out there this is what happens. If your company is lacking a digital footprint, marketing is useless. Now more than ever before, people are researching online. Whether it be on a mobile device or a desktop. By refraining from search engine optimization, you would be severely restricting the growth of your company. When people are unable to find information online, brands are seen as less trustworthy. This results in losing potential clients you didn't know you had. SEO works to put you in front of customers. Being relatively high up in the search results increases the clicks to your site. As your company begins to appear in more searches, the interest in your services will increase as well.
Request a web services quote:
...Impressed by the quality of the work... and continue to hire Visualwebz services in a heartbeat!"
Read more reviews.
Seattle Online Marketing Services
Learn more about our Web Design & Online Marketing
Helping Bbusinesses Market Online
Our company has developed websites for small and large corporations and we would love to add yours to our list! Please call or email us for a free consultation. Our four main principles when creating your dream website include:
Local Business Needs Assessment
Look at top competitors in the area to understand how to better suite the needs of your company.
Carefully analyze the needs of your company and how best to convey those needs on you website.
Guided Webpage Layout
Work directly with you to ensure the website is exactly how you dreamed it.
We know that a website is an extension of yourself and your principals. So we want to ensure we capture every detail that makes you – you.
Our results are positive with ROI.
Ease of Use
Ensuring that your website is easy to use and pleasing to the customer is the easiest way to generate new clients.
We emphasize on an easy browsing experience.
Websites are rigorously tested to ensure the best quality is given to our customers.
Social & SEO
Integration of Social Media and SEO into your website. 
We work to incorporate your companies social media into the design and layout of your website.
Our Online Marketing services will generate more traffic to your Seattle business.
Let Seattle Online Marketing shape your online vision
From marketing via animation through to website optimization, we can tell you that we always remain in line with all web trends. In fact, first impressions are very important. For example, how a website looks and functions can be quick deciding factors of whether a potential customer gains interest or loses it and goes onto another option. Those first couple of minutes or even seconds that a viewer looks over a website are vital. If the viewer becomes frustrated with how a website works, if it is too complicated and cluttered, they may click away and find a better option that works for them. On the other hand, a website that is bright, clean and easy to use, is guaranteed to keep the viewer interested and curious to see what more you offer. In this day and age, your online presence is very important. The image you project to your audience through your websites shapes their view of your company.
Making a Connection
People love small businesses, and small business Saturday is just one example. Many clients will be more likely to support your company with it being a small business. That being said, there has to be a way for people to learn more and connect with your company. Social media is a great way to do this. Even having a basic page with photos of products or services can make a huge difference. Also, updating your social media page with events or progress gets viewers involved. With more involvement comes an increase in business, so this is not to be dismissed. Keeping an up to date social media page is one of the easiest ways to make a good impression.
Keeping the Viewer's Attention
Few things are more unappealing to a potential client than a poorly designed webpage. A jarring or mismatched color scheme will make it more difficult for people to look through your site. Weird blocking or spacing of elements can make the presentation appear disjointed. In Seattle as well as other metropolitan areas, an image is of great importance. Using our Seattle Online Marketing coupled with web design would be the best option in today's fierce market.
We attract traffic to your website:
Regardless of the type of website you have or intend to have, we will attract qualified traffic to your website. Through our online advertising and engaging experience, your customers should experience will result in higher conversions.
We provide a range of services to local businesses in and around Seattle, WA, Kirkland, Redmond, and further out like Burien, WA. At any rate, contact us and let us work with you. Bellevue online marketing and web development helping local businesses achieve their dreams.
Online Marketing with a Punch
At Visualwebz, we are committed to increasing your online presence, ecommerce, and business. We follow a forward-thinking Seattle Online Marketing campaigns that help businesses thrive in the online marketplace.
Seattle Online Marketing
Are you looking to build your online presence? Are you trying to increase your online marketing in the Seattle area?
Why our Seattle Online Marketing services?
If you or someone you know is looking for online marketing in Seattle, Washington then you need to call us right away. We are one of the top online marketers in the state and we specialize in small businesses.
After all, Seattle is one of the most competitive markets in the country, especially when it comes to being online. That is why you need help from people who have done this successfully for a long time. We can help you and your company market effectively online and create more traffic and visibility of your services and products. In fact, our SEO and social media strategies are one of the main driving forces and methods of marketing.
What You Need
As a company in Seattle, Washington, whether you have just opened and need to bring in customers or an established one that needs their website updated and refreshed. Our Seattle Web Design and Marketing Agency services are here to give you the website your business deserves. Also, we will make your website reflect your business to the wider market. Our up to date web design technologies coupled with online marketing will give your business the life and ability to grow online. As a top Marketing Agency in Seattle, we believe that the best marketing is through your website and by using our services.
Our refined SEO formula has an extremely high success rate. If this sounds interesting please contact us by using the form in the upper right-hand corner. 
Delivering the best Web Design & SEO Services
Local Web Design Services
If you're looking for web design, website development, a new website or just need to revamp an existing small business website, then you've come to the right place. Notably, at Visualwebz LLC we understand business owners and the website benefits your business needs. In addition, we understand that being a website owner you will want to see immediate results. Furthermore, we can help your website reach an international, national or local customer base. Besides, we know how to get your customers to you. After all, small business websites and SEO have been our specialty since 2008!
We Deliver the Best Web Services
Our website developers specialize in delivering the best websites and nothing more. More significantly, our qualifications and experience allow us to deliver clear and concise solutions. Whether it's a simple website or one that's complex, or one that is built on PHP or ASP, we will always keep you in the loop during the whole web development process.
Immediately after the launch of your website, we will work with you in improving your online presence. For example, our SEO specialists will help drive traffic to your website. With this in mind. Visualwebz LLC is the ideal firm to hire for your next project. In fact, we will also take care of your web security - remember you will need to secure your website from hackers. Similarly, other website design services offered include website maintenance, support, and website testing.
Interested in chatting to us regarding SEO or web design? Or just have questions regarding our expertise or web design costs? Then Contact us today at 425.336.0069. You may also want to check our reviews, and learn why our customers like us! After all, our 5-star reviews clearly tell prospective customers why we stand out when it comes to service, punctuality, quality, and affordability.
Resources & Links
Our Blog covers a range of services, practices, and trends in the areas of web design and SEO.
Marketing & SEO
Web Design & Website Development
Seattle Online Marketing and what it means?
Are you a viable business player in this economy? DO you have a functional website? These are all questions that spring up for the very tech-savvy and sophisticated marketplace. Not only do most people carry smartphones, but many have multiple phones, smart watches and carry tablets as well. In fact, the trend shows many have multiple laptops and several smart devices such as Alexa and Google Home to run their homes and lives efficiently.
For a successful Seattle online marketing campaign, you will need an expert at its core. Effective online marketing skills coupled with web development will allow your website to connect with your online business. After all, hiring a Seattle online marketing company that knows what to do, and when to do it will get your website and online presence revving. Also, its a matter of differentiating your message in a marketplace saturated with competitors.
We have been successfully creating online marketing programs for Seattle since 2008 and have seen the growth and change in online marketing technology year-after-year. After all, we have witnessed the evolution of the technology while working alongside the companies that were making it happen.
Top Seattle Online Marketing Company
As the top Seattle online marketing company, we know the market here and your target customer, just as importantly, they know us. They trust us to deliver interesting and accurate information about the products and services for all online marketing campaigns that we create. With this kind of experience and success in the Seattle, Bellevue and surrounding areas. We can assure you that you that the online marketing plan we create will be targeted and be well-received structured for customers.
Some of the services we can provide include:
Web banner advertising
We partner with the best in the business to make sure your banners are seen and read by the high-quality company contacts. Web banners can include techniques such as pop-ups and floating ads which appear over the underlying web page to display your message.
Search engine optimization
This feature uses a carefully crafted set of keywords and devices to ensure that your site is effective. When the user enters search terms into a browser, these keywords ensure that your Seattle online marketing campaign has a high priority in the web responses.
Content Marketing
Social Media Marketing
We can post frequent updates through social media, promoting your online marketing campaign and specials that you might offer.
Online Advertising
We deliver your online marketing campaign directly to smart devices. As mentioned, most customers have at least one smartphone and probably smart watches and devices such as Alexa. We can deliver your message directly to the customer in a way that ensures that it won't be perceived as advertising "spam" by the recipient.
We look forward to a chance to discuss with you and demonstrate some of the powerful techniques we've utilized and deliver for a dramatic impact. In fact, our Seattle online marketing strategies are delivered with a high ROI.
Website Design - Call (425).336.0069
Not all types of online marketing will work for every company or person. Like many things in life it is good to sit down and reflect on what the goal is, who, and where the marking is targeted to. Spending money on Seattle online marketing services that is targeted to the wrong demographic can be detrimental. For example, let's say there is a company that makes light bulbs and they would like to start online marketing. The best place to advertise may be on do it yourself and contracting websites and of course social media platforms. Here age and area demographics can be chosen. Now, on to the other side of this. Our hypothetical light bulb company could lose a lot of money by marketing to the wrong demographic. It may not be a good idea for them to market on children's sites or to younger demographics as they are less likely to take interest or even be buyers.
Seattle Online Marketing is available for small businesses in an around the Seattle area. The one-stop web agency for all your web design and development needs utilizes the latest web design technologies available. Hire a local Seattle Online Marketing firm. We also specialize in custom WordPress and complete website development. Hence, our niche is not just online marketing or local web design but a range of web services!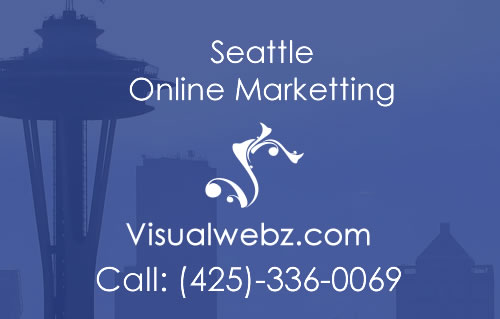 If your looking for website developers near you, you've come to the right place! We provide web services to the following areas, but not limited to Auburn, Algona, Milton, Seattle,  Bellingham, WA, Des Moines, Bellevue, Issaquah, Burien, Federal Way, Olympia, Fife, WA, Maple Valley, Mill Creek,  Covington, WA, Des Moines, and Seatac. Des Moines and Seatac are generally neighboring cities to Kent.
What We Can Provide when it comes to Seattle Web Design & Online Marketing
At Visualwebz, we, Seattle Online Marketing Agency, seek to provide you with the best result possible. We seek to make our marketing seem effortless and captivating. There are hundreds of business based in Seattle according to the Seattle Business Magazine. In the competitive business field in Seattle, you need to stand out.
Overall, if you are looking to redesign and refresh your website or start a new one from scratch and if you're looking for a professional and experienced Seattle online marketing agency, Visualwebz LLC is the best option for you. We work with your budget and provide a website with great functionality and easy to use applications. 
Contact Visualwebz for all your Seattle Online Marketing & Web Design needs.
Professional Website Development & Seattle Online Marketing
Seattle Online Marketing & SEO services nationally
Besides providing SEO and online marketing to local businesses we also provide such services to small businesses in other states. For example, local cities include Seattle, Bellevue, Federal Way,  Issaquah, Kirkland, Tacoma, Lakewood, WA, Monroe, Olympia, Tacoma and Bellingham, WA.
Whether you're looking for a website for an attorney, school, small law firm, dentist, or marketing a law firm? Our web developers will deliver exactly what you want. Call Visualwebz today at (425)-336-0069.
Other states where Seattle Online Marketing is available:
Contact Visualwebz for all your Seattle Online Marketing services. Be it a dentist or a local salon, we will deliver the results your business needs.
Cities where we provide Web Design for small businesses:
We offer the best website design services, web maintenance and web support to small businesses in Seattle, Washington, and other areas in the USA. Yes, our website builder services are available to all businesses at affordable and cheap prices. After all, hiring competent and affordable web developers, website designers, WordPress Designers, and web builders will get you the results without breaking your bank! Whether you're looking for a web agency in Seattle or a website developer elsewhere? We can help. Call us at (425)-336-0069.
Every business deserves a professionally designed website
Our freelance website development services will get your business the professional presence needed! Whether it's an e-commerce website or a simple CMS in WordPress. We always deliver what our customers expect! Our professional web designing and online marketing experience have proven to be inexpensive and effective for small businesses and professionals alike.
In fact, our local web design services are not only available locally in Seattle, Washington, but all over the USA. From custom web designs, SEO and supporting Seattle businesses with our WordPress maintenance allows our agency to offer a diverse group of web services.
Local Areas we serve in Washington
Local cities where we offer web design services include Auburn, WA | Seattle, WA | Covington | Kent | Kent, WA | Federal Way | Tacoma | Olympia |  Issaquah | New Castle| Lakewood | Gig Harbor | Everett | Monroe | Mill Creek | Milton | Puyallup | Redmond | Renton | Tacoma | White Center | Vancouver | Bellingham | Seattle.
If you need a new website or just looking for some website support, reach out to us, and let us help.
Custom Web Design Solutions
How can we not mention custom web design solutions? Many of our clients opt for custom websites, due to the fact that the end result will make the business stand out from its competition. In fact, a custom website built by a professional web designer will not only result in a solid branding but allow customers to differentiate and quickly identify your services and products from your competition. Our custom web design services are available to a diverse range of businesses in many areas, such as Seattle, Renton, Bellevue, Tacoma, NY, California and globally.
Hire the best Web Design Services from Washington
With front-end and back-end experience, our customers back us up as the best web design services. In fact, how could you possibly go wrong? In fact, our full-stack web development experience and online marketing will pave the path for your business to succeed. Contact us today at (425)-336-0069. Just a reminder, that our services are available, but not limited to Seattle, Bellevue, WA, Tacoma, Olympia, WA, New York, L.A. and all over!
Web Developers - We're not just a Web Design Agency
Our specialties are not only in web design but also in web development and online marketing. Yes, we are the full-blown agency with a one-stop service. Our web development services are not just limited to the Washington area but all over. From Bellevue, Tacoma and all the way to LA, California, NY, London, Birmingham, UK and Glyn Ebwy, Wales! Our UK web design services assist many businesses in Solihull, Birmingham, West Bromwich, and surrounding areas.
Web Agency with perfect solutions & great reviews
Our small business solutions are the perfect choice for any small to medium size business looking for results. Especially if you're looking to see your small business website grow via effective web design and online marketing. In fact, our Seattle web design company has assisted many businesses in and around the Puget Sound area. But, we did not finish there, we've also helped businesses in Seattle, Issaquah, Bellevue, Tacoma, New York, and California. Let our expertise help your business expand and reach new heights!
A Top Web Design Agency with solid Web Development and Online Marketing credentials.
Online Marketing, SEO services available to small businesses in:
Following is a list of cities where we are available to help small businesses improve their online marketing presence via effective organic Seattle SEO and web solutions.
Our web related services have delivered many solutions to small businesses in and around Seattle. Other local areas where our clients are include: Algona | Auburn | Kent | Bellevue | New Castle | Bellingham | Factoria, Bellevue |  Federal Way | Fife | Kent | Renton | Kirkland | Issaquah | Lakewood |  Lynnwood | Mercer Island | Marysville | Mill Creek | Olympia | Redmond | Seattle | Tacoma | Kennewick | Gig Harbor | Vancouver
Our SEO packages and marketing solutions are affordable and geared towards small businesses. In particular, businesses in and around Seattle, Bellevue, Redmond,  Snohomish, Tacoma, Kent, and Factoria Bellevue, WA continue to be our loyal customers. Our SEO company and web design firm do not just make a promise but, rather carry it out to succeed. Whether you are close to home in Seattle, or elsewhere.
Our SEO services and SEO marketers focus on organic SEO for small businesses like restaurants, distributors, professionals, doctors, dentists, and attorneys/call us for a free SEO estimate at (425)-336-0069.
Digital Marketing Services
Our digital marketing services are available in Washington and other states. Locally we assist small businesses in Puyallup,  Gig Harbor, Olympia, Bellevue, Issaquah, Kirkland, Seattle, Vancouver, Tacoma, and surrounding areas.
Internet Marketing Services
Our internet marketing services coupled with web design and SEO will get your small business website to the top of your search engine. We focus on local as well as larger markets. All the way from Seattle, Olympia, Maple Valley, Kirkland, Bellevue, Tacoma and states like Washington, California, and ones further out! We provide quality on-page SEO as well as off-page services. For example, helping to acquire customer reviews.
Organic SEO is the Perfect Solution
Yes, SEO is the best way to get your website visible online. But, you need to hire an agency that knows what they are doing. We at Visualwebz work within guidelines set by search engines. Thus, getting positive results for our customers. Also, our SEO consultant services are not only local in Renton, Kent, Seattle, Ballard, Bellevue or other areas. In fact, our reach is beyond Washington and the USA!
Online Marketing Services
Our online marketing services are not just limited to Seattle, Bellevue, Renton, Tacoma or Bellingham. But we offer services to all businesses nationally and globally. Go ahead and contact one of the top digital marketing agencies near you. You'd only realize that the SEO services that they offer will be extremely costly and outside your budget. In fact, there are many SEO Companies to choose from but we ask you to check our reviews and decide why our customers chose us.
Visualwebz is not just a top Seattle web design agency but also recognized as a top advertising and marketing firm in Washington state.