History of Adobe
History of Adobe can be traced back as far as the late 70's! Adobe Systems Incorporated has produced products that are used in a variety of ways. This company has created many applications that make creating, editing, designing, and digitizing text/images easier. Some of their applications include Photoshop, Illustrator, PDF, InDesign, and that is just to name a few of their products. With all the Adobe applications out there that are constantly day to day, one may start wonder how it all began, what the company had to go through to become so successful, and how much of an impact Adobe has presently. Even with these curiosities, it is certain that this company has become one of the top software providers for a wide range of industries.
The creators, John Warnock and Chuck Geschke, both worked at Xerox Palo Alto Research Center (Xerox PARC) in the late 1970's. They were American computer scientists. While working at this company, both computer scientists had to research devices for independent graphic systems and printers. Working on this research had given them the inspiration to create a software that provides the capability of translating digital text and images from computers onto a printed page. By December 1982, the company Adobe Systems Incorporated was established.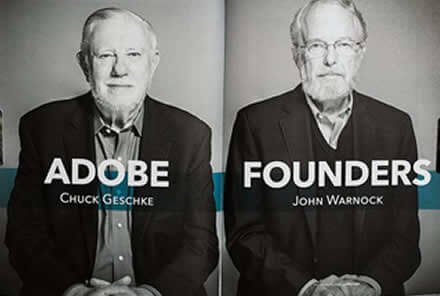 John and Chuck named the company after Adobe Creek in Los Altos, California. A little fun fact is that this creek was right behind John's house. John's wife, Marva, who was a graphic designer, designed the company's first logo which was later changed in 1992. Their first product was called PostScript, which "provided a practical alternative to the restrictions and complexities of the print publishing industry" (Inc., Ivestintech.com). Not long after this development, they signed their first contract with Apple to license this software. Adobe Illustrator, Photoshop, and Type Manager was developed not long after. The growing success of Adobe technologies has established the company as a reliable and high quality solutions provider.
On the other hand, becoming successful was not always easy. Working in the computer science industry has many challenges, especially when it comes to competitors. When Adobe created the Portable Document Format (PDF), they had many emulators such as AnyView, Common Ground, Replica, and many more. However, a numerous of computer users do not remember the names of these companies. This is because consumers preferred to use the PDF format, which lead to the program becoming the standard software for sharing/printing electronic files by the late 1990's.
At this point, other companies noticed Adobe's accomplishments and knew that this company will continue to grow. By 1998, Quark Inc. made an offer to acquire all the shares of Adobe Systems Incorporated, but Adobe declined this proposal because this business opportunity had potential to be harmful to their customers. Undeniably, this offer was soon withdrawn. Their "motto" was "Adobe Systems Incorporated develops and supports products to help people express and use information in more imaginative and meaningful ways across print and electronic media" (Adobe Systems Incorporated). It is clear that Adobe cares about its consumers and will continue to develop applications that will benefit the customers as well as revolutionize the computer science industry.
Adobe has many different programs when it comes to what the company has to offer for anyone trying to use it. The Creative Cloud in Adobe includes programs that many people and businesses utilize for everyday use. These programs include: After Effects, Illustrator, Photoshop, Animate, InDesign, Adobe Premier Pro, Dreamweaver, Creative Cloud, Adobe Muse and Photoshop Lightroom. There are many companies that use some of the programs that Adobe offers f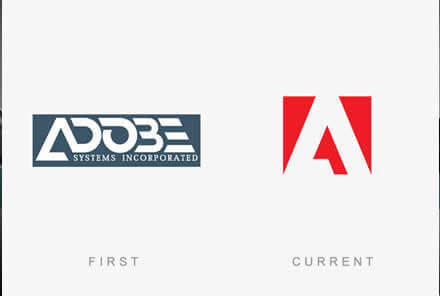 or everyday business.
The most common programs from Adobe that companies use are Adobe Photoshop and Adobe Creative Cloud. First off, according to iDatalabs, there is a total of 175,051 companies that currently use Adobe Photoshop with Creative Circle, The UPS Store, and Ubisoft being the top three. Also, there is a total of 112,071 companies that use Adobe Creative Cloud with Creative Group, Creative Circle, and The UPS Store being the top three. Companies use Adobe Photoshop to edit graphics developed and published by Adobe systems for OS X and Windows. Adobe Creative Cloud is "a series of software suites of graphic design, video editing, and web development applications made or acquired by Adobe Systems. The collections consisted of various groupings of Adobe's applications (e.g. Photoshop, Acrobat, InDesign, Premiere Pro, After Effects) based on various technologies and organized by industry" (iDatalabs).
Adobe has a huge impact on the design of businesses in the modern-day business world according to the Adobe website. The four points that are key for the importance of design for business are: the role of design today, design-driven companies have outperformed the S&P index by 219% over ten years, companies that foster creativity enjoy 1.5x greater market share, and 71% of companies report creating 10x the number of assets today than just a few years ago. Most companies believe that design is a huge impact because it helps grab the customers' attention by the design of their businesses and how well it can provide customer service in order to get the customers to come back. This can mostly include the designs of websites and social media accounts of the businesses.
As can be found on the internet, Adobe is huge when it comes to providing the programs that are essential to people's careers. Adobe Photoshop is the program that most photographers use for their businesses. This program allows photographers to edit their photos, create new designs, banners for their websites, logos for businesses and so much more. Adobe Photoshop is one of the most heavily relied on programs for most businesses because they use it to advertise their business to the world. If Adobe Photoshop did not exist, many businesses would have to figure out how to edit their photos themselves or have someone create their own programs for photos.
Another big program is Adobe Animate which was previously called Flash Professional CC until HTML5 was incorporated into the program. This program was released in 2016 in order to draw, illustrate and animate. It is said that Adobe Animate has reached over one billion devices worldwide in order to create animations that many people can use for businesses daily. Adobe Animate is generally used to create animations that businesses use to advertise on websites or social media. These animations are seen by customers, and are used to attract them to their businesses or to buy their products. Animation has become key for businesses in the coming years because we are in a developing world and most things are done electronically, so the animation grabs many customers' attention.
Adobe Premier Pro is a program in Adobe that allows you to edit videos in order to use them for things like advertisements. This program is used to make your videos appealing to audiences if you are using this in a business perspective. The videos made on here can be used for advertisements on websites, billboards and commercials so that many people can see your advertisement all at the same time. Premier Pro is one of the main places to edit and enhance videos because it makes it much easier and Adobe has all the tools that you need in the program in order to make a spectacular video for your audience.
The program Adobe Dreamweaver is essential for creating websites and the things that go onto the websites. With Adobe Dreamweaver, you can understand the anatomy of a website, follow the stages of web design in order to create website, and define a site. You can also define page structure with HTML, and layout and style webpages with CSS. These things that you can do on Adobe Dreamweaver allows people or businesses to publish and manage their own personal websites for other people's viewing or to run their own businesses. Dreamweaver is a very simple program to use and there are many tutorials on the internet to teach people how to use the program. This program is very key to helping people figure out how to create websites and what you need in order to create the websites.
Adobe Muse is a program that offers to help provide navigation for people on websites. This program helps people designing websites to make site maps and easily add navigation through things like links, so that people can easily find their way around the website. Muse also allows you to create hyperlinks, headers/footers, and a responsive web page. This program is very helpful because it allows people to find everything they need on a website without needing help and doing so very quickly. This is very big for businesses because if a customer does not know how to buy the products they want on the website, they will most likely stop searching for it. This will cause businesses to lose money because they have not given an easy way to navigate around the website for the customers.
Adobe InDesign is used on Adobe for creating the layout and design of web pages. This can be done by creating the text and graphics of any web page. You can also resize any elements of your layout in Adobe InDesign. InDesign is used to create brochures, business cards, postcards, flyers, and professional resumes. This program helps bring together the website as a whole so that it can appeal to the customer and catch the attention of a customer. It also has cool features like wrapping text around images and adding images to table based layouts. This program really helps the people put the finishing touches on the websites that they create.
Adobe After Effects has to be one of the coolest and eye catching programs that Adobe has to offer. This program is based on creating special effects for videos that are created. Things like adding special effects, animating logos, hoverboard effects, and enhancing videos with shapes are examples of the type of things you can do with After Effects. This program shares some files that are also found in Photoshop and Illustrator. One of the coolest abilities is being able to fix unusable videos because they might be unfinished or corrupted. There are other cool abilities like creating Hollywood movie titles. Some Hollywood movies probably use Adobe for their movies because it is very easy and appealing.
Today, Adobe Systems incorporated a huge amount of quality software for creators, developers, and enterprises, along with softwares for video editing, app designing, game designing, and many more. After many years of product expansion, John and Chuck has retired as Chief Executive Officers and has procured the position of co-chairmen of the board in the year 2000. In 2002, Bruce Chizen has been placed as the new CEO of the company. Since then, he has successfully "led the company through the marketing and financial transition of providing enterprise platform technology, in addition to its already popular desktop software" (Inc., Ivestintech.com).
There are so many cool and great features that Adobe has to offer because they can help you make a living in the world. Adobe has been using these programs for many years and will continue because they make good money from this and many people benefit from these programs. If Adobe was stopped, many people would lose the ability to run their businesses because they would not have the knowledge to create their own versions of the Adobe programs themselves. Adobe is a huge part of the business world and business would not be the same without it.
In conclusion, Adobe continues to develop and support user groups, forums, and communities on their website, www.adobe.com. Not only have they been successful in the United States of America, but also internationally. They have branches in Europe, Asia, South America, and Australia. Their software have been translated into over twenty-six languages, and now comes pre-installed on computers made by the top ten computer manufacturers in the world. Founders John Warnock and Chuck Geschke have virtually created an entire industry. Their company continues to advance and transform the way people and businesses communicate and create in the digital world.
References : History of Adobe
History of Adobe -Adobe Systems Incorporated. "History of Innovation." Adobe – About Adobe: History of Innovation. N.p., n.d. Web. 17 May 2017.
History of Adobe – Adobe Systems Incorporated. "History of Adobe." Adobe – 25th Anniversary Timeline. N.p., n.d. Web. 17 May 2017.
, Ivestintech.com. "A Brief History of Adobe Systems Inc." Investintech. N.p., n.d. Web. 18 May 2017.
"Products." Adobe Products | Adobe. Adobe Systems Incorporated, 2017. Web. 20 May 2017.
"Companies Using Adobe Photoshop." List of Companies Using Adobe Photoshop. IDatalabs, n.d. Web. 20 May 2017.
"Companies Using Adobe Creative Suite." List of Companies Using Adobe Creative Suite. iDatalabs, n.d. Web. 20 May 2017.
Ho, David. ADVICE FROM CHUCK GESCKE AND JOHN WARNOCK, FOUNDERS OF ADOBE. Digital image. Visuals by David Ho. N.p., n.d. Web. 20 May 2017.
50 Best Old vs New Logo ReDesigns from Famous Brands & Companies. Digital image. DesignBolts. N.p., 31 May 2016. Web. 20 May 2017.
History of Adobe – Harmer, Tony. "4 Key Stats on the Importance of Design for Business | Creative Blog by Adobe." Creative Connection. Adobe Systems Software, 2017. Web. 20 May 2017.
"Photoshop Tutorials." Learn How to Use Photoshop CC. Adobe Systems Incorporated, 2017. Web. 20 May 2017.
History of Adobe – Lee, Rich. "Welcome Adobe Animate CC, a New Era for Flash Professional | Creative Cloud Blog by Adobe." Adobe Creative Cloud. Adobe Systems Incorporated, 2017. Web. 21 May 2017.
History of Adobe – "Premiere Pro Tutorials." Learn How to Use Premiere Pro CC. Adobe Systems Incorporated, 2017. Web. 21 May 2017.
History of Adobe – "Dreamweaver Tutorials." Learn How to Use Dreamweaver CC. Adobe Systems Incorporated, 2017. Web. 21 May 2017.
History of Adobe- "Muse Tutorials." Adobe Muse Tutorials. Adobe Systems Incorporated, 2017. Web. 21 May 2017.
History of Adobe – "InDesign Tutorials." Learn How to Use InDesign CC. Adobe Systems Incorporated, 2017. Web. 21 May 2017.
History of Adobe – "After Effects Tutorials." Learn How to Use After Effects CC. Adobe Systems Incorporated, 2017. Web. 21 May 2017.
History of Adobe – "Adobe Animate." Wikipedia. Wikimedia Foundation, 05 May 2017. Web. 21 May 2017.
Interested In hiring this web design company for your next project?
Learn more about our website services such as WordPress,  Animation, HTML 5, CSS, PHP, Python, website hosting, web designing, website security and HTTPS setup at Seattle WordPress Website Design. There are other website solutions we provide and are experts in, such as social media society. May be your interested in learning more? If so refer below:
Contact us for a quick quote, you'd be glad you do and understand why we believe we have mastered the science of web design and provide one of the best websites offered in the market. Interested in reading more? Refer below: