Stop Spam
Stop spam today! This no ordinary job as it was before, it requires a number of approaches from being harassed electronically.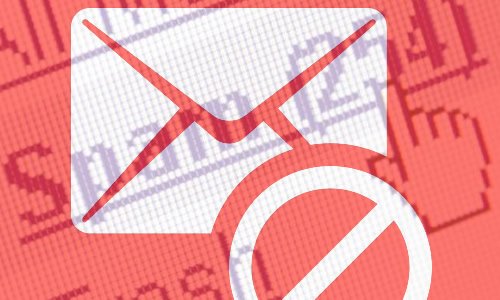 Ever get those phone calls or text messages that tell you your computer has a virus or that the IRS claims your taxes or so without your acknowledgment? But later you find out on the news that that call or text was actually a scam set up by scammers that are trying to harm your personal privacy. Well this trick also happens to work on the internet as well. Instead of ads, spammers have found ways to spam mail to your emails constantly awaiting your reply. Don't be confused with junk mail, as junk mail finds its way to your junk folder due to be unsolicited ads that you never signed up for so they get put aside instead of actually reaching your email.So what is spam? "spam "is an internet slang term for unsolicited commercial email (UCE). Such examples of spam are; phishing scams, pyramid schemes, quack health products, pornographic website ads, chain messages and illegal pirated software.
What's different about spam compared to junk mail is that the sender of spam has to pay very little money due to the bandwidth being paid for by the internet's recipients and carriers. Instead of personally finding email addresses spammers use systems called "bots" that scour the web in search of unsent newsgroup thus gaining the address. Or they use random email name generators, either way it makes little care for what the spammer does unless they get someone to acknowledge them then they succeeded. Because of this spammers "spam" hundreds if not thousands of mail to the recipient causing annoyance and problems. You may never know if the sender is spam or not due to be anonymous a majority of the time and if caught usually create other false profiles in order to cause more havoc on the web. The thing about spam is that it is probably one of the most dangerous crimes in modern history due to being hidden organizations or other groups no one has ever heard of that attack people's personal privacy. Not only America has this problem, but countries like India (the most spam), Russia and China have major reports of spam even greater than the USA.
Spam can occur anywhere, whether it be your mobile phone, emails, social networking, gaming networks or even video sharing website (i.e. YouTube) a spammer is always hidden finding out your address in order to harm you. What's also terrible is that spam is almost entirely impossible to get rid of. The internet is a public place, a vast wasteland for everyone around the world to use at their leisure and because of this is open to harmful people as well. So in addition to wasting people's time, spammers also take up a lot of network bandwidth. Many organizations try and prevent and even fight spam as much as they can but with little success since (again) the internet is open to all. This has made spam become illegal in many if not all countries around the world due to its harmful nature in stealing people's identities or fraud. So is there any way we can at least stop/prevent spam from reaching us?
There are a number of ways to spa spam  as well as know the dangers and fight back? Here's are some tips in how to stop spam:
Now one of the first things you should do to tackle or stop spam is to never give or share your personal information with anyone.
The best option is to make your email and personal profiles as secret and private as possible. So this means extra measures of passwords and even backups. Warnings of threats directed at your personal info. As well as never listing your email anywhere you don't want it to be as spammers try to find them for their use.
Another simple rule is to delete the message. Although not effective in getting rid of the problem directly it at least cuts back on having to see it. Anything that appears false and fake is a dead giveaway for deletion. This is a good way to filter out the bad spam mail for the important mail you have in your inbox. Some sites provide anti-spam services like Indiana University or Gmail filtering that personally finds all the junk mail that reaches you and cyberlly blocks them from such attacks almost like a firewall. This good to have if you are constantly being bombarded with spam and you need a provider to help filter it out.
Another tip is to never reply (and if possible) or open a message that is spam. Doing so alerts the spammer that they caught a live person and will continue fire millions of spam at you while circulating your address to other spammers. Having your email set to an automated response is a bad idea due to it probably reaching spam sites, so having that off is a major role in minimizing the damage. If the message is using a company you don't recognize, copy its send information and search it up on the search engine to find out if it's legitimate or not. Usually if they don't have a private policy they are most likely bogus which means you should never reply to them. If the spam is clearly a trap, never respond and never follow it's unsubscribe methods. In most cases simply ignoring spam can lead to the spammer thinking they are sending their mail to a dud address thus meaning giving up sending unnecessary messages to you.
Be careful where you release your email too. Whether it be subscribing to a site or posting in boards or chat rooms or any social network someone on the outside is always watching. Look at their private policy when it comes to emails and be sure that the technology is secure and not open to the public for others to see. Un-list yourself from receiving emails if you considered not having it anymore to stop being sent false things. Be mindful where you post as well, accounts you have in sites can be viewed usually by anyone if you don't set them to private or have it secure.
If your primary email is being targeted a lot, think about opening a new account with a fresh start free from spammers. Usually having a backup account or email can have additional private information for you to keep protected if your original i deemed unsuitable to handle the many attacks from spammers. Having another account can also throw off the spammers as well as give you more options to make things more private.
Be careful and proactive. When you search things be mindful of taking measure for security settings like not accepting cookies. Disallow things like filing in field forms for you or having your name and profile be public in browsing history. For all these tips can it help reduce the amount of personal information you have being transmitted to people you never intended to have known of your existence.
Report your problem as well to help make it easier to track and find these criminal offenses. Although this is a temporary setback for the spammer once their address has been found out (flagged thus rendered banned) will usually go and find another address to make to continue their exploits. It may be a small outcome for you to do but it helps make the problem lessen a bit once reported since the original spammer has been marked for everyone to know them to be unsafe.  So remember to never share which is probably the most important rule when it comes to internet security and never respond to spam. Sites offer assistance, like blacklisting to help get rid of spam organizations. Have the most advanced and secure technology when it comes to your personal and private information so no one but you can view.
Never contribute to spam, since it is deemed a criminal offense and can be met with harsh punishment and sentences relating to both fraud and stealing. You could also help lift such problems by not releasing or partaking in chain letters or group messaging. If you happen to stumble across a message that says a virus has been detected deleting all your files or send money to this person due to circumstances just ignore it as it is most likely bogus. Nearly all chain mails are hoaxes and shouldn't be taken lightly. Even if the message comes from a friend or family member they too could be deceived as well, so brush up and search to find out if these messages are hoaxes or not. So in short, be cautious, be suspicious and be mindful when handling spam. You may never know when you'll get it as it is always hidden. But when you do, just ignore it and never look at it again. As that is key in keeping your computer and personal privacy safe from the harmful and dangerous environment that we come and accept in this new lifestyle; the internet.
References for Stop Spam
Stop Spam – Posted February 23, 2004By Vangie Beal. "Spam Spam Spam: A Webopedia Guide to Combating Spam." Spam Spam Spam. What Is Spam and How Do You Stop It? Webopedia.com. N.p., n.d. Web. 17 Feb. 2017.
Stop Spam – "Indiana University Indiana University Indiana University." What Can I Do to Avoid Receiving Spam Email? N.p., n.d. Web. 17 Feb. 2017.
Stop Spam – "The Difference Between Spam & Junk Mail." The Difference Between Spam & Junk Mail | Chron.com. N.p., n.d. Web. 17 Feb. 2017.
More details on Web Design
In the event that you're looking for a new website or revamp to an existing small business website, you've then come to the right place. Notably at Visualwebz we totally understand business owners and the website benefits you'd be looking for. In addition, we understand that being website owner you will want to see immediate results. Further more, we can help your website reach an international, national or local customer base. Besides, we know how to get your customers to you. Of course, small business websites have been our specialty since 2008!
In particular, our website developers specialize in delivering the best websites and nothing more. More significantly, our qualifications and experience allow us to deliver clear and concise solutions. As a matter of fact, we will keep you in the loop during the whole web development process. Immediately after the launch or your website  we will work with you in improving your online presence. For example, our SEO specialists will help drive traffic to your website. With this in mind. Visualwebz is the ideal firm to hire for your next project. In fact, we will also take care of your web security - remember you will need to secure your website from hackers. Similarly other web design services we offer include website maintenance, support, and website testing.
Additional resources that may be of interest include: Web Trends 2017 | Computer Science | Get in touch call us at 425.336.0069 - Contact us today.