"Their expertise is phenomenal and they were very good at explaining things."
New Website
We create individualized custom website designs that allow businesses to expand. In fact, our carefully crafted websites are developed with a purpose and goal in mind, More Customers!
Website Maintenance
If your website is outdated and not meeting your customer needs. We will re-design and develop a functional and attractive website with a "wow" effect. It will also be optimized for more traffic!
Online Marketing / SEO
You have a website, but it's not getting the traffic or has limited online visibility. Our proven SEO strategies will enable your website to rank higher and generate sales.
SEO & Seattle eCommerce Design
When its time to launch a new venture or expand your business, it's crucial to have the right partners. Visualwebz is the perfect option when it comes to taking on your Seattle eCommerce Design project. Besides, providing first class web services and small business web development were also local to your Seattle business. We will work with you in achieving higher traffic and conversion rates. In fact, we carefully select specific markets based on what you want to achieve. For example, it could be traffic and visits, interaction, call leads or purchasing from your website?
Be it local demographics or specific locations, we have the web design and SEO expertise to get your business where it needs to be. We have a wealth of experience in fostering small to medium-sized businesses and professionals. In case your wondering, we have developed and taken care of hundreds of WordPress websites and handle SEO projects. After all, we have been operating since 2008!  and cater to startups as well as established businesses.
So if you're in the market looking for web developers and looking for a new website or SEO then consider Visualwebz as your online marketing agency. We can guarantee you'd be satisfied with our Seattle eCommerce Design services! In fact, our value-added services are one of the best.
Expertise in  e-commerce development:
Our in-depth experience and qualifications in e-commerce web development and e-commerce design will allow your Seattle business to a good start. In fact, we will help you understand the e-commerce development process from start to finish. More importantly, your business will grow and move to the next level with our web design services.  A brief summary of what we offer are: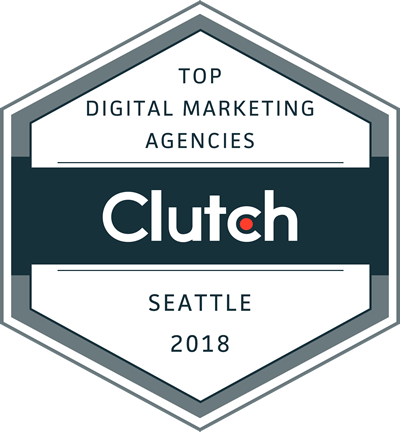 Our Advanced Design
There are several features that separate our Seattle eCommerce Design from others.
Local Business Needs Assessment

We look at the top competitors in the area to understand how to better suit the needs of your company.
We carefully analyze the needs of your company and how to best convey those needs on your website.

Customer Guided Webpage Layout

We work directly with you to ensure the website is exactly how you'd expect it.
This is a multistep process where we carefully look over design templates and styles that truly capture the personality of your company or organization.
We know that this website in an extension of yourself and your principals. So we want to ensure we capture every detail that continues your business branding.

Responsive Web Design

Ensuring that your website is easy to use and pleasing to the customer is the easiest way to generate new clients.
We incorporate many styles and user-friendly designs so the consumer will have an easy browsing experience.
Our websites are rigorously tested to ensure the top quality is given to each and every customers.

Social Media Influence

Social Media is one of the easiest ways to generate a following.
We work to incorporate your companies social media into the design and layout of your website.
Our web developers can integrate your Facebook, Instagram, Snapchat, Twitter or any other social media platform directly into your website.
What Makes A Website fall into the category of Best Websites?
A website is a collection of web pages on the World Wide Web and considered as a single entity and linked together. Most websites are usually handled by a web design agency who created the website for a person or a company.
In addition, websites are usually directed towards one topic, which is often the general purpose of it but there are always exceptions. For example, Amazon which sells items as well as online video streaming services. Every website has a home page, and this is the first page the viewer sees. A home page can make or break a website because at first glance the viewer either likes the website or not which is what dictates whether they will continue to browse on the website or not. Such simple areas help us build the foundations to a clear-cut and functional website.
Effective landing pages
Creating a landing page for any business be it in Bellevue, Seattle or New York should help visitors and make their experience more efficient and easier. We will create clear prominent links off of the main home page so that you do not have to clutter the home page with an unnecessary abundance of information. We know that the best web pages always provide engaging information on the home page and always fit within the basic aspect ratio for a device.
e-Commerce Process will always include:
Simplicity: Keep your site simple and well organized.
Fast loading pages: Limit the amount of data you because if it takes too long for a page to load, you'll lose more than half of your potential visitors.
Minimal scroll: Create links from the main page to read more about a particular topic.
Consistent layout: Use a consistent layout and repeat certain elements throughout the site.
Prominent, logical navigation: Effective navigation with quick access to links because website visitors are in a hurry.
Descriptive link text: Additional web page information so that its easier for visitors to find their way around a site.
Cross-platform/browser compatibility: Different browsers often have different rules and resolution and we will make sure your website works across browsers.
Why Hire Us for Seattle eCommerce Design?
Besides our confidence in Seattle eCommerce Design, we also have our experience and certifications are some big factors why you should speak to us first. In fact, we have been building and maintaining websites for over a decade. Lots of small businesses such as attorney's and doctors have had that great experience of great looking and functional websites. For example ABHC.com a local practice. After all,  we better understand the local demographics. Thus able to build websites and carry out strategic online marketing for any small business.
Our pricing structure caters to a range of businesses. From startups such as a dental website design to established businesses needing online marketing and SEO.  In addition, we don't tie you down to any yearly contracts!
For the best Seattle eCommerce Design services call (425)-336-0069.
No yearly contracts.
Competitive SEO prices.
All clients big or small are treated with professionalism.
Available via email or phone.
Monthly reporting
Always in line with digital marketing, SEO, and web design trends.
Visualwebz LLC is committed to increasing your online presence e-Commerce, and business. We follow a forward-thinking Seattle eCommerce Design strategies that help businesses thrive in the online marketplace. Our four main principles when creating your dream website are; Local Business Needs Assessment, Customer Guided Webpage Layout, Responsive Web Design, and Social Media Influence. Our company has developed websites for many businesses and we would love to add yours to our list! Please call or email us today.
Delivering the Web Design & SEO Services
Local Web Design Services
If you're looking for web design, website development, a new website or just need to revamp an existing small business website, then you've come to the right place. Notably, at Visualwebz LLC we understand business owners and the website benefits your business needs. In addition, we understand that being a website owner you will want to see immediate results. Furthermore, we can help your website reach an international, national or local customer base. Besides, we know how to get your customers to you. After all, small business websites and SEO have been our specialty since 2008!
We Deliver the Best Web Services
Our website developers specialize in delivering the best websites and nothing more. More significantly, our qualifications and experience allow us to deliver clear and concise solutions. Whether it's a simple website or one that's complex, or one that is built on PHP or ASP, we will always keep you in the loop during the whole web development process.
Immediately after the launch of your website, we will work with you in improving your online presence. For example, our SEO specialists will help drive traffic to your website. With this in mind. Visualwebz LLC is the ideal firm to hire for your next project. In fact, we will also take care of your web security - remember you will need to secure your website from hackers. Similarly, other website design services offered include website maintenance, support, and website testing.
Interested in chatting to us regarding SEO or web design? Or just have questions regarding our expertise or web design costs? Then Contact us today at 425.336.0069. You may also want to check our reviews, and learn why our customers like us! After all, our 5-star reviews clearly tell prospective customers why we stand out when it comes to service, punctuality, quality, and affordability.
Resources & Links
Our Blog covers a range of services, practices, and trends in the areas of web design and SEO.
Marketing & SEO
Web Design & Website Development
Top eCommerce Website Design
Cities where we provide Web Design for small businesses:
We offer the best website design services, web maintenance and web support to small businesses in Seattle, Washington, and all over USA. Yes, our website builder services are available to all businesses at affordable website rates. After all, hiring competent and affordable Seattle web developers, website designers, WordPress Designers, and web builders will get your business the results without breaking your bank account! Whether you're looking for a web agency in Seattle or a website developer elsewhere? We can help. Call us at (425)-336-0069.
Every business deserves a professionally designed website
Our freelance website development services will get your business the professional presence needed! Whether it's an e-commerce website or a simple CMS in WordPress. We always deliver what our customers expect! Our professional web designing and online marketing experience have proven to be inexpensive and effective for small businesses and professionals alike.
In fact, our local web design services are not only available locally in Seattle, Washington, but all over the USA. From custom web designs, SEO and supporting Seattle businesses with our WordPress maintenance allows our agency to offer a diverse group of web services.
Local Areas we serve in Washington
Local cities where we offer web design services include Auburn, WA | Seattle, WA | Covington | Kent | Kent, WA | Federal Way | Tacoma | Olympia |  Issaquah | New Castle| Lakewood | Gig Harbor | Everett | Monroe | Mill Creek | Milton | Puyallup | Redmond | Renton | Tacoma | White Center | Vancouver | Bellingham | Seattle.
If you need a new website or just looking for some website support, reach out to us, and let us help.
Custom Web Design Solutions
How can we not mention custom web design solutions? Many of our clients opt for custom websites, due to the fact that the end result will make the business stand out from its competition. In fact, a custom website built by a professional web designer will not only result in a solid branding but allow customers to differentiate and quickly identify your services and products from your competition. Our custom web design services are available to a diverse range of businesses in many areas, such as Seattle, Renton, Bellevue, Tacoma, NY, California and globally.
Hire the best Web Design Services in Seattle, Washington
With front-end and back-end experience, our customers back us up as the best web design services. In fact, how could you possibly go wrong? In fact, our full-stack web development experience and online marketing will pave the path for your business to succeed. Contact us today at (425)-336-0069. Just a reminder, that our services are available, but not limited to Seattle, Bellevue, WA, Tacoma, Olympia, WA, New York, L.A. and all over!
Web Developers - We're not just a Web Design Agency
Our specialties are not only in web design but also in web development and online marketing. Yes, we are the full-blown agency with a one-stop service. Our web development services are not just limited to the Washington area but all over. From Bellevue, Tacoma and all the way to LA, California, NY, London, Birmingham, UK and Glyn Ebwy, Wales! Our UK web design services assist many businesses in Solihull, Birmingham, West Bromwich, and surrounding areas.
Web Agency with perfect solutions & great reviews
Our small business solutions are the perfect choice for any small to medium size business looking for results. Especially if you're looking to see your small business website grow via effective web design and online marketing. In fact, our Seattle, WA web design company has assisted many businesses in and around the Puget Sound area. But, we did not finish there, we've also helped businesses in Seattle, Issaquah, Bellevue, Tacoma, New York, and California. Let our expertise help your business expand and reach new heights!
A Top Web Design Agency with solid Web Development and Online Marketing credentials.
Facts about e-Commerce Purchase Categories by Country
Top 3 E-Commerce Purchases
Online buyers know that the main benefits offered by e-commerce over in-store buying are the ability to take time, special offers, best prices, and greater choice. In fact, according to DigitasLBi modern yearly Connected Commerce study identifies the top 3 categories purchased in each country that fashion is one of the most generally purchased e-commerce category in the USA. Technology is also one of the famous category listed here for the countries and has the second highest percentage.
Top 3 E-Commerce Purchase Categories, by Country

Market
Category 1
Purchasing %
Category 2
Purchasing %
Category 3
Purchasing %
America
Fashion
88%
Technology
87%
Culture
86%
England
Culture
92%
Fashion
89%
Technology
88%
France
Fashion
87%
Culture
86%
Technology
81%
Belgium
Fashion
80%
Leisure Travel
77%
Culture
75%
Germany
Fashion
90%
Culture
90%
Household Items
88%
Source: Digitas-Top-E-Commerce-Categories-by-Country-Aug2016. 
Seattle eCommerce Design
Regardless if you have a brick and mortar store or not, an e-commerce platform is a necessity for any business looking to connect with its customers. In fact, there is no single channel connection nowadays. Online exploration, as well as online shopping, is becoming more of the norm. As newer generations become more acquainted to technology. the increase of online shopping via e-commerce platforms will become defacto. Hence, an e-commerce website should be at the top of the list for any business looking to stay competitive.
Competitiveness by Seattle eCommerce Design Services
Visualwebz services all us able to create an effective Seattle eCommerce Design for any business. Whether its a virtual store or connected to your physical shop front. In fact, we will work with you in terms of correctly optimizing it and providing the best possible alternatives for the website to be successful.
Online Marketing, SEO services available to small businesses in:
Following is a list of cities we serve and help small businesses improve their online marketing presence via effective organic Seattle SEO and web solutions. Overall, our Seattle website SEO practices have helped many businesses gain the online exposure needed for them to attract traffic and generate sales.
Our web related services have delivered many solutions to small businesses in and around Seattle. Other local areas where our clients are include: Algona | Auburn | Kent | Bellevue | New Castle | Bellingham | Factoria, Bellevue |  Federal Way | Fife | Kent | Renton | Kirkland | Issaquah | Lakewood |  Lynnwood | Mercer Island | Marysville | Mill Creek | Olympia | Redmond | Seattle | Tacoma | Kennewick | Gig Harbor | Vancouver
Our SEO packages and marketing solutions are affordable and geared towards small businesses. In particular, businesses in and around Seattle, Bellevue, Redmond,  Snohomish, Tacoma, Kent, and Factoria Bellevue, WA continue to be our loyal customers. Our SEO company and web design firm do not just make a promise but, rather carry it out to succeed. Whether you are close to home in Seattle, or elsewhere.
Since the start of SEO, our SEO services and SEO marketers focus on organic SEO for small businesses like restaurants, distributors, professionals, doctors, dentists, and attorneys/call us for a free SEO estimate at (425)-336-0069.
Digital Marketing Services
Our digital marketing services are available in Washington and other states. Locally we assist small businesses in Puyallup,  Gig Harbor, Olympia, Bellevue, Issaquah, Kirkland, Seattle, Vancouver, Tacoma, and surrounding areas.
Internet Marketing Services
Our internet marketing services coupled with web design and SEO will get your small business website to the top of your search engine. We focus on local as well as larger markets. All the way from Seattle, Olympia, Maple Valley, Kirkland, Bellevue, Tacoma and states like Washington, California, and ones further out! We provide quality on-page SEO as well as off-page services. For example, helping to acquire customer reviews.
Organic SEO is the Perfect Solution
Yes, SEO is the best way to get your website visible online. But, you need to hire an agency that knows what they are doing. We at Visualwebz work within guidelines set by search engines. Thus, getting positive results for our customers. Also, our SEO consultant services are not only local in Renton, Kent, Seattle, Ballard, Bellevue or other areas. In fact, our reach is beyond Washington and the USA!
Online Marketing Services
Our online marketing services are not just limited to Seattle, Bellevue, Renton, Tacoma or Bellingham. But we offer services to all businesses nationally and globally. Go ahead and contact one of the top digital marketing agencies near you. You'd only realize that the SEO services that they offer will be extremely costly and outside your budget. In fact, there are many SEO Companies to choose from but we ask you to check our reviews and decide why our customers chose us.
Visualwebz is not just a top Seattle web design agency but also recognized as a top advertising and marketing firm in Washington state.
Website Design - Call (425).336.0069
Best Seattle eCommerce Design for Small Businesses
Hire a local Seattle eCommerce Design agency and online marketing firm. We have the expertise to deliver your business website with great results! In fact, our certifications in SEO and web development prove that we have the credentials to get what you want. After all, e-commerce web design is not as easy as it sounds. In fact, careful planning and structure need to be in place. Also, the correct platform needs to be selected so that your online store is scalable as your online business expands. 
Our eCommerce Design Reach
In addition to Seattle, we also provide services to small businesses in Bellevue, Redmond, Kirkland, Tacoma, Algona, Auburn, Bellingham, as well as other states. Whether its a new e-commerce web design or one that needs web maintenance, we at Visualwebz will take care of this. Our years of experience in e-commerce websit eplatforms is one expample why we are able to get the job done.  
Seattle eCommerce Design for local Small Businesses
The impact we provide when working on Seattle eCommerce design is without doubt exceptional and positive. After all, our web design solutions are all based on creating an online presence, and not just a pretty website. Our Seattle eCommerce design regardless of the business are crafted to fit each business requirements. For example, it could be a single item transaction or thousands of products that need to be offered under a subscription model. Also, the technologies and layout we adopt during any eCommerce development have a primary focus. That is to generate traffic and conversions.  
If your looking for website developers near you, you've come to the right place! We provide web services to the following areas, but not limited to Seattle,  Bellingham, WA, Des Moines, Bellevue, Burien, Federal Way, Olympia, Fife, WA, Maple Valley, Covington, WA, Des Moines, and Seatac. Des Moines and Seatac are generally neighboring cities to Kent.
Professional Website Development & Seattle eCommerce Design
Besides helping local Seattle businesses, our reach is beyond the Northwest. In fact, we have clients dotted all over in the USA.After all, Seattle Web development includes numerous online services including SEO and online marketing. As a result, some local areas we serve include:Washington State | Auburn | Bellevue | Eastside – Bellevue |  Bellevue Website Design – Local Website Firm | Bothell |  Des Moines | Federal Way | Fife | Issaquah | Kent | Kirkland, WA | Lacey | Lynwood | Maple Valley |  Mercer Island | Marysville | Seatac WA | Tacoma | Tukwila | Vancouver | Everett | Spokane | Seatac | Seattle Website Design | Renton | Seatac Airport is the main port of entry into and out of Seattle by air.
Notably, Visualwebz.com serves numerous businesses around Seattle. For example, Ballard – Small business in the Ballard area will no doubt benefit from our website's services. For example, the first-page ranking will allow your website to rank well in Google. In addition, other areas in Seattle include Belltown |  Fremont | Madison Park | Capitol Hill | West Seattle | Queen Anne | Magnolia | Downtown Seattle | Seattle Website Design Services | Seattle | Northgate | Web Design Seattle Washington | Seattle Web Page Design | Small Biz Web Design.
Website Designer also offers Seattle eCommerce Design services nationally
Besides providing SEO and online marketing to local businesses we also provide such services to small businesses in other states. For example, local cities include Federal Way,  Issaquah, Kirkland, Lakewood, WA, Monroe, Olympia, Tacoma and Bellingham, WA.
Besides offering Issaquah Web Design services to small businesses in Issaquah, WA. Visualwebz also provides the best SEO in Seattle and the surrounding areas. After all, we help all industries. For example web design for law firms, small law firm, attorney, Tax Preparation businesses, website design for dental practices and local schools.
Seattle eCommerce Design available in other states and counties
Contact Visualwebz for all your Seattle eCommerce Design needs. We have been providing complete Seattle eCommerce Design services since 2008! Over a decade of web design and SEO experience is one big reason why were a reputable web design agency. Just to add to this, we ask you to check our reviews. Also, we can connect you tour our customers so that you get that sense of relief that we are who we say we are.
Web Design, Current Trends, and Online Marketing Blog Posts:
We have summarized a number of areas small businesses should be aware of when it comes to having an effective online presence.
An SEO expert will always have an understanding of ranking formula and practices. Also, clearly know the type of marketing that best fits any business. For example, to name a few, organic SEO, PPC, and Social Media strategies. Other areas, online marketing include are:
More Blog Posts on Web Design, Online Marketing, SEO and related areas:
Google Panel | Google Adwords | Google Trends | Rich Snippets |  | Internet Companies | HTTPS | | E-Commerce Website Developers | | 20 Years of Google | AI | Google Algorithms | Phishing & Compromising websites | Business Ranking in Seattle |  Smart Homes | Ruby on Rails | Web Design History | Death of Google Plus | 5G | Micro-animations & Micro-interactions | Drop shipping | Check our multi-page generator that helps create multiple landing pages | Structured Query  Language.
Yes, there are many cheaper options available, but you should know the pros and cons of cheaper website costs. Also, why cheap websites don't always deliver what you expect. Connect with one of our web design or online marketers today. Also, we ask you to read our Seattle web design company reviews and see why our customers are glad they gave us the opportunity to work for them. Call us at (425)-336-0069.