Website Costs
Website Costs that are affordable for any small business.
"Their expertise is phenomenal and they were very good at explaining things."
Free or Expensive Website Costs
Website Costs in designing a website may be virtually free to design. On the contrary, your website costs could amount to thousands of dollars. This gives evidence to not judge a website cost by simply looking at the design. Website costs of designing a website may vary widely depending on a developer's knowledge, time, and design skills. Prices will be significantly steeper if the developer lacks the resources to successfully design a website. This article will explain the variables that contribute to the cost of creating and running a website. The article will also go in-depth on the costs of creating a website without professional help versus costs with professional help.
Non-Monetary Costs Of Designing A Website
So what variables contribute to the cost of running a website? Time, technical knowledge, and design skills may be associated with the costs of creating and running a website. Time, for example, would be may be placed as more valuable over money to some people. If a busy person does not have the time to create a website, he or she will pay instead. Likewise, the developer will also pay for a professional if he or she does not have any interest in creating and maintaining a website. Lastly, if the developer has no design skills, He or she will spend precious time learning.
New Web Developer
If a new web developer is willing to go through the hoops of creating and maintaining their own website, there are plenty of resources online to help them. First off, there are plenty of ways for a designer to improve his design skills. Watching tutorials on online, taking web development courses, or reading blog posts specified for learning web design maybe some of the many ways to learn. A new developer may also just visit a designing-oriented website such as Wix.com to create their own website. Websites such as Wix allow people to easily design a website with little to no design skills for cheap prices. The emergence of free designing websites has all but eliminated the high cost associated with designing a website on your own.
Monetary Costs of Creating and Maintaining a Website
From a monetary standpoint, there are plenty of costs to creating and running a website as well. Financial costs may vary widely depending on the type of website you are creating. Main costs of running a website may include paying for hosting, a domain name, designing costs, and plugin costs. Other extraneous costs may include paying for specific software related to the website or even advertising expenses if the developer would like to advertise on his or her website. Before you would pay for anything, though, the first two things you buy include a domain name for your website and web hosting.
Web Hosting
So, what is web hosting? Web hosting "is a service that allows organizations and individuals to post a website or web page onto the internet" (www.website.com). Hosting requires a large server and specific technologies to post a website on the internet. Because of this, many web hosting companies have emerged to help new developers expose their websites to the world. You can pay for web hosting for a relatively cheap price. The most popular companies to provide web hosting for under $10 include GoDaddy, SiteGround, InMotion, and Bluehost. The cost of web hosting increases when web hosting companies provide many more services. Companies such as Word Press, DreamHost, and Pagely may require up to $400 a month to provide you with a better web hosting experience. One valid reason a developer would pay such high prices for web hosting could be that he is expecting a large volume of visitors to his website. This is because as the traffic through your website increases, the maintenance required to keep it operational also increases.
Domain Name Costs are part of the Website Costs
Before you even pay for web hosting, many web hosting sites require that you have an available domain name. Buying a domain name can be bothersome for both new and seasoned web developers since the availability of the domain name you want may not be available. Out of the many types of domains, the most common type of domains people buy is called TLD's (Top Level Domains). Top level domains such as .com names may be bought for cheap from domain selling companies such as GoDaddy or NameCheap. The cost of a domain name may differ depending on several factors such as the probability of the name being searched in search engines and if its a memorable name (premium domain name).
Search Engine Keyword and Domain Names
The more popular a search engine keyword your desired domain name is, the more expensive it will be to purchase. Domain names may also be purchased through auctions. You can buy and auction off your domain names through websites such as eBay. Auctions may have the edge over domain buying services in the sense that you could possibly get a domain name for cheaper. Lastly, you may be able to purchase a domain name by directly contacting the owner of it. This method is beneficial when the desired domain name has not been active for several years. In this case, there is a good chance the owner no longer uses the domain name and is willing to sell the name for relatively cheap. Hence, An independent transaction within a domain registrar such as GoDaddy may require an independent fee.
Professional Website Developer
Another possible expense of creating a website includes designing the website. Sure, it has already been said that developers may be able to design their own website if their resources and technical skills allow it. What if a developer has the money but lacks resources, time, or the knowledge to create a website on his own? In that case, it is possible to hire professional web developers to create a website themselves. One option for small businesses willing to pay to obtain a website is to visit a web design website like WordPress. Several free pre-made website themes are available for use on WordPress. If people are searching for more upscale themes, WordPress offers premium themes with more functionality options. Premium themes from WordPress do come at a cost compared to the free themes offered by the site. Several web design websites also offer theme memberships that allow buyers to have access to a variety of premium themes to choose from.
Hire a Professional Website Developer
Hiring a professional developer may also be an option if a buyer would a like a custom-made web design theme that specifically fits his or her interest. Although a custom website is an option, it often comes with hefty prices. To put things in perspective, imagine a large company who desires to hire professional developers to create a new website for them. Creating professional websites for large companies may require "months of planning, research, consulting, database design and implementation, software development and integration, site quality assurance and testing" (www.atilus.com). As a result, the costs of creating a website of this magnitude may range from $20,000 to over $100,000 in expenses.
Plug-in And Extension Costs add to the Website Costs
One of the last financial costs associated with building a basic website includes all the plugins and extensions for running the functionality of the site. Many plugins these days essential to a website may be found online for free or at a low cost. Plugins provide an endless number of functionalities that may be added to a website. For example, the Monster Insights plugin allows for your website to connected to Google Analytics, an application that analyzes web visitor's actions on your site. This is helpful to the cost of a business's website because it will allow the business to obtain information helpful in optimizing customer and visitor needs. This optimization provides more efficient use of time and resources which may directly affect the cost of maintaining a website.
Backup Plugin for WordPress
On another note, a plugin that functions to back up your website may be essential to prevent losing your site in the event it becomes corrupted or hacked. A backup plugin will quickly restore a corrupted website and save a website owner some stress. Another essential plugin for websites looking to generate revenue may be a forms plugin. A forms plugin allows for businesses to collect information from customers so that they may later provide services to them. Forms and backup plugin usually require users to pay a certain amount of money to use their service. Although the plugins may cost money, these plugins provide essential services to the websites that require them.
Specific And Optional Website Costs when Running a Website
Beyond a simple website, we have other miscellaneous costs that may only be applied depending on the direction a developer wants a website to go. For example, E-commerce is defined as "commercial transactions conducted electronically on the internet" (merriam-webster.com). An E-commerce website goes beyond the cost compared to what a traditional basic website would cost. For a business to create an E-commerce website, they must first buy an E-commerce business license. In addition to the license, many more functionality options must be placed on the website. These functionality options include buttons for customers to choose the product they want to buy and a payment field for customers to pay. Customers will also not pay if they do not believe their payment information is not safe.
E-Commerce and SSL
This results in e-commerce websites requiring security seals if they wish to have customers. For most new developers, creating an e-commerce website may be a daunting task with all the required functionalities associated. For this reason, many businesses decide on paying other developers to create a website for them instead. According to Atlanticbt.com, costs for running a small e-commerce website with little traffic may cost up to $12,000 annually. This cost is attributed to licensing, hosting, design, development, configuration, training, and maintenance costs over the course of the year.
Website Costs could also entail Adverting
Another miscellaneous cost of running a website is advertising your service or product. Advertising your website is not required but we can't emphasize enough that attracting customers does require one channel or another. For example, you can either advertise or opt for Search Engine Optimization (SEO). In fact, it is almost necessary to do so. Pushing through to advertising allows for more traffic to go to your website and in an e-commerce website's case, will generate more revenue. SEO, on the other hand, will push your site to rank higher based on keyword searches. Services related to advertising include:
Cost-per-click (CPC) pricing
Cost-per-thousand impressions (CPM) Pricing
Cost-per-acquisition (CPA) Pricing.
First off, CPC pricing allows for Google to charge the customer for every click on an advertisement. This method of pricing would be best suited for businesses who desire a lot of traffic to their website. Next, CPM does not charge on each click of an advertisement, but every thousand views of one. This type of pricing method is best suited for businesses who desire their advertisement to be exposed as much as possible to the viewers. Lastly, CPA pricing is a pricing method that charges the business every time the advertisement leads to a sold product. This pricing method is beneficial for businesses who are looking to generate revenue through online sales transactions.
SEO Services (Search Engine Optimization)
This is something to strongly consider especially once your website has gone live. That is making sure that your website is prominently positioned on search engines. Any local Seattle SEO agency could assist you. In fact, it would make sense to do your homework when identifying reputable Seattle, Washing SEO companies.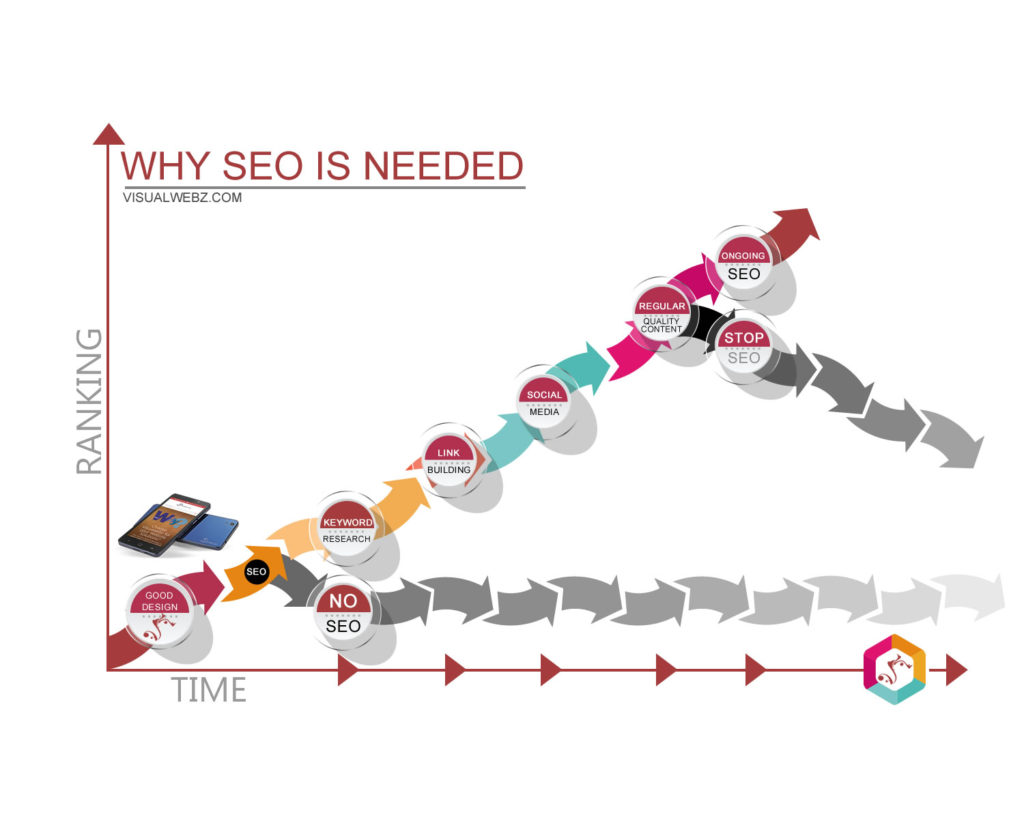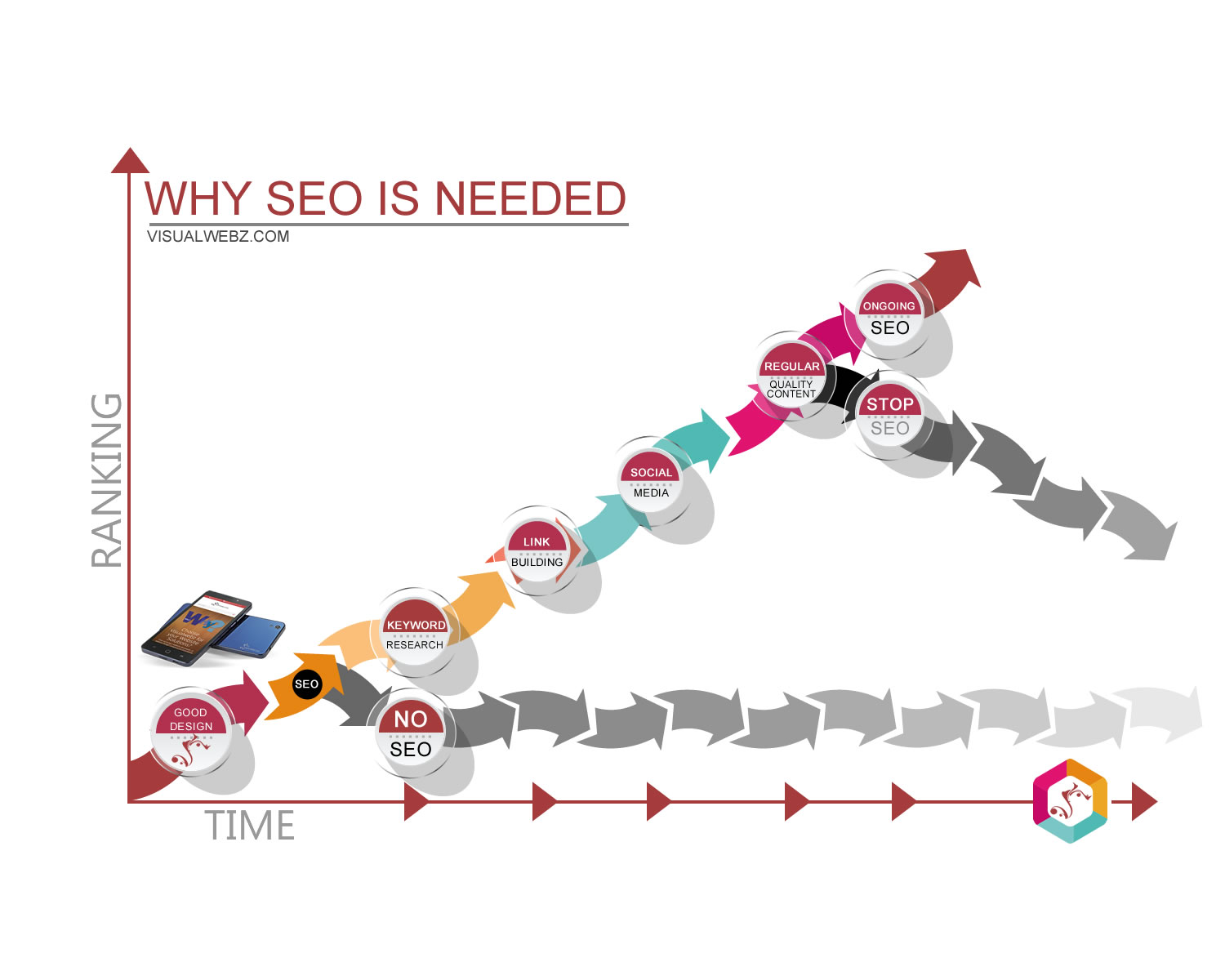 Website Costs Summary
Creating and running a website may be expensive or not cost much at all. The main factor that plays into how much a website cost is the developer's end goal. Designing a website may cost little to nothing if a developer decides to just use a template. Designing a website may also cost several thousand dollars if a large business desires a well-structured and well-protected site. Several costs such as web hosting, domains, plugins, and designing play into what a website will ultimately cost. A website will also tend to cost more as the developer adds more functionalities such as advertisements, website forms, and backend features.
Hire and effective website builder from Visualwebz and don't make the mistake of getting an amateur website developer where you end up with one of the worst websites around. Whether its a website rebuild, or web support, we handle it with care and quality. Check our reviews and see what our customers are saying about us when it comes to web design and SEO. Call us today at (425)-336-0069.
Delivering the Web Design & SEO Services
Local Web Design Services
If you're looking for web design, website development, a new website or just need to revamp an existing small business website, then you've come to the right place. Notably, at Visualwebz LLC we understand business owners and the website benefits your business needs. In addition, we understand that being a website owner you will want to see immediate results. Furthermore, we can help your website reach an international, national or local customer base. Besides, we know how to get your customers to you. After all, small business websites and SEO have been our specialty since 2008!
We Deliver the Best Web Services
Our website developers specialize in delivering the best websites and nothing more. More significantly, our qualifications and experience allow us to deliver clear and concise solutions. Whether it's a simple website or one that's complex, or one that is built on PHP or ASP, we will always keep you in the loop during the whole web development process.
Immediately after the launch of your website, we will work with you in improving your online presence. For example, our SEO specialists will help drive traffic to your website. With this in mind. Visualwebz LLC is the ideal firm to hire for your next project. In fact, we will also take care of your web security - remember you will need to secure your website from hackers. Similarly, other website design services offered include website maintenance, support, and website testing.
Interested in chatting to us regarding SEO or web design? Or just have questions regarding our expertise or web design costs? Then Contact us today at 425.336.0069. You may also want to check our reviews, and learn why our customers like us! After all, our 5-star reviews clearly tell prospective customers why we stand out when it comes to service, punctuality, quality, and affordability.
Resources & Links
Our Blog covers a range of services, practices, and trends in the areas of web design and SEO.
Marketing & SEO
Web Design & Website Development
Affordable Website Costs from Visualwebz LLC
Whether it's a web design quote or digital marketing services, you'd be surprised the rate our web design & SEO packages are set at. Connect with us at (425)-336-0069 and see for yourself how our web design costs compare to others.
Website Design - Call (425).336.0069
Online Marketing and Affordable Website Costs for Small Businesses
If your looking for website developers near you, you've come to the right place! We provide web services to the following areas, but not limited to Auburn, Algona, Milton, Seattle,  Bellingham, WA, Des Moines, Bellevue, Issaquah, Burien, Federal Way, Olympia, Fife, WA, Maple Valley, Mill Creek,  Covington, WA, Des Moines, and Seatac. Des Moines and Seatac are generally neighboring cities to Kent.
Professional Website Development that is at low Website Costs
Seattle Web development includes numerous online services including SEO and online marketing. As a result, some local areas we serve include:Washington State | Auburn | Bellevue | Eastside – Bellevue |  Bellevue Website Design – Local Website Firm | Bothell |  Des Moines | Federal Way | Fife | Issaquah | Kent | Kirkland, WA | Lacey | Lakewood |  Lynwood | Maple Valley |  Mercer Island | Marysville | Mill Creek | Seatac WA | Tacoma | Tukwila | Vancouver | Everett | Spokane | Seatac | Seattle Website Design | Renton | Seatac Airport is the main port of entry into and out of Seattle by air.
Notably, Visualwebz.com serves numerous businesses around Seattle. For example, Ballard – Small business in the Ballard area will no doubt benefit from our website's services. For example, the first-page ranking will allow your website to rank well in Google. In addition, other areas in Seattle include: Belltown |  Fremont | Madison Park | Capitol Hill | West Seattle | Queen Anne | Magnolia | Downtown Seattle | Seattle Website Design Services | Seattle | Northgate | Web Design Seattle Washington | Seattle Web Page Design | Small Biz Web Design
Online Marketing & SEO services with Low Website Costs available nationally
Besides providing SEO and online marketing to local businesses we also provide such services to small businesses in other states. For example, local cities include Seattle, Federal Way,  Issaquah, Kirkland, Lakewood, WA, Monroe, Olympia, Tacoma and Bellingham, WA.
Whether you're looking for a website for an attorney, small law firm, dentist, or marketing a law firm? Our web developers will deliver exactly what you want. Call Visualwebz today at (425)-336-0069.
Other cities and states where Web Design Services are set at are available :
Visualwebz has been providing individualized low website costs and online marketing services since 2008. 
Online Marketing, SEO services available to small businesses in:
Following is a list of cities we serve and help small businesses improve their online marketing presence via effective organic Seattle SEO and web solutions. Overall, our Seattle website SEO practices have helped many businesses gain the online exposure needed for them to attract traffic and generate sales.
Our web related services have delivered many solutions to small businesses in and around Seattle. Other local areas where our clients are include: Algona | Auburn | Kent | Bellevue | New Castle | Bellingham | Factoria, Bellevue |  Federal Way | Fife | Kent | Renton | Kirkland | Issaquah | Lakewood |  Lynnwood | Mercer Island | Marysville | Mill Creek | Olympia | Redmond | Seattle | Tacoma | Kennewick | Gig Harbor | Vancouver
Our SEO packages and marketing solutions are affordable and geared towards small businesses. In particular, businesses in and around Seattle, Bellevue, Redmond,  Snohomish, Tacoma, Kent, and Factoria Bellevue, WA continue to be our loyal customers. Our SEO company and web design firm do not just make a promise but, rather carry it out to succeed. Whether you are close to home in Seattle, or elsewhere.
Since the start of SEO, our SEO services and SEO marketers focus on organic SEO for small businesses like restaurants, distributors, professionals, doctors, dentists, and attorneys/call us for a free SEO estimate at (425)-336-0069.
Digital Marketing Services
Our digital marketing services are available in Washington and other states. Locally we assist small businesses in Puyallup,  Gig Harbor, Olympia, Bellevue, Issaquah, Kirkland, Seattle, Vancouver, Tacoma, and surrounding areas.
Internet Marketing Services
Our internet marketing services coupled with web design and SEO will get your small business website to the top of your search engine. We focus on local as well as larger markets. All the way from Seattle, Olympia, Maple Valley, Kirkland, Bellevue, Tacoma and states like Washington, California, and ones further out! We provide quality on-page SEO as well as off-page services. For example, helping to acquire customer reviews.
Organic SEO is the Perfect Solution
Yes, SEO is the best way to get your website visible online. But, you need to hire an agency that knows what they are doing. We at Visualwebz work within guidelines set by search engines. Thus, getting positive results for our customers. Also, our SEO consultant services are not only local in Renton, Kent, Seattle, Ballard, Bellevue or other areas. In fact, our reach is beyond Washington and the USA!
Online Marketing Services
Our online marketing services are not just limited to Seattle, Bellevue, Renton, Tacoma or Bellingham. But we offer services to all businesses nationally and globally. Go ahead and contact one of the top digital marketing agencies near you. You'd only realize that the SEO services that they offer will be extremely costly and outside your budget. In fact, there are many SEO Companies to choose from but we ask you to check our reviews and decide why our customers chose us.
Visualwebz is not just a top Seattle web design agency but also recognized as a top advertising and marketing firm in Washington state.
Cities where we provide Web Design for small businesses:
We offer the best website design services, web maintenance and web support to small businesses in Seattle, Washington, and all over USA. Yes, our website builder services are available to all businesses at affordable website rates. After all, hiring competent and affordable Seattle web developers, website designers, WordPress Designers, and web builders will get your business the results without breaking your bank account! Whether you're looking for a web agency in Seattle or a website developer elsewhere? We can help. Call us at (425)-336-0069.
Every business deserves a professionally designed website
Our freelance website development services will get your business the professional presence needed! Whether it's an e-commerce website or a simple CMS in WordPress. We always deliver what our customers expect! Our professional web designing and online marketing experience have proven to be inexpensive and effective for small businesses and professionals alike.
In fact, our local web design services are not only available locally in Seattle, Washington, but all over the USA. From custom web designs, SEO and supporting Seattle businesses with our WordPress maintenance allows our agency to offer a diverse group of web services.
Local Areas we serve in Washington
Local cities where we offer web design services include Auburn, WA | Seattle, WA | Covington | Kent | Kent, WA | Federal Way | Tacoma | Olympia |  Issaquah | New Castle| Lakewood | Gig Harbor | Everett | Monroe | Mill Creek | Milton | Puyallup | Redmond | Renton | Tacoma | White Center | Vancouver | Bellingham | Seattle.
If you need a new website or just looking for some website support, reach out to us, and let us help.
Custom Web Design Solutions
How can we not mention custom web design solutions? Many of our clients opt for custom websites, due to the fact that the end result will make the business stand out from its competition. In fact, a custom website built by a professional web designer will not only result in a solid branding but allow customers to differentiate and quickly identify your services and products from your competition. Our custom web design services are available to a diverse range of businesses in many areas, such as Seattle, Renton, Bellevue, Tacoma, NY, California and globally.
Hire the best Web Design Services in Seattle, Washington
With front-end and back-end experience, our customers back us up as the best web design services. In fact, how could you possibly go wrong? In fact, our full-stack web development experience and online marketing will pave the path for your business to succeed. Contact us today at (425)-336-0069. Just a reminder, that our services are available, but not limited to Seattle, Bellevue, WA, Tacoma, Olympia, WA, New York, L.A. and all over!
Web Developers - We're not just a Web Design Agency
Our specialties are not only in web design but also in web development and online marketing. Yes, we are the full-blown agency with a one-stop service. Our web development services are not just limited to the Washington area but all over. From Bellevue, Tacoma and all the way to LA, California, NY, London, Birmingham, UK and Glyn Ebwy, Wales! Our UK web design services assist many businesses in Solihull, Birmingham, West Bromwich, and surrounding areas.
Web Agency with perfect solutions & great reviews
Our small business solutions are the perfect choice for any small to medium size business looking for results. Especially if you're looking to see your small business website grow via effective web design and online marketing. In fact, our Seattle, WA web design company has assisted many businesses in and around the Puget Sound area. But, we did not finish there, we've also helped businesses in Seattle, Issaquah, Bellevue, Tacoma, New York, and California. Let our expertise help your business expand and reach new heights!
A Top Web Design Agency with solid Web Development and Online Marketing credentials.