Global Audience
4 Tactics You Can Use To Ensure Your Site Connects With A Global Audience. 
The broader the appeal of your site, the more successful it can become. These tactics can help you connect with a truly global audience.
Targetting Global Traffic
Creating a website that resonates with anyone is hard enough. For every page you encounter through a Google search or a direct referral, there are scores of pages that toil in perpetual obscurity, never attracting any visits that aren't from crawlers or spambots. If you can earn a steady stream of interested visitors, you must be doing something right — but why stop there?
It's in human nature to always want more: to build on the successes we've achieved and take things to the next level. And one of the most beautiful elements of running a website is that the growth potential is almost boundless. There may be various technical differences between visits from nearby and those from afar (the greater the distance, the more nodes must be navigated). Still, the end experiences for site owners and visitors alike are essentially the same.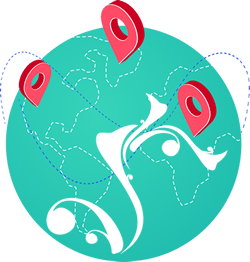 Head to the website for a company headquartered in your area, then head to a comparable website for a company based halfway across the world. The core experience will be identical. You won't feel that distance in anything but a minor delay — if you notice one at all. Aside from the occasional restriction at the national or ISP level (China's firewall being notably pernicious), any standard website will be accessible from any connection point.
Given this, are you delighted with your website having a limited audience? Or are you hungry to expand your sphere of influence? Since you clicked on this post, we can safely infer the latter. No one can hand you a perfect plan for conquering the online world (that's something you'll need to figure out), but we can set out some critical tactics for updating your website to ensure that it's best positioned to connect globally. Here they are:
Tweak cultural references
When writing copy for a website, it's essential to include hooks that can draw people in. Despite having relevant information to offer, there are plenty of sites that fail because they're so incredibly dry that no one sees any value in them. And when you're trying to hook people, it's often valuable to include cultural references. After all, they serve two purposes: they show some personality elements and lure in those interested in the referenced cultures.
The issue here lies in the tendency of cultural references to be confusing. Filling content with local authorities is particularly risky. If someone visits your website and becomes confused while reading the very first paragraph, what do you think is more likely? That they'll look up the parts they don't understand and discern the intended meaning, or that they'll leave? It's the latter, of course, and by a wide margin. Internet users are impatient at the best of times.
Be mindful, though, that this doesn't mean you can't include any cultural references. As noted, they often add intrigue, and this is particularly true when culture is indelibly linked to your website. Think of a company selling ye olde Britishe snacks, for instance: corny cultural references and slang terms would be expected and preferred even if occasionally unclear.
Instead, it means that you need to tweak your cultural references to ensure that they alienate as few people as possible. You want your content to apply to everyone. If a term doesn't add enough to the tone of your website to justify its polarizing presence, take it out. Global visitors will appreciate the accessibility.
Offer decent page translations.
Assuming your website is in English, you may well believe that other languages aren't worth considering. After all, so many people speak at least conversational English: isn't it a safe bet? But if you're going to have your site connect with a global audience, you mustn't settle for the most convenient option. And even when people who don't speak English natively can understand it very well, they'll still typically prefer to read in their native tongues.
The prospect of providing site translations can be somewhat intimidating. You need to ensure that the quality level is high enough to surpass what Google Translate can automatically produce, and that's a real challenge. If you get your approach right, though, you can manage it. It primarily comes down to combining excellent automation with manual proofreading and editing.
If you run a mainstream CMS with multi-language support, you should have access to a wide variety of translation apps. The owner of a Shopify store, for instance, can use the Weglot app to customize and manage translations across various site versions. Once those versions are produced, you can refine those translations, whether through additional services provided through the apps or freelance translators you recruit elsewhere.
Don't worry about your pages being perfect. If they're better than Google Translate versions (which they assuredly will be if you get your approach right), they'll be much appreciated by visitors who'll understand that you weren't obliged to cater to them at all.
Work on multilingual SEO
Having various international versions of your website is only the first step in reaching people who speak different languages. There's no use in having a Spanish translation of your site if no Spanish natives ever find it, of course. Just as you'll indeed have invested in SEO for the original version of your site, you'll need to invest in multilingual global SEO to start ranking overseas.
Multilingual SEO builds on the content actions we've already mentioned with adjustments of the technical factors that determine how page versions are presented and interpreted. You may be familiar with cannibalization in SEO: in other words, the frustrating event of two or more pages belonging to the same brand unintentionally competing for traffic. With foreign-language versions of a site, cannibalization becomes a more significant threat.
So what do you need to do here? Well, in addition to ensuring that each version of each page has a unique URL (the domain extension is vital here, as with extensions like .com, .es, and .de), you should employ the hreflang tag to add clarity and confirm that all critical elements of your pages are translated, not just the copy. Pay particular attention to navigational features and metadata. Everything needs to fit, and that extends to the design.
Remember that user experience is also an aspect of SEO. Changing the text of a website can cause severe issues with ill-fitting design elements if there isn't sufficient scope for expansion and contraction. Run a complete check on all the site versions and make whatever changes are necessary to deliver intense experiences.
Partner with varied influencers
Influencer marketing has become a massive part of modern marketing, and it isn't going anywhere soon. Brands that want to reach unfamiliar audiences can do so through partnering with the influencers they keenly follow: a recommendation (or even just a mention) from a familiar face can make a huge difference. So when you're trying to expand globally, why not look for opportunities to partner with locally-followed influencers?
For instance, if you're trying to crack the French market, you could look for French influencers in your niche who hold a lot of sway. Get them to back your expansion effort, ideally with genuine interest motivating them: while you can pay someone to promote you disingenuously, it's infinitely preferable to work with an influencer who genuinely rates what you bring to the table.
In doing this, though, remember to allow the influencers a good amount of creative freedom while sticking to your guidelines (it's all about getting the balance right). You may feel that you know what you're doing, but SEO marketing to a new audience is always complicated, and the type of cultural confusion we touched upon earlier can be so much worse here. Imagine insisting that an influencer shares a promotional message they know won't work in their area due to a significant cultural disparity. What's the point?
Connecting with a global audience requires your brand to be strong, but brand strength alone isn't enough. You also need to get your strategy right, which is where these tips come in. Follow the four tactics set out here, and you'll have a solid chance.
Online Marketing, SEO services available to small businesses in:
Our tried and tested Small Business SEO Services help outrank competitors' websites and drive more traffic. Whether it's SEO for a dentist or promoting an online event, we have proven through many SEO case studies that we get it done! Ignoring our leading Seattle SEO marketing services could result in you missing many online opportunities and allowing the freedom for your business to expand.
If you want to succeed online and help your business's current online standing, then internet marketing is necessary. Our SEO Agency is a top-rated marketing agency that can help your business reach new heights and reach its maximum potential. More importantly, we can help pave the right path in making your website successful.
An SEO agency with innovative ideas, strategies, and solutions allows businesses to lead their industries. From local Seattle SEO through to global presence, our custom tailor-fit solutions help companies effectively compete. We can help your Seattle business reach that desired ranking on search results.
We serve and help small businesses improve their online marketing presence via effective organic Seattle SEO and web solutions. Overall, our Seattle website SEO practices have helped many companies gain the online exposure needed to attract traffic and generate sales. Following is a small list of cities where our outstanding and best Seattle SEO services are available.
Our web-related services have delivered many solutions to small businesses in and around Seattle. Other local areas where our clients include: Algona | Auburn | Kent | Bellevue | New Castle | Bellingham | Factoria, Bellevue |  Federal Way | Fife | Kent | Renton | Kirkland | Issaquah | Lakewood |  Lynnwood | Mercer Island | Marysville | Mill Creek | Olympia | Redmond | Seattle | Tacoma | Kennewick | Gig Harbor | Vancouver.
Our SEO packages and marketing solutions are affordable and geared towards small businesses. In particular, companies in and around Seattle, Bellevue, Redmond,  Snohomish, Tacoma, Kent, and Factoria Bellevue, WA, continue to be our loyal customers. Our SEO company and web design firm do not just make a promise but instead carry it out to succeed whether you are close to home in Seattle or elsewhere.
Since the start of SEO, our SEO services and SEO marketers have focused on organic SEO for small businesses like restaurants, distributors, professionals, doctors, dentists, and attorneys. Call an SEO Expert for a free no-obligation estimate - (425)-336-0069.
Digital Marketing Services
Our digital marketing services are available in Washington and other states. Locally we assist small businesses in Puyallup,  Gig Harbor, Olympia, Bellevue, Issaquah, Kirkland, Seattle, Vancouver, Tacoma, and surrounding areas.
Internet Marketing Services
Our internet marketing services, coupled with web design and SEO, will get your small business website to the top of your search engine. We focus on local as well as larger markets. From Seattle, Olympia, Maple Valley, Kirkland, Bellevue, Tacoma, and states like Washington, California, and ones further out! We provide quality on-page SEO as well as off-page services. For example, we are helping to acquire customer reviews.
Organic SEO is the Perfect Solution
Yes, on-page SEO and off-page SEO services are the best way to get your website visible online. But, you need to hire an SEO agency or SEO expert that knows what they are doing. At Visualwebz, we work within guidelines set by search engines. Also, understand terms like LSIGraph and incorporate structured data into websites. Our digital marketing strategies coupled with web design get positive results for our customers. As an established SEO consultant, we are available locally and nationally as professionals; our reach is beyond Washington and the USA!
Online Marketing Services
Our online marketing services are limited to Seattle, Bellevue, Renton, Tacoma, or Bellingham. But we offer services to all businesses nationally and globally. Go ahead and contact one of the top digital marketing agencies near you. You'd only realize that the SEO services they offer will be highly costly and outside your budget.
There are many SEO Companies. But we ask you to check our reviews and decide why our customers chose us.
Visualwebz is a top Seattle web design agency recognized as a leading advertising and marketing firm in Washington.
Cities where we provide Web Design for small businesses:
Like any small business or customer, you may be asking yourself why you need a website? Of course, you do! No matter how small or big, every business needs a website and, more importantly, online marketing services after that. For example, SEO will help the site be more visible and available during search results. Thus generate more website traffic and increase sales and services! There are other factors and reasons why every business should have a website. We've summarized 12 reasons why a company should take web design seriously. Some of these include global and local presence, open 24/7, and outpace your competition.
We offer the best website design services, web maintenance, and web support to small businesses in Seattle, Washington, and the USA. Yes, our website builders and professional web designers are available to all companies at affordable website rates. After all, hiring competent and affordable Seattle web developers, website designers, WordPress designers, and web builders will get your business the results without breaking your bank account! Whether you're looking for a web agency in Seattle or a website developer elsewhere?
Every business deserves a professionally designed website.
Our freelance website development services will get your business the professional presence needed! Whether it's an e-commerce website or a simple CMS in WordPress. We always deliver what our customers expect! Trust our professional web designing and online marketing experience as proven, inexpensive, and practical for small businesses and professionals alike.
Our local web design services are available locally in Seattle, Washington, and all over the USA. An agency that offers various web services from custom web designs, SEO, and supporting Seattle businesses with our WordPress maintenance.
Local Areas we serve in Washington.
Local cities where we offer web design services include Auburn, WA, Seattle, WA, Covington, Kent, WA, Federal Way, Tacoma, Olympia,  Issaquah, New Castle,  Lakewood, Gig Harbor,  Everett, Monroe, Mill Creek,  Milton,  Northbend, Puyallup, Redmond, Renton, Tacoma, White Center, Vancouver, Bellingham, Seattle, Yakima, and  Woodinville.
If you need a new website or just looking for some website support, reach out to us, and let us help—a recognized web design as the best web designer in Seattle.
Custom Web Design Solutions
How can we not mention custom web design solutions? Many of our clients opt for custom websites to make the business stand out from its competition. A custom website built by a professional web designer will not only result in solid branding but allow customers to differentiate and quickly identify your services and products from your competition. Our custom web design services are available to a diverse range of businesses in many areas, such as Seattle, Bellevue, Tacoma, NY, California, and globally.
Hire the best Web Design Services in Seattle, Washington
With front-end and back-end experience, our customers back us up as the best web design services. In fact, how could you possibly go wrong? Our full-stack web development experience and online marketing will pave the path for your business to succeed. Contact us today at (425)-336-0069. Just a reminder that our services are available, but not limited to Seattle, Bellevue, WA, Tacoma, Olympia, WA, New York, L.A., and all over!
Web Developers - We're not just a Web Design Agency.
Yes, we are a full-blown agency with a one-stop service. Our specialties are not only in web design but also in web development and online marketing. Our web development services are not just limited to the Washington area but all over. From Bellevue, Tacoma, LA, California, NY, London, Birmingham, UK, and Glyn Ebwy, Wales.
Web Agency with perfect solutions & great reviews
Our small business solutions are the perfect choice for any small to medium size business looking for results. Especially if you're looking to see your small business website grow, we can help via effective web design and online marketing. A Seattle web design company that assists many businesses in and around the Puget Sound area. We do not finish there; we've also helped Seattle, Issaquah, Bellevue, Tacoma, New York, and California. Let our expertise help your business expand and reach new heights!
Top Web Design & Digital Marketing Agency - Web Development and Online Marketing Experience.
Web Design, Current Trends, and Online Marketing Blog Posts:
We have summarized some areas small businesses should be aware of when having an effective online presence.
An SEO expert will always understand complex ranking formula fundamentals, SEO practices and explain SEO tasks and terminology to its customers. In fact, as professional SEO experts, they should never leave the clients in the dark! All professional SEO teams know the type of marketing that best fits any business. For example, to name a few, organic SEO, PPC, local SEO, and Social Media strategies.
Web developers are digital professionals that may work as a team or may work independently. Some areas that they may focus on includes:
More Blog Posts on Web Design, Online Marketing, SEO, and related areas:
Google Panel | Google Adwords | Google Trends | Rich Snippets |  | Internet Companies | HTTPS | | E-Commerce Website Developers | | 20 Years of Google | AI | Google Algorithms | Phishing & Compromising websites | Business Ranking in Seattle |  Smart Homes | Web Design History | Micro-animations & Micro-interactions | Drop shipping | Check our multi-page generator that helps create multiple landing pages | Structured Query  Language.
Yes, many cheaper options are available, but you should know the pros and cons of more reasonable website costs. Also, why do affordable websites not consistently deliver what you expect? Connect with one of our web design or online marketers today. Also, we ask you to read our Seattle web design company reviews and see why our customers are glad they allowed us to work for them. Call us at (425)-336-0069.