Social Media Services
Social media services as part of your business marketing campaign should be set higher up the list! Billions of people worldwide use their smartphones, tablets, and computers to engage in communication without face-to-face contact, known as social media. Social media is defined as forms of electronic communication through which users create online communities to share information, ideas, personal messages, and other content. (Merriam-Webster) Whether it's interacting with friends, family, colleagues, potential partners, or even strangers, social media allows people to communicate quickly and effectively. Many use social media without even realizing it, as it has different platforms and purposes. Social networking, content communities, and online communication are popular categories of social media that provide connection to people globally.
To start off, social networking establishes a personal profile. Users can connect with others by adding or following them to learn more about their interests. Social networking is structured around a profile that gives the user an identity (Parsons, June). For instance, Facebook allows the user to create a detailed profile to personalize their interests, relationships, and history. Facebook is the most popular social networking site. Over 65 percent of adults in the US use Facebook compared to LinkedIn and Twitter. One reason why Facebook is more popular than other platforms may be that it focus more on relationships with others.  LinkedIn, for example, gives more importance to building a social identity in business than with relations to friends, family, and classmates. On most social networking sites, users can post media that they are interested in and view information that others post.
(Social Media Fact Sheet – Pew Research Center)
| | | | | | |
| --- | --- | --- | --- | --- | --- |
| | Facebook | Pinterest | Instagram | LinkedIn | Twitter |
| 8/5/2012 | 54% | 10% | 9% | 16% | 13% |
| 8/7/2012 | | | | | 14% |
| 12/9/2012 | | 13% | 11% | | 13% |
| 12/16/2012 | 57% | | | | |
| 5/19/2013 | | | | | 15% |
| 7/14/2013 | | | | | 16% |
| 9/16/2013 | 57% | 17% | 14% | 17% | 14% |
| 9/30/2013 | | | | | 16% |
| 1/26/2014 | | | | | 16% |
| 9/21/2014 |  58% | 22% | 21% | 23% | 19% |
| 4/12/2015 | 62% | 26% | 24% | 22% | 20% |
| 4/4/2016 | 68% | 26% | 28% | 25% | 21% |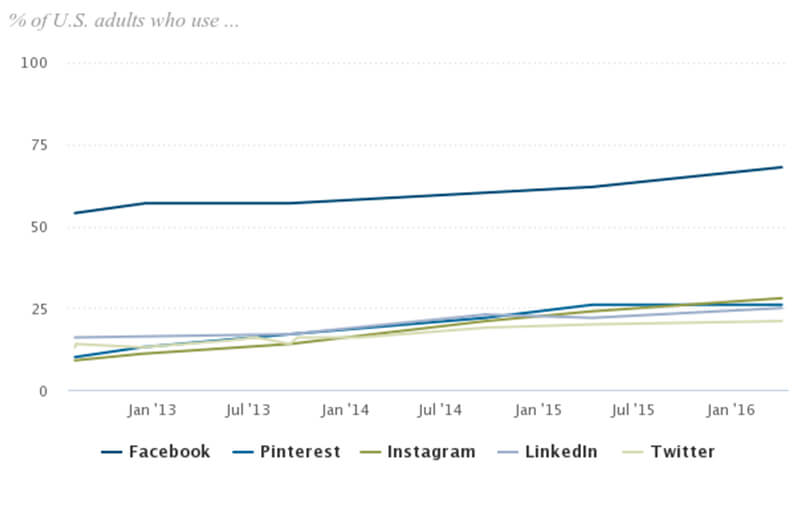 In addition, certain social networking platforms have different purposes and functions. Twitter emphasizes current events and limits the characters that people can tweet about. Twitter has certain jargon that differs from other social media platforms. On Twitter, hashtags are used to spread trending information to the public. On the other hand, Facebook has a timeline in which events are collected and it is easier to look over someone's history. Facebook popular for finding connections with former classmates or getting back in touch with old friends. Google + allows users to share information with circles that they have made, such as friends, family, classmates, or acquaintances.
Another category of social media are content communities, which emphasize the sharing of content, as the name suggests. While users are still able to create profiles, content community platforms focus on the sharing of information, music, pictures, or videos. YouTube is a video sharing content community in which people can share videos publicly or privately. Each user has a channel of the videos that they subscribe to or the playlist that they have created. Some channels are paid according to the number of views that they have on each video. Flickr, Pinterest, and Picasa are photo-sharing content communities. Pinterest photos are shared more frequently than other photo-sharing content communities because pictures can be pinned and copied. Folders may include themed pins that suit the interest of the user. Pinterest users also have a profile that includes a short biography and all of their folders. Pinterest pins can be linked to blogs that show more information about the pin.
Furthermore, blogging platforms like WordPress and Blogger allow bloggers to write about their interests and publish information to the public. Blogging sites may allow YouTube videos and Pinterest pins inserted in a blog to attract readers. Information can also be shared through a content community called Wikipedia. Wikipedia is a collective encyclopedia that users can add information to and learn about subjects. Instagram is a photo-sharing content community that allows videos and photos so be shared as a post with a caption.
Another key point is that content community platforms each have their own characteristics that make them unique. YouTube is mostly for video-sharing, but music can also be shared through the videos. Blogging sites like WordPress and Weebly are more suitable for tutorials or opinions on topics, though other types of information can also be shared. Instagram used to be more of a photo and 15-second video sharing app, but in those photos, art, inspirational words, and short clips of television shows can be shared as well. In Instagram and Facebook, users can tag other profiles in pictures to show their presence in the photo. It is important to remember to credit the source of information that the media is taken from. Content on Instagram can be reported for various reasons. Content that is stolen from another user or somehow bothers the user can be reported and Instagram will be notified.
Although many may not realize it, online communication is regarded as social media as well. SMS is a platform that people generally use to message others using their cellphone provider. Users can send text which can include text, photos, and links that the receiver can have access to. Although media can be shared this way, the content is more private, as only one person may see the text. Group chats can be made to connect a few people in the same conversation. Other popular mobile messaging apps include WeChat, WhatsApp, KakaoTalk, iMessage, Kik Messenger, LINE, and Facebook Messenger. Most of these apps are quite similar to each other.
Unlike other messaging apps, Skype and Google Hangouts are noteworthy as they allow live video calling, in addition to messaging. Google Hangouts combines chat, media sharing, and video and voice calling in one platform. Snapchat is another form of online communication that is more private to who the user wants to share their content to. The app keeps track of the streak, or number of days that a user would send a snap to someone and the person would send one back. A limited number of seconds for the receiver to view the snap can be set from one to ten seconds. Snapchat stories can be shared to the general public, but users need to add others in order to see their content. Snapchat videos can be made and last up to ten seconds. Videos and photo snaps can be used with filters that Snapchat provides.
Email is another type of online communication that can be regarded as social media. Email is a text-based communication platform that allows users to send longer messages to one or more people. Document, video, or other media attachments can be added to the message by the sender for the receiver to open. This type of online communication may be a bit more susceptible to security risks as it can be opened anywhere, and emails from unknown senders are likely spam or phishing sites. Although this may be true, email is still useful for work, school, letters (to a pen pal or friend), and bills.
From when social media first began in the late 1960s and early 1970s, it has developed rapidly over the years. It is so important and relevant in our lives that we can't function in this world without it. One trend that is currently taking place in the video aspect of social media is live videos. Instagram recently added a live option to the Instagram story where followers can comment and press hearts on the video while someone is live streaming (Constine, Josh). Besides Instagram, there are other social platforms taking advantage of this, and includes Facebook Live, YouTube Live, V Live, and Periscope Pro. A future trend that developers may be working on is including virtual reality in their platforms.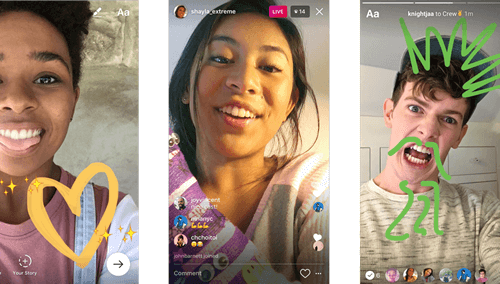 All things considered, social networking, content communities, and online communication are great alternative ways of communicating. Besides by phone, face-to-face, and by letter, social media is evident in our lives. People would have to resort to using a telephone and hand-writing letters to avoid social media. Within the next several years, it will likely be impossible to avoid using social media to communicate.
References for Social media services
Social media services – Constine, Josh. "Instagram Launches Disappearing Live Video and messages." TechCrunch. TechCrunch, 21 Nov. 2016. Web. 08 Mar. 2017.
Social media services – Parsons, June Jamrich. "Unit 5: Social Media." Computer Concepts 2016: Comprehensive. Boston, MA: Cengage Learning, 2017. N. pag. Print.
Social media services – Seth. "STATS | Social Networking Statistics." Statistic Brain. Statistic Brain, 05 Sept. 2016. Web. 05 Mar. 2017.
Social media services – "Social Media Fact Sheet." Pew Research Center: Internet, Science & Tech. N.p., 12 Jan. 2017. Web. 06 Mar. 2017.
Social media services – "Social Media." Merriam-Webster. Merriam-Webster, n.d. Web. 05 Mar. 2017.
Social media services – "Social Media Statistics." National Archives and Records Administration. National Archives and Records Administration, n.d. Web. 06 Mar. 2017.
"2017 Social Media Trends – Smart Insights Digital Marketing Advice." Smart Insights. N.p., 19 Dec. 2016. Web. 09 Mar. 2017.
"10 Types of Social Media Platform -." Turn Your Social Media Followers into Loyal, Paying Clients! -. N.p., 16 Feb. 2017. Web. 08 Mar. 2017.
Interested In hiring this web design company for your next project?
Learn more about our website services such as WordPress,  Animation, HTML 5, CSS, PHP, Python, website hosting, web designing, website security and HTTPS setup at Seattle WordPress Website Design. There are other website solutions we provide and are experts in, such as social media society. May be your interested in learning more? If so refer below:
Contact us for a quick quote, you'd be glad you do and understand why we believe we have mastered the science of web design and provide one of the best websites offered in the market. Interested in reading more? Refer below: