Jack Dorsey
Jack Dorsey played a part in making Twitter
Jack Dorsey played a key part in the introduction of Twitter a great social media platform that makes the world smaller and allows people to have a louder voice. It makes the world so much smaller and accessible because we are able to connect with each other from anywhere so fast and so easily. Also, our voice becomes so much louder. The sharing feature available on most social media networks makes our opinion about any topic reach a huge number of people. This lets our thoughts and opinions become much more powerful. I feel that social media has impacted the way we interact with each other in several ways. Twitter allows people to freely express their self-identity in several ways. Such as allowing people to let others know more about themselves by showing their interests, pictures, and tweets. I think this allows people to freely express their self-identity to the world and help them make new friends that have the same interests. Back in the day, you were not able to easily interact with each other like this. You actually had to interact with someone face to face in order to get to know them. Now, you can just go on their Twitter and get an idea of their personality and interests. By having the ability to get feedback and see discussions that include voices from many countries, lifestyles, and belief systems we gain a better understanding of the global perspective. This is an amazing opportunity to better understand and relate to our global neighbors. Jake Dorsey said in an interview with TODAY that Twitter was made with these purposes in mind and has exceeded his expectations.
Twitter is an online news and social networking service where users post and interact with messages, called "tweets". There are over 200 billion tweets on Twitter per year which easily helps make it one of the ten most visited websites on the internet since 2013. Jack Dorsey is an American businessman who is best known as one of the founders of the social networking site Twitter. Like many popular websites and apps, there is always an interesting story behind how it becomes something that millions of people use on a daily basis. The official story of Twitter's founding goes like this, Ex-Googler Evan Williams had a startup called Odeo. It was going to be a podcasting platform. Evan asked his friend, another ex-Googler named Biz Stone, to join him. Apple launched iTunes podcasting which made Odeo's podcasting platform irrelevant. Evan and Biz and an Odeo employee named Jack Dorsey decided to create something called Twitter instead. Odeo's investors didn't like Twitter, and Evan did them a huge favor by buying back all their stock and making them whole. However, This was only the beginning.
Odeo co-founder Noah Glass gravitated toward Jack Dorsey, whom Glass says was "one of the stars of the company." Jack had an idea for a completely different product that revolved around "status" which was something no one was doing at the time. One day in February 2006, Glass, Dorsey, and a German contract developer Florian Weber presented Jack's idea to the rest of the company. It was a system where you could send a text to one number and it would be broadcasted out to all of your friends called Twttr. After that February presentation to the company, Evan Williams was skeptical of Twitter's potential, but he put Glass in charge of the project. From time to time, Biz Stone helped out Glass' Twitter team. It really was Glass' team, not Jack Dorsey's. Although, everyone agrees that original blueprint for Twitter came from Jack Dorsey's mind. Dorsey even has drawings of something that looks like Twitter that he made years before he joined Odeo. Jack may not have been the leader of the group but his contribution was heavily appreciated.
On March 21, 2006, Jack Dorsey posted the world's first tweet which was "just setting up my twitter." Dorsey was also named the company's chief executive officer that year. There is an interesting story behind how Jack was able to be a part of the group of men who created Twitter and his early life. Jack Dorsey was born in St. Louis, Missouri, on November 19, 1976. Growing up in St. Louis, Dorsey became interested in computers and communications at an early age and began programming while still a student at Bishop DuBourg High School. He was fascinated by the technological challenge of coordinating taxi drivers, delivery vans and other fleets of vehicles that needed to remain in constant, real-time communication with one another. When he was 15, Dorsey wrote dispatch software that is still used by some taxicab companies today. After a brief time at the Missouri University of Science and Technology, Dorsey transferred to New York University. Like many computer science entrepreneurs and successful businessmen such as Bill Gates, Steve Jobs and Mark Zuckerberg, he dropped out of college before receiving his degree. Instead, Dorsey moved to Oakland, California, and in 2000 started a company offering his dispatch software through the Web. Shortly after starting his company, Dorsey came up with the idea for a site that would combine the broad reach of dispatch software with the ease of instant messaging. This was inspired in part by LiveJournal and by AOL Instant Messenger, he had the idea for a Web-based real-time status/short message communication service. I find it truly inspiring that so many people have found ways to be innovative without a college degree.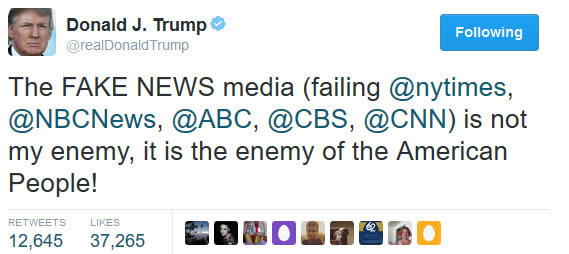 There have obviously been a lot of benefits of twitter but there have also been several cons. An opportunity to exchange short messages simultaneously with millions of people around the globe turned Twitter into a dangerous political weapon. For instance, in Iran, with the help of this service people managed to gather in a huge protesting crowd just in a few days. Something similar happened in Moldova, Guatemala, and Uganda. The U.S. State Department even invited Jack Dorsey to come to Iraq in order to teach local Prime Minister how to tweet. By the way, a former security adviser of the U.S. Mark Pfayfel even took an initiative to nominate Dorsey and other creators of Twitter for the Nobel Peace Prize for their impact on Iran's future. Also, with great power comes great responsibility which has been something difficult for our current President "Donald Trump" to understand. Donald Trump has tweeted some ridiculous thing before and after being elected. Twitter CEO Jack Dorsey believes that it's "important" that President Donald Trump continues to tweet because hearing from Trump publicly will help hold him accountable. "I believe it's really important to have these conversations out in the open, rather than have them behind closed doors," he told Willie Geist in an interview that he did with TODAY. Although, a lot of people disagree and believe it is irresponsible for the President to tweet whatever comes to his mind for the public to see.
Jack Dorsey has not always been with Twitters Development since the beginning. Evan Williams persuaded the board of Twitter to shift Jack Dorsey from his position. In October 2008, Dorsey was moved from his post of the Executive Director of Twitter and stopped his active work in the company. In 2010, Evan Williams could not handle it anymore and left the post passing it to another top manager of Twitter Inc. named Dick Costolo. Dick later decided to return Dorsey to the position of the Executive Chairman. In March 2011, Jack Dorsey got rid of four managers that played a key role in implementing a strategy of the service under the leadership of co-founders Evan Williams and Biz Stone. On June 10, 2015, Dick Costolo announced that he was resigning as CEO of Twitter effective July 01, 2015. Jack Dorsey took the position of Interim CEO. On October 05, 2015, Jack Dorsey was assigned as the permanent CEO of Twitter. This shows how things really came full circle for Jack as he was one of the first innovators for Twitter and ended up being the CEO currently.
Speaking of what Jack currently does, he combines his time at Twitter with the development of Square, Inc. The company was founded in 2009 by Jack Dorsey and Jim McKelvey and launched its first app and service in 2010. Square, Inc. is a financial service, merchant services aggregator and mobile payment company. The original inspiration for Square occurred to Jack Dorsey in 2009 when Jim McKelvey (a St. Louis friend of Dorsey at the time) was unable to complete a $2,000 sale of his glass faucets and fittings because he could not accept credit cards. In August 2012, Starbucks announced it would use Square to process transactions with customers who pay via debit or credit card. In February 2014, Whole Foods Market announced it would use Square Register in select stores' sandwich counters, pizzerias and coffee, juice, wine and beer bars. Currently, Square is worth about $12.5 billion and is just $130 million shy of Twitter's market cap at the time of publication. That's a difference of about 1 percent of Twitter's value. Jack built the company from the ground up and used his experience from Twitter to know what to do right and what not to do.
The company's first CEO and the originator of the basic idea of Twitter, Dorsey owns about 22.2 million shares that are worth a total of more than $439 million. Also, the fact Dorsey is the co-founder and CEO of mobile payments company Square was what launched him to billionaire status due to the success His total net worth is now an estimated $1.5 billion, up from $1.3 billion in September when we published the ranks of the Forbes 400. Jack has been an incredible CEO for both companies and it has been intriguing seeing the growth and development in both.
In conclusion, the success story of Jake Dorsey and Twitter is quite remarkable. It's amazing how a person well-versed in programming can make billions and change the lives of billions with his idea. It is even more inspiring that he was able to do it without a college degree. Computer programming has always played a huge part in the making of social media platforms. Social media plays a huge part in our lives in this day and age. I know people who found the person they end up marrying or connect with people long distance from a social media platform like Twitter and Facebook. It is important we use social media wisely because there are several cons that come with social media. Jack Dorsey would approve that message.
Citations
https://www.biography.com/people/jack-dorsey-578280
https://www.recode.net/2017/8/3/16087912/jack-dorsey-square-cash-real-business-revenue-credit-debit-card-fees
https://www.forbes.com/profile/jack-dorsey/
https://www.today.com/video/twitter-ceo-jack-dorsey-talks-trump-s-tweets-favorite-follow-tackling-trolls-943519811955
https://www.forbes.com/sites/ryanmac/2013/10/04/who-owns-twitter-a-look-at-jack-dorsey-evan-williams-and-the-companys-largest-shareholders/
More details on Web Design
Resources
We've provided numerous website resources from beginners thru to savy website designers. Click here to check out more or may be you'd like to check our articles posted in our blog.